BiomeMD
This company has claimed this profile, is getting alerted on any new customer reviews entering this page, and may engage in dialogue with its customers to address their matters.

Companies cannot pay money or provide goods in order to remove or alter customer reviews.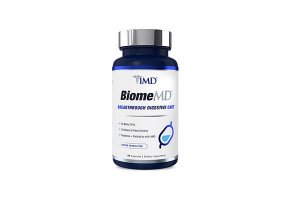 Summary
1MD claims that BiomeMD will support your digestive tract and immune system through their blend of prebiotics and probiotics.
BiomeMD Review - Is It Safe and Does It Work?
With their blend of pre- and probiotics, 1MD claims that BiomeMD will improve digestion and absorption, as well as reduce the chronic stress your immune system faces.
While some bacteria can cause infection, probiotics are bacteria that have many important roles in your body. An example of these "friendly" bacteria are those located in your digestive tract. Prebiotics are non-digestible fibers that can serve as food for your friendly bacteria.
In addition to having a major impact on your digestion, these bacteria also support your immune function. Factors like age, diet, and disease can affect the balance of your gut biome, the community in which they live.
When order is not maintained, you place yourself at risk for chronic medical conditions like obesity or even heart disease. Thus, supplements that support the balance of your gut biome may play a key role in your digestive and overall health.
1MD offers one of many supplement options currently available on the market - but does it live up to the hype? Read below to learn if BiomeMD is a safe and effective means of improving digestive and overall health.
What is BiomeMD?
BiomeMD is pre- and probiotic dietary supplement that claims to:
Support your gastrointestinal tract lining
Increase immune cell function
Relieve diarrhea
Enhance digestion and absorption
Promote regularity of bowel movements
BiomeMD claims that you'll notice digestive benefits in as little as 2-weeks, while your immune function should improve after 3-months with just 1 capsule each day, taken with food and a glass of water. These effects are thought to be due to BiomeMD ingredients.
BiomeMD Ingredients
This supplement has not been tested as a stand-alone product in randomized trials. This section reviews some of the available scientific literature for each ingredient.
Bifidobacterium lactis HN019 - 1 Billion CFU
B. lactis HN019 may help combat age-related decline in the function of your immune system.
Significant increases in blood tests used to indicate natural immunity were seen in 13 elderly subjects that received B. Lactis HN019 at 1.5x1011 CFU doses twice daily over 6-weeks.
Over 9 weeks, HN019 at 109 or 1010 organisms/day doses also boosted the white blood cell count in 30 elderly subjects.
Lactobacillus rhamnosus GG - 2.5 Billion CFU
L rhamnosus GG is reported to relieve the stomach flu, as well as support your immune system and allergy response.
In mice with chronic asthma, 0.018 mg of L rhamnosus GG reduced airway inflammation.
Over 5-days, children treated with 1×1010 CFU of L. rhamnosus GG twice daily for the stomach flu did not improve the duration of diarrhea or vomiting when compared to placebo.
Proprietary Blend - 58.5 Billion CFU
Bifidobacterium lactis B42L: Strains like HN019 and B42L, may support immune function and allergy relief. Regarding B42L, literature examining this specific strand is not yet available.
Lactobacillus acidophilus La-14 and Lactobacillus acidophilus L61A may relieve diarrhea and stomach discomfort, as well as support immune function. The La-14 and L61A strains have not been extensively studied, however.
A meta analysis of 34 randomized studies found that, when used alone or in conjunction with other probiotics, daily doses of L. acidophilus ranging from 2x108 to 1011 were as effective as other strains at reducing the risk for diarrhea.

Patients receiving a combination of L. acidophilus NCFM and Bifidobacterium lactis Bi-07 twice daily at 1011 CFU/day improved symptoms of bloating in over 8-weeks.

In another review, Lactobacillus and Bifidobacterium strains were found to be associated with fewer days of illness and shorter duration of illness in those with respiratory infections.
These reviews included trials that investigated different strains, doses, and combinations of various probiotics. Effects are strain-specific, however, and do not guarantee the same results even in similar strains.
Bifidobacterium longum B12L may support immune function and allergy relief.
With over 30 known strands of this probiotic, B12L does not seem to be extensively studied.
A similar strain, BB536 has been investigated. A randomized trial found that BB536 boosted antibody and white blood cell levels in elderly patients when compared to placebo.
BB536 may also support allergy relief. At 200g each day improved eye itching from a specific Japanese allergen in 40 randomized subjects, though no other relief was found.
Bifidobacterium bifidum B66B: Though B66B has not been extensively studied, B. bifidum strains may have a diverse role that includes anti-inflammation, immune support, and allergy relief.
In a laboratory model, B. bifidum strains increased white blood cells and promoted molecules that are involved in initiating the immune response (how our body defends itself from harmful substances).
In 70 randomized subjects with irritable bowel syndrome (IBS), a 2x1010 CFU mixture of probiotics that included B. bifidum BGN4 administered twice daily for 8-weeks relieved stomach pain and discomfort with bowel movements significantly better than placebo.
Lactobacillus casei L30C: L. casei strains are thought to relieve diarrhea, as well as the related digestive symptoms. L30C has not been extensively studied.
In 70 subjects with constipation, those randomized to daily treatment with 65 mL of a probiotic beverage containing Lactobacillus casei Shirota had a significant improvement in self reported symptoms when compared to placebo.
In 135 hospital patients taking antibiotics, those randomized to treatment twice daily with a 97ml drink that contained a mix of probiotics including, including L. casei, had fewer cases of antibiotic associated diarrhea when compared to placebo.
Lactobacillus plantarum L23P and Lactobacillus plantarum LP-115: Many L. plantarum species have been studied, though the 2 included in BiomeMD have not been extensively investigated.
Rats with high blood pressure that consumed 2g of DSM 15313 in fermented blueberries significantly lowered blood pressure when compared to controls.
In a laboratory model, L. Plantarum N14 reduced inflammation in intestinal cells. Mice that were randomized to treatment with 100 mg/kg injections of L. plantarum K8 seemed to benefit from the anti-inflammatory properties of this probiotic; the expression of enzymes and receptors involved in heart disease were decreased in these mice.
Lactobacillus gasseri L22G may aid digestion and offer allergy relief, the particular strain in BiomeMD has not been extensively studied.
Treatment with 200mL of L. Gasseri TMC0356 daily decreased the level of antibodies associated with allergies in 15 subjects over a 4-week span.
Subjects randomized to treatment with L. gasseri OLL2716 at 109 CFU doses over 12-weeks reported improved symptoms related to indigestion, though these findings were not conclusive.
Lactobacillus salivarius L10S may assist in fighting off harmful bacteria.
In 59 children with oral disease, those randomized to treatment with L. salivarius had reduced levels of bacteria and fungus over 24-hours.
The antimicrobial effects of L. salivarius CNU1334 were also demonstrated in laboratory model. L. salivarius seems to have a killing effect on S. aureus, a common bacteria that is implicated in a wide array of infections.
Lactobacillus rhamnosus L08R may support your immune system and allergy response, though it has not been extensively studied.
Keep in mind, however, that effects are strain-specific. The same results are not guaranteed in similar strains.
Lactobacillus bulgaricus L88B may have antimicrobial properties. However, this particular strain has not been extensively studied.
L. bulgaricus NRRL B548 may have a role in controlling salmonella, according to this laboratory model.
In human subjects taking antibiotics, fewer cases of antibiotic-associated diarrhea were found in patients randomized to treatment twice daily with a 100g (97 ml) probiotic drink containing L. casei, L. bulgaricus, and S. thermophilus when compared to placebo.
LactoSpore® (Bacillus coagulans MTCC 5856): In 40 patients with major depressive disorder and IBS, those randomized to B. coagulans MTCC 5856 at a daily dose of 2 × 109 CFU had improved digestive symptoms and reduced lab values for inflammation.
HMO CARE4U (2'Fucosyllactose HMO) - 25mg
Human milk oligosaccharides (HMO) are naturally found in breast milk. The synthetic version found in BiomeMD is thought to serve as fuel for probiotics, and also assist in the elimination of harmful bacteria.
Data on supplementation of synthetic HMO remains limited and results are inconclusive. In 189 randomized infants, those fed with varying levels (0.2 and 1.0 g/L) of the HMO 2'-fucosyllactose (2'FL) did not differ in weight, length, or head circumference over 4-months.
*Note: this product does contain small amounts of milk
The Takeaway:
Immune support, allergy relief, and the improvement of digestive issues are supported by studies with human subjects that investigated probiotic strains similar to those found in BiomeMD.
However, as these benefits are strain-specific, the same results cannot be expected in other strains, even if they are similar in species.
Additionally, available research has tested a wide variety of doses and pre-and probiotic combinations. It is therefore challenging to relate this information to BiomeMD, especially when they do not detail the amount of each strain in the proprietary blend.
Bifidobacterium lactis HN019 has been studied specifically, and there is support for effectiveness in the elderly population. Lactobacillus rhamnosus GG has also been specifically studied in animal and human subjects, though more research is needed as current support is mixed.
While HMO is thought to offer immune support, it as been studied mostly in infants. Support for synthetic versions remain inconclusive.
Is BiomeMD Safe?
1MD does not share the specific amounts of each strain in the proprietary blend, thus we can't compare these ingredients to the doses tested in the available literature.
However, similar strains are commonly tested in the order of 109 CFU and serious adverse effects are extremely rare at doses comparable to what is included in BiomeMD.
In general, pre-and probiotic blends are safe with only mild and self-limiting side effects reported. Most often, these include abdominal pain, gas, bloating, and diarrhea - all of which can be relieved by lowering your dose or discontinuing use.
Always speak to your physician before use.
BiomeMD Pricing and Where to Get It
At the time this article was published, BiomeMD was available on their site at the following prices:
1 bottle - 30 day supply: $54.99 + $5.95 shipping
3 bottles: $49.99 each with free shipping
6 bottles: $45.99 each with free shipping
A 90-day guarantee backs your order of BiomeMD. The product is also offered at Amazon, though here you'll pay $60.94 per bottle.
Are There Any Alternatives?
Pre- and probiotic supplements are easily attainable individually, or in combination as offered in BiomeMD. Keep in mind, that ingredients and dosages will vary product to products.
One example is Complete Prebiotic & Probiotic from Olympian Labs. At $18.99, you'll get a 30-day supply with half the probiotic dose, and double the prebiotic dose as compared to BiomeMD.
Oligosaccharides are found in milk, vegetables, and fruits, though fucosyllactose is found specifically in human breast milk. Another prebiotic oligosaccharide, inulin, is easily obtained from bananas, onions, and wheat. The average human diet provides for 2.6g - much higher than the prebiotic dose offered in a serving of BiomeMD.
If you're looking to avoid a supplement, probiotics are available in fermented foods. Check out yogurt, sauerkraut, kimchi, or kombucha to determine which is most easy to incorporate into your diet.
The Bottom Line
BiomeMD offers a diverse blend of pre- and probiotic strains at high doses. According to available research, this seems to be a beneficial model.
The proprietary blend consists of 13 probiotic strains, most of which have not been extensively studied, however.
While support for similar strains is available, studies examining the particular strains included in BiomeMD are needed to fully characterize the effectiveness of their formula. The prebiotic included in BiomeMD is synthetic; this form has not been extensively studied and current results are mixed.
The company does not offer information detailing the precise amount of each strain in the proprietary blend. While the total dose is substantial, the individual doses of some strains may not be effective.
While pre- and probiotic blends are generally safe, it is challenging to characterize their safety without dosing for individual ingredients fully.
The total dose is comparable to what is often tested in research studies, and these levels appear to be safe.
Nonetheless, it is always best to speak with your physician before use.
Customer Reviews