Breo Ellipta Reviews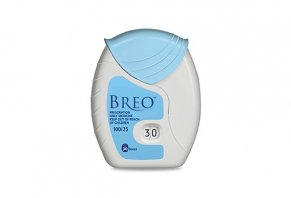 Available by prescription, Breo Ellipta's combination of fluticasone furoate and vilanterol promise to help improve lung function in asthma and COPD patients.
What Is Breo Ellipta?
Formulated with two active ingredients (fluticasone furoate and vilanterol), Breo Ellipta is a prescription inhaled medication that promises to help asthma and COPD patients improve lung function, decrease airway inflammation, and reduce flare-ups for up to 24 hours.
In fact, GlaxoSmithKline tells us that Breo's 100/25 and 200/25 formulations are the first and only once-daily inhalers that help improve lung function for this amount of time.
To accomplish this, patients who are 18 years and older need only take one inhalation of Breo Ellipta per day. Just keep in mind that it's not intended to relieve sudden breathing problems and it won't replace a rescue inhaler.
Here's the bottom line: If you suffer from chronic asthma or COPD and have been unable to get it under control, a full 24 hours of easy breathing might sound like a godsend.
But is this really what you can expect with Breo? And even so, do the potential risks outweigh any benefits you might experience?
Here, we'll provide you with a comprehensive overview about Breo. This way, you'll be more informed when it comes time to speak with your doctor.
What Causes COPD & Asthma?
Without going into unnecessary detail, asthma is a chronic disease that results in airway inflammation. This inflammation can also cause the surrounding muscles to tighten, as well as airway cells to increase mucus production, causing a snowball effect that can further increase inflammation.
The result? Difficulty breathing.
Depending on the severity of this inflammation, asthma sufferers may need to carry an inhaler with them at all times. Unlike Breo, these emergency inhalers typically contain only bronchodilators (they widen airways) like salbutamol and terbutaline.
Asthma suffers may also use inhalers that contain steroids like fluticasone, beclometasone, and budesonide to help prevent airway inflammation in the first place.
While it can also lead to difficulty breathing, Chronic Obstructive Pulmonary Disease (COPD) is a broad term that can describe several different diseases, including:
Emphysema – Over-inflation of the alveoli, which are the air sacs in your lungs.
Chronic Bronchitis – Inflamed bronchial tubes that produce excess mucus.
Refractory (Non-Reversible) Asthma – Frequent, severe asthma that doesn't respond to medication.
Bronchiectasis – The walls of the bronchi become thickened from repeated inflammation and infection.
As briefly mentioned on the Breo website, asthma can be caused (or triggered) by many different irritants like pollen, dust mites, mold spores, tobacco smoke, and pet dander.
Exposure (long-term) to irritants is also the culprit behind the development of COPD, leading to symptoms like coughing, wheezing, and shortness of breath.
Unlike asthma, though, these irritants—such as tobacco smoke (most common), air pollution, and even some diseases—permanently damage the airway.
Whether you suffer from asthma or COPD, how does Breo Ellipta help, and how does it compare to popular competitors?
Breo vs. Advair: A Quick Rundown of Ingredients
Breo Ellipta is what's known as a combination inhaler, since it combines two different ingredients: 100mcg or 200mcg (depending on strength) of fluticasone furoate and 25mcg of vilanterol.
Inactive ingredients include lactose monohydrate (contains milk proteins) and magnesium stearate.
Fluticasone furoate is a corticosteroid, which is a drug class that mimics the effects of hormones naturally produced in the body, resulting in inflammation suppression. Corticosteroids are also effective for addressing conditions where the body's immune system attacks its own tissues (such as arthritis).
On the other hand, vilanterol is a type of long-acting beta2-adrenergic agonist (LABA) medication that relaxes and enlarges airways in the lungs, resulting in easier breathing and reduced wheezing, coughing, chest tightness, and shortness of breath.
But the reality is that, in addition to Breo, there are several other popular prescription combination inhalers that include a corticosteroid and LABA, such as:
Advair Diskus: Fluticasone (corticosteroid) and salmeterol (LABA)
Symbicort: Budesonide (corticosteroid) and formoterol (LABA)
Dulera: Mometasone (corticosteroid) and formoterol (LABA)
As you can see, the biggest differentiating factor is that Breo Ellipta features vilanterol as a LABA, while fluticasone can also be found in competing inhalers; it's even the active ingredient in the prescription nasal spray Flonase.
Although we didn't encounter any clinical evidence on authoritative websites that studied vilanterol alone, we found one industry-funded study from 2016 related to the fluticasone furoate-vilanterol combination found in Breo.
Published in the New England Journal of Medicine, the conclusion indicated that this combination decreased the rate of moderate or severe COPD exacerbations among participants by 8.4%.
Did the study reveal any potential side effects?
Does Breo Cause Any Side Effects?
In this trial, it was found that 1% of patients died from pneumonia, which was meaningfully higher than the control group. As a result, the manufacturer notes on the Breo website:
"People with asthma who take long-acting beta2-adrenergic agonist (LABA) medicines, such as vilanterol (one of the medicines in BREO), have an increased risk of death from asthma problems. It is not known whether fluticasone furoate, the other medicine in BREO, reduces the risk of death from asthma problems seen with LABA medicines."
Perhaps alarmingly, they go on to state, "It is not known if LABA medicines, such as vilanterol, increase the risk of death in people with COPD."
Additionally, Breo should only be used if you're 18 years or older and your doctor has determined that your asthma is not well controlled (defined as using your rescue inhaler two or more days per week to treat sudden symptoms).
However, Breo is not intended to relieve sudden breathing problems, so you'll still need to keep you standard inhaler handy.
The lactose monohydrate in Breo is commonly used in prescription medications to form tablets, as well as to create dry-powder inhalations. This means you shouldn't use Ellipta if you have a severe allergy to milk proteins.
Like many prescription medications, GSK cites a long list of potential side effects with Breo, including:
Fungal infection in the mouth or throat (thrush)
Runny nose and sore throat
Upper respiratory tract infection
Headache
Cough
Weakened immune system
Reduced adrenal function
Sudden breathing problems
Increased blood pressure
Tremor
Osteoporosis
To help you avoid thrush, let's quickly discuss how to use Breo properly.
How Do You Use Breo Ellipta?
Each Breo inhaler contains 30 doses.
When you're ready to take your dose, you'll slide the cover down to expose the mouthpiece, after which you should hear a "click." Be sure that you don't close the cover, or the dose will no longer be available.
You'll notice that the counter on the cover will decrease by one after the click.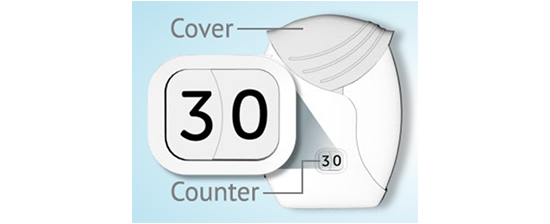 Breo's cover contains an automatic counter to let you know how many doses remain. Image credit: GlaxoSmithKline
Now, inhale only through your mouth, hold your breath for 3-4 seconds (or for as long as is comfortable), and then breathe out slowly and gently.
You may not feel or taste the medication, although it's important to rinse your mouth with water and spit the water out (do not swallow). This can potentially help prevent thrush and some of Breo's other minor side effects.
Once you reach fewer than ten doses, Breo's white counter box will turn red. It's at this point that you should request a refill.
Finally, once the counter reaches zero, you'll need to discard the inhaler in the trash and keep out of reach of children and pets.
How much will you pay for this delivery method?
How Much Does Breo Cost?
While the Breo website didn't list any prices, websites like Drugs.com and PharmacyChecker listed non-insurance prices between $71 (14-day supply) and $179 (30-day supply), or about $5-$6 per dose.
On the other hand, some prescription comparison websites reported prices as high as between $290 and $380.
Pro tip: Keep in mind that you'll still need your emergency inhaler with Breo Ellipta, which (as you likely already know) will run you an additional $30 to $60 per month.
Comparatively, some of Breo's competition could be found for as much as 60% less.
At the time of our research, GlaxoSmithKline offered several different coupons to help defray some of these costs:
Some customers may be eligible for a 12-month prescription priced no higher than $10 per month
Free trial offer and info kit
Get your first month free
If you need help paying, you can also apply for assistance on the GSKForYou.com website.
Have additional questions? A GSK representative can be reached at 888-825-5249.
Based on these prices, are Breo's customers reporting a solid return on investment?
What Are Customers Saying In Their Breo Ellipta Reviews?
On Drugs.com, Breo had an average rating of 6.8 at the time of writing, based on a total of 49 reviews.
There, most compliments referenced improved breathing, better results than the popular competition, and even decreased use of rescue inhalers in some instances.
On the other hand, most complaints seemed related to no results, that it stopped working after a few months due to tolerance buildup, and side effects (joint and muscle pain, especially in the legs and neck; itching/rashes, worsened breathing, potential depression).
We encountered similar ratings, feedback, and potential side effects on other websites like WebMD.
From a company perspective, Philadelphia, PA-based GlaxoSmithKline has been in business since 2001, although the company's holdings (based on acquisitions and mergers) can be traced back to the 1800s.
Let's go ahead and wrap things up, shall we?
Is Breo Ellipta a Good Choice For Asthma & COPD Sufferers?
The bottom line is that, like most other combination inhalers, Breo Ellipta has some clinical evidence behind it, it comes from a well-established pharmaceutical company, and seems to boast mostly positive customer feedback. Based on this, it appears that it's helped a lot of asthma and allergy sufferers find relief—even where other prescriptions have failed.
Does this mean Breo work as well for you? Since each of our physiologies can differ so significantly, there's simply no way to know without speaking with your doctor, figuring out if it represents a solid option based on your specific diagnosis, and then giving it a try.
Based on what we learned from the company and customer feedback, though, there can be some potentially debilitating (and even deadly) side effects related to Breo, which is why it's doubly important to have an open, honest discussion with your physician.
4 out 4 people found this review helpful

It works!

By Deidra B.

,

Lewisburg, TN

,

Sep 20, 2018
Verified Reviewer

I've had asthma forever. So many exacerbations, hospital visits, even intubation. Breo has been the ONLY THING to help. Advair, Spiriva, etc. didn't help me. The ingredients must be just exactly what I need. If I go without it, the tightness starts within three days, and I get sick really fast. It may not work for everyone, but I can't live without it. Everyone should, at least, try it.

Bottom Line: Yes, I would recommend this to a friend

---

Advertisement

---