BREO ELLIPTA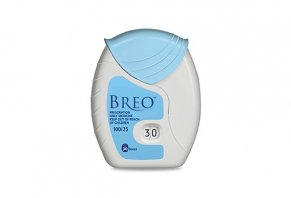 BREO is a prescription medication for adults that aims to offer relief for symptoms related to COPD and asthma.
BREO ELLIPTA Review: What You Should Know
BREO is a prescription inhaler that combines 2 medications to relieve symptoms of COPD and asthma in adults.
Chronic obstructive pulmonary disease (COPD) is a category of different conditions that are associated with a variety of respiratory symptoms.
Chronic bronchitis involves excessive coughing and phlegm, whereas emphysema is associated with difficulty breathing due to inflammation and the destruction of lung tissue.
While not actually defined as COPD, those with asthma experience inflammation and overactivity of the airways. Thus, this condition is at the end of the spectrum closest to emphysema.
The associated symptoms like shortness of breath and wheezing are much more reversible than those related to COPD, however.
There are a number of lifestyle changes and medical treatments available to manage these conditions. GSK claims that BREO offers another prescription option for those looking for relief.
They state that once-daily use of BREO will improve your lung function by reducing inflammation and opening up the airways.
But why is this different from any of the other available prescription medications?
In this article, we'll help you answer this question by reviewing the available scientific support for the medications offered in BREO.
The Active Ingredients: Do They Work?
GSK states that the magic behind the proposed results is due to the combination of 2 medications offered in their BREO inhaler: fluticasone and vilanterol. Both work together to accomplish the same goal, though they have very different mechanisms of action.
According to GSK's site, BREO is the first and only once-daily inhaler that combines these medications to improve lung function for a full 24-hours.
As BREO has been specifically studied in both COPD and asthma patients, we'll review some of the study results in this section to determine if GSK's claims are supported.
First, a bit about the medications.
Fluticasone and Vilanterol
Fluticasone is an inhaled corticosteroid. Like other steroids, it has anti-inflammatory effects. In this case, it targets the airway inflammation associated with conditions like COPD and asthma.
Vilanterol is a long-acting β2-agonists (LABA). LABAs relaxes the smooth muscle in your respiratory tract to increase the diameter of the airways and allow for improved breathing.
BREO for COPD
A review of 10 randomized trials summarized the beneficial and harmful effects of BREO treatment in patients with COPD.
The included studies compared the 100/25 (fluticasone/vilanterol) mcg dosing of BREO to placebo or other medications with treatment durations ranging from 3-months to 1-year.
While BREO was associated with fewer symptom flare-ups over 1-year, improvements in quality of life were similar between treatment groups.
They also found that BREO's new design did not affect patient compliance when compared to the other inhalers. There was also a risk for pneumonia with BREO treatment, particularly in those treated for the longest durations.
Lastly, they found BREO to be less expensive to other more commonly used daily medications.
While this review pointed out that comparisons were challenging as the methods varied study to study, they did conclude that in most instances BREO was comparable to other treatments. More long-term studies are needed to better characterize these relationships.
The potential to better limit exacerbations over 1-year needs to be weighed with an increased risk for pneumonia during this same duration.
BREO for Asthma
A review of 7 studies summarized the safety and efficacy of BREO treatment for asthma.
They concluded that the 100/25 and 200/25 dosing options were likely equally safe and effective in treating asthma when compared to the other available LABA and steroid inhalers.
Interestingly, they also noted that BREO's once-daily dosing regimen is probably more appealing to users.
Though treatment should follow clinical practice guidelines, patient preference should be considered when determining the best plan for care.
Is BREO Safe?
Though these drug classes have been effectively used in the treatment of COPD and asthma for years, they are not without risks. To limit the associated side effects, only use your inhaler as directed.
There are a number of associated unwanted effects with the use of these medications. Check out a comprehensive discussion regarding important safety information here.
In an observational study, side effects with LABA use were frequent but mild. Patients most commonly reported sore and dry throat. Other side effects included oral fungal infections and skin bruising.
Reported side effects from inhaled steroids were also common; users experienced muscle cramping most often. Other side effects included hand tremors and racing heartbeats.
The use of LABAs alone in those with asthma has been associated with life-threatening exacerbations of symptoms. This risk is reduced with the addition of an inhaled steroid.
As roughly 4 out of 5 adults experience side effects with these medications, though typically mild, the need for dosing to be managed by a medical professional is clear. In addition to medical treatment, lifestyle changes and rehab are often warranted as well.
COPD and asthma are serious conditions; include your physician in the plan of care if you believe you are experiencing related symptoms.
How to Use BREO
BREO works similarly to other inhalers.
You can use your BREO inhaler by following these easy steps:
Open the cover of the inhaler.
Breathe out (exhale) fully.
Inhale your medicine and hold your breath for about 3 to 4 seconds.
Breathe out slowly and gently.
Close the inhaler.
Rinse your mouth.
For a detailed guide, complete with illustrations, check out their patient guide.
How to Get BREO
As BREO is a prescription-only, you'll need to speak with your doctor if you are interested in using this medication. This should always be the first step when you're experiencing symptoms you feel may be related to asthma or COPD.
BREO is offered in 100/25 mcg dosing for COPD. For those with asthma, 100/25 and 200/25 mcg dosing is available.
While your plan of care may warrant a combined steroid and LABA medication, your doctor must follow clinical practice guidelines and tailor treatment specific to your needs.
An example of a management plan they follow is in the table below: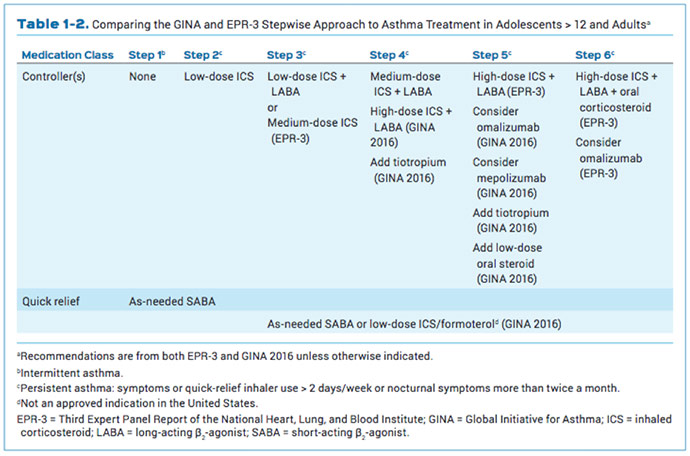 Your insurance is most likely to cover BREO if your treatment plan follows accepted clinical practice guidelines, thus it is important to follow the recommendations of your doctor.
A simple phone call to your insurance provider should quickly determine eligibility.
If for whatever reason you're not covered for BREO, out of pocket cost would be upwards of $370 at most major pharmacies like Publix, Walmart, CVS, and Target.
BREO Alternatives
There are a number of alternatives to BREO available, all of which are also prescription medications. Again, your treatment plan will be a function of clinical practice guidelines and your specific needs.
Check out the table below for a comparison of a few of the available combined LABA and inhaled steroid options.
| | Advair | Symbicort | Airduo |
| --- | --- | --- | --- |
| Medication | fluticasone/salmeterol | budesonide/ formoterol | fluticasone/salmeterol |
| Dosing | 100/50 mcg | 160/4.5 mcg | 232/14 mcg |
| Pricing | $320 - $355 | $340 - $360 | $280 - $325 |
| Walmart | Yes | Yes | Yes |
| Target | Yes | Yes | Yes |
| CVS | Yes | Yes | Yes |
| Walgreens | Yes | Yes | Yes |
Keep in mind that these brands also carry generics, whereas BREO does not. If you have out of pocket costs, you'll pay a fraction of the price by opting for the generic medications.
The Bottom Line
BREO offers another treatment option for both COPD and asthma.
According to the available research, it is as safe and effective as other similar inhalers. The combination of these drug classes places those with COPD at risk for pneumonia, but this risk may be greater with BREO.
While your insurance plan is likely to cover the cost of treatments that follow clinical practice guidelines, BREO may still offer a more cost-effective option for those with COPD that must pay out of pocket.
As this medication is prescription only, you should only use it under proper medical supervision. If you think you're experiencing symptoms related to COPD or asthma, speak with your physician to determine the best plan of care.
It works!

By Deidra B.

,

Lewisburg, TN

,

Sep 20, 2018
Verified Reviewer

Overall Experience:

I've had asthma forever. So many exacerbations, hospital visits, even intubation. Breo has been the ONLY THING to help. Advair, Spiriva, etc. didn't help me. The ingredients must be just exactly what I need. If I go without it, the tightness starts within three days, and I get sick really fast. It may not work for everyone, but I can't live without it. Everyone should, at least, try it.

Bottom Line: Yes, I would recommend this to a friend

---

Advertisement

---