BuildZoom Reviews
Claimed This company has claimed this profile, is getting alerted on any new customer reviews entering this page, and may engage in dialogue with its customers to address their matters.

Companies cannot pay money or provide goods in order to remove or alter customer reviews.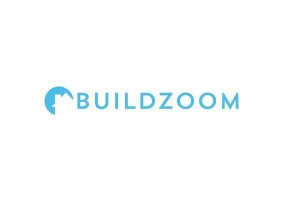 Using data from 125+ million permits and more than 6.9 million license records, along with information from agents, building departments, and consumers, BuildZoom promises to help you find the perfect contractor.
What Is BuildZoom?
Whether you need a minor improvement, a mid-size remodel, or full-on construction project, BuildZoom claims to help more than 10 million people per year find the perfect residential or commercial contractor for any job.
Specifically, their mission is "to revolutionize the $1.3 trillion construction industry and empower people to realize their dream homes," take the risk out of remodeling, and avoid project disasters, while also producing powerful, independent economic insights.
All you have to do is answer a few basic questions about your project on the website, and BuildZoom's data-driven platform will match you with at least three professionals in your area, all of which are vetted based on contractor licenses, building permits, and customer reviews. Then, a BuildZoom project consultant will provide you with a list of bids and help guide you through the hiring process.
This is a compelling concept. But, is BuildZoom the best option for you? Over the course of the next few minutes, we'll walk you through important details step-by-step so that you can make a more informed decision.
How Does BuildZoom Work?
BuildZoom is straightforward when advertising that their data is their edge. Specifically, their set was generated after gathering and organizing "data from a variety of sources, including contractor licensing agencies, local building departments, and consumers," along with 125 million building permits and 6.9 million license records.
They then use it to create comprehensive profiles for each contractor. In fact, they claim there's a BuildZoom profile for every single licensed contractor in the United States.
Combined with "project photos, government sanction records, and detailed profile information provided by the contractors themselves," the result is what BuildZoom calls "the world's best source of information about contractors," which generates 800,000 unique visitors per month.
Based on these details, if you're looking for specific types of real estate data, BuildZoom might represent a treasure trove. Considering the scope of this information, though, let's split their services into three distinct categories:
BuildZoom's Find-a-Contractor Service
After entering a description of what you need (e.g., kitchen remodel, siding, roofing, etc.) and your zip code, and clicking the Get Started button on BuildZoom's home page, their site will ask additional relevant questions and details like:
When do you want to start? Flexible, ASAP, Within a few weeks, Within a few months
What type of property is this? Single family, Condo/apartment, Office/commercial, Other
Email address
Best number to reach you at
Name
How many bids do you want from contractors? 3, 4, or 5
What is your relationship to the property? Own or help manage, Rent, Considering buying it (working with a real estate agent?)
Select budget
BuildZoom's system will automatically generate a project page based on your answers, at which point they'll connect you with contractors and provide the opportunity for you to communicate with them directly.
In the meantime, they'll also list some of the top-rated contractors in your area. If you like what you see, you can also invite these third-party contractors to bid.
Scrolling down, this page will also display any of your open projects, as well as provide access to messages, reviews, related properties, and work agreements (when relevant). Additional details include "work history, previous project photographs, and reviews of the contractors who are interested in your job." You can close any of your projects at any time without further commitment.
Keep in mind that while all of this is free without signing up, you'll be prompted to create an account when you submit a project, which allows BuildZoom to assign a dedicated Project Consultant to help you "connect with reliable contractors in your area."
They'll contact you to gather information about your project, help you hand select reliable and qualified contractors for each specific job, walk you through each step of the process, and make sure you're happy with results.
In fact, the website reports your Consultant "will stay as involved as you would like during your search and will also check in on the status of your project and be sure all your needs are met."
BuildZoom's Permit Map
Another primary feature made available by this dataset is BuildZoom's Building Permit Map. Here, you can search permit activity for a city or a specific address, and then sort results by project (architecture, electrical, HVAC, etc.), budget, and year completed.
The site's map view will signify each property with relevant activity by a blue dot, which is also accompanied by an image and address on the right-hand side of the screen.
Clicking on any listing will take you to a page with the property's full permit history, including highest rated contractors who've worked at the address, along with their BZ score, the number of projects they've completed, and their average project cost.
Related to the specific property, you'll see the permit date, type, and contractor, as well as details like permit subtype, license number, permit number and fee, status, and client. You can even message contractor directly through BuildZoom's system.
Together, BuildZoom advertises their Map provides access to information on over 80 million permitted improvements in the US.
Outside of finding a reputable contractor who has experience with your property (or the neighborhood, at least), what can you do with all of this data? A few recommendations listed on the BuildZoom website include:
Filter by project type, which allows you to see who's gone solar in your area
Browse the most expensive projects in your neighborhood (even if you're just window shopping)
Realtors can use the data to obtain details on a property they might not find elsewhere
Insurance assessors can use it to increase the accuracy of their plans
Real estate investors can better assess the value and carrying costs related to a property
BuildZoom for Contractors
Based on the information entered by prospective customers, BuildZoom will send paid members "high quality and actionable projects" from "millions of homeowners in every city who need help with their projects."
As soon as the project is received, the company recommends contractors call the homeowner or send a message immediately, followed by their best bid if they think the project is a good fit. Ideally, this should occur in person, which gives contractors the opportunity to explain documents directly to the homeowner.
Together, BuildZoom promises to make help hiring the best contractors faster, safer, and easier, while eliminating the risk, since the accountability they provide "gives contractors a strong incentive to do their best work. Contractors know that if they don't do a great job for you, they will no longer receive business from BuildZoom."
How Much Does BuildZoom Cost?
Creating a project and locating local, reputable contractors is free for BuildZoom customers, as is access to their Building Permit Map.
If you'd like to download the information, one property report is priced at $29.99, while Premium access to all property records requires a customized quote from a company representative. As explained on the website, this allows you to:
"Drill down to see any property's full report, which includes a top-line summary of the property's remodeling history as well as details on every documented project that has been completed, in addition to the contractor responsible for the work."
Project referrals are also free, although contractors will pay a 2.5% commission/referral fee based on the project's value once they get hired. BuildZoom indicates that the more contractors are hired through their site, they more projects they can refer.
There are no minimums, monthly fees, or hidden costs. The only agreement contractors make is to pay the 2.5% referral fee follow hiring confirmation.
If you have additional questions regarding pricing, BuildZoom staff can be reached at support@buildzoom.com.
What Can We Learn from BuildZoom Reviews?
Although San Francisco, CA-based BuildZoom has been in business since 2013 and has raised a total of $14.7 million in funding, we encountered relatively limited online feedback for the company at the time of our research.
In fact, other than a handful of comments on online forums, the only feedback we encountered was on the Better Business Bureau's website, where BuildZoom held an A+ rating. This was based on 11 total customer reviews (eight of which were negative) and more than 20 closed complaints, as of 5/22/18.
When details were available, most of these appeared to revolve around information/privacy concerns, and a company representative responded in each instance with a solution.
BuildZoom was co-founded by CEO David Petersen and Jiyan Wei. Previously, David worked as co-founder of Flexport and ImportGenius.com, while Jiyan worked as Head of Product Management for Vocus, Inc. and v-Fluence.
Are There Other Data-Centric Contractor Websites Like BuildZoom?
Between heavy-hitters like Angie's List and HomeAdvisor, it might seem like the online 'find-a-contractor' niche is fairly saturated.
However, while others certainly listed contractors based on customer ratings and number of jobs completed, neither of these options (nor any other potential competitors we encountered during our research) provided an environment built on similar data as BuildZoom. In other words, you won't find these tools, based on the same data, anywhere else.
Here's the critical question, though: It's no secret that data accumulation and aggregation are the keys for companies to make money in the online era. But, as a consumer, will BuildZoom's dataset necessarily help you find a better, more reliable contractor?
Let's carry this question over to the final section as we help you come to a conclusion.
Our Final Thoughts About BuildZoom
Unless it's an absolute emergency, it's vital that consumers take their time and create a list of contractors they're considering for a project, followed by an in-depth investigation of each one's online presence, existing customer feedback, and what any relevant state websites (such as the Labor & Industry website in Washington State) have to say.
And based on their extensive, proprietary dataset, it certainly seems like BuildZoom might help streamline this process, save consumers time, and help them locate reputable contractors who will deliver on their expectations.
On top of this, their service is completely free for consumers, and the company seems to have an almost wholly positive—if not fairly limited—online reputation, so you might not have much more to lose than a few moments of time for giving the site a try.
» For Further Reading: Finding a Home Contractor: A Guide to the Five Best Websites
---
Highly recommended

By Chris R.

,

Tucson, AZ

,

May 30, 2020
Verified Reviewer

Length of Use: 3–6 months

Overall Experience:

Casey was a pleasure to work with, very professional and responsive. I was able to get four more referrals in addition to the three I researched on my own, and I ended up choosing one of the BuildZoom referrals, as their material costs were the lowest, they were more responsive than the others, and they had the best portfolio/references that matched my new single-family residential project. I highly recommend BuildZoom, and Casey specifically, if you are contemplating a new build or a remodel.

Pros and Cons:

Time spent upfront understanding my project
Responsiveness
Winning bid
No "cons" were specified in this review

Bottom Line: Yes, I would recommend this to a friend

---

Great resource

By Mrinal I.

,

Menlo Park, CA

,

May 20, 2020
Verified Reviewer

Overall Experience:

I used BuildZoom to get referrals for general contractors to work on remodeling my house. In parallel, I also contacted contractors and architects on my own. BuildZoom's referrals were far better than the ones I contacted on my own. BuildZoom has a good reputation with contractors too and their advice through the process was invaluable. I strongly recommend leveraging their expertise.

Bottom Line: Yes, I would recommend this to a friend

---

Advertisement

---

Fraudulent reviews

By Steve C.

,

Bellmawr, NJ

,

May 13, 2020
Verified Reviewer

Overall Experience:

Contractors beware of this company. They attach reviews to your profile that don't belong to your company. They did it to me twice. They claim to have verified the documentation but never submitted it to me. I showed them supporting documentation. They say I need to dispute it via their website but there is no tab to remove it. This causes libel and financial damages to possibly losing jobs. They claim the consumer has a right to submit a review even if it's not through their website. This is dangerous to any company. Furthermore, the leads they give are horrible and dead ends. They rather put an unfounded negative review against a company that is false and damaging then protect their own clients. This company took over for Renovation Experts who would never do this to its clients. BuildZoom are frauds and unprofessional and very unethical. Stay away.

Bottom Line: No, I would not recommend this to a friend

---

Good service, professional contractors

By Alex W.

,

California

,

Mar 4, 2020
Verified Reviewer

Overall Experience:

BuildZoom helped me locate multiple contractors for a job in San Diego, CA. They really took the time to understand my needs and connect with folks that had relevant experience. The bidding process was smooth, and I'm pleased with the contractor I ended up using.

Bottom Line: Yes, I would recommend this to a friend

---

Advertisement

---

Excellent professional service!

By Rudy O.

,

Davie, FL

,

Feb 29, 2020
Verified Reviewer

Overall Experience:

As a busy professional, it is extremely difficult for me to dedicate the time that is needed to find and select an architect to build our dream custom home. That's where BuildZoom came in and saved the day for me. Their professional and knowledgeable staff, led by Rory O'Driscoll and Peter Banos, were there for me every step of the way to identify potential architects, review their proposal and help me negotiate a fair fee for the design.

In addition to saving me the time it would have required for me to do the research, analyze bids and negotiate a price with an architect, their expertise and willingness to go the extra mile resulted in a much lower design fee than what I expected.

I highly recommend BuildZoom and many thanks to Rory and Pete for a job well done!

Bottom Line: Yes, I would recommend this to a friend

---

Kitchen demo

By Paul S.

,

Whitestone, NY

,

Dec 30, 2019
Verified Reviewer

Overall Experience:

You will not find a more reliable, professional, and caring contractor. His price is very reasonable. His workmanship is precise and spot-on. All aspects of my kitchen demo were perfect...plumbing, electrical, painting, flooring, and overall work. He is not happy if you are not. He goes above and beyond to help out in the house while in the job...attic stairs, doors throughout and lighting...all done to perfection.

You won't find a contractor more reliable.

Bottom Line: Yes, I would recommend this to a friend

---

A terrible unhelpful site.

By Robert T.

,

Boca Raton, FL

,

Nov 22, 2019
Verified Reviewer

Overall Experience:

I contacted BuildZoom as a small business owner to have a false review removed, they wanted me to make a profile and I did, they didn't remove it. I asked again, sure they removed the false review, along with my other review. Now I show up as a 3-star company, I can't change anything, nor will they. And then they have the nerve to ask if I want to use them for referrals. If you can't simply remove an obviously false review meant to exploit your rating system without causing reputational damage to my company, why would I want to be involved with you?

Bottom Line: No, I would not recommend this to a friend

---

NEVER CALLED ME BACK!

By Russell C.

,

Washington

,

Nov 21, 2019
Verified Reviewer

Overall Experience:

I contacted BuildZoom to start my search for companies to build our new home. Right away I received an email and a text message from Brooke asking me when a good time to call me back would be. I responded, that the next day at 2:00 pm would work great for me, and she sent me a text back re-confirming that day and time. As I waited for her call, two o'clock came and went, so at 2:10 I sent her a text asking if she was still planning on calling me. When 3:00 came around, I sent her a blistering text telling her that my time is very important to me, and to NEVER contact me in the future! If this is a professional company, then I want NOTHING to do with it!

Bottom Line: No, I would not recommend this to a friend

---

Fair and honest contractor

By Ina F.

,

New York

,

Nov 19, 2019
Verified Reviewer

Overall Experience:

After getting several estimates on a leaky heating pipe in my basement, I chose Forgione Plumbing. I found Chris to be courteous, knowledgeable, efficient and thorough. His work was completed in a timely manner with very little disruption to my heat. His price was very fair. On a second occasion, he was quick to respond to my phone call and came promptly to assess the problem. I would highly recommend this company for fast, fair, excellent service.

Bottom Line: Yes, I would recommend this to a friend

---

BuildZoom review

By Joseph F.

,

Boston, MA

,

Nov 18, 2019
Verified Reviewer

Overall Experience:

I utilized BuildZoom to find adequate reviews of contractors for a small job that I needed done. The contractor reviews were instrumental in me selecting an appropriate contractor based on price, performance, and the reviews from past projects.

I would recommend them.

Bottom Line: Yes, I would recommend this to a friend

---

Walk-in closet and bathroom expansion

By Lucy C.

,

Levittown, PA

,

Nov 18, 2019
Verified Reviewer

Overall Experience:

I was getting ready to give up on obtaining bids for my project to install a dormer. The purpose of the dormer was to expand my bathroom and build a walk-in closet. The representative was knowledgeable and aggressive in helping me obtain my goal. My dream closet and bathroom expansion probably would not have happened without their help.

Bottom Line: Yes, I would recommend this to a friend

---