How to Publicly Respond to a Review
Last updated on:
At HighYa, we believe that responding timely to both negative and positive reviews builds trust with your customers and your prospects.
We worked hard to make it easy and intuitive for our Business Account users to respond to reviews. Please follow the steps below to know exactly what you need to do as well as learn about the various options:
1. Set Up Publicly Displayed Name
If this is your first time responding to reviews using your Highya Business Account, we recommend setting up your Publicly Displayed Name first. By default, your publicly displayed name is the name of your company.
To set up your Publicly Displayed Name, please navigate to the Account Settings. If you are using a desktop computer, the link will be found by clicking your profile image at the top right of the screen.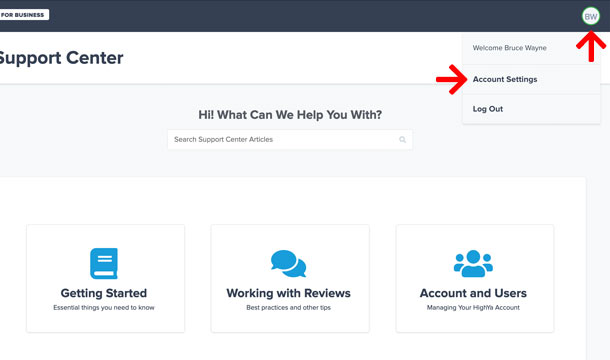 Once you are in your Account Settings, please click the Company Profile button, which will open a page with your company info.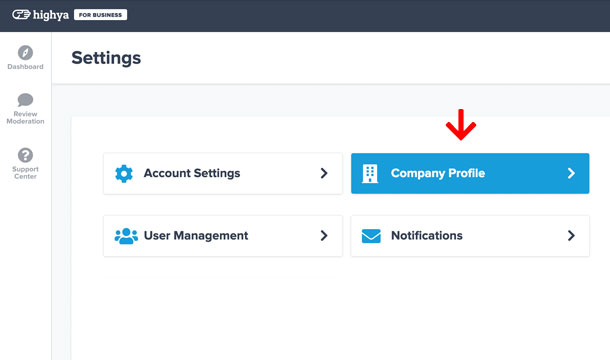 On the Company Profile page, you will see a field titled Publicly Displayed Name, where you can enter the name that you would like to be associated with your public responses to reviews and comments.
After you're done, click "Save Changes" button at the bottom of the page.
Note: You can always update your Publicly Displayed Name and the changes will be applied to all of your existing responses.
2. Navigate to Review Moderation Section
After setting up your publicly displayed name, please navigate to the Review Moderation section. If you are using a desktop computer, the link will be on the left side of the screen.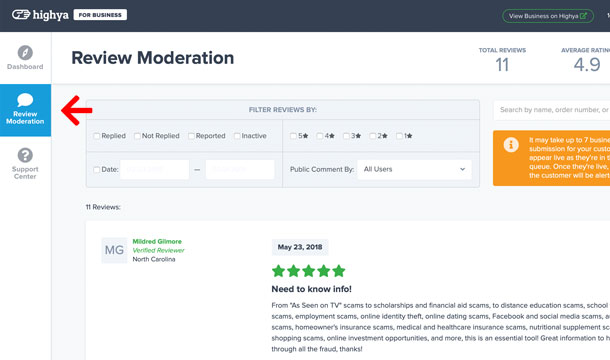 Once there, you should see all of the consumer reviews for your company.
3. Press Respond as Business Button
Scroll to the review that you would like to respond to and click the green "Respond as Business" button.
After you click the button, a text field will appear where you can type your response. After you are finished typing, please click the "Post" button to publish your response.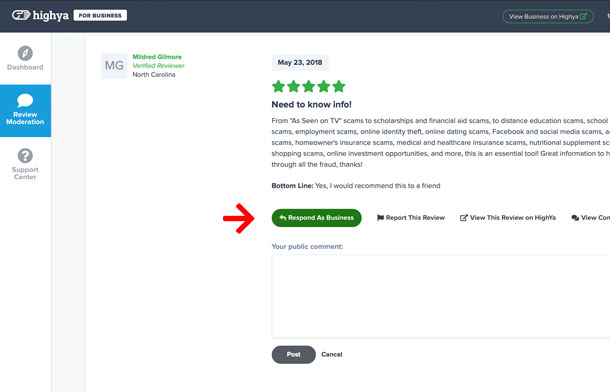 After your public response is posted, you will see additional options to edit or delete it. In addition, an edit history is kept for your reference.
Note: All public responses go through our moderation process, which can take up to two business days.
Once your response is posted live, the reviewer receives an email notification indicating that an official company representative has responded.
To your continued success,
HighYa Business Support