ButcherBox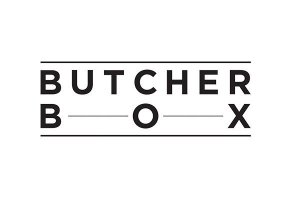 ButcherBox is a subscription meat service that sends you multiple cuts of top-quality beef, pork, chicken, and seafood for cooking restaurant-quality meals at home.
ButcherBox Review: Is It Worth It? A Detailed Look
Finding quality meat at the store can be a chore because it's hard to know whether your favorite cuts will be available, or whether the meat is from a reputable source. One company is meeting this challenge by sending premium cuts directly to your home.
ButcherBox is a meat subscription service that sends you high-quality beef, poultry, pork, and seafood every month. The brand works with a group of family farms and cooperatives to deliver top-tier meat products to your door. Everything will arrive frozen on dry ice to ensure its safety.
ButcherBox claims to offer meat that's a literal cut above what's available elsewhere. All available beef is both grass-fed and grass-finished, the poultry is pastured and certified organic, and the seafood is all certified wild-caught.
All ButcherBox pork comes from heritage breeds like Duroc, Berkshire, and Red Wattle, which are known for their full flavor. Regardless of the type of meat you get, ButcherBox guarantees that it will be antibiotic-free and raised without added hormones.
Should you consider a subscription? Learn from our analysis whether this meat delivery service offers the value it promises.
Large selection of organic, pasture-raised meat products
Lots of bonus offers available when you sign up
All meat is guaranteed antibiotic-free, hormone-free
More expensive than most other retailers
Orders occasionally arrive warm or missing products
Only one box option lets you customize what you receive
How It Works and Pricing
When you sign up for ButcherBox, you'll first need to choose your preferred box. Options include the following:
Mixed Box: Includes between 8.5–11 lbs. of beef, chicken, and pork (cuts are selected for you)

Beef and Pork Box: Receive between 8–11 lbs. of beef and pork (cuts are selected for you)

All Beef: Receive between 8–10 lbs. of beef (cuts are selected for you)

Custom Box: Includes your choice of beef, chicken, pork, and seafood cuts for 20% more meat than the other boxes (about 9-14lbs per order). You can change your selection for every order.
What you'll pay for ButcherBox depends on the type and size of the box that you choose.
Classic Size (8–11lbs):
Mixed Box: $129
Beef and Pork Box: $129
All Beef: $129
Custom Box: 149 (9–14lbs)
Big Box (16–22lbs):
Mixed Box: $238
Beef and Pork Box: $238
All Beef: $238
Custom Box: $270 (18–26lbs)
The default delivery frequency is every four weeks, but you can also modify your order to every two weeks or six weeks.
Only the Custom Box lets you choose the exact cuts of meat you receive. You can make six selections for the Classic Box and 12 for the Big Box. There are more than 20 options available, some of which include NY strip steak, chuck roast, chicken drumsticks, whole chicken, ground pork, baby back ribs, wild Alaskan salmon, and scallops.
In contrast, when you order the Mixed, Beef and Pork, or All Beef Box, ButcherBox will make the selection for you, so you can expect that each delivery will be slightly different.
With every order, it's possible to include add-ons such as wild Alaskan sockeye salmon ($25 for 2lbs), bacon ($7 for 10-oz), ground beef ($15 for 2lbs), and breakfast sausage ($9 for 1 lb). These add-ons are recurring, but they can be changed per order if you update your settings.
It's also possible to pause your subscription for up to six months or cancel it at any time through your account settings. For further help, contact customer service at support@butcherbox.com.
ButcherBox Deliveries
Once your order is finalized, ButcherBox will send you a delivery date so that you can ensure you'll be able to bring it inside within a few hours after dropoff.
Your ButcherBox delivery comes in an insulated box packed with dry ice. Each vacuum-sealed cut of meat should arrive frozen solid and should be safe for several hours in the box after delivery if you can't put it in your freezer right away.
After delivery, you can thaw whatever you plan to eat within the next few days and pop the other products in the freezer for later use. Each box will come with a safety guide that follows the USDA recommended guidelines for proper storing, freezing, and thawing.
As ButcherBox products are perishable, the company won't accept returns on any order. However, if your order arrives damaged or is missing items, you can report the issue to customer service to start the refund process.
How Does ButcherBox Pricing Compare to Other Retailers?
We wanted to see whether ButcherBox meat is more expensive than equivalent cuts at the grocery store. To do so, we compared the company's pricing to other national retailers, including Whole Foods, and Target, and two nationwide delivery services, Fresh Direct and US Wellness Meats.
For this comparison, we are assuming that customers are purchasing ButcherBox's Classic-sized Custom Box.
| | ButcherBox | Whole Foods (West Mi Location) | Target (West Mi location) | Fresh Direct Delivery Service | US Wellness Meats Delivery Service |
| --- | --- | --- | --- | --- | --- |
| 100% Grassfed Ground Beef (2lbs) | $24.83 | $13.98 | $11.38 | $19.99 | $19.98 |
| 100% Grassfed Ribeye Steak (two 10oz Steaks) | $24.83 | $23.73 (not grassfed) | $17.48 (not grassfed) | $27.48 | $36.12 |
| Free Range, Organic Bone-in Chicken Thighs (three 1lb packs) | $24.83 | $11.97 | $5.07 (not free range, not organic) | $11.97 (not free range, not organic) | $29.25 (not organic) |
| Free Range, Organic Boneless, Skinless Chicken Breasts (three 1lb packs) | $24.83 | $16.47 | $23.70 (not free-range) | $17.97 | $46.35 (not organic) |
| Heritage-Breed Pork Tenderloin (14oz) | $24.83 | $6.99 (not heritage breed) | $4.66 (not heritage breed) | $9.74 | $11.79 |
| Wild Caught Scallops (1lb) | $24.83 | $24.99 | $19.99 | $19.99 | $36 |
| Total Cost | $149 | $98.13 | $82.28 | $107.14 | $179.49 |
As this chart shows, a ButcherBox order will often be more expensive than buying the same amount of meat at the grocery store. Some cuts, like ribeye steak and scallops, are relatively similar in price, though other items, like ground beef and chicken thighs, are clear winners at the store.
However, the grocery store locations we looked at often didn't offer cuts of meat of equivalent quality to what ButcherBox provides. For instance, the selection of grass-fed cuts of beef were more limited, and we often couldn't find poultry that was both free-range and organic. This is an important consideration for those who prioritize quality over pricing when shopping for meat.
ButcherBox's closest comparable is US Wellness Meats. This direct-to-consumer company specializes in high-quality cuts, and, like ButcherBox, promises that all their beef is grass-fed, all the poultry is pastured (though not certified organic), and the pork comes from heritage breeds.
We found that you'll pay more on average for a US Wellness Meats order than ButcherBox. However, you aren't enrolling in a subscription whenever you shop. This means that you can order as often as you want and aren't restricted to set order size. And unlike most of ButcherBox's boxes, you can choose exactly what you receive in each order.
For many people, this flexibility may be worth paying more per order. Just keep in mind that U.S. Wellness Meats requires a $75 minimum per order, and all frozen item orders require at least seven pounds of perishable weight.
Analysis of Customer Reviews
On Influenster, ButcherBox averages 3.5 stars based on over 250 reviews. The Better Business Bureau has slightly higher rankings, as the company averages four stars after almost 600 reviews. Here's what customers were talking about most often.
Common Compliments:
High-quality meat for the price
Great selection of products
Prompt responses from customer service
Lots of bonuses available at signup
Common Complaints:
Difficult to cancel subscriptions
Boxes didn't arrive on scheduled days
Meat sometimes came fully defrosted
Shipments continued after some customers thought they had canceled their accounts
Some meat tasted freezer burned
Items occasionally arrive damaged
The Bottom Line: Should You Sign Up for ButcherBox?
ButcherBox's subscription meat service is likely to appeal to a specific demographic; cooking enthusiasts who love the convenience and high-quality meat. You'll pay more per cut of meat than you likely would at most grocery stores, but many ButcherBox customers would argue that the quality of each product more than makes up for this price difference.
As with most subscription services, delivery issues are a common complaint. Despite the company's best efforts, there's a good chance you'll eventually receive an order that's too warm or missing something.
Also, keep in mind that you'll pay slightly more for Custom Boxes that let you choose each product per delivery. If you don't, you'll have less control over what you actually receive.
If you eat a lot of meat and care about quality, ButcherBox is an excellent way to keep the freezer stocked, especially if you don't have local access to naturally-raised meat. But for those on a budget or who want more flexibility in their monthly menu planning, you might do better staying away from a subscription model altogether and simply buying what you need from the store.