Bye Bye Foundation Reviews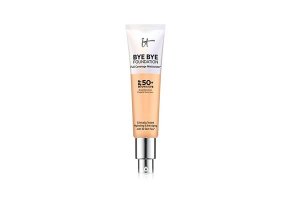 IT Cosmetics Bye Bye Foundation claims to soften your skin, provide SPF, and offer coverage that can't be beat.
About Bye Bye Foundation
Since the rise of BB Creams, those wondrous five-in-one potions that were touted by magazines around the world as the next holy grail, it seems as if every cosmetic product is stepping up to promise more, more, more.
And Bye Bye Foundation is no exception. IT Cosmetics calls the product a "Full Coverage Moisturizer," and claims that it infuses moisture, blurs away flaws, and protects from sun damage in one simple step.
The brand also claims that Bye Bye Foundation goes beyond making you look beautiful in the moment, by creating visible improvement in your skin that lasts – even after the foundation is washed off.
IT Cosmetics founder Jamie Kern Lima states that the IT Cosmetics line was inspired by her own struggles in the makeup chair while working as a news anchor in her early twenties. The result, according to Lima, is an innovative line of products that starts as cutting-edge skincare – without sacrificing performance and coverage.
Bye Bye, Foundation?
IT Cosmetics Bye Bye Foundation is designed to cover dark spots, fine lines, pores, acne and imperfections - and claims to do so "INSTANTLY!"
What else, you ask? Pulled straight from their website: "And is clinically shown to last all day."
Let's sidebar for a moment. There are many new claims of advanced formulas that can make your trip to the cosmetics section a confusing experience. If you're buying foundation at all, chances are, you'd like to look your best.
However, like many shoppers, you don't want to throw your money at a product simply because it's pricier or makes bigger promises. This is, in essence, why we at Highya review product claims from an objective standpoint.
So, before we look any further at IT Cosmetics Bye Bye Foundation, I'd like to point out (objectively):
EVERY foundation since the use of white lead (circa the 1500s) has covered dark spots, fine lines, pores, acne, and imperfections.
Claiming that a product is "clinically shown to last all day" covers up a lack of actual scientific proof better than any cosmetic could do for a complexion – it's pure fluff for two reasons. First, the statement skirts real validation by using "shown" instead of "proven." Second, not all clinical trials are created equal, and results may be subject to a considerable amount of bias.
Still there? Great! Let's get back to it.
In Just 10 Minutes & Just 10 Days
As we've just explored, IT Cosmetics Bye Bye Foundation promises to… act as a foundation. Here are some other things it claims to do:
In "Just 10 Minutes," Bye Bye Foundation claims to increase your skin hydration by 79%. Interestingly, the percentage to which it "increases skin's hydration" is the exact same as how many test subjects reported more supple skin – 79%.
So, within 10 minutes of using Bye Bye Foundation, your skin will either feel 79% more moisturized or 78 other people will also feel slight additional suppleness at the same time.
Moving on, in "Just 10 Days," Bye Bye Foundation claims to create visible improvement in your skin's smoothness, including texture improvement (which sounds redundant, but is stated separately), and a reduction in wrinkles.
It's So Good, You Can Sleep in It
Never to sleep in your makeup is so ingrained in our idea of good grooming habits, that it's become trendy for cosmetics companies to claim that you can do otherwise as a show of how gentle or great their product is.
IT Cosmetics claims that you can do the same with Bye Bye Foundation. However, they don't explicitly state that doing so won't clog pores or cause breakouts. Besides, there are more good reasons to wash your face at night than just removing makeup!
So, while you most certainly can sleep in Bye Bye Foundation, you could also sleep in heels. Is either a good idea? Likely not.
Finally, Bye Bye Foundation Promises Full Coverage Sun Protection
IT Cosmetics claims that their foundation is also a mineral-based UVA/UVB SPF 50 sunscreen – insinuating that you can skip the extra step of applying a separate sunscreen.
This is a dangerous claim, and certainly not great for the long-term health of your skin. As we've previously reported, a dab of your foundation isn't the same as the amount of sunscreen you'd slather on your face.
Additionally, makeup wears off during the day, and chances are you aren't religiously reapplying the way you should with sunscreen. And why would you? Bye Bye Foundation has been clinically shown to stay on all day.
» Related: Best Face Sunscreen Buying Guide
Let's Talk IT Cosmetics Technology
How does Bye Bye Foundation help you achieve sudden and lasting skin suppleness? With their 3D Skin Flex Technology – exclusive to IT Cosmetics, of course.
As taken directly from the website, IT Cosmetics claims that their 3D Skin Flex Technology targets your skin issues on three levels:
It Corrects - Within the skin's surface, a proven blend of powerful anti-aging ingredients - such as peptides, hyaluronic acid, & hydrolyzed collagen - infuse moisture and help correct the look of aging skin.
It Perfects - At the surface, light diffusing pigments cover and perfect the look of your skin, and they flex so they move with you. They're designed not to crease or crack.
It Protects - On the top of your skin is a broad-spectrum, mineral-based, 50+ (physical, not chemical) SPF sunscreen to help protect your skin from the sun.
Peptides, hyaluronic acid, and hydrolyzed collagen can be found in many anti-aging products, thanks to their collagen-boosting effects. However, IT Cosmetics doesn't disclose the percentage of each used, so there's no telling the potency of any anti-aging ingredients in Bye Bye Foundation's formula.
What about perfects and protects? We can't speak to the "perfects," as each individual's preferences for foundation coverage will vary. However, as mentioned above, it is imperative for your skin's health that you not rely on a foundation for complete sun protection – no matter how high an SPF they claim.
Bye Bye Foundation Test
» For more product tests and tips: Click here to subscribe to HighYa's YouTube channel.
Let's Not Forget the FDA
While we're inspecting claims, this seems an opportune moment to mention something we touch on in many of our articles: It is against FDA regulations for a product classified as a cosmetic to create real and lasting change in your skin.
"As long as anti-aging products include the disclaimer that they're not 'intended for use in the diagnosis, cure, mitigation, treatment, or prevention of disease,' manufacturers can basically make any claim they like, without having to support these claims with a single shred of evidence or to show that they're safe to use. In fact, the FDA doesn't get involved until enough people have complained about a specific product, at which point the legal process begins."
How Much Does Bye Bye Foundation Cost?
Bye Bye Foundation is available in four shades: fair, medium, tan, and rich, and can be purchased at www.tryitnow.com.
However, you can't purchase this single product alone.
Instead, IT Cosmetics forces potential customers to purchase one of two cosmetics collections:
Your Most Beautiful You Collection ($49.95): This five-piece kit also includes two bonus products, totaling seven. Each of the products are pictured, but not named, so for accuracy I'll refrain from doing so.
Beautiful You Collection ($39.95): This kit advertises you'll buy only the foundation, with an additional four products for free.
Customers are also rewarded with an additional two gifts, a blush and brush, before checkout.
Customers also have the option to customize their own makeup kits. However, orders for custom kits must be placed by calling 888-922-0487.
But, That's Not All
The cost of each kit does not include shipping and handling. It does include a membership to IT Cosmetics autoship program, however!
All IT Cosmetics customers should be aware that purchasing one kit signs them up for recurring monthly charges. At Highya, we're very wary of autoship programs as they can be difficult – and costly – to cancel.
» See Also: Free Trial Offer and Autoship Program Scams: What They Are and How You Can Avoid Them
Returning an IT Cosmetics purchase may also prove difficult. Their terms and conditions simply state that you may return items in accordance with the Return Policy instructions that accompany your product shipments. Or, if you are uncertain about your right to return the product, you may also call Customer Service (888-922-0487) for assistance.
Bottom Line on Bye Bye Foundation?
Foundation is a particularly difficult product to purchase online – shade matching, skin allergies, and general quality can't be tested before opening your wallet. And considering the steep stakes of doing so for an IT Cosmetics product – meaning their questionable return policy and autoship program – it might be safer to shop elsewhere.
Have you purchased an IT Cosmetic product? Please share your experience in the comments below.
» More on Skincare:
They are fraud

By Azi Z.

,

San Jose, CA

,

Mar 20, 2019
Verified Reviewer

Please don't waste your money with this company. Not only are they so expensive, there is no customer service if you return something. And customer service in China can't communicate with you, and I called again, I was on hold for 1 and 1/2 hours and no response. They keep emailing me that we will issue a refund in 3-5 days, which never came. I finally dispute it with my bank, but they ruined my day and is so frustrating.

Bottom Line: No, I would not recommend this to a friend

---

Love the products!

By Katy C.

,

Dallas, TX

,

Sep 22, 2018
Verified Reviewer

I have been using the foundation consistently for two years. I receive compliments on the quality of my skin weekly. I found that the concealer is the best have ever used. I maintain my skin with over the counter products and I cleanse my face meticulously every night, and I exfoliate regularly.

Three products that I am religious about using are Retina A; Vitamin C creams; and a non-alcohol toner that help my skin to absorb the products because of the reduction in lines and my youthful appearance. I am 74 years old but am frequently mistaken for someone in my 50's. Tip-drink half of your body weight in ounces of water and see the difference in your skin.

Bottom Line: Yes, I would recommend this to a friend

---

Advertisement

---

Not bad

By Meggie D.

,

Novi, MI

,

Sep 1, 2018
Verified Reviewer

I've only used this Bye Bye makeup two days, but I like the way my skin looks and feels. I bought it from QVC, so I did not do auto delivery and only buy stuff when there is a deal, so I've had no issues buying it this way. I previously used a different IT Cosmetics foundation, and I like that too, also purchased through QVC.

Bottom Line: Yes, I would recommend this to a friend

---

Rip off

By Anna K.

,

New Jersey

,

Aug 9, 2018
Verified Reviewer

I saw this product advertised on TV. I went to the website and right before I was about to place my order the "terms " popped up. Being married to a lawyer I always read terms. They want you to commit to buying it EVERY 4 weeks.

I called the 800 number and the operator "generously" offered me the same product for $20.00 MORE. I told her I wanted the same price advertised on the website because I don't wear makeup every day and would only use this occasionally. She then tried to convince me she was doing me a favor by charging me MORE. She also said it was 60% off. I asked 60% off of WHAT? There were no original prices posted.

Don't buy this product unless you are committed to purchasing it every month. I hate high-pressure sales tactics. It insults my intelligence.

Bottom Line: No, I would not recommend this to a friend

---

Advertisement

---

Fourth try is a charm

By Kristine C.

,

Eugene, OR

,

Jun 19, 2018
Verified Reviewer

All I want is a tinted moisturizer - a single liquid/cream I can apply to even out my blotchy skin tone. I've spent a lot of time and money trying to find one. I've tried numerous BB creams, plus Juice Beauty, Wander Beauty, bareMinerals, and now IT's Bye Bye Foundation. None of those are awful, and I'll use them, but they aren't perfect. Finally, in Bye Bye I have a single product that is a great shade match, applies easily, and makes my old blotchy skin look better. I purchased it at Ulta so none of the auto-ship problems others experienced (thanks for the warning!).

Bottom Line: Yes, I would recommend this to a friend

---

Bye bye IT Cosmetics

By Kellie

,

Cleveland, OH

,

Apr 25, 2018
Verified Reviewer

Ok, I have been a bareMinerals girl for years and got roped into trying IT Cosmetics by one of the hounds at Ulta. I was in LOVE when I went to the store, and she put it on. Only, by the time I got home, it was COMPLETELY off of my nose where my glasses sit. Within a matter of hours, it was rubbing off my face. What a bunch of crap. I had to drive back to the store to return it. Then they convinced me the Confidence in a Compact was the way to go....equally awful. What a garbage product, and more expensive than my bareMinerals that covers 100% better and costs less.

Bottom Line: No, I would not recommend this to a friend

---

Love it...

I got my first set as a gift from my mother-in-law. I love this stuff and have been using it for about a year now. I am 46 and to be honest I really have good skin for my age. This product gives me that polished look. I don't like heavy makeup, I like natural makeup. I've used Lancome for years because my mother used it. I have switched over, although never thought I would...

Bottom Line: Yes, I would recommend this to a friend

---

Awful

I was really looking forward to trying the CC Cream Full Coverage Foundation. I tried two days in a row and hate it! It makes my skin look awful and no coverage other than looking like I have a tinted moisturizer on. The only thing good about this product was the brush that came with it. I will use the brush with my bare minerals. The Bye Bye Pores Finishing Powder is awful also. It makes your skin look like death on top of the CC Cream.

Bottom Line: No, I would not recommend this to a friend

---

Itching

I bought the foundation, used it for a few days, and love the coverage. They said it was hypo allergic but now my face broke out all over and is itching. It is an allergic reaction to the product. I am going to see if Ulta will exchange it since they said it wouldn't break my face out.

Bottom Line: No, I would not recommend this to a friend

---

Junk!

By K Bennett

,

Houston, TX

,

Sep 13, 2017
Verified Reviewer

There is NO way to cancel this junk! If you write, they insist that you call. If you call, they lose the documentation that you called!

Total scam!

Bottom Line: No, I would not recommend this to a friend

---

Awful customer service.

By Emily Monelli

,

Wilkes Barre, PA

,

Aug 30, 2017
Verified Reviewer

I ordered the starter kit last year. I automatically received the full-size weeks later. I returned the two items I would not be using. They told me to give it as a gift! I was able to return those items. Then after telling them that I did not need those two items in my next shipment, they sent them anyway. Once again I needed to return them.

Then I set up an automatic order of two foundations and one mascara for every five months in April. Today I called to change my credit card to be charged in September and they told me I was removed from receiving their products because I returned too many times! The supervisor said there was nothing he could do, so they refused my business!

I'm shocked and will be contacting the Better Business Bureau and will also send the message on social media. I will NEVER purchase IT again. I will use Lancôme (better and cheaper).

Bottom Line: No, I would not recommend this to a friend

---