Perricone MD Cold Plasma Sub-D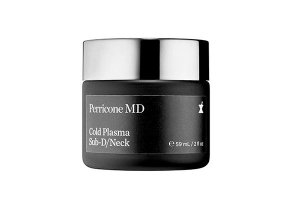 Cold Plasma Sub D is a skincare product designed to tackle the signs of aging and give you a smoother, wrinkle-free complexion.
Cold Plasma Sub-D Review: Is It Worth It?
Celebrity-endorsed beauty products abound, but determining which ones you can trust to deliver what they promise is a far more difficult challenge. Cold Plasma Sub-D skin cream is one such product that claims to address the visible signs of aging along your jawline, chin, and neck.
Dr. Nicholas Perricone is a board-certified dermatologist, founder of Perricone MD, American celebrity doctor known for his self-help books on weight loss and staying youthful. Guthy-Renker, Perricone MD's parent company, is one of the world's largest direct marketing companies for beauty, skincare, entertainment and wellness products.
Cold Plasma Sub-D, a flagship product of the brand, will purportedly infuse your skin with a blend of proprietary ingredients through "Plasma Technology" to take years off your face. The idea is that using this cream will result in firmer, more youthful-looking skin, a crisper, more defined appearance along your chin and jawline, and less loose skin around your face and chest.
Can you trust Cold Plasma Sub-D to deliver what it promises? Learn from our analysis whether this skincare solution makes sense for you.
Transparent ingredient list
Active ingredients have clinical evidence of skincare benefits
Customers reviews indicate it works for many users
Sneaky auto-ship program with 3x higher costs than introductory order
Many customers complained it doesn't work
More expensive than competitors with the same active ingredients
Ingredients may have negative side effects
How Does Cold Plasma Sub-D Work?
Cold Plasma Sub-D works as a neck cream with a proprietary "liquid crystal delivery system" to penetrate the skin with key ingredients that restore a youthful appearance.
According to the company's self-reported consumer-use study, 87% of customers reported an improvement in the firmness of the skin around their neck area after 45 days of regular application.
To use, apply Cold Plasma Sub-D around your chin, jawline, neck, and chest, massaging it into place with circular motions. For best results, the company recommends using it twice daily in the morning and evening.
Analysis of Ingredients
Cold Plasma Sub-D's complete ingredients list is:
Water, Glycolic Acid, Tyrosine, Dimethyl MEA, Isopropyl Palmitate, Acetyl Carnitine HCl, Arginine, Cetearyl Alcohol, Glyceryl Stearate, PEG-100 Stearate, Phosphatidylcholine, Thioctic Acid, Rosa Moschata Seed Oil, Vaccinium Macrocarpon Seed Oil, Ceteareth-20, Caffeine, Dimethicone, BHT, Saccharomyces Ferment, Magnesium Aspartate, Zinc Gluconate, Phenoxyethanol, Rhodiola Rosea Root Extract, Caprylyl Glycol, Phytic Acid, Carnosine, Disodium EDTA, Elaeis Guineensis Oil, Astaxanthin, Copper Gluconate, Tocotrienols, Sorbic Acid, Fragrance/Parfum, Limonene, Tocopherol, Sodium Hyaluronate, Linalool, Alanyl Glutamine
Many of these ingredients act as skin nourishing and restoration agents.
Glycolic Acid, for example, is commonly used for chemical peels. It's an alpha hydroxy acid (AHA) that works to loosen dead skin cells off the surface of your skin so that new cells take their place. It's also used to stimulate collagen and elastin production to ensure that these new skin cells are of high quality.
Likewise, dimethyl MEA (DMAE) is a compound produced by the brain that is also considered beneficial for reducing fine lines and wrinkles around the eyes, as well as to improve the overall appearance of aging skin. One small study found that the compound enhanced water content in the skin after eight weeks of regular use.
Others, such as glyceryl stearate, tyrosine, isopropyl palmitate, and acetyl carnitine HCI, act as thickeners, preservatives, and emulsifiers.
A few of these ingredients may have potentially harmful side effects. The ones that caught our attention are:
Key Takeaways
Cold Plasma Sub-D seems to have at least two active ingredients that show clinical evidence of reducing wrinkles, improving your skin cell's regeneration rate, and helping you look younger.
However, packaged within these ingredients are compounds that have the potential to cause adverse side effects that range from skin irritation to severe organ toxicity.
You will need to assess whether the benefits may be worth the potential risks.
Pricing, Guarantee, and Ways to Buy
Cold Plasma Sub-D isn't currently available on the Sub-D website as a standalone purchase. Instead, you can purchase this product as part of two kits:
Face, Eye & Neck System: Includes Cold Plasma Sub-D, High Potency Amine Face Lift, and three bonus items—Face Finishing Moisturizer, High Potency Eye Lift, High Potency Evening Repair ($79.95).

Face & Neck Firming Duo: Includes both the Cold Plasma Sub-D and the High Potency Amine Face Lift ($49.95).
Shipping for both kits is $5.99.
Note that buying either of these kits will sign you up for an auto-ship program. One month after purchase and every three months after that, you will receive a new supply of Cold Plasma Sub-D.
You will be charged $79.95 plus $3.99 for shipping each month for the Face, Eye & Neck System, which makes the total cost of each new shipment $239.85 plus $11.97 shipping. The Face & Neck Firming Duo costs $49.95 plus $2.99 per month, for a final price of $149.85 plus $8.97 per delivery.
Every Cold Plasma Sub-D purchase includes a 60-day money-back guarantee for the purchase price, minus shipping and handling. There is also no requirement that you stay in this auto-ship program after your first order, and you can cancel your subscription at any time by contacting customer service.
You can purchase Cold Plasma Sub-D on other sites without signing up for a subscription program, including Sephora, Ulta Beauty, and Amazon. On these sites, the product retails for $74–$95 per jar.
Analysis of Customer Reviews
There are customer reviews for Cold Plasma Sub-D on HighYa (1.6/5), Sephora (3.7/5), Ulta Beauty (4.2/5), and Amazon (3.6/5). Here's a summary of what they say:
Common Compliments:
Produced real improvements on the skin
Created tighter looking neck skin over the long term
Lightweight and non-greasy for easy application
Common Complaints:
Produced bumps on some user's necks
All Perricone creams seem the same, regardless of intended use
No difference for skin after using the whole jar
Fishy smell when first applied
Led to skin irritation after regular use
The Bottom Line
Cold Plasma Sub-D includes a few ingredients that show real potential for delivering skincare benefits like fewer wrinkles, a better dead skin cell turnover rate, and a generally tighter appearance.
However, these benefits come at the cost of a formula filled with questionable ingredients that show evidence of causing skin irritation and potential organ problems over time.
In the same way, the real cost of this product will likely be deceiving for many customers, as all orders on the company website automatically enroll you in a subscription program where you will pay more than three times the price of your initial order for every future delivery.
Customer reviews indicate that many users loved this product, while others didn't think their skin looked any different after using it. Some even complained of skin irritation.
We advise you to be cautious when purchasing Cold Plasma Sub-D. If you plan to try it, purchase it somewhere other than the company website so that you aren't inadvertently looked into an auto-ship program until you know whether you like it enough to commit.
---
Not worth the money

By Amy S.

,

Yuba City, CA

,

Jun 22, 2020
Verified Reviewer

Length of Use: Less than 3 months

Overall Experience:

I was so excited to receive the Perricone MD Cold Plasma Sub-D that I started the minute I opened my package. I was surprised at how tiny of a jar it was and wasn't expecting all the other miniature creams. I tried for a couple of days and the Plasma Sub D smelled horrible but I thought no pain no gain. Lol. I started breaking out when using how the instructions told me to use it. I decided it wasn't for me so I called to let Perricone know that it wasn't for me. Right about that time the COVID-19 started and no one was at the office on phones so there was a message to use the website. I looked for days how to let them know to stop my shipment but by then another one arrived, so at that point, through PayPal I already had paid out $90.17 and $92.00. I finally got ahold of someone at Perricone and told them to stop sending and that it irritates my skin. I thought that was the end of it.

Now I just got a bill for over $200 that needed to be paid, I called them and asked about the invoice and he said something about a third shipment and I said I never received a third, thank God. I still have the first and second that I am not using, I said it was ridiculous how much money they want for tiny bottles, and it irritates my skin. I am not paying anymore, I told him I have it all here. He told me to send it all back to them. I hung up and now I am thinking why do I have to go through the trouble of sending all these tiny bottles back and pay for shipping and I already paid them over $180. I am over it, this company is horrible. What a nightmare during the already nightmare of COVID-19 lockdown. I will stash all these 20 small bottles of crap and if they want them back they can come and get them.

Sorry for the rant.

Pros and Cons:

What I thought it was going to do for me
The smell and irritation of my skin
Customer service
The high cost for tiny bottles of extra things that came with the cold plasma

Bottom Line: No, I would not recommend this to a friend

---

Nasty reaction.

By Disne F.

,

Newfoundland and Labrador, Canada

,

Mar 20, 2019
Verified Reviewer

Overall Experience:

I purchased my products from the Shopping Channel. I have had many products from Perricone and I like them, they are very smooth and feel really nice on the skin (I have not seen much results from anything yet, just the same). But there are two products "cold plasma sub D" and "High potency face firming activator." These two products have a strong smell and after using these a couple of times, I started getting very itchy and my skin turns red like it has been burnt. I have found this very disappointing, since the products are not cheap and after 30 days with the Shopping Channel, you cannot send it back. The strange thing is, I did not react the first few times, so when I started having the reaction, it was too late to send it back. I figured there was nothing else I could do, so I have waited several months and I decided last night to try the face firming activator again. That one had given me the least amount of trouble. I put it on my jawline and up as far as my ears and went to sleep. I awakened scratching myself, and when I got up the area was itchy, red, and looked like I had a first-degree burn. I really don't know what is causing this and I've only used about a quarter of each of these products. I also use cold plasma, neuropeptide firming moisturizer, face finishing moisturizer, and firming eye cream with no problems. I would love to hear if anyone else has had this sort of reaction. I am not a person, that normally has any kind of reaction to anything.

Bottom Line: No, I would not recommend this to a friend

---

Advertisement

---

RUINED SKIN

By Marcia M.

,

Guilderland, NY

,

Mar 11, 2019
Verified Reviewer

Overall Experience:

After one application my skin turned bright red and it burned. This is months later and my skin still hasn't healed. It feels like sandpaper. Trying to contact Perricone is impossible. Emails are never answered.

Bottom Line: No, I would not recommend this to a friend

---

Good results

By Diane P.

,

Ohio

,

Feb 19, 2019
Verified Reviewer

Overall Experience:

I am a skeptic when it comes to creams and potions. I am, however, surprised at the results of the Plasma Sub-D; not dramatic, but enough to make me go "hmmmm." Received the Sub-D as a sample, used it up, started to feel like my neck wrinkles were minimized, and bought a pot of it. Again - not dramatic results, but I don't necessarily want to look 30 (I'm 50), just want to take the edge off. For me, a former Botox junkie, this product is good enough.

Bottom Line: Yes, I would recommend this to a friend

---

Advertisement

---

Love it

By Sarah Brown

,

Indiana

,

Aug 17, 2017
Verified Reviewer

Overall Experience:

I actually love the Cold Plasma Sub-D. It works for me even if it is just the appearance, but isn't that what we all want? And the price for my jar of Sub-D plus my free mask and eyelid serum was $29.95. I just order it when I need it, and it lasts a long time. My neck looks better since I have been using it. I smell no fishy smell. Try it for yourself. I have used a few jars and love it.

Bottom Line: Yes, I would recommend this to a friend

---

Be cautious

By Colleen

,

California

,

Feb 22, 2017
Verified Reviewer

Overall Experience:

I ordered the Cold Plasma Sub-D (in a kit). After receiving it, I tried a couple of the other products, and they were fine, including the mask. Two nights ago I applied the Sub-D and woke up the next morning with a red, puffy neck that burned. I haven't put anything on my neck since, and this morning when I woke up my neck is not quite so red or puffy but it still burns, and the skin feels rough and stiff. Not exactly the results I was going for.

Bottom Line: No, I would not recommend this to a friend

---

Doesn't do a thing

By Wanda

,

Jacksonville, FL

,

Jan 13, 2017
Verified Reviewer

Overall Experience:

Three weeks into the Cold Plasma Sub-D and the full kit, and nothing. I have been religiously taking it as directed, but nothing. For this price I could have had ten units of Botox, which would have actually helped.

Do not waste your time and money. My Mom is 87 years old and has used plain Ponds for 50 years, and that's our best bet.

Bottom Line: No, I would not recommend this to a friend

---

Overall Experience:

I have not seen ANY RESULTS, I believe it is a scam like all the others. All the women they use in the commercial look good before the treatment. And if it is as great and wonderful with FANTASTIC results, why does Dr. Pericone have such wrinkled skin? He also wears a very high collar to hide his neck.

Bottom Line: No, I would not recommend this to a friend

---

Unethical sales tactics

By Zuzana Windle

,

Leeds, England, United Kingdom

,

May 17, 2016
Verified Reviewer

Overall Experience:

I bought the Perricone Cold Plasma neck cream after I saw it advertised on TV. I believed that I was buying the cream from Perricone MD as a one an off purchase. To my utter horror, I received a parcel with more Perricone products a month later from a company called Guthy Renker who also took money from my account. Apparently I was put into a continuous supply scheme by Guthy Renker and they would have continued supplying me with products which I did not order and take money from my bank account. Perricone MD is aware of Guthy Renker and told me that they were their sister company.

I have blocked Guthy Renker from taking any more money from my bank account and have reported both companies to the Trading Standards and the ASA. If the products are good why use such sales tactics? The cream seems OK but I would never buy another Perricone product.

Bottom Line: No, I would not recommend this to a friend

---

Don't ever purchase from this company or a Perricone Product

By Jan Ely

,

Oregon

,

Jul 11, 2015

Overall Experience:

Package arrived, used Cold Plasma D and other products. Smelled like fish and made me itch. Learned my lesson and will never order or use this product again. Well, a few weeks later they send another package, didn't ask for one, so found out this was an every month shipment. Called the company to return it and had to take a lengthy survey. Received Return Label and returned product. Guess what, never got a credit and now they say they didn't get the product back. Credit card fought this fight for me. Husband didn't keep UPS receipt, so we can't prove anything. So here I am, sit with a $158.00 charge, no product and pissed off. Do not ever do business with Perricone or Guthy Renker. It's a scam.

Bottom Line: No, I would not recommend this to a friend

---

Lies upon Lies

By G. Young

,

British Columbia, Canada

,

Jun 8, 2015

Overall Experience:

This all started for me about a year and a half ago. I purchased the full range of cold plasma products from tsc.ca (theshoppingchannel.com). Luckily for me they have an excellent return policy because back then the cold plasma smelled like rotten fish. I emailed the shopping channel saying that the online presenter should talk about the scent.

The next time they were on tsc.ca, the scent was described as having a ''slight'' earthy odor. So not true. I did some research into Nicholas Perricone, the presenter, and he said that he breezed through Harvard Medical School in 3 years. Well actually I couldn't come across any record of him being there, interesting. Now the presenter says there is no added fragrance in any Perricone product. So once again I went on to tsc.ca to check the ingredients of about a dozen products. 7 out of the 12 I checked had added fragrance.

So I think they just make this up as they go along not thinking anyone would check. Lies and more lies, or maybe they're just brain dead from all that ''DMAE''. If you want a great skincare company, check out skinactives.com where you can design your own product or buy premade products where every ingredient is explained. Thanks

Bottom Line: No, I would not recommend this to a friend

---