ColonBroom Reviews – Is It Legit or a One-Hit Wonder?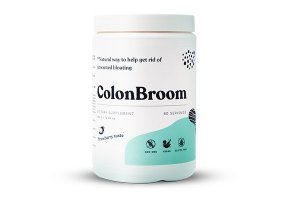 Summary
ColonBroom is a fiber supplement that supports healthy bowel movements, reduces bloating, protects intestines, helps regulate excess weight, and provides a safe environment for a happy gut.
Our Full ColonBroom Review
What Is ColonBroom?
ColonBroom is an organic, cruelty-free supplement that provides our body with fiber, a bulk-forming, water-loving substance that each of us needs for smooth digestion.
By absorbing water in the gut like a sponge, it sweeps away the buildup in one's intestines, thus providing a better foundation for overall gut health.
It is highly tailored to many diets, including intermittent fasting, keto, and a vegan diet.
Also, it is safe to use while pregnant, breastfeeding, or trying to conceive.
In all scenarios, it may ease your feelings of discomfort from a clogged gut or help you reach your weight goals easier.
It comes in a powder formula to ensure a sense of fullness and prepare your digestive system before a hearty meal by providing a solid foundation for a smooth bowel movement.
ColonBroom Benefits
ColonBroom promises a handful of health benefits, including:
Relief from bloating
Regular bowel movements
Protected intestine
Help with weight loss
Improved digestive system
Energy level boost
ColonBroom Dosage and Instructions
The fiber powder must be mixed with water to turn it into a bright pink strawberry-flavored drink. Drinking the shake right after fixing it is recommended as it develops a jelly-like consistency shortly after.
For a healthier gut, 1 scoop a day during the first two weeks and 2 scoops a day after two full weeks.
For a flatter belly, 1 scoop a day during the first week and 2 scoops a day after one full week.
For both dosage suggestions, it is required to take ColonBroom 30–60 minutes before a meal (morning and evening) and avoid taking it before bedtime.
ColonBroom Ingredients: Are They Helpful?
The company currently sells only a powdered version of ColonBroom. The product is labeled as an all-natural, organic, vegan supplement.
ColonBroom's label suggests the following list of its' main components:
Psyllium husk powder
Citric acid
Crystallized lemon
Sea salt
Stevia leaf extract
Natural flavor

Fruit & Vegetable Juice (color)
We decided to go through this supplement's list of main ingredients and check how safe they are by digging up some research.
Around 95% of Americans have a fiber deficiency.
Therefore, adding psyllium husk to the fiber supplement is a reasonable choice.
After consumption, the psyllium becomes thick in the intestine and resists digestion, making it highly effective against constipation and aiding in weight loss.
Psyllium is a prebiotic that helps maintain healthy colonies of probiotics to grow in the gut.
Besides keeping your bowel movements regular, psyllium can soften your stool if adequately hydrated.
Therefore, it prevents constipation and other severe conditions followed by it, such as anal fissures or hemorrhoids.
Other psyllium's benefits include blood sugar regulation and cholesterol.
Moving on, the citric ingredients do more than just add flavor. It was found that citric acid is used to treat gastrointestinal disorders such as chronic metabolic acidosis.
Citric acid also helps with energy metabolism, the absorption of minerals, and the prevention or treatment of kidney stones.
Lemon juice can be considered a natural detoxifier. It is known to improve digestion, promote weight loss and relieve constipation.
Sea salt is another addition to the ingredient list, which is known for aiding in cleansing the colon, balancing electrolytes, and detoxifying the body when combined with water.
The sugar-free formula was reached thanks to stevia, a naturally sourced sweetener that contains zero calories. It has several health benefits, including lowering blood sugar and cholesterol levels.
Furthermore, stevia is also associated with a decreased risk of cavities, an advantage compared to other sweeteners or sugar substitutes.
The above ingredients are considered generally safe.
The other ingredients are all-natural and safe, mainly used to give the drink the right texture, flavor, and color.
It is essential to point out that all ingredients in ColonBroom are vegan-friendly and also compatible with both intermittent fasting and keto diet.
This is made possible because fiber is not digested by our bodies and is simply passed through.
Also, the sugar-free formula makes it a low-calorie option that will not break one's fasting window or interfere with ketosis.
Possible Side Effects
Since psyllium husk in ColonBroom, has a laxative effect, one may experience some side effects. When you are just starting to implement more fiber, it is crucial to take it slow and not overdo it.
It is not advised to take more than the recommended amount until your body adjusts to its effects.
If you plan to implement a fiber supplement into your diet, be aware that fiber absorbs water. You must drink enough water daily to prevent constipation or other side effects.
Although rare, the possible side effects include:
Bloating
Diarrhea
Abdominal cramps
Stomach pain
Gas
Nausea
Vomit
More frequent urge to visit the bathroom
These adverse effects listed above usually subside within five days of fiber intake.
It is better to discontinue the usage of a fiber supplement until you no longer experience the side effects.
There are rare adverse effects of psyllium husk; however, they are caused by an allergic reaction and must be taken seriously.
The allergic reaction may include symptoms such as:
Breathing difficulties
Itching
Rashes
Swelling of the throat or face
Vomiting
In case of an allergic reaction, you must see a doctor and stop using a fiber supplement immediately.
How Much Does ColonBroom Cost?
ColonBroom can be purchased only directly at the company website and is priced at:
1 bottle (1-month supply): $54.99
3 bottles (3-month supply): $107.97
6 bottles (6-month supply): $167.94
The prices listed above are applied when buying with the subscription. After completing a quiz, you can check out all prices and special offers on ColonBroom's site.
The standard bottle contains 60 servings with a 5.7 g / 0.2 oz scoop. A daily dosage after two or three weeks (depending on your chosen program) is two scoops daily. Therefore, the first bottle should last a bit more than 30 days.
The company states that the supplement will take 3 to 8 working days to arrive after you order it.
If you aren't happy with the supplement, you have 14 days from the day the product was received to start the return process to get a refund. The product must be in the original packaging and unopened, in a condition fit for resale.
The Bottom Line: Should You Try ColonBroom?
ColonBroom has the ingredient list to be considered both safe and beneficial for your health.
Its key ingredient, psyllium husk, holds many health benefits, from bowel movement regulation to weight management.
Including a prebiotic fiber supplement, like ColonBroom, in your diet can be advantageous for many reasons, such as a cleansed gut, constipation and bloating prevention, energy boosts, and an improved digestive system.
Since many adults do not consume enough fiber in their diet, it is wise to implement such a supplement to support digestion's heavy workload.
Studies show that daily use of fiber supplements including psyllium or methylcellulose is generally considered safe.
Fiber has a number of health benefits, including normalizing bowel function and preventing constipation.
It is crucial to note that it is not a meal replacement and should not be treated as such – a fiber supplement can only bring the best results when accompanied by a healthy lifestyle, including a proper diet and reasonable physical activity.
This will ensure the fiber's movement in your gut and soften the stool enough to regulate bowel movements.
Always speak to your doctor before starting any new supplement.
Customer Reviews