Culturelle Reviews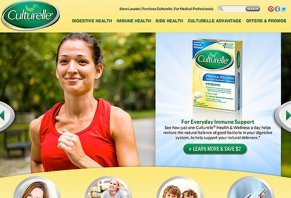 Culturelle is a brand of probiotic supplements that are claimed to help improve digestion and immune system response using the Lactobacillus GG bacteria strain.
About Culturelle
Whether your digestive issues are related to poor diet, high levels of stress, or a recent round of antibiotics, Culturelle's line of probiotics claim to help improve digestion and immune system response using Lactobacillus GG, which is the number one studied probiotic strain. In fact, the Culturelle website claims that this strain of bacteria has more than 800 studies behind it over the course of 25 years of research.
The fact of the matter is that millions of people suffer from the ill effects related to poor digestion every day, and Culturelle claims to provide a viable solution. But does Culturelle really work as well as it claims, and are its naturally sourced ingredients worth the price? Keep reading to find out.
How Culturelle Works
At the core of Culturelle is Lactobacillus GG, a bacteria strain that has been extensively studied over the past quarter century, and which has been shown to provide a variety of benefits related to improved digestion. In fact, since almost ¾ of your immune system is located in your intestines, Culturelle claims that your immune system response can be improved as well.
According to the Culturelle website, their probiotic supplements provide a distinct advantage over probiotic yogurts. This is because with Culturelle, you know exactly which strains you're ingesting, as well as how much (known as CFUs, or Colony Forming Units). In addition, you can avoid the sugars and carbohydrates associated with yogurt. Also, unlike many probiotic strains contained in yogurt, the Lactobacillus GG in Culturelle has been shown to survive stomach acid and make its way into your intestines unharmed.
With this in mind, Culturelle probiotics are available in three formulations:
Digestive Health – Each serving contains 10 billion live cultures of Lactobacillus GG to help balance good bacteria in the gut, which can help prevent upset stomach, gas, bloating, and diarrhea. In addition, this formulation can help support your immune system. Available in capsules and chewables.
Health & Wellness – Protects your "core health" by providing 15 billion live cultures of Lactobacillus GG that keep your immune system healthy. Also comes in a Vegetarian formula that includes Inulin, is encapsulated in a vegetarian capsule, and is free of dairy and gluten.
Kids Probiotic – Claims to help keep your kids happy and healthy by improving digestion and immune system response, and reducing stomach upset. Available in individual packets for children aged 1-3, and chewables for children over 3.
In order to ensure that more live cultures arrive unharmed, Culturelle claims that their probiotics are freeze dried and individually packaged in foil, each of which is claimed to contain a "mini atmosphere" that protects the cultures from light and moisture.
Culturelle claims that their probiotics are safe to everyday use.
Culturelle Pricing & Refund Policy
If purchased directly from the company, Culturelle probiotics are priced as follows:
Digestive Health Capsules: $23.29
Digestive Health Chewables: $25.29
Kids Packets: $26.49
Kids Chewables: $25.99
Health & Wellness Capsules: $23.29
Health & Wellness Vegetarian: $28.99
However, keep in mind that Culturelle supplements are also available through Walmart, Walgreens, Rite-Aid, Costco, Target, and many other third-party retailers.
There are no refund details provided on the Culturelle website, and refund policies will vary by retailer depending on where the supplement is purchased.
What Do Other Consumers Have to Say About Culturelle?
Overall, it appears that Culturelle probiotics have a mostly positive customer reputation, with the most common compliments referencing reduced gassiness/bloating, increased regularity, and improved immune system response. However, some of the most common complaints cite failure to work, temporary increased gassiness, and price.
Will Culturelle be What You Expect?
Whether you've suffered from digestive issues for a while or just for a short time, one thing's for sure; you want it to end as soon as possible. But can you count on Culturelle probiotics to provide relief? Probably, but keep the following in mind:
Not All Supplements Will Work for Everyone
Just like with any prescription medication, not all over the counter nutritional supplements will work for every individual in every circumstance. In fact, the number one compliment related to Culturelle was that it provided fast, effective relief from digestive issues, while the number one complaint referenced failure to work.
ConsumerLab Testing
The popular supplement website ConsumerLab.com began conducting a thorough study of numerous probiotics in 2013, and found that a full 30% of them contained less than the amount of active organisms they advertised. In the case of Culturelle, the probiotic only contained 58% of the active CFUs advertised on their box.
While some bacteria death is expected during the shipping process, and just 1 billion or more active cultures can still have a beneficial impact on your health, this is something you should keep in mind before purchasing.
Where to Purchase?
Culturelle is a very popular brand of probiotic, and as such is likely available through a number of retailers near you. Because Culturelle ultimately might not work for you, we might recommend purchasing it locally so that if it needs to be returned, you can save money on shipping and handling charges.
Do Your Research
There are a multitude of probiotic supplements brands available, each of which claims to differentiate themselves from the competition in one way or another. As such, it's important to research the pros and cons of each brand, which is something you can do right here at HighYa.
Bottom Line
Probiotics in general have been clinically shown to be effective for improving digestive health, and most consumers seem to experience these benefits when taking Culturelle. However, it may be easier and less expensive to purchase the supplement from a local retailer.
Pros:
Claims to feature Lactobacillus GG, which is one of the most studied probiotic strains.
Can help improve digestion and boost immune system response.
Available in multiple formulations for adults and children.
Cons:
As with any probiotic, not all users will experience results.
Some users may temporarily experience increase gas or stomach upset.
Some testing has shown just over half of the advertised live cultures.
9 out 9 people found this review helpful

Culturelle

By O. Guy

,

Jul 20, 2015
Verified Reviewer

76 year old male. I tried two other probiotic products before Culterelle. Neither helped at all. I did some research on the probiotic issue on medical sites. One source indicated that some can be helped and others can't. This source suggested trying either of two products, Culterelle was one of them. I have been using the Digestive Health version for almost two months now. It has really helped me. It has really helped me become more regular with very little stomach upset. I am pleased with this product but plan on trying the Immunity Support formula some time.

Bottom Line: Yes, I would recommend this to a friend

---

7 out 14 people found this review helpful

Bad product!

By G Money

,

Tacoma WA

,

Mar 21, 2015

Tried this for first time on February 20, all night had smelly "gas" bloating, then 3 days diarrhea! Took a break from product, tried again. This time is no different!

Bottom Line: No, I would not recommend this to a friend

---

Advertisement

---