Ultimate Flora Reviews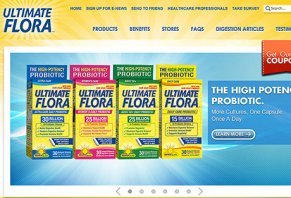 Ultimate Flora manufactures a variety of once-daily, high-potency probiotic supplements intended to promote healthy digestion, increased energy, and more.
About Ultimate Flora
Suffering from upset stomach, bloating, and gassiness is no fun, which is why Ultimate Flora Probiotics are claimed to be a high potency nutritional supplement that is specifically formulated to help relieve digestive issues.
By balancing intestinal and urogenital flora, Ultimate Flora claims their probiotics can help with your constipation, gas and bloating, weakened immune system, skin problems, and more.
But have probiotics been shown to work in the first place, and if so, do Ultimate Flora Probiotics ultimately provide you with the best results? We balanced the facts to find out.
How Ultimate Flora Works
According to the Ultimate Flora website, the beneficial bacteria in your gut can be thrown off balance through a variety of means, including aging, poor diet, and excessive stress.
To combat this though, the company manufactures a line of probiotics that are claimed to include clinically studied bacteria strains, such as Lactobacillus for promoting small intestine health, and Bifidobacterium for your large intestine, in order to naturally restore and improve digestion.
On top of this, probiotics can also boost your health in other ways by helping your body to better synthesize nutrients, protect you from toxins, and fortify your natural defenses.
With this in mind, Ultimate Flora Probiotics are available in 5 different formulations:
Extra Care Daily – Contains 30 billion CFUs and 10 different strains of bacteria intended to help restore digestive balance across both the large and small intestines.

Women's Daily – Contains 25 billion CFUs and is intended to promote a healthy balance of yeast and bacteria.

Daily Care – Contains 15 billion CFUs and is intended to defend against digestive upsets and to promote immune system health.

Adult 50+ – Contains 25 billion CFUs and 6 strains of bacteria, and is intended to replace Biffido that can be lost with age.

Kids – Chewable, berry-flavored tablets that contain 25 billion CFUs, which are manufactured without artificial sweeteners, flavors, colors or preservatives.
Ultimate Flora claims their probiotics are originally isolated from living human, dairy, and plant sources, and that they're gluten and dairy-free, as well as being free of salt, binders, fillers, and artificial ingredients.
In addition, Ultimate Flora Probiotics are claimed to feature a delayed-release capsule, which may help the bacteria better withstand your stomach acid.
According to the Ultimate Flora website, their probiotics should be taken once daily, with or without food. The company claims that their supplements are safe and effective, and that potency is guaranteed through the bottle's expiration date.
Ultimate Flora Probiotics Pricing and Refund Policy
Ultimate Flora Probiotics are available through numerous third-party retailers, including CVS, Duane Reade, Rite Aid, Target, Walgreens, and many others. With this in mind, they appear to range in price between:
Extra Care Daily: $18 and $25
Women's Daily: $20 and $23
Daily Care: $17 and $22
Adult 50+: $20 and $30
Kids: $14 and $17
As such, the refund policy will be subject to each retailer's guidelines.
What Do Other Consumers Have to Say About Ultimate Flora Probiotics?
Overall, it seems that Ultimate Flora Probiotics have a very positive online reputation, with the most common compliments referencing reduced digestive problems, increased regularity, easy to take capsules with no aftertaste, and relatively low price.
According to the Ultimate Flora website, their probiotics were even ranked #1 by Consumerlab.com. On the other hand, the most common complaint cited failure to work.
Keep in mind that although it's unlikely that your Ultimate Flora Probiotics will arrive refrigerated, the manufacturer recommends consistent storage at 73 degrees or lower.
In fact, one review we read claimed that the manufacturer recommended refrigerating your probiotics. This is important because if the cultures contained in probiotics are subjected to too high of temperatures, this could cause them to be less effective.
What's the Bottom Line About Ultimate Flora?
This type of supplement has been found to provide many benefits, including those promoted by Ultimate Flora. As such, in combination with primarily positive online reviews, it appears that Ultimate Flora probiotics represent a good value for your hard-earned money.
However, even with a fairly large amount of clinical evidence behind probiotics, we strongly recommend reading through our Nutritional Supplements Buyer's Guide in order to help choose the right supplement for your specific needs. And as always, you should consult with your physician prior to beginning any new probiotics regimen.