Ultimate Flora Probiotic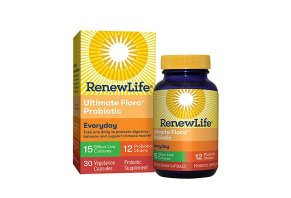 Summary
RenewLife claims that Ultimate Flora Probiotic will promote healthy digestion. Our analysis will help you decide if this dietary supplement is the right option for you.
Ultimate Flora Probiotic Review: What You Need to Know
Ultimate Flora is a probiotic dietary supplement from RenewLife that aims to support healthy digestion.
RenewLife states that daily use of their probiotics will promote digestive balance and support immune health.
These proposed benefits are made possible by their blend of probiotic ingredients. Unlike those that are harmful, these friendly bacteria populate your digestive tract and are thought to support a variety of essential functions vital for health.
There's an abundance of probiotic blends available from most major retailers – is Ultimate Flora any different?
In this review, we'll help you determine if RenewLife offers something different from its competitors and if it is right for you.
Product Line
RenewLife offers a line of probiotic supplements targeted for different individuals.
Though the intended target and proposed benefits differ slightly from supplement to supplement, the blend of active ingredients is relatively constant.
As they offer nearly 40 different products, we'll only highlight the main categories.
Everyday Probiotics
Ultimate Flora is a prime example of RenewLife's everyday care. This product aims to support digestion and immune function through 12 ingredients. (For your convenience, this supplement will be the focus of our review.)
Extra Care Probiotics
Ultimate Flora Ultimate Care contains the same 12-ingredients as the everyday option; it's just packed with even more live cultures – 100 billion.
Targeted Probiotics
Their Healthy Weight Probiotic supplement is thought to boost metabolism and support weight loss with the addition of coffee bean extract and xylooligosaccharides.
Women's Probiotics
Women's Vaginal Probiotic is proposed to support vaginal health for the unique needs of female users.
Kid's Probiotics
Lastly, their probiotic blend for children allegedly supports regularity, respiratory health, and immune function.
While RenewLife's probiotic blend remains relatively similar among its many products, they strategically target individuals by boosting or reducing the number of live cultures, as well as offering additional ingredients with specific benefits.
For example, the kid's line offers products with 1, 3, and 10 billion live cultures compared to the adult versions that provide 15–100.
Analysis of Active Ingredients: Do They Work?
While RenewLife may provide an extra ingredient or alter the number of live cultures depending on the targeted user and desired outcome, their probiotic blend remains fairly constant.
In this section, we'll review the contents of the blend offered in their Ultimate Flora intended for daily use to give you a basic understanding of the strains the use.
Everyday Probiotic Culture Blend – 15 Billion CFU
B. lacits
B. lactis may reduce age-related decline in immune function.
Thirteen elderly patients received B. Lactis at 150 billion CFU twice daily over six weeks; significant increases in labs indicative of immune function were seen.
B. breve
This bacteria is found naturally in your gut. Supplementation demonstrated anti-obesity effects in mice.
In a randomized trial with pre-obese human subjects, those treated with 20 billion CFU of B. breve lowered body fat percentage over the course of 3-months.
L. acidophilus
This strain is commonly found in probiotic supplements and may relieve diarrhea, gas, cramping, and bloating, as well as support immune function.
In a review of 34 randomized trials, L. Acidophilus was as effective as other strains in preventing certain types of diarrhea.
Bloating was improved in patients receiving a combination of L. acidophilus and B. lactis at 200 billion CFU over 8-weeks.
L. salivarius
L. salivarius may offer antimicrobial benefits.
In 59 children with oral disease, those treated with L. salivarius experienced reductions in the levels of bacteria and fungus over 24-hours.
L. casei
L. casei can relieve diarrhea and other related digestive symptoms.
In 70 constipated subjects, those that consumed a 65mL probiotic beverage containing L. casei significantly improved self-reported symptoms when compared to placebo.
L. brevis
There are about 16 different species in this group of rod-shaped bacteria.
Thought to possess anti-inflammatory capabilities, this action was demonstrated when patients with inflammatory gum disease were received L. brevis. Evidence of disease disappeared in all that were treated.
L. paracasei
Thought to provide allergy relief, an L. paracasei strain was examined with regards to pollen from Japanese cedars.
Subjects treated with this strain significantly improved their quality of life scores and reduced nasal symptoms when compared to placebo.
L. rhamnosus
L rhamnosus GG may relieve the symptoms associated with stomach flu, as well as support your immune system and allergy response.
While this strain reduced airway inflammation in mice with asthma, children treated with 10 billion CFU of L. rhamnosus GG twice daily for the stomach flu did not improve the duration of diarrhea or vomiting when compared to placebo.
L. plantarum
The beneficial effects of L. Plantarum are thought to be numerous.
In a laboratory model, L. Plantarum reduced inflammation in intestinal cells.
Summary
While most of the probiotics offered in this blend have demonstrated benefits in research studies with human subjects, specific strains and doses are typically investigated. RenewLife does not share the individual amounts or specific probiotic strains for the contents of their blend. Instead, they provide only the total quantity of the entire blend. Thus, we are unable to compare "apples to apples" in this regard.
Possible Side Effects
The good news is, serious adverse effects are extremely rare, especially in doses offered in RenewLife products.
Mild side effects are indeed possible and may include abdominal pain, gas, bloating, and diarrhea. These symptoms are easily relieved by lowering your dose or discontinuing use.
The downside of this product is that we do not know the precise quantity of each ingredient or the specific strain.
As probiotics behave in a strain-specific manner, we can't generalize Ultimate Flora's ingredient list to a study that examined a specific strain.
Nonetheless, involving a physician in the decision to use is best. If you do not know the source of the dietary symptoms you are experiencing, your treatment plan should begin with determining the source.
Pricing
RenewLife products can be purchased from their website. All orders over $49 ship free.
Ultimate Flora comes in a 30ct (1-month supply) or 60ct. These will run you $21.99 and $37.99, respectively.
For your convenience, they also offer an auto-delivery option that saves you on shipping charges, plus 20% on both the 30 and 60ct options. You also have the option to select the frequency of deliveries, and you can cancel any time.
Their Extra Care, Targeted, Women's, and Kid's products are similarly priced. Depending on the capsule count, these tend to run anywhere from $15 to $40.
Lastly, RenewLife backs each purchase with a 60-day guarantee. Returns can be processed by contacting customer support.
Alternatives
There are a wide variety of probiotic dietary supplements available both online and in-stores. A simple internet search can help guide your decision.
In terms of products that are similar, Culturelle offers a similar line of probiotics. They have supplements geared towards men, women, and children.
The difference is, they provide just a single probiotic strain, albeit a well studied one. Like Ultimate Flora, they adjust the number of live cultures depending on the target and may supplement an additional ingredient to help achieve the desired effect.
You can find their products at the same retailers that carry Ultimate Flora. Prices range from $16 to $35.
The Bottom Line
RenewLife offers a line of products that includes a variety of probiotics that have at least have scientific support for similar strains. Since they don't provide details regarding the individual strain or quantities, we are unable to compare their blend to the available research.
Nonetheless, their products are generally safe to use, and they are reasonably priced. More than 180 users seem to agree as this product is rated 4.3-stars on Amazon.
Happy customers keep coming back, and many reviewers state that they experienced benefits after other brands have failed to offer relief.
Though Ultimate Flora may offer a reasonable option, check with your doctor to make sure it is a safe addition to your daily regimen.
Customer Reviews