Synbiotic 365
Claimed This company has claimed this profile, is getting alerted on any new customer reviews entering this page, and may engage in dialogue with its customers to address their matters.

Companies cannot pay money or provide goods in order to remove or alter customer reviews.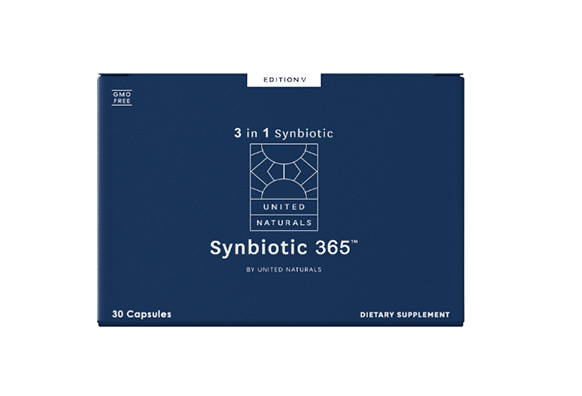 United Naturals' Synbiotic 365 supplement contains a blend of 12 probiotic strains, eight essential vitamins, and inulin as a prebiotic to help reduce bloating and improve overall digestion.
Synbiotic 365 Review: Benefits, Effectiveness, Side Effects, Cost
United Naturals advertises Synbiotic 365 as an advanced formula consisting of beneficial probiotic strains and prebiotic ingredients, that when combined, can deliver lasting relief from bloat and other embarrassing digestive issues.
Based on the available clinical evidence, can you realistically expect to experience benefits like these? Furthermore, is there supporting data that taking a combination product like Synbiotic 365 will deliver better results than a standalone probiotic supplement?
In this brief article, we'll discuss the formula's ingredients, pricing, and competition, all aimed at helping you make an informed decision. Before diving in, though, let's clarify what we're talking about.
What Is a Synbiotic Supplement?
Probiotics are specific bacteria strains that, when taken regularly as a dietary supplement, have been clinically shown to provide a wide variety of digestion-related benefits, in addition to boosting immune function.
Prebiotics, on the other hand, are certain ingredients that these bacteria use as an energy source upon arriving in your digestive tract.
With these details in mind, ScienceDirect explains, whether referencing Synbiotic 365 or another formula, "Synbiotics are a combination of prebiotics and probiotics that are believed to have a synergistic effect by inhibiting the growth of pathogenic bacteria and enhancing the growth of beneficial organisms."
Writing for Health.com, Anthea Levi tells us "the idea behind synbiotics is that adding prebiotics to a probiotic supplement can help ensure that the digestion-friendly microorganisms arrive in the gut alive and well. These supplements are said to be particularly useful for people with conditions like IBS, other bowel disorders, and diabetes."
Cynthia Sass, RD, Health contributing nutrition editor, adds that when combined with probiotics, prebiotics can "also increase nutrient absorption and support bowel regularity."
Taking a Closer Look at Synbiotic 365's Ingredients
According to the supplement facts label listed on the United Naturals website, Synbiotic 365 contains:
Vitamin B1 2.4 mg
Vitamin B2 2.6 mg
Vitamin B3 32 mg
Vitamin B6 3.4 mg
Vitamin B9 800 mcg (480 mcg folic acid)
Vitamin B12 4.8 mcg
Vitamin B7 60 mcg
Vitamin B5 10 mg
Probiotic Blend 20 billion CFU – Lactobacillus gasseri BNR17, OPTI-BIOME Bacillus subtilis MB40, Lactobacillus paracasei Lpc-37, Bifidobacterium lactic BI-04, Lactobacillus plantarum Lp-115, Streptococcus thermophilus St-21, Lactobacillus Casei Lc-11, Lactobacillus reuteri, Lactobacillus salivarius Ls-33, Lactobacillus rhamnosus Lr-32, Lactobacillus fermentum, Bifidobacterium bifidum Db-06, Bifidobacterium longum BI-05, Saccharomyces boulardii
Chicory Root Inulin 315 mg
Sites like WebMD, the Natural Medicines Database, and Examine.com report that the first eight vitamins in this formula are essential for maintaining human health. For example, B1 (thiamine) is essential in the breakdown of carbohydrates, B2 also helps digest carbs, as well as proteins and fats, while Healthline tells us that every part of your body needs B3 (niacin) to function correctly.
However, they also report that unless someone's deficient in these vitamins, supplementing them likely won't deliver meaningful health benefits.
Probiotic bacteria are identified by their genus (e.g., Lactobacillus), which is like an extended family; their species (e.g., acidophilus), and their strain (La-14).
Lactobacillus acidophilus (whether contained in Synbiotic 365 or another supplement) was the first probiotic strain widely used, which seems to work especially well for irritable bowel syndrome (IBS) symptoms and urinary tract infections in children.
Among others, paracasei may relieve allergic symptoms and decrease skin sensitivity, plantarum produces its own antibiotics, casei may improve allergy symptoms and reduce cholesterol (along with reuteri), and rhamnosus has even been shown to help obese women lose weight.
In the Bifidobacteria genus, lactis may reduce inflammation and aid in the management of diabetes, bifidum shows promise for addressing constipation and lung infections, and longum may also be effective for constipation and airway infections, in addition to IBS and ulcerative colitis.
Finally, Streptococcus thermophilus could decrease the chances of kidney stones and increase anti-tumor activity, while Saccharomyces boulardii seems to be especially useful for addressing different causes of diarrhea.
Potential Synbiotic 365 Side Effects
As genera (the plural of genus), WebMD, Examine.com, and the Natural Medicines Database report that Lactobacillus and Bifidobacteria are likely safe for adults and children when taken as directed. Common side effects, if any, for the genera include mild, temporary intestinal gas or bloating, as well as stomach or intestinal upset.
» Related: Common Probiotic Supplement Side Effects
Outside of this, WebMD indicates Saccharomyces boulardii could rarely "cause fungal infections that can spread through the bloodstream to the entire body (fungemia)." No dosages or other specifics listed.
Whether you're considering Synbiotic 365 or another probiotic-containing supplement, have an in-depth conversation with a healthcare provider before ordering. In addition to making recommendations that could maximize value, they can also help minimize any potential side effects based on your diagnosis.
How Much Does Synbiotic 365 Cost?
Synbiotic 365 is only available on the United Naturals website, priced as follows:
1 Box: $45
3 Boxes: $119 ($39.67 per box)
6 Boxes: $229 ($38.17 per box)
All orders come with a 30-day refund policy, less S&H, which customers can request by calling support at 844-794-7728.
Synbiotic 365 vs. Competing Probiotic & Prebiotic Supplements
We didn't encounter anything with the same (or very similar) formulation as Synbiotic 365 during our research.
However, we did come across dozens of competing synbiotic supplements like Syntol AMD ($40, 90 capsules), Dr. Axe Formula SBO Probiotic ($41, 60 capsules), HLC Synbiotic Intensive ($43, 7 sachets), NutriCology SymBiotics with FOS ($23, 40 servings), and Renew Life Women's Daily Probiotics plus Prebiotics ($28, 60 capsules).
From a high-level perspective, these supplements are alike in that they're priced competitively with one another, and that each combines a relatively similar blend of probiotics, prebiotics, and other vitamins and minerals.
These often include many of the same species among the Lactobacillus and Bifidobacteria genera, vitamins like C and many within the B family, and even secondary ingredients like chicory root and different fruit extracts as energy sources.
Zooming in, the differences between Synbiotic and competing supplements mostly relate to the quantities of each ingredient they contain, as well as the form in which they're available (e.g., capsules vs. loose powder).
Is either of these criteria important when choosing a synbiotic supplement? Perhaps not. Here's why:
First, while probiotics and prebiotics are certainly beneficial on their own, Cynthia Sass, RD, Health contributing nutrition editor, emphasizes: "Right now we don't have a lot of data to show that synbiotics are more effective than, say, taking probiotics [supplements] and eating a diet rich in prebiotics."
Next, even if they are eventually shown equally as useful, Cynthia emphasizes that "Your overall pattern of eating still has the greatest impact on your health protection or risk," so "don't think that taking [one of these supplements] means you don't have to pay attention to your diet."
Together, from a value perspective, she recommends that "until more comprehensive research is conducted on synbiotics, consider sticking to swallowing a probiotic supplement or eating probiotic-rich foods in addition to prebiotic foods."
Our Bottom Line on Synbiotic 365
At $45 per box, Synbiotic 365 seems priced at the upper end of the spectrum compared to some other popular synbiotic supplements but has a middle-of-the-road price compared to probiotic supplements in general—some of which can near the $100 mark.
Paying more for one of these supplements doesn't typically translate into improved results, as reported by customers.
Other pointers we mention in the article include making sure the manufacturer provides a complete list of all the bacteria strains, as well as their dosage (as measured in colony-forming units, or CFU), both of which United Naturals lists for Synbiotic 365.
However, the company also adds a handful of vitamins that, according to sites like Examine.com and WebMD, might not provide much value for the money unless you're deficient. Furthermore, we didn't encounter any online customer feedback for Synbiotic 365 at the time of our research, and the company wasn't listed with the Better Business Bureau.
Still, they advertise that all purchases come with a 30-day refund policy if the supplement doesn't meet your needs, less S&H charges. Just make sure that you talk with your doctor first about overall value based on your diagnosis before ordering, as well as potential side effects or medication interactions.
» Recommended Reading: Best Grains, Fruits, and Vegetables That Improve Digestion
This company is actively collecting reviews from its customers. All reviews submitted are subject to moderation and approval to ensure they meet our

Review Guidelines

.

Synbiotic 365

By Vera D.

,

Cumming, GA

,

Jan 22, 2020
Verified Reviewer

I bought this product for my husband and did not use it right away. I didn't tell him what it was, just this is your new probiotic. It turns out that it has worked for him well; he has lost 14lbs in about 3 or 4 months, he is eating less snacks because he has no cravings.

Don't get me wrong, he still looks for his snack, but not as often and it has curved his appetite for them.

I have reordered and I'm going to try it myself.

I gave it 4 stars until I see the results on me, I will do another review once I see my results.

Bottom Line: Yes, I would recommend this to a friend

---

Synbiotic 365

By Patsy L.

,

Kentucky

,

Jan 22, 2020
Verified Reviewer

I think this is one of the best products on the market. I have noticed a great difference in how I feel and can get around. It is properly sealed and has a long shelf life. I would highly recommend it to anyone for a better health.

Bottom Line: Yes, I would recommend this to a friend

---

I have irritable bowel and high cholesterol and have great results with Synbiotic

By Lorna K.

,

Nerstrand, MN

,

Jan 22, 2020
Verified Reviewer

I have suffered from irritable bowel for many years. I get diarrhea, not constipation. I used not be able to go out with friends or go shopping without having embarrassing accidents. I have even missed work. Plus the abdominal pain was terrible. So my mother-in-law told me about Synbiotic and how well it had helped her. So I ordered it and within a couple of days was no longer having diarrhea, pain, or accidents. I am able to get back to enjoying my life, without always worrying and being embarrassed. Also, I have high cholesterol and I just had it checked and it was perfect. It's great not having to take statins that causes your body to ache. I am one happy lady.

Bottom Line: Yes, I would recommend this to a friend

---

Felt like I had to renew

By Barbara H.

,

Verona, NJ

,

Jan 21, 2020
Verified Reviewer

I decided to try Synbiotic 365 because I was super tired all the time, suffered from acid reflux, aches, pains, headaches, etc. I figured that I may as well give it a try because nothing my doctor was giving me seemed to make a difference. I finished the first box and thought, "another hoax!" I almost threw out the other 2 boxes, being very discouraged. However, I then thought that since I paid for it already, it wasn't going to hurt...Finished the second box, and I wasn't sure. I decided to skip a few days, and that's when I felt a difference. I guess the change was so subtle over the span of 2 months, I really thought it was a waste. However, when I stopped taking it, that's when I felt a difference. Just placed my second 3-month order!

Bottom Line: Yes, I would recommend this to a friend

---

Advertisement

---

Synbiotic 365 have helped me! I am doing GREAT!

By Joyce N.

,

North Palm Beach, FL

,

Jan 21, 2020
Verified Reviewer

After doctor visits, medications, and probiotics, etc., nothing was helping me. Listening to the online video of Dr. Pedre I thought "Well, won't hurt to try another probiotic." I placed an order for the Synbiotic 365 and begin to take two a day. I am still in disbelief about how well I am doing. I have an appointment with my doctor next month and can't wait to tell him about your product.

Thank you.

Bottom Line: Yes, I would recommend this to a friend

---

1 out 1 people found this review helpful

Excellent product

By Predrag I.

,

Boynton beach,Fl

,

Jan 17, 2020
Verified Reviewer

I've been taking this product for the past six months and it works great. I am amazed by how quickly it fixed my problem with excessive bloating. I feel that I can eat any heavy food as long as I take a pill in the morning.

I ran out of pills two weeks ago and already I am feeling stuffed, like I constantly overeat and that's not the case - my digestive system simply is too slow. I am now ordering six boxes. Thank you for your help!

Bottom Line: Yes, I would recommend this to a friend

---

0 out 1 people found this review helpful

Should allow for more products in shopping cart

By Elizabeth B.

,

Farmington, NM

,

Jan 16, 2020
Verified Reviewer

I placed an order for Synbiotic 365, but also wanted Enzyme 365. I had to place two separate orders. It would be more customer-friendly to allow the purchase of two or more products in the same order.

Bottom Line: Yes, I would recommend this to a friend

---

1 out 1 people found this review helpful

Cautiously optimistic

By Ann A.

,

Michigan

,

Jan 15, 2020
Verified Reviewer

I had never heard that 70% of the immune system is in the gut. But after my doctor confirmed that this is true, I have been giving the Synbiotic a try. For the first time in decades, I got through the holidays (Thanksgiving through New Year's) without getting sick! However, I now have an upper respiratory infection of sorts, so I guess the jury is still out. I will keep on using the product and see if I get fewer infections over the next year.

One thing that's a bit of a nuisance is how hard it is to take first thing. My throat is always dry in the morning, and I have to sip about a quart of water before attempting to take the large pill without its sticking halfway down. But then, all that water could be part of what's keeping the colds away.

Bottom Line: Yes, I would recommend this to a friend

---

4 out 4 people found this review helpful

Diverse probiotics

By Daniel C.

,

Roseburg, OR

,

Jan 7, 2020
Verified Reviewer

I have taken numerous supplements over the years including a variety of probiotics. I have recently been taking bacillus subtilis and it finally seemed to be helping my gut issues. However, after a month or so of your product, there have been clearly noticeable improvements; less bloating, less stomach pain, and greatly decreased diarrhea. No weight loss yet; but hopefully it will come with continued usage.

Bottom Line: Yes, I would recommend this to a friend

---

9 out 12 people found this review helpful

Synbiotic 365

By Sue G.

,

Lafayette, IN

,

Jan 6, 2020
Verified Reviewer

Thank you for the feedback opportunity. Today I received notice of an auto-ship of this product. While I have no complaint about the product, I do have concerns about the company's business practice. I may have agreed to an auto-ship to follow my original order, but today I received that notification with no option to cancel. I regularly order from another health-related company which always sends me an advance notification of an auto-ship with the option to change the order.

In this particular instance, I did not begin taking Synbiotic 365 until I had completed taking an equivalent product. As a result, I still have six boxes of Synbiotic and would rather not choose to have the need for additional storage space at this time. An easy to follow postponement or cancellation opportunity would be greatly appreciated.

Thank you for the opportunity to provide feedback. I do not still have the original order number but the new order number is listed below.

Bottom Line: No, I would not recommend this to a friend

---

6 out 6 people found this review helpful

RELIEF

By Donna J.

,

Anaheim, CA

,

Jan 3, 2020
Verified Reviewer

NO ACID REFLUX (chocolate and spicy food at one sitting), losing weight (bloated and water weight about 10 to 15 pounds).

Bowel movement (going regular in 2 days, instead 3 or more days).

Bottom Line: Yes, I would recommend this to a friend

---