Synbiotic 365
Claimed This company has claimed this profile, is getting alerted on any new customer reviews entering this page, and may engage in dialogue with its customers to address their matters.

Companies cannot pay money or provide goods in order to remove or alter customer reviews.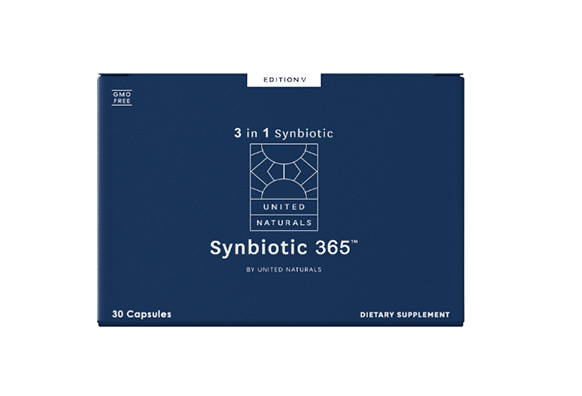 United Naturals' Synbiotic 365 supplement contains a blend of 12 probiotic strains, eight essential vitamins, and inulin as a prebiotic to help reduce bloating and improve overall digestion.
Synbiotic 365 Review: Benefits, Effectiveness, Side Effects, Cost
Medically Reviewed by Anthony Dugarte, M.D., C.S.C.S
United Naturals advertises Synbiotic 365 as an advanced formula consisting of beneficial probiotic strains and prebiotic ingredients, that when combined, can deliver lasting relief from bloat and other embarrassing digestive issues.
Based on the available clinical evidence, can you realistically expect to experience benefits like these? Furthermore, is there supporting data that taking a combination product like Synbiotic 365 will deliver better results than a standalone probiotic supplement?
In this brief article, we'll discuss the formula's ingredients, pricing, and competition, all aimed at helping you make an informed decision.
What Is a Synbiotic Supplement?
Probiotics are specific bacteria strains that, when taken regularly as a dietary supplement, have been clinically shown to provide a wide variety of digestion-related benefits, in addition to boosting immune function.
Prebiotics, on the other hand, are certain ingredients that these bacteria use as an energy source upon arriving in your digestive tract.
With these details in mind, ScienceDirect explains, whether referencing Synbiotic 365 or another formula, "Synbiotics are a combination of prebiotics and probiotics that are believed to have a synergistic effect by inhibiting the growth of pathogenic bacteria and enhancing the growth of beneficial organisms."
Writing for Health.com, Anthea Levi tells us "the idea behind synbiotics is that adding prebiotics to a probiotic supplement can help ensure that the digestion-friendly microorganisms arrive in the gut alive and well. These supplements are said to be particularly useful for people with conditions like IBS, other bowel disorders, and diabetes."
Cynthia Sass, RD, Health contributing nutrition editor, adds that when combined with probiotics, prebiotics can "also increase nutrient absorption and support bowel regularity."
Taking a Closer Look at Synbiotic 365's Ingredients
According to the supplement facts label listed on the United Naturals website, Synbiotic 365 contains:
Vitamin B1 (Thiamin) 2.4 mg
Vitamin B2 (Riboflavin) 2.6 mg
Vitamin B3 (Niacin) 32 mg
Vitamin B6 3.4 mg
Vitamin B9 800 mcg (480 mcg folic acid)
Vitamin B12 4.8 mcg
Vitamin B7 (Biotin) 60 mcg
Vitamin B5 (Pantothenic Acid) 10 mg
Probiotic Blend 20 billion CFU – Lactobacillus gasseri BNR17, OPTI-BIOME Bacillus subtilis MB40, Lactobacillus paracasei Lpc-37, Bifidobacterium lactic BI-04, Lactobacillus plantarum Lp-115, Streptococcus thermophilus St-21, Lactobacillus Casei Lc-11, Lactobacillus reuteri, Lactobacillus salivarius Ls-33, Lactobacillus rhamnosus Lr-32, Lactobacillus fermentum, Bifidobacterium bifidum Db-06, Bifidobacterium longum BI-05, Saccharomyces boulardii
Chicory Root Inulin 315 mg
In the following section, we'll break up these ingredients into 3 main categories and highlight the available research supporting each.
Vitamins
Vitamin B deficiency is common, especially in people who that live a plant-based life. Deficiency can be associated with a variety of unwanted effects like nerve issues, dry skin, and impaired mental capacity.
There are 8 B vitamins included in Synbiotic 365; with the exception of Biotin, this supplement offers close to, or well beyond, the RDA.
The folate in Synbiotic 365 plays a crucial role in growth and development, and also for preventing birth defects.
B12 supports the development of red blood cells; deficiency is associated with anemia.
Probiotics
Their genus identifies probiotic bacteria (e.g., Lactobacillus), which is like an extended family; their species (e.g., acidophilus), and their strain (La-14).
These friendly bacteria impact your digestion and support your immune function. They may also work to reduce allergies, as well as improve diarrhea and constipation. Each strain behaves differently and offers strain-specific effects.
L. casei may relieve digestive symptoms.
In 70 individuals with constipation, those treated with 65 mL of a Lactobacillus casei Shirota containing beverage had reduced symptoms when compared to placebo.
A 100g (97 ml) drink with L. casei, L. bulgaricus, reduced the number of antibiotic associated diarrhea cases in hospitalized patients.
Many L. plantarum species have been studied; the Lp-115 strain has been extensively investigated.
L. Plantarum N14 reduced inflammation in intestinal cells in a laboratory model. 100 mg/kg injections of L. plantarum K8 decreased enzymes associated with heart disease in mice.
L. Gasseri is also thought to aid digestion and reduce allergies.
L. Gasseri TMC0356 at 200mL decreased the level of antibodies associated with allergies in 15 subjects over 4-weeks. Subjects treated with L. gasseri OLL2716 at 109 CFU doses experienced improved indigestion symptoms over 3-months.
L. salivarius may offer antimicrobial effects.
In 59 children with oral disease, treatment with L. salivarius reduced bacterial and fungal levels.
In the Bifidobacteria genus, lactis may reduce inflammation and aid in the management of diabetes, bifidum shows promise for addressing constipation and lung infections, and longum may also be useful for constipation and airway infections, in addition to IBS and ulcerative colitis.
Bifidobacterium lactis strains can offer immune support and allergy relief. B. longum may provide the same benefits.
In a laboratory model, B. Longum CCUG 52486 had anti-inflammatory, especially in samples form elderly individuals.
These effects were confirmed in a trial with human subjects; BB536 boosted antibody and white blood cell levels in elderly individuals.
Prebiotics
Fiber is a type of carbohydrate that can't be digested or absorbed. Prebiotics, also classified as fiber, pass into your gut fully intact and serve as food for probiotic bacteria.
Additionally, they can absorb water and expand to make you feel full. Additionally, prebiotics may improve blood glucose levels, promote weight loss, and enhance digestion.
The inulin in Synbiotic 365 may offer these benefits.
Inulin reduced hunger, desire to eat, and food consumption in obese adults randomized treated for 12-weeks. 12g of inulin daily for 4-weeks resulted in softer stools, increased stool frequency, and increased amounts of probiotics in constipated adults.
» Related: Do You Need to Take Vitamins or Dietary Supplements?
Potential Synbiotic 365 Side Effects
The company provides details for the total amount of ingredients in the probiotic blend, though they don't offer amounts for each ingredient. Also, strains behave in a strain-specific manner and may provide different effects when compared to similar strains within the same family. These factors make it challenging to compare many of these ingredients to those that have been specifically studied.
Probiotic strains are often tested at doses comparable to the probiotic blend in Synbiotic 365. These amounts are generally safe in pre-and probiotic blends, with only mild side effects reported.
Most often, these include digestive symptoms like abdominal pain, gas, bloating, and diarrhea. These can typically be relieved by lowering your dose or discontinuing use.
» Related: Common Probiotic Supplement Side Effects
Outside of this, WebMD indicates Saccharomyces boulardii could rarely "cause fungal infections that can spread through the bloodstream to the entire body (fungemia)." No dosages or other specifics listed.
Whether you're considering Synbiotic 365 or another probiotic-containing supplement, have an in-depth conversation with a healthcare provider before ordering. In addition to making recommendations that could maximize value, they can also help minimize any potential side effects based on your diagnosis.
How Much Does Synbiotic 365 Cost?
Synbiotic 365 is only available on the United Naturals website, priced as follows:
1 Box: $45
3 Boxes: $119 ($39.67 per box)
6 Boxes: $229 ($38.17 per box)
All orders come with a 30-day refund policy, less S&H, which customers can request by calling support at 844-794-7728.
Synbiotic 365 vs. Competing Probiotic & Prebiotic Supplements
We didn't encounter anything with the same (or very similar) formulation as Synbiotic 365 during our research.
However, we did come across dozens of competing synbiotic supplements like Syntol AMD ($40, 90 capsules), Dr. Axe Formula SBO Probiotic ($41, 60 capsules), HLC Synbiotic Intensive ($43, 7 sachets), NutriCology SymBiotics with FOS ($23, 40 servings), and Renew Life Women's Daily Probiotics plus Prebiotics ($28, 60 capsules).
From a high-level perspective, these supplements are alike in that they're priced competitively with one another, and that each combines a relatively similar blend of probiotics, prebiotics, and other vitamins and minerals.
These often include many of the same species among the Lactobacillus and Bifidobacteria genera, vitamins like C and many within the B family, and even secondary ingredients like chicory root and different fruit extracts as energy sources.
Zooming in, the differences between Synbiotic and competing supplements mostly relate to the quantities of each ingredient they contain, as well as the form in which they're available (e.g., capsules vs. loose powder).
Are either of these criteria important when choosing a synbiotic supplement? Perhaps not. Here's why:
First, while probiotics and prebiotics are certainly beneficial on their own, Cynthia Sass, RD, Health contributing nutrition editor, emphasizes: "Right now we don't have a lot of data to show that synbiotics are more effective than, say, taking probiotics [supplements] and eating a diet rich in prebiotics."
Next, even if they are eventually shown equally as useful, Cynthia emphasizes that "Your overall pattern of eating still has the greatest impact on your health protection or risk," so "don't think that taking [one of these supplements] means you don't have to pay attention to your diet."
Together, from a value perspective, she recommends that "until more comprehensive research is conducted on synbiotics, consider sticking to swallowing a probiotic supplement or eating probiotic-rich foods in addition to prebiotic foods."
Our Bottom Line on Synbiotic 365
At $45 per box, Synbiotic 365 seems priced at the upper end of the spectrum compared to some other popular synbiotic supplements but has a middle-of-the-road price compared to probiotic supplements in general—some of which can near the $100 mark.
And as we outline in our Probiotic Supplement Buyer's Guide, paying more for one of these supplements doesn't typically translate into improved results, as reported by customers.
Manufacturers are required to list total amounts for blends such as what is offered in Synbiotic 365. The company does not provide specific amounts. So a comparison to the available literature is not clear-cut.
Though these blends are typically safe, you should seek the opinion of a medical professional before use. Symptoms related to a deficiency in the nutrients this supplement can replace may be related to a more serious cause that should be cared for by a physician.
However, the company also adds a handful of vitamins that might not provide much value for the money unless you're deficient. Furthermore, we didn't encounter any online customer feedback for Synbiotic 365 at the time of our research, and the company wasn't listed with the Better Business Bureau.
Still, they advertise that all purchases come with a 30-day refund policy if the supplement doesn't meet your needs, less S&H charges. Just make sure that you talk with your doctor first about overall value based on your diagnosis before ordering, as well as potential side effects or medication interactions.
This company is actively collecting reviews from its customers. All reviews submitted are subject to moderation and approval to ensure they meet our

Review Guidelines

.

Very early review

By Ann H.

,

Pleasant Prairie, WI

,

Mar 17, 2020
Verified Reviewer

I have not yet received my first order, however, I have been charged two times for the same amount of $110.00 to my bank account. NOT OKAY! Please refund my bank account for one of these charges immediately.

Bottom Line: No, I would not recommend this to a friend

---

After two weeks l saw a big difference, no more heartburn or gassy symptoms, it's fabulous.

By Daisy S.

,

New York

,

Mar 16, 2020
Verified Reviewer

After two weeks on Synbiotic 365, l feel fantastic - not gassy or bloated, helps me maintain me to be regular, l love it. In the past, l had to relieve by taking antacids, now l don't, so many thanks.

Bottom Line: Yes, I would recommend this to a friend

---

365 review

By Judith S.

,

Sarasota, FL

,

Mar 13, 2020
Verified Reviewer

Seems like I have a much better feeling, stomach does not hurt as much, trying to eat the right thing, when I take 365, think I have ordered this twice, will order it again. Fast return on the orders.

Bottom Line: Yes, I would recommend this to a friend

---

Buyer beware. Save your boxes!

By Angela Z.

,

San Francisco, CA

,

Mar 4, 2020
Verified Reviewer

Ridiculous refund policy. Buyers beware!

I was impressed with the video presentation and apparent quality of the formula Synbiotic 365. I had all hopes to experience the supplement's positive results. I know everyone's different but, it definitely didn't work for me. Even though I was within the 60-day "no risk" return window, they staunchly refused me a refund. They ardently hold fast to their request buried DEEP in their fine print that they want you to send back an unused box. I threw it away and just kept the blister packs and now I'm screwed out of my money. It appears to be a sort of loophole to avoid providing refunds. Makes the company look very shady.

Bottom Line: No, I would not recommend this to a friend

---

Advertisement

---

Happy results

By Patricia K.

,

Colorado

,

Mar 4, 2020
Verified Reviewer

I originally ordered this product in hopes my constant indigestion and occasional IBS would be relived. And Synbiotic 365 has certainly helped in these areas.

I am currently on my second box of my current 3-month order which means that I have been taking Synbiotic 365 for almost 5 months and I have lost 16 lbs. I recently had my annual wellness check and my doctor was thrilled to see this weight loss. She asked what I was doing to lose weight and I told her "nothing" but that I had started taking Synbiotic 365. I even brought in one of the boxes to show her the ingredients. She was quite impressed and told me to continue doing what I was doing. The weight loss was totally unexpected but a happy result.

So let Dr. Pedre know how much I appreciate all his hard work.

Regards.

Bottom Line: Yes, I would recommend this to a friend

---

Helped change my life!

By Sherry R.

,

Firestone, CO

,

Mar 3, 2020
Verified Reviewer

My digestion was literally all over the place when I decided to try Synbiotic 365. I had irregular bowel movements, terrible indigestion, and pain and bloating. My symptoms were basically controlling my life. This is my second year of regularly taking Synbiotic 365, and my digestive tract has done a 180. I wholeheartedly recommend this product.

Bottom Line: Yes, I would recommend this to a friend

---

Amazing

By Charice V.

,

Miles City, MT

,

Mar 1, 2020
Verified Reviewer

Well, I have been on the product for nearly a month, and it definitely works! I'm sleeping like a baby, am losing weight, plus more energy. I originally got this for my all year round allergies that would lay me a lot! Those allergies are almost gone! Would recommend it to anyone!

Bottom Line: Yes, I would recommend this to a friend

---

Great product!

After watching a video of Dr. Vincent Pedre (a well-know gut expert) explain all of the benefits of Synbiotic 365 probiotic, I had to try it and I'm sure glad I did. Not only do you get a probiotic you also get B vitamins and fiber to further help your digestion and gut health. My doctor gave the thumbs up to this product also and I have recommended it to other people.

Bottom Line: Yes, I would recommend this to a friend

---

It works

By Gregory J.

,

Johnstown, OH

,

Feb 18, 2020
Verified Reviewer

I have been using this 365 for 60 days and so far my diverticulitis has been under control, this is a first for me, so I just reordered my next 90 days worth because so far I can say it works.

Thanks.

Bottom Line: Yes, I would recommend this to a friend

---

Synbiotic 365 WORKS!

By Jason H.

,

Texas

,

Feb 17, 2020
Verified Reviewer

I have been using the Synbiotic 365 product for a year now, and experienced measurable and sustainable results. This probiotic daily supplement delivers the results that are claimed by the manufacturer, and more. I have lost 30lbs, and gone down a pant and shirt size just from using this product. I highly recommend it!

Bottom Line: Yes, I would recommend this to a friend

---

Help Crohn's Disease

By Melissa G.

,

Jefferson, OH

,

Feb 16, 2020
Verified Reviewer

I have had Crohn's for nearly 30 years. I had two bowel resections, scarring, and experience auto-immune symptoms. I can tell you I caught a cold in the last two months and for the first time in many years it stayed "just a cold". In the past, even a cold developed into something worse, but since taking the probiotics by United Naturals, I was able to get over my cold just like everyone else! I am very impressed so I am placing a re-order of Synbiotic 365: Advanced Probiotic Formula! IT WORKS!

Bottom Line: Yes, I would recommend this to a friend

---