Gundry MD Total Restore Reviews
Claimed This company has claimed this profile, is getting alerted on any new customer reviews entering this page, and may engage in dialogue with its customers to address their matters.

Companies cannot pay money or provide goods in order to remove or alter customer reviews.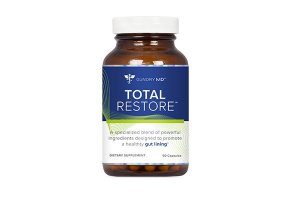 By taking three capsules of Total Restore daily, Gundry MD tells us you can expect reduced leaky gut symptoms, increased energy, and curbed food cravings.
About Gundry MD Total Restore
Using a blend of 16 dynamically effective all-natural ingredients, the Gundry MD Total Restore dietary supplement promises to help promote a healthy gut lining, protect your body from endotoxin overload, and promote full-body wellness.
As a result, the website reports you can expect reduced gas, bloating, diarrhea, and constipation caused by "leaky gut"; boosted energy, relief from achy muscles and joints, and help to combat food cravings. Just take three easy-to-swallow capsules once per day, with your biggest meal. Or, one capsule three times a day, if you prefer.
When used as directed, the Gundry MD site tells us that many Total Restore users report "a distinct improvement in digestion, energy, and overall health within just a few days," with the most dramatic results evident after two to three weeks.
If you're experiencing these symptoms on a regular basis, it might seem like a no-brainer to place an order. But can you realistically expect Total Restore to deliver on Gundry MD's promises? Let's kick things off by taking a closer look at the condition it's supposed to address.
What Do Medical Professionals Say About Leaky Gut Syndrome?
The Mayo Clinic explains that a single layer of cells in the intestines, connected by something called 'tight junctions,' is all that separates its contents from the rest of the body. And while these cells were once thought to be static, the medical community has since observed that they're "dynamic gatekeepers, opening and closing in response to dietary factors, neuronal signals, and pathogens."
In some instances, though, WebMD reports that these tight junctions don't work properly and can leak substances (such as the endotoxins mentioned on the Total Restore website) into the bloodstream, leading to symptoms like bloating, gas, cramps, food sensitivities, and aches and pains—a condition informally known as "leaky gut." This is especially common among those with celiac disease and Crohn's disease.
However, many individuals without these diseases report symptoms consistent with leaky gut, although Donald Kirby, MD, director of the Center for Human Nutrition at the Cleveland Clinic, emphasizes, "from an MD's standpoint, it's a very gray area."
Basically, "leaky gut really means you've got a diagnosis that still needs to be made," he says. "You hope that your doctor is a good-enough Sherlock Holmes, but sometimes it is very hard to make a diagnosis."
Linda A. Lee, MD, a gastroenterologist and director of the Johns Hopkins Integrative Medicine and Digestive Center, adds: "In the absence of evidence, we don't know what it means or what therapies can directly address it." In other words, "with leaky gut, the evidence – about what causes it and how to treat it – has yet to fully accumulate."
With these important details in mind, how does Total Restore advertise that it can help address leaky gut symptoms?
Taking a Closer Look at Total Restore's Ingredients
According to the supplement facts label listed on the Gundry MD website, Total Restore contains the following ingredients:
Magnesium 7 mg
Zinc 2 mg
L-Glutamine 213 mg
N-Acetyl D-Glucosamine 142 mg
Magnesium Beta-Hydroxybutyrate 86 mg
Grape Seed Extract 58 mg
Licorice Roots Powder 54 mg
Wormwood Powder 50 mg
Cinnamon Bark Powder 50 mg
Maitake Mushroom Extract 34 mg
Organic Strawberry, Raspberry, Blueberry, Tart Cherry, Elderberry, and Cranberry (VitaBerry) 22 mg
Cloves Buds Powder 17 mg
Black Pepper Seeds Powder 17 mg
Grapefruit Seeds Extract 17 mg
Marshmallow Roots Powder 10 mg
Zinc L-Carnosine (Pepsin Gl) 10 mg
Berberine Bark Powder 3 mg
As we learned in the previous section, there aren't any formal treatments used to address leaky gut. But can any of this supplement's ingredients address symptoms commonly reported by the condition's sufferers?
Based on what we learned from the summaries of the available clinical evidence provided by sites like WebMD, Examine.com, and the Natural Medicines Database, oral magnesium (no dosages listed) may help reduce symptoms of gastroesophageal reflux disease, or GERD, which might be experienced by some leaky gut sufferers.
Similarly, licorice may help ease indigestion (again, no dosages listed), although in clinical studies, it was used alongside other ingredients like milk thistle, peppermint leaf, German chamomile, caraway, celandine, angelica, lemon balm either, and clown's mustard plant.
Outside of magnesium and licorice, though, these same sites indicate that Total Restore's remaining ingredients have insufficient clinical evidence supporting claims that they can address side effects caused by leaky gut.
Could Total Restore's Ingredients Cause Side Effects?
According to the Gundry MD website, Total Restore should be effective and safe for daily use for the vast majority of people, although they recommend speaking with your doctor before taking any new dietary supplement.
With this said, WebMD and the Natural Medicines Database indicate that licorice (no dosages or other specifics provided) is possibly unsafe "when used orally in large amounts for several weeks or smaller amounts for longer periods of time." Similarly, while no specifics were provided, marshmallow can sometimes lead to low blood pressure.
They also emphasize that grapefruit, whether added to your diet or taken as medicine, can interact with many different medications, so you'll doubly want to speak with your doctor beforehand.
Finally, we're told that there isn't enough known about potential side effects or safety of taking Maitake mushroom or medicinal amounts of cloves.
How Much Does Total Restore Cost?
Gundry MD has priced Total Restore as follows:
1 Jar: $69.95
3 Jars: $191.85 ($63.95 per jar)
6 Jars: $317.70 ($52.95 per jar)
Regardless of which option you choose, your order will come with free shipping. All Gundry MD supplements also come with a 90-day refund policy, which you can request by reaching out to customer service at 800-852-0477
What Do We Know About Dr. Steven Gundry & Gundry MD?
Dr. Steven Gundry is a cardiovascular disease specialist and thoracic surgeon who graduated from the Medical College of Georgia School of Medicine and has been practicing since the late 1970s. In that time, his bio reports that he's patented nine cardiac surgery devices.
Currently, Dr. Gundry focuses on nutrition and has authored several books on the topic, including recent titles like "The Plant Paradox" and "Dr. Gundry's Diet Revolution."
From a company perspective, Gundry MD has been in business since 2016 and manufactures other popular dietary supplements like Vital Reds, Primal Plants, Prebiothrive, and Glucose Defense.
They held an A rating with the Better Business Bureau, based on 12 customer reviews and 27 closed complaints, as of 1/3/18. Most of these appeared to revolve around refund concerns. In each instance, a company representative responded.
Are There Other Leaky Gut Supplements Competing with Total Restore?
Searching online marketplaces like Google Shopping and Amazon.com for variations of terms like 'leaky gut supplement' and 'intestinal permeability supplement' returned several dozen options competing with the product in question, with most ranging between $20 and $40.
None contained the exact same formulation, though, so if you're interested in these same ingredients in the same dosages, Gundry MD's Total Restore is currently your only option. Does that necessarily mean it's your best option, though?
Not to sound like a broken record, but it's important to reemphasize Donald Kirby, MD's quote from earlier: "From an MD's standpoint, [leaky gut] is a very gray area." In other words, even with a medical degree, your doctor might have to put on their Sherlock Holmes hat to help you find meaningful relief from your symptoms.
With this in mind, your first step toward finding a solution should be speaking with your primary care physician. If they recommend a dietary supplement as a valuable use of your money, after years of research into the topic, we recommend only doing business with companies who:
Support their advertising claims with peer-reviewed clinical research
Provide a complete list of ingredients, including dosages
Price their products competitively
Offer at least 30-day refund policies on open bottles, with no restocking fees
Come with mostly positive online customer feedback
In the light of these criteria, how does Total Restore look?
Our Final Thoughts About Gundry MD Total Restore
Total Restore comes from a company with a few years in business and almost wholly positive online customer reviews, while all of their supplements come with a 90-day satisfaction guarantee. As such, if you decide to give it a try and find yourself dissatisfied, you might not be out much more than a few dollars in return shipping.
Furthermore, their website offers visitors a complete supplement facts label, including dosages and no proprietary blends, and the product comes with a price that's in line with much of the competition.
With this said, your doctor can almost certainly help point you in the right direction as far as a) whether or not your intestines have a permeability problem to begin with, and b) whether or not a supplement like Total Restore will deliver meaningful value for the money. So, be sure to discuss the situation with them prior to placing an order.
» Recommended Reading: Best Grains, Fruits, and Vegetables That Improve Digestion
This company is actively collecting reviews from its customers. All reviews submitted are subject to moderation and approval to ensure they meet our

Review Guidelines

.

Fantastic

By Co C.

,

Seattle, WA

,

Apr 9, 2020
Verified Reviewer

After reading the negative reviews, I have to say they sound a bit lame to me, unsubstantiated, perhaps disgruntled people.. I use this product and know the greatness it is.

I'm 58, F, decent physical shape, blood type O+.

I ordered this after my body started aging and all I wanted to do was eat everything in sight, but never felt full, which after researching the prob online read that's a main symptom of leaky gut, so, nothing to lose, except maybe excess weight, I placed an order.

The bottle arrived, I took one pill, on a pretty empty stomach, to get a better self-analysis of what it may or may not do, and was very impressed, with a feeling in my gut of youthful restoration. I get the name, it's spot on, gut felt toned with a healthy elasticity, instead of that flabby no muscle tone feeling, and loved that the ingredients are all natural. Hope had finally arrived, I now have something to help me restore health to my gut, I can use it as needed, which is how I use it since chocolate is really hard to give up. I think taking it before bed is most beneficial, wake up with a gut that's ready for a good diet.

I feel good giving recognition to people when I see their caring is apparent and is making an improvement in the lives of others.

So, Dr. Gundry, thank you, for this product and the caring and integrity you obviously had when you developed this. You are appreciated! Love your products!

Bottom Line: Yes, I would recommend this to a friend

---

We like it

By Vienna J F.

,

Corpus Christi, TX

,

Apr 1, 2020
Verified Reviewer

My husband and I started Total Restore a month ago and we feel very good, our skin feels different.

I really can't explain how I feel but we do feel much better, no pain, my husband said that he is having more energy and he goes like three times to the bathroom with no problems, same with me! So far so good! I'm ready to order more because we like it and we recommended it.

Bottom Line: Yes, I would recommend this to a friend

---

Healed my badly torn fissure in one week!

By Nizar N.

,

California

,

Mar 30, 2020
Verified Reviewer

I have dealt with incomplete bowel movements since I was a kid. I'm 31 now, athletic build, all around quite healthy but over time the constipation wore me down and out.

I lost not only my energy but I lost my life. My days began to revolve around my bowel movements and the shape I would be in mentally and physically when I finally left the bathroom.

It got to the point where I was never on time for anything. Many times the psychological defeat was too much and I gave up on ever leaving the house that day so I lay up in bed depressed.

If I sucked it up and went out anyway the discomfort and anxiety accompanied with the constant urge to go and never being complete, would likely inhibit any pleasant experience from partaking.

Then of course in about 6-8 hours max I would need to be back in the bathroom and surely I could not use a public stall and be granted the slightest relief. It would need to be my bathroom.

My activity became extremely limited. I eventually lost the energy to put up with it and dreaded having a bowel movement so much that started pinching my cheeks until it subsided.

Realize too that I have tried everything else under the sun to relieve this problem to the slightest avail. No matter how seemingly well a movement I might have, it's like my rectum always stores some about a mm. from the exit and it's the most frustrating thing in the world.

Anyways, I have an extremely fast metabolism. I need to go at least once a day but already knowing it won't be a success I gave up trying altogether.

It wasn't so bad at first, I found if I didn't try I could avoid inevitably failing for while. I drank very little liquids and ate much less to delay having a strong bowel movement I could not hold.

But I took it too far. I resisted the urge for 10 days straight and when I went it was the most excruciatingly painful thing I have ever felt.

Literally ripped me apart down there and I bled profusely. The stool stuck at the in now what was an open wound would cause the pain to linger and at times worsen.

I could hardly bare to walk let alone sit. The doctors remedy of laxatives did no good, hard or soft my fissure would hyperextend and retract too strongly, ripping me back open every single time.

Sitz bath and ointments brought temp relief of pain but for 10 months I bled and hurt so badly.

Back in the bathroom and in bed I became stuck. Going through periods of eating a few days and clinching to starving myself for days because that pain is one I simply cannot bare.

Out of nowhere my mother (she got it in hopes of relieving joint pain) brought over a bottle of Total Restore one day and told me to try it.

I honestly thought it a gimmick and scolded her for being so gullible but decided to give it a try after reading the ingredients. I can't say I know anything about having a leaky gut or lectin but one thing I know absolutely is the ungodly pain of the torn fissure.

Then all a sudden, it was less than a week actually, I believe day 3 or 4, without any other types of treatment being done, appearing to be nothing short of a miracle, I went number 2 with no pain at all and no blood.

Total Restore is, what these pills did about my torn fissure, and I am so grateful and thankful for this, you have no idea. Words can't describe how awful of a pain that was and for it to be healed in a few days, what was unable to heal in almost a year, is proof to me that this stuff really does work.

Now I'm no doctor or medically educated in any fashion, but I think it's safe to assume the fissure is considered part of the gut. If not it can't be far off.

Whereas a puncture somewhere in the gut may be harder to diagnose and attribute to any issues you might be having, a fissure tear is visible and the pain spot easy to locate.

So because of this, I'm led to believe it does seem to work. Been on it two weeks now and I feel so much better. My bowel movements, unfortunately, are still incomplete, but compared to the fissure tear this issue something I can learn to live with.

My mother says the pills thus far have given her regularity. She feels no reduction in joint pain which either means she does not have a leaky gut, or pills need more time to work in her case.

So basically unless you're somehow certain you have leaky gut taking these pills expecting to relieve any symptoms sounds like a shot in the dark.

Whatever you do I hope you find help and relief in something and you remain in good health always.

P.S. If anyone has recommendations on how to relieve my incomplete movement problems, please let me know.

Thanks!

Btw, we bought ours on Amazon, much cheaper!

Bottom Line: Yes, I would recommend this to a friend

---

Great product

By Angela C.

,

South Carolina

,

Mar 24, 2020
Verified Reviewer

The first thing I noticed was a good solid bowel movement and I had headaches in the beginning but kept taking Total Restore and noticed that my psoriasis started to clear and my skin looked a lot better. So yes, I would recommend this product to anyone suffering from any skin condition.

Bottom Line: Yes, I would recommend this to a friend

---

Advertisement

---

It stinks

I tried this back in 2016 - Total Restore and Vital Reds. My body odor has changed. My sweat stinks now and I can drop it. Tried to state my opinion with Dr. Gundry I am now banned to access this screen! HE ONLY ACCEPTS 5 STAR COMMENTS. He is a scam no doubt! If you want a different body odor, a different smell, take his bacteria. I thought it would wear away. But years later it still stinks.

Bottom Line: No, I would not recommend this to a friend

Mar 24, 2020

Ramona, I'm very sorry to read that your results from our Total Restore was not what you had hoped. I want to assure you that we accept all feedback - negative or positive. I'd like to hear more about your experience and offer you a full refund - please email me at aria@gundrymd.com and I can get you sorted immediately!

---

Didn't help me at all, then my doctor said not to take it because of my diabetes and having to go in for surgery.

By Lanita P.

,

Everett, WA

,

Mar 18, 2020
Verified Reviewer

I purchase this on the hopes that it could help me but found that it gave me no relief at all to my consolation. I have had to go in for surgery and was told by my doctor that I couldn't take this and my diabetes also complicates my problems so the doctor says to send it back, I'm not to take it. I have to go in for more surgery in a couple of weeks if my doctor can get me in because this virus has made a real mess with getting surgeries scheduled. I don't have my order number or receipt anymore. Is it possible to return the bottle for a refund?

Bottom Line: No, I would not recommend this to a friend

Mar 18, 2020

Lanita, we completely understand and we are wishing you a quick and speedy recovery from your surgery. I'd be more than happy to take care of your refund for you! Please email me at aria@gundrymd.com and I can get that process started for you immediately. Thank you.

---

Do not waste your money. SCAM.

By Frances W.

,

Goose Creek, SC

,

Mar 2, 2020
Verified Reviewer

I purchased this and I solely believed it would help me. Introducing the medicine, he was heavier than he was, then he showed that he was smaller. I had seen this man last year in something else, he was advertising another product. He was slim in that advertising, I am very thorough and all. He is a scam and his medicine does absolutely nothing for you. I have checked the product numerous times - he really would make a good con, this is a scam.

Bottom Line: No, I would not recommend this to a friend

Mar 3, 2020

Frances, I'm very sorry this is your perception of our company and our products.

Dr. Gundry is a cardiothoracic surgeon with 30 years of experience who created Gundry MD with one mission: To dramatically improve human health, happiness, and longevity through my unique vision of diet and nutrition. Additionally, I want to note that all of our products are extensively researched and each batch goes for independent testing at a 3rd party facility for potency and quality. This is why we have our 90-day money-back guarantee in place.

If you'd like to give a product a try or have any other questions, please don't hesitate to reach out to me personally at aria@gundrymd.com and I'd be more than happy to assist you.

---

No money back guarantee

By Paul G.

,

Levittown, PA

,

Feb 24, 2020
Verified Reviewer

Was very disappointed, did absolutely nothing. Worse, I couldn't get my money back, I had to submit fraud charges and was informed by my credit card company I was not the first this company tried to scam money out of. Don't waste your money or time. Total ripoff.

Bottom Line: No, I would not recommend this to a friend

Feb 24, 2020

Paul, I'm very sorry that this was your experience with our return policy - we always stand by our money-back guarantee. I was able to pull up your account and I see that there is a Return Authorization opened on 2/17/20 for your order of Total Restore. As it is industry standard, we do ask that you return the products if requesting a full refund, as to ensure that you gave the product a fair trial, but as a courtesy, I'd be happy to waive this for you. Please keep an eye out for a confirmation email within the next 1-2 business days. If you have any other questions, please don't hesitate to reach out to me personally at aria@gundrymd.com.

---

Did not work for me

By Wanda E.

,

Bronx, NY

,

Feb 21, 2020
Verified Reviewer

I bought 3 bottles of Total Restore back in December. I have taken this product faithfully. Three tablets a day. I found that this product did nothing it promised. I drink lots of water, exercise, and I've also cut unhealthy foods from my diet, and I still have digestive issues. I'm still constipated. I had high hopes when purchasing this product, that's why I bought three. So disappointed.

Bottom Line: No, I would not recommend this to a friend

Feb 21, 2020

Hi Wanda, thank you for giving Total Restore a try. I'm very sorry it wasn't the right fit for you! I've gone ahead and initiated your refund - please keep an eye out for a confirmation email within the next 1-2 business days. If you have any other questions or concerns, please don't hesitate to reach out to me at aria@gundrymd.com and I'd be more than happy to assist you.

---

So far, so good

By LaShunda T.

,

St. Louis, MO

,

Feb 13, 2020
Verified Reviewer

I received my supplements on this past Thursday, I took my first dosage of 3 capsules Friday morning on an empty stomach. At first I got a really bad headache and I felt really tired so I ate something; an hour or two later I had a bowel movement that was solid, so that was my immediate notation of change. That same night I ate an all-vegan meal, but the next morning I woke up and still had a headache (so I decided to wait before I took my next daily dose) and by noon I felt really tired so I took a nap. When I woke up, I immediately went to the restroom and had a BM. When I tell you that was the best BM I ever had, I felt the relief as it was happening, I could smell the toxins coming out and my headache lifted so quickly. I jumped in the shower and got dressed took my next dose and my gut hasn't felt this normal or looked flat in a long time. This is only after 2 days of taking it, I am on my 4th day, no more headaches and I feel so refreshed and energetic. I will repost if anything changes, but for now, I give 4 stars.

Bottom Line: Yes, I would recommend this to a friend

---

Be very careful ordering

By Sherri S.

,

Kansas City, MO

,

Jan 22, 2020
Verified Reviewer

My credit card was charged 3 times this morning when I placed an order. My credit card flagged it as fraud. Now trying to cancel. Be leery of companies that turn one order into 3. I won't be ordering from this company. Received one star since can't do zero.

Bottom Line: No, I would not recommend this to a friend

Jan 22, 2020

Hi Sherri, I'm very sorry to read that you were charged more times than intended. It sounds like you may have accidentally signed up for our subscription service - I'd be happy to look into your order and ensure that this doesn't happen again. We would never triple charge your credit card without your approval. Please email me at aria@gundrymd.com and I'd be happy to refund any remaining charges and provide an explanation as to what happened. Thank you!

---