Lectin Shield
Claimed This company has claimed this profile, is getting alerted on any new customer reviews entering this page, and may engage in dialogue with its customers to address their matters.

Companies cannot pay money or provide goods in order to remove or alter customer reviews.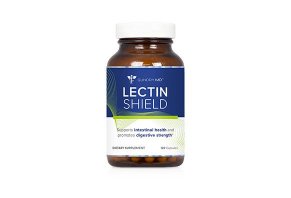 Gundry MD claims that Lectin Shield will support intestinal health and support digestive strength by reducing the effects of lectins. Can It work as promised?
Lectin Shield by Gundry MD Review - Legit or Hype?
What is Lectin Shield?
Gundry MD's claims that their dietary supplement, Lectin Shield, will protect your body from lectin overload.
Lectins are proteins found in both animal and plant products, though they're most abundant in legumes, fruits, vegetables, and grains. They play a role in many vital biological processes related to cell development and signaling, as well as your immune system.
So why limit their function?
Despite their importance, plant lectins may play a role in the development of conditions like food allergy, inflammatory bowel disease, insulin-dependent diabetes, and rheumatoid arthritis.
There has been discussion regarding meal plans that limit lectin intake, though these diets exclude many common foods and lack strong scientific support. Is there another option for those that wish to avoid the potential harm caused by lectins?
According to Gundry MD, taking two capsules of Lectin Shield twice daily should result in:
Reduced appetite and food cravings
Increased energy
Better digestion and less "Leaky Gut"
Cardiovascular support
Improved immune system function
Reduced Joint Pain
Less Brain Fog
They claim that you'll notice many of these results "within just a few days," though the most "dramatic" results are likely to become apparent over the course of two to three weeks.
Can one supplement really offer so many benefits?
In this review, we'll highlight the scientific support for the safety and efficacy of Lectin Shield to help you determine if this is the supplement you've been missing.
Who Is Dr. Steven Gundry? Does His Company Make Other Supplements?
Dr. Steven Gundry is a board-certified general surgeon and thoracic cardiovascular surgeon based out of Palm Springs, CA, where he founded The Center for Restorative Medicine Institute.
Here, Dr. Gundry promotes health through diet and lifestyle choices in hopes of helping his patients avoid the surgeries he has performed for over three decades. As he can only see so many patients on a daily basis, he founded Gundry MD to reach as many people as possible.
Dr. Gundry's focus on diet-based health also lead him to write Dr. Gundry's Diet Revolution: Turn Off the Genes That Are Killing You and Your Waistline, a three-phase plan that aims to help readers overcome obesity-related diseases.
Gundry MD currently offers over 30 dietary supplements, many of which have been previously reviewed on HighYa.
What Ingredients Are Found in Lectin Shield, and Do They Work?
Lectin Shield's proposed benefits are thought to be related to its active ingredients. According to the product label, here's what the supplement contains:
N Acetyl D-Glucosamine (NAG) - 300m
NAG is obtained from shellfish and thought to offer protection from the harmful effects of gluten, though there is minimal support for this, particularly in human subjects.
In a laboratory model, NAG offered protection from the toxic effects of rye, barley, and oat glutens in small intestinal cells obtained from 26 children with gluten intolerance.
Outside of this data, the literature is supporting the use of NAG in this setting is lacking.
Bladderwrack - 200mg
Bladderwrack is a fucose sugar-rich seaweed, also thought to offer protection from gluten.
In a rat study, 575 mg/kg/day of Bladderwrack over 2-weeks was not found to be beneficial as a dietary supplement for weight loss.
Its ability to bind lectins and limit their unwanted effects is unclear.
D-Mannose - 100mg
D-Mannose is a plant sugar that may block lectins, though this benefit has not been demonstrated in substantial scientific investigations with human subjects.
Mannose supplementation in mice on a high-fat diet improved endurance and glucose tolerance, while reducing body weight and body fat.
Okra Fruit - 100mg
Okra is thought to form a gel that can block lectins from attaching to your cells.
In a laboratory study, 0.2 to 2 mg/mL doses of okra extract inhibited the binding of bacteria to stomach cells. Okra may also offer heart health benefits through cholesterol-lowering actions, though this was demonstrated in mice.
Sialic Acid (Mucin) - 100mg
This protein is thought to reduce lectins' ability to bind to the surface of your digestive tract through its ability to work on cell membranes.
Rats that were injected with 1mg of sialic acid per 50 g body weight for 7-days learned a maze quicker when compared to those treated with glucose.
The brain boosting effects, as well as the other proposed benefits of sialic acid supplementation, have not been demonstrated in human subjects.
Sodium Alginate (Alginic acid) - 100mg
Sodium alginate is thought to bind and remove lectins from your body.
Sodium alginate system formed a gel in the stomachs of rats that served to reduce food intake, body weight and peak blood glucose when compared to control. These findings highlight a potential benefit for supplementation in overweight and obese humans, though research is needed to investigate this possibility.
Vegetable Peptase - 50mg
This enzyme works to break down large protein molecules into smaller ones called peptides.
As this enzyme supports the digestion of the food we consume, supplementation should help avoid symptoms related to undigested food such as bloating, gas, heartburn, and lack of energy.
However, support for the use of vegetable peptidase in this regard is lacking.
Methylsulfonylmethane (MSM) - 50mg
MSM is a naturally occurring sulfur compound thought to offer anti-inflammatory and antioxidant benefits.
Treatment with 3g/day of MSM over 4-weeks in subjects completing resistance training improved blood tests that indicate antioxidant capacity, as well as exercise recovery.
When supplemented along with glucosamine, chondroitin sulfate, guava leaf extract, and vitamin D, 300 mg of MSM improved pain in patients with knee arthritis, though these results were not conclusive.
Larch Arabinogalactan - 50mg
Larch arabinogalactan is a complex carbohydrate from the larch tree (Larix occidentalis) thought to offer anti-microbial and immune boosting benefits.
Those randomized to 4.5g of an larch arabinogalactan had fewer colds over a 3-month span when compared to placebo.
With respect to anti-lectin activity, larch arabinogalactan did not limit lectin activity I a laboratory model.
Is Lectin Shield Safe?
In general, most of Lectin Shield's ingredients should be well tolerated by most users, with the most common side effects being digestive upset and gassiness/bloating.
These ingredients lack substantial, long-term human studies that investigate various doses in different populations. As most of the available literature is in laboratory or animal models, it is challenging to confidently determine the safety of this product.
Of the ingredients included in Lectin Shield, MSM and larch arabinogalactan have been tested the most in humans. The Food and Drug Administration (FDA) consider MSM to be safe at dosages less than 4845.6 mg/day, while doses up to 4500 mg/day were safe in humans.
Additionally, due to the N Acetyl D-Glucosamine content, you should not take Lectin Shield if you're allergic to shellfish.
It is safest to speak with your physician before use. Identifying the underlying source for any symptoms you may be experiencing is a good place to start on your road to management.
How Much Does Gundry MD Lectin Shield Cost?
Lectin Shield is available at Gundry MD's site in the following quantities:
1 Bottle: $49.95 + $4.95 Shipping
3 Bottles: $131.85 + Free Shipping
6 Bottles: $239.70 + Free Shipping
All Gundry MD supplements (more about this next) come with a 90-day money back guarantee, less S&H charges.
In order to request a refund, you'll need to call Gundry MD customer service at (800) 852-0477.
Lectin Shield is also available through Amazon at $54.25 per bottle. Shipping is currently free, though this supplement is not prime eligible.
Are There Any Alternatives to Lectin Shield?
There are a number of "Lectin Blockers" currently available from different vendors.
Lectin Guard from KaraMD offers a 30-day supply of their formulation for at $29.95 on Amazon. It has bladderwrack, okra fruit, and sodium alginate in common with Lectin Shield, and at comparable doses.
Lectin Lock from Stop Aging Now is yet another option that has an ingredient list almost identical to Lectin Shield, though they offer 400mg of N-Acetyl Glucosamine. They offer multi-bottle savings; 1 bottle/$29.95, 3 bottles/$80.85, and 6 bottles/$149.70.
Another option would be adopting a meal plan that limits lectin intake. Again, it can be challenging to hit daily nutrient requirements by omitting so many foods.
What Are Users Saying About Lectin Shield?
At 4.4 out of 5-stars on over 240 reviews, users seem to report favorable experiences with Lectin Shield.
Over 65% of reviewers rate this supplement at 5-stars. The most satisfied customers cited reduced gas, bloating, diarrhea, and constipation.
Those that rated Lectin Shield 3-stars or less made up about 8% of all reviewers. Unsatisfied customers mainly cited lack of results and expensive pricing for their negative experience, though others mentioned side effects such as diarrhea, constipation, and heartburn.
Gundry MD did seem responsive to those with negative experiences though representatives could do little more than offer a money-back guarantee or suggest seeing a physician.
Will Lectin Shield Provide "Comprehensive Anti-Lectin Health Support"?
Of the many reported benefits from the ingredients included in Lectin Shield, the proposed anti-lectin actions remain unclear. There simply isn't much support for this action, and most of what the available research is laboratory or animal studies.
This makes determining efficacy challenging as results obtained from animal studies or laboratory models are not necessarily relatable to humans. Promising results in these investigations may highlight the need for more research, however, some of the studies we have reviewed here do not hint at the potential for some of the ingredients.
Also, the doses tested in animals and in the laboratory likely differ from what may be safe and effective in humans. It is therefore hard to draw conclusions from the available research regarding the safety of this supplement.
Though most ingredients are likely safe even at higher doses, be sure to speak to your physician first.
As this is a relatively expensive supplement, particularly if you plan to take it consistently, you may want to look elsewhere in light of the currently available scientific support.
---
This company is actively collecting reviews from its customers. All reviews submitted are subject to moderation and approval to ensure they meet our

Review Guidelines

.

Lectin Shield

By Leonida K.

,

Northern Territory, Australia

,

Oct 9, 2019
Verified Reviewer

Overall Experience:

I purchased Lectin Shield in June 2019, but still have to consult my dietician. And just started to take 2 tablets today. No much to say yet until maybe after I finished one bottle. Since I need to tick one box, I ticked "yes, I will recommend," though I haven't known the effect at this stage.

Bottom Line: Yes, I would recommend this to a friend

Oct 10, 2019

Leonida, thank you for sharing! I encourage you to continue using Lectin Shield consistently for the best results. If at any time you are dissatisfied or unimproved, please don't hesitate to reach out to me at aria@gundrymd.com and I'd be more than happy to issue you a full refund. Thank you for giving Lectin Shield a try!

---

Did not work for me

By Leon H.

,

Arizona

,

Aug 17, 2019
Verified Reviewer

Overall Experience:

Based on radio advertising I decided to give Lectin Shield a try. I took it religiously for 75 days per required dosage. In the first 30 days, I got diarrhea. But I persisted. I noticed no notable difference in my health and my energy level remained the same, but at times I felt I wasn't as active. After 2 and a half months, it was time for a refund. I received my refund, no questions asked. Too bad it didn't work for me.

Bottom Line: No, I would not recommend this to a friend

Aug 19, 2019

Hi Leon, thank you for giving Lectin Shield a try! I'm sorry to read that it wasn't the right fit for you, but it's great that you were able to take advantage of our money-back guarantee. Please don't hesitate to reach out to me personally at aria@gundrymd.com with any questions or concerns in the future.

---

Advertisement

---

Not working for me

By Terrie M.

,

St. Louis, MO

,

Aug 7, 2019
Verified Reviewer

Overall Experience:

I really wanted this to help with my gas and bloating but I've been taking it about a month and it's not helped at all. Nothing. I have two opened bottled and two unopened bottles I'm stuck with because I was so hopeful for this product.

Bottom Line: No, I would not recommend this to a friend

Aug 8, 2019

Terrie, I want to thank you for giving these products a try but I'm sorry to hear that they were not the right fit for you. Please email me personally at aria@gundrymd.com and I can take care of your order for you.

---

Something is different!

By Maureen G.

,

Utah

,

Jul 25, 2019
Verified Reviewer

Overall Experience:

While I believe the price of Gundry's Lectin Shield is exorbitant (hence the 3-star rating), there is a definite difference in my skin texture when I take it. It's smoother and silkier, for sure. I have to assume there are internal improvements, as well, though I can't say what they are, as I don't notice any difference in bowel function nor appetite. I did experience a severe bout of diarrhea on Total Restore that didn't resolve when starting Lectin Shield again after having run out, and which eventually became full blown diverticulitis. I stayed off both products for over a month. Once the infection resolved, I tried Lectin Shield again with no adverse effect and the return to silkier skin, so I know that's the reason. The jury's out on Total Restore, though. Scared to try again. To their credit, Gundry MD quickly refunded my cost for the products when I reported the diarrhea effect.

Bottom Line: Yes, I would recommend this to a friend

---

Advertisement

---

Lectin Shield

By Connie A.

,

Pasadena, CA

,

Jun 26, 2019
Verified Reviewer

Overall Experience:

There was some effect when I've eaten legumes. But there still was some bloating. I did not experience the weight loss that I had anticipated. Was hoping for more dramatic results for the price.

Bottom Line: No, I would not recommend this to a friend

---

Some good results after 30 days

By Donna S.

,

Cape Coral, FL

,

Jun 21, 2019
Verified Reviewer

Overall Experience:

I have just completed my first 30 days of using Lectin Shield. So far I have noticed an improvement in less bloating in the abdomen. I am also taking the Prebiothrive, and the Primal Plants.

On May 14th I was diagnosed with Shingles. Needless to say, I have been extremely inactive for the last month. To my surprise, I experienced no weight gain! I can only attribute maintaining my weight to the Gundry MD products I have been taking. So, my assessment of how Lectin Shield is working may not be accurate at this time due to this unusual health issue, but I am looking forward to continuing the use of this product to see more benefits in the near future.

Bottom Line: Yes, I would recommend this to a friend

---

I think I'm just getting the hang of when and how to use the Shield so I had a slow start.

By Catherine S.

,

Nelson, British Columbia, Canada

,

Jun 20, 2019
Verified Reviewer

Overall Experience:

The thing I'm really impressed with is my disappearing belly! I'm sleeping better, perhaps more...catching up to the deficit perhaps. I feel better, I'm going to say, calmer.

I need more information, eg a copy of your food list. Particularly the no's, LOL.

Thanks for helping me heal my gut and thanks for all your hard work to research and find this solution!

Bottom Line: Yes, I would recommend this to a friend

---

Lectin Shield results.

By Pamela N.

,

New South Wales, Australia

,

Jun 19, 2019
Verified Reviewer

Overall Experience:

I have only been on Lectin Shield for a week so maybe not the best person to survey. (I've been away.) What I have experienced though is significantly reduced gas. I've always been regular in my toilet habits so no real change there. I am looking forward to seeing what changes I will have as I progress with this product.

Sorry, that's all I have so far.

Bottom Line: Yes, I would recommend this to a friend

---

Lectin Shield

By Shelia L.

,

Tennessee

,

Jun 18, 2019
Verified Reviewer

Overall Experience:

Have only been using the product a short time but I can say that I have not had any negative side effects of which I am aware of. I have another order about to be delivered soon. Thank you and hope I continue to have positive effects from taking it.

Bottom Line: Yes, I would recommend this to a friend

---

Big improvement from a month ago!

By Timothy R.

,

Queens, NY

,

Jun 17, 2019
Verified Reviewer

Overall Experience:

This product has helped me tremendously over the past month. My bloating has subsided substantially, excess gas was abysmal before. Now I hardly have any gas after a meal. I would give it 5 stars but it seems that the results are only effective if I keep taking the product. I was hoping it would eventually heal my digestive issues permanently. Still, it's only been a month so I am sure if I continue taking Lectin Shield along with Total Restore (I have that as well) I will be as good as new in no time. Thank you for this natural product! It's a keeper!

Bottom Line: Yes, I would recommend this to a friend

Jun 18, 2019

Timothy, I'm so happy to read you've seen these improvements from Lectin Shield and Total Restore! I encourage you to continue taking both consistently. If you ever have any questions, please don't hesitate to reach out to me at aria@gundrymd.com and I'd be more than happy to assist you.

---

Outstanding!

By Mosina J.

,

Alexandria, VA

,

Jun 17, 2019
Verified Reviewer

Overall Experience:

I have been suffering with gastrointestinal problems since I started chemo for multiple myeloma in 2014. Frequent lower back pains after eating and diarrhea. After 2 dozen blood tests and a stomach emptying test, the gastroenterologist said she couldn't find anything wrong, except that my stomach empties very slowly after eating.

After taking Lectin Shield, I have regular solid bowel movements after each meal. I no longer have diarrhea. My lower back pain after eating is gone. For me, this is a wonderful product. It has helped me overcome some very debilitating gastrointestinal problems. Thank you, Dr. Gundy.

Bottom Line: Yes, I would recommend this to a friend

---