Synbiotic 365
Claimed This company has claimed this profile, is getting alerted on any new customer reviews entering this page, and may engage in dialogue with its customers to address their matters.

Companies cannot pay money or provide goods in order to remove or alter customer reviews.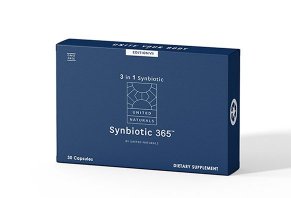 Synbiotic 365 is a dietary supplement that is alleged to help you address your digestive issues by combining probiotics and prebiotics. While the individual actions of these ingredients have scientific support, research confirming the benefits of synbiotics is lacking.
---
This company is actively collecting reviews from its customers. All reviews submitted are subject to moderation and approval to ensure they meet our

Review Guidelines

.

Seems to help my digestive issues

By Melanie S.

,

Red Deer, Alberta, Canada

,

Aug 14, 2020
Verified Reviewer

Length of Use: 3–6 months

Overall Experience:

I think this supplement is helping me. My IBS has been better. The added B vitamin is helping me think more clearly. I have more energy and I am exercising. I think I'm losing weight. I just ordered my next 3 months.

Pros and Cons:

Seems to help my digestive issues
I have more energy
I'm thinking more clearly
Very big to swallow

Bottom Line: Yes, I would recommend this to a friend

---

Love this product!

By Tracey H.

,

Martinsburg, WV

,

Aug 10, 2020
Verified Reviewer

Length of Use: 3–6 months

Overall Experience:

I know this may be TMI, but I've had issues with constipation most of my life. Since I've been taking this supplement, I no longer have this issue. I've also had occasional issues with yeast infections and I no longer have that issue either.

Pros and Cons:

Helps with constipation
Helps with yeast infections i.e. no issues now
No "cons" were specified in this review

Bottom Line: Yes, I would recommend this to a friend

---

It worked for me!

By Dan T.

,

Hamilton, OH

,

Jul 29, 2020
Verified Reviewer

Length of Use: 6–12 months

Overall Experience:

Before starting Synbiotic 365 my stomach would make this annoying noise several times a day. Going to the bathroom every morning was more like turning on a faucet. Now that has all changed. The noises are gone and the bathroom results are much more solid!

It didn't affect my energy level much but I didn't try it for that reason. My weight has pretty much stayed the same.

Bottom line is I'm very pleased with this product. It really feels like my gut health has improved a lot!

Pros and Cons:

It worked for me.
One pill in the morning is easy to take.
No adverse effects. Just great results!
No "cons" were specified in this review

Bottom Line: Yes, I would recommend this to a friend

---

Product and service

By Tonya C.

,

Cincinnati, OH

,

Jul 25, 2020
Verified Reviewer

Length of Use: Less than 3 months

Overall Experience:

I've been taking Synbiotic 365 for about 57 days, no noticeable changes. I will continue taking them for another 40 days, if there is still not change, I will discontinue taking them. I was very, very disappointed with the time it took for me to receive my last shipment. I had to use someone else's Synbiotics until mine arrived, that was because they are unable to continue taking them. I wasn't able to get in touch with anyone to get the status of my order. No one, to this day, has ever responded to my original email...but yet, you're asking me now to complete a survey. Haha, funny. I am hoping that my current shipment arrives sooner than the last order.

Bottom Line: No, I would not recommend this to a friend

---

Advertisement

---

Awesome!

By Sandra S.

,

New York

,

Jul 24, 2020
Verified Reviewer

Overall Experience:

After years of a variety of tummy issues, and after trying many probiotics, I decided to try Synbiotic 365.

There was not an "overnight result", but rather a gradual and steady healing of my gut issues.

Somewhere between 30 and 60 days, I realized that I no longer had to take a laxative product for my lifetime constipation.

That was over a year ago and I have not had to resort to laxatives since taking Synbiotic 365 daily.

I no longer have bloating and discomfort. I'm now totally regular, and I could not be happier.

I believe the daily cumulative benefit of this product is amazing!

Pros and Cons:

It works
Easy to take 1st thing each morning
Great ingredients
No "cons" were specified in this review

Bottom Line: Yes, I would recommend this to a friend

---

Happy gut in my house!

By Valerie R.

,

Cambria, CA

,

Jul 24, 2020
Verified Reviewer

Length of Use: 3–6 months

Overall Experience:

Following the Synbiotic 365 plan has changed my dietary health and general health well-being. I no longer suffer from bloating and heartburn. My energy levels have improved encouraging me to moderately exercise daily. An unexpected bonus was a weight loss of about 4 pounds.

I would encourage others to try out the Synbiotic 365 program for three months. The program includes helpful diet plans and videos demonstrating delicious menus. I found them very helpful and encouraging.

I am a 75-year-old female, so don't think only the young folks can achieve a healthy energetic body!

Pros and Cons:

Product easily consumed
No physical side effects
Efficient packaging and delivery
No "cons" were specified in this review

Bottom Line: Yes, I would recommend this to a friend

---

Living proof it works!

By Mick A.

,

Las Vegas, NV

,

Jul 22, 2020
Verified Reviewer

Length of Use: 3–6 months

Overall Experience:

Mick here, at the risk of sounding like a cliche, I do have to say that I sound just like any other person who was skeptical about trying the product. You see I am a permanently disabled person, and like many other patients, I am on pain and anti-inflammatory prescribed medication. So of course I suffered from constipation, and was given a prescription called Lactulose. However, since taking Synbiotic 365 I no longer take the prescribed Lactulose. But please, if there is anyone out there reading this testimony, consult your doctors before stopping any prescription medication. I take Synbiotic 365 every day with my medication and vitamin regiment. Not only is my system regulated, but I feel like a million bucks. So thank you very much United Naturals.

Pros and Cons:

No more gastric stomach issues
No more constipation
No "cons" were specified in this review

Bottom Line: Yes, I would recommend this to a friend

---

Feeling like I have a normal GI tract, again

By Daniel O.

,

West Saint Paul, MN

,

Jul 20, 2020
Verified Reviewer

Length of Use: Less than 3 months

Overall Experience:

I had Crohn's disease that was in somewhat remission, not requiring prescription inflammatory medications but not really normal symptoms, yet. Since I started this regimen, Synbiotic 365, I have felt more normal than I have in 30 years.

It is so nice to be able to plan a day without a worry about how far away a bathroom might be. I certainly feel better since beginning to use this product.

Pros and Cons:

I take it once in the morning before breakfast
There are no side effects
I have normal bowel habits
No "cons" were specified in this review

Bottom Line: Yes, I would recommend this to a friend

---

Highly recommended for a natural approach

By Sara M.

,

Hartford, CT

,

Jul 17, 2020
Verified Reviewer

Length of Use: 3–6 months

Overall Experience:

I highly recommend United Naturals to anyone who's looking to have a holistic, natural approach to healing their physical body. I've been using Synbiotic 365 and GutConnect 365 for the last 3 months and it has had a positive effect on my gut health and my overall health. My energy levels have improved and I'm sleeping more easily, which has a positive impact on my mental health and well being. I also appreciate all the educational support they offer you as you work to heal your gut. Taking supplements is important, but it's vital we are also mindful of what we are and are not putting in our bodies. They offer wonderful guidance to assist with this. If you follow their guidance and stay consistent with the supplements they offer, I believe you'll have great success with their products. Thank you United Naturals for helping me along my journal of healing.

Pros and Cons:

Improved digestive health
Improved energy levels
Sleeping much better
No "cons" were specified in this review

Bottom Line: Yes, I would recommend this to a friend

---

Making peace with my menopausal body

By Carey S.

,

Halifax, Nova Scotia, Canada

,

Jul 11, 2020
Verified Reviewer

Length of Use: Less than 3 months

Overall Experience:

Last fall I went to my doctor, I was just not feeling myself and she said "you are in full menopause," yippee, I thought.

I am a clean eater, I lift weights, run, walk, yoga, you name it, six days a week, and have one cheat day on Sunday. I maintained this lifestyle for the winter but my clothes were not fitting the way they used to.

I heard about Synbiotic 365 on the internet and decided why not give it a shot. The day I received my package on April 19 I weighed myself, I couldn't believe it, the scale said 138. I had gained 6.5 lbs over the winter and my body fat was 26%.

After taking my supplements, not changing anything else, I am now at 132.9 lbs with 24.6% body fat. That was after two months.

The scale is going in the right direction.

Bottom Line: Yes, I would recommend this to a friend

---

Excellent product! It improves my sleeping quality.

By Ha D.

,

Charlotte, NC

,

Jul 9, 2020
Verified Reviewer

Length of Use: Less than 3 months

Overall Experience:

I got to know Synbiotic 365 in an online search for a multivitamin product. After watching the video (~10 minutes long), I gave it a try. I took one tablet per day, and in just 2 days, I started to feel better with my digestion, my sleeping quality. As of today, I took 18 tablets and feel absolutely amazed with its effect on my body: my skin looks better, my body loses weight (1lb). I now in the process of buying Synbiotic 365 for my family members.

Pros and Cons:

Simple to take: 1 tablet a day, before breakfast
It has a light smell I don't like

Bottom Line: Yes, I would recommend this to a friend

---