Align Probiotic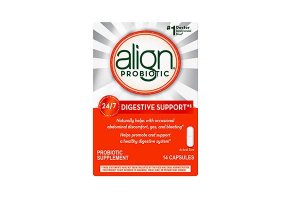 Align Probiotic is a daily dietary supplement that utilizes the patented B. infantis 35624 strain of beneficial bacteria to help fortify your system and to promote digestive wellness.
Align Probiotic Review: Is It Safe & Effective?
HighYa is supported by our readers. When you buy something through a link on this page, we may earn an affiliate commission. Learn more.
What Is Align Probiotic?
Align Probiotic claims that their dietary supplement will support overall digestive wellness when used daily.
Probiotics are the friendly bacteria that live in your gut biome, the network of microorganisms that populate your digestive tract.
While many bacteria may be harmful, probiotics can benefit your digestion and overall health.
Offered in capsule form or chewable tablets, Align states that taking just one each day can offer:
Protection from digestive upsets
Defense against digestive imbalance
Promotion of healthy bowel function
Align seems to be confident in the ability to deliver these benefits as they claim their product is backed by 20-years of research and is ProVoice Survey's #1 doctor-recommended brand from 2013-2018.
Afterall, if doctors are suggesting to use this product, it has to be effective, right?
In this review, we'll describe any available research that can shed some light on the safety and efficacy of this supplement.
The Ingredients: Do They Work?
Align's proposed benefits are achieved due to the single active ingredient: Bifidobacterium 35624.
This natural probiotic strain is patented and found only in Align products. But does that mean this supplement is what you've been missing?
In this section, we'll highlight what we found in our review of the available literature.
Bifidobacterium 35624 - one billion colony forming units (CFU)
In a recent review of 5 studies that examined 35624 use in patients with irritable bowel syndrome, 53624 was ineffective at relieving abdominal pain, bloating, or bowel habit satisfaction when used alone.
However, when 35624 was included in a probiotic blend, pain and bloating were significantly improved.
The findings of this study are problematic, however.
Researchers likely included analysis of 3 different strains of B. infantis, rather than only 35624.
Additionally, B. infantis 35624 has been reclassified as B. longum 35624, so this study likely did not even include probiotics from the same subspecies.
This change is evident as the FAQs on Align's site describe their patent for "Bifidobacterium infantis 35624™".
However, this information differs when you review the ingredients label (the information is not available on the Align site, by the way). Here, we see that the supplement contains Bifidobacterium longum 35624 at 1 billion CFU.
While this may seem a little confusing, it's an essential concept as different strains can offer different effects and safety profiles. As effects are strain-specific, we can't expect the same results even if a similar strain was studied.
Another challenge in concluding the review is that they compared different strains and strain combinations, as well as varying doses that ranged from 1-million to 10-billion CFU.
While the review of the available human research for the digestive benefits of B. infantis 35624 may not apply to this supplement, strong support for the benefits of B. longum 35624 is lacking.
Is Align Probiotic Safe?
In light of the available research, it's challenging to outline a safety profile for this supplement. Probiotics are generally safe for use, however.
The 5 studies examining B. infantis 35624 were safe even at doses 10x larger than what is in Align. Again, the strains used in these studies are not likely what Align Probiotic contains.
B. Longum 35624 has been studied mainly in animal and laboratory models. Conclusions from these studies are not necessarily relatable to humans.
Regarding side effects, Align states that you may experience mild gas and bloating over the first few weeks of use.
This information is consistent with the commonly reported side effects, all of which seem to be treatable by merely reducing the dose of your probiotic.
How Much Does Align Probiotic Cost and Where to Get It?
While Align Probiotic is not available on their site, you can purchase it from many retailers.
Available in-person and online, CVS offers Align for the following prices:
28ct (4-week supply) - $31.99
42ct - $42.49
56ct - $49.99
*For online purchases, shipping is free when you spend $35 or more.
You'll save more at Amazon; the 28ct is prime eligible for $21.58. Walmart may offer the best deal. They price the 56ct at $32.99 with free shipping.
Align is also available at Walgreens at the following prices:
$27.99: 28-ct
$36.99: 42-ct
$49.99: 56-ct
Also, per their website, Align backs their products with a guarantee.
First, gather the following materials:
The original UPC from the Align product purchased
The original cash-register receipt with the purchase price circled
A note card or slip of paper that has your full name and mailing address, clearly printed
Once you have these materials, mail them to: Align Money-Back Guarantee PO Box 2548 Dept B Grand Rapids, MN 55745-2548
Please note that Align must receive these materials within 60 days of the original purchase date.
You will be issued a refund on a prepaid card. For additional questions, they recommend calling (800) 337-5036.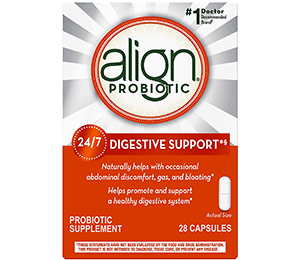 Buy Align Probiotic from Amazon:
Align Probiotic costs $25.06 for 28-count and $41.24 for 63-count. Shipping is free. It is rated 4.5-stars based on over 2,000 reviews.
Are There Any Alternatives?
B. Longum supplements are widely available. Remember, the desired effects are strain-specific and you won't find 35624 elsewhere.
Bifido GI Balance from Life Extension offers 2 billion CFU of B. Longum BB536 at $13.50 for their 60ct.
Natren's Bifido Factor offers B. bifidum at 2 billion CFU. Their 60ct is $35.95 + shipping.
You can also opt to get your probiotics naturally, though you won't know exactly which strains or how much you'll consume with each serving. Fermented foods like yogurt, sauerkraut, kimchi, or kombucha contain probiotics.
The Bottom Line
Align claims to offer digestive support through their patented probiotic strain. Because strains have been reclassified, it's tough to nail down precisely what you are getting.
While most of the available research examines the wrong strains, studies with human subjects that look at the newly reclassified strain are lacking.
Users seem to be happy, nonetheless. Amazon offers nearly 80 reviews for Align Probiotic, and 77% of them are 5-star ratings. Customers with positive experiences rate more frequent bowel movements, less straining, and reduced bloating as favorable results.
Those unsatisfied cited a lack of results as the reason for their low rating.
Pricing is substantial, though not as expensive as other probiotics we have reviewed more recently. If you find this product beneficial, Walmart's 60ct pricing is likely the best deal you'll find.
The true benefits of 35624 remain unclear. Though Align does offer a 60-day guarantee, you may want to start your journey with another supplement.
There are isolated bifidobacterium strains that are offered at more cost-effective pricing (Life Extension).
Again, results are strain-specific. However, the other products do have proposed benefits similar to Align's.
These supplements are generally safe to use, though you should speak with your doctor about symptoms you may be experiencing before use. Probiotics may be just one option for relief.
---
A miracle!

By Milene I.

,

Florida

,

Mar 21, 2019
Verified Reviewer

Overall Experience:

I am 52 years old and I have been struggling with extreme constipation for about 10 years. I also had very bad bloating and distended abdomen. It was so painful. I had a colonoscopy done about 10 years ago to go see if there was something wrong with me, but everything came back perfect. Two weeks ago, I decided to try Align, just to see if it would do what it claims to do. I had nothing to lose. WELL...I am so surprised by the results I can hardly believe it. The bloating and pain are gone...and I go without laxatives every other day, which is amazing for me. INCREDIBLE RESULTS! I am a happy woman. I have been taking it for only two weeks...crazy fast results.

Bottom Line: Yes, I would recommend this to a friend

---

It works where nothing else did

By Glen E.

,

Fort Lauderdale, FL

,

Sep 25, 2018
Verified Reviewer

Overall Experience:

About two years ago I had a gallbladder situation and took a massive amount of antibiotics after the operation. They were prescribed for me. Consequently, my system went out of whack with bloating, gassiness, and cramps, but nothing seemed to take care of, including visits to my GP and my gastroenterologist. I took two other probiotics from Amazon, with no luck, and then a friend suggested Align.

In short, in five days I was completely normal and felt like I was 35 again. My GP thought it was irritable bowel syndrome and prescribed me three different meds, which kind of worked, but nowhere near as much is Align. I'm anxious to see if that continues as I will discontinue the Align in another month and see what happens.

Bottom Line: Yes, I would recommend this to a friend

---

Overall Experience:

I absolutely use this product and have had great results. Most similar products do nothing or way too much as in runny stools or bloating plus gas. Would I recommend this product? Yes, and I have to my wife and adult daughter.

Bottom Line: Yes, I would recommend this to a friend

---

I just want my money back

By Lucinda Saving

,

Merriam, KS

,

Nov 5, 2014

Overall Experience:

I am not saying this product is either good or bad. I paid for the "trial" like $2.99. That was ok, but nothing was said about the $75 per month for an auto ship fee to continue this product. Yes, I was stupid to not pay attention to the money coming out of my bank account. On 9/12/14, I returned all of their product to them asking for a refund of my money about $450. This is just not right. I am not giving up on this. Next, I will try writing to State and Federal authorities so this does not happen to other people and I need the money.

Bottom Line: No, I would not recommend this to a friend

---

1

Advertisement

---