Gundry MD Bio Complete 3
Claimed This company has claimed this profile, is getting alerted on any new customer reviews entering this page, and may engage in dialogue with its customers to address their matters.

Companies cannot pay money or provide goods in order to remove or alter customer reviews.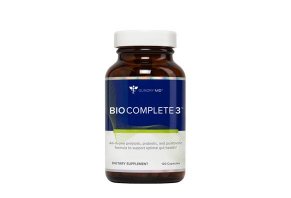 Gundry MD Bio Complete 3 makes exciting claims about how it can help your gut, weight, and health, but a lack of research about the supplement's main ingredient raises questions about its effectiveness.
Gundry MD Bio Complete 3 Reviews - Legit or Hype?
Medically Reviewed by Jason Reed, Pharm.D.
Gundry MD Bio Complete 3 is a supplement that claims to improve your gut health and combat leaky gut through butyrate and fiber, two ingredients they say are at the heart of good gut health.
Gundry MD's founder is Dr. Steven Gundry. He is well-known for his promotion of gut health even though his expertise is in heart surgery. He believes beneficial microbes in the stomach and intestines are the key to overall health and well-being.
Our review of Gundry's Bio Complete 3 will examine how to take it an what it does, what its ingredients are, and the scientific evidence for the supplement's efficacy.
Dosage and Possible Benefits of Bio Complete 3
A bottle of Bio Complete 3 has a 30-day supply of capsules. According to the company website, two capsules should be taken twice daily.
Each capsule contains the following main ingredients:
Tributyrin: 1,000 mg
Sunfiber: 200 mg
Bacillus coagulans: 16 mg (2 billion CFU)
Tributyrin is a form of butyrate, a short-chain fatty acid that probiotic bacteria produce as they break down starches. Because butyrate is a byproduct of probiotics, it's known as a post-biotic.
Sunfiber is what's known as a "prebiotic" or food that your body's probiotics need. The final ingredient is a probiotic, which are good bacteria that live in your gut. Gundry MD says this trio of ingredients provides the following benefits:
Fight achy muscles and joints
Quells food cravings
Cuts down on gas and bloating
Boosts energy
Combats leaky gut
Improve your ability to lose weight
Less fatigue
Many sites like Gundry MD claim that a supplement focused on gut health can provide the benefits we listed. The research we present in the next section will bear out whether these benefits are realistic based on your daily serving of Bio Complete 3.
Scientific Evidence for Gundy MD Bio Complete 3's Efficacy
The core of Bio Complete 3's claimed efficacy is butyrate, a "postbiotic" that your body typically produces as good bacteria work in your stomach and intestines.
By taking it as a supplement, the idea is that you supply it to your intestines as an addition to what your body is already making.
One of the better research pieces regarding butyrate is a 2018 article published in the journal, "Advances in Nutrition."
The article is an analysis of existing butyrate research. In it, the authors indicate that butyrate can decrease inflammation by inhibiting chemicals in the body that cause inflammation.
It also discusses butyrate's effect on your intestinal lining, which is key because Gundry MD's claims say their supplement can improve the lining of your intestines to keep toxins from leaking out of your gut ("leaky gut").
The analysis indicated that butyrate in low concentrations in your intestines can be helpful but that taking too much of it can harm your intestinal barrier.
The studies that analyzed butyrate's effect on the intestinal lining were done in labs and on humans, so there was no specific consensus on how much butyrate is too much.
As for helping with weight loss, the analysis said the prevailing research indicates some positive results in mice but there were no mentions of human studies.
That being said, the preliminary research is promising that butyrate can help with weight loss in obese individuals.
However, the analysis noted there were a few studies that showed high levels of butyrate could contribute to obesity instead of combating it.
As part of our research about butyrate, we talked with a Seattle-based doctor who told us that butyrate is helpful in some cases but it's not helpful in most cases because it takes evaluation to understand if taking supplemental butyrate will solve the issues the patient is dealing with.
Another source, board-certified gastroenterologist Dr. Lawrence Hoberman, told us that butyrate plays an important role in nourishing the lining of the colon.
While he didn't say how effective butyrate could be when consumed as a supplement, he said you can boost your production of it by taking prebiotics and probiotics that promote the growth of the good bacteria that produce butyrate.
Finally, an additional study in a 2011 edition of the World Journal of Gastroenterology analyzing existing studies about butyrate's effectiveness found myriad uses for the fatty acid but that more studies would need to be done to pinpoint for which conditions it works best, HighYa's medical advisor Dr. Jason Reed, PharmD, said.
As for Bio Complete 3's other ingredients, there's widespread literature supporting the benefits of taking fiber (Sunfiber) and probiotics.
For example, WebMD points out that bacillus coagulans can help with "bloating, vomiting, abdominal pain and bowel movements for people with IBS."
The catch here is that the study says the probiotic had a positive effect on IBS patients. This does not mean that it will have a positive effect for healthy patients. More studies would have to be done to find out if taking bacillus coagulans would be worth taking for healthy people, Reed said.
Our takeaway here is that butyrate can be effective for some people but that taking the supplement without understanding what's going on with your gut will not produce the desired results.
Safety and Side Effects
Earlier we'd mentioned that the Gundry MD phone rep told us that those who are new to gut supplements should start out with two capsules a day.
This is because taking four capsules could have a pretty heavy effect on your gut; the phone rep used the word "shock."
Aside from this, there are no major side effects to worry about for taking butyrate. Keep in mind, though, that it's not uncommon to have some gassiness and bloating when you start taking probiotics and fiber.
Cost and Return Policy
This supplement comes at three price points:
$54.90 shipped for one bottle
$134.85 shipped for three bottles
$254.70 shipped for six bottles
If you buy the six-bottle bundle, Gundry MD will send you a free bottle of Vital Reds, the company's superfruit supplement.
Also, you have the option of signing up for the company's VIP program, a subscription plan providing automatic monthly shipments of Bio Complete 3 as well as exclusive discounts that drop the previous prices to:
$41.95 per month for one bottle
$119.85 per month for three bottles
$227.70 per month for six bottles
If you sign up for the subscription, remember that you're getting monthly refills. If you're buying for yourself, stick with a one-bottle subscription, as one bottle lasts 30 days.
Gundry MD covers their supplements with a 90-day, money-back guarantee. If you aren't happy with Bio Complete 3 within the first 90 days after your purchase, you can contact customer support at (800) 852-0477 to start your refund.
Their website says that they'll process your refund with "no questions, no hassle." We read through the fine print and found no hidden rules or exceptions that negate the guarantee.
The Bottom Line: Should You Try Gundry MD Bio Complete 3?
Based on our examination of research results as well as the input of a medical professional, we believe that this supplement presents some serious question marks about its ability to follow through on its claims to improve your gut health and help you lose weight.
There isn't a consensus among medical experts that taking butyrate supplements will provide the benefits found in testing done in labs and on animals. Therefore, we think buying this supplement is a risk because the outcome is unknown.
That being said, the fiber and probiotics the supplement contains are a starting point if you're looking to improve your gut health.
Fiber, in particular, is well-known for helping with regular bowel movements, lowering glucose levels and dropping your blood cholesterol.
Probiotics are a burgeoning field with new research appearing regularly. To help you understand how they work, take a few minutes to read our beginner's guide to probiotics. It covers the benefits of probiotics, the best ways to take them and the side effects.
5 out 5 people found this review helpful

Bio Complete 3 works!

By Lauren S.

,

Southern California

,

Jan 13, 2020
Verified Reviewer

I have been plagued with occasional IBS, constipation, loose stools, indigestion, and bloating over the past few years. The bloating was getting terrible this past year (2019). My doctor prescribed a probiotic and it helped some, but it didn't seem to be enough. Lately, I was buying Gas-X (simethicone) and taking an extra-strength pill nightly to ease my big, gassy belly. I read Dr. Gundry's information, and it made sense. I purchased a whole year's worth of Bio Complete 3, knowing I could return the balance of any unused product within 90 days if I did not feel it worked (but locking in the better bulk price). Let me tell you, IT DOES WORK. I have not taken a Gas-X pill for a month, since starting on the supplement, and my belly has reduced. I plan to keep up with the supplement (I started with one tablet week one and two, then graduated to two; I don't feel I need four so am staying on two a day for now) and add in some good health changes (diet and exercise) to make positive strides toward weight loss and feeling better. I'm 66 and feeling great. I recommend you try Bio Complete 3 if you have digestive trouble. It definitely is working for me.

Bottom Line: Yes, I would recommend this to a friend

---

24 out 30 people found this review helpful

Definitely recommend Bio Complete 3

By Toni C.

,

New Jersey

,

Dec 24, 2019
Verified Reviewer

I believe this product has helped me with bloating and constipation within the first week of taking. I have had these problems most of my life and tried other probiotics with no noticeable difference. I take 4 capsules at night before bed. Overall I do feel like I have more energy and less joint and muscle pain. I would definitely recommend this product. Works for me.

Bottom Line: Yes, I would recommend this to a friend

---

33 out 39 people found this review helpful

5 STAR

By William C.

,

Harleysville, PA

,

Nov 22, 2019
Verified Reviewer

Started taking this over 2 weeks ago, I had IBS and within 4 days it was gone. Last 2 weeks no more IBS. For me, Bio Complete 3 has to be the reason. I'll continue on this supplement and will look into Dr. Gundry's other products.

Bottom Line: Yes, I would recommend this to a friend

---