Gundry MD Bio Complete 3
Claimed This company has claimed this profile, is getting alerted on any new customer reviews entering this page, and may engage in dialogue with its customers to address their matters.

Companies cannot pay money or provide goods in order to remove or alter customer reviews.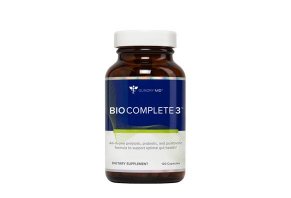 Gundry MD Bio Complete 3 makes exciting claims about how it can help your gut, weight, and health, but a lack of research about the supplement's main ingredient raises questions about its effectiveness.
---
Love Bio Complete 3

By Walker W.

,

Florida

,

Jul 13, 2020
Verified Reviewer

Length of Use: Less than 3 months

Overall Experience:

This stuff has given me energy and makes me feel great!

Price is a little high for me, but will try to buy again. Wish it was available locally in Florida. I have lost eleven pounds since I began taking it!

Pros and Cons:

Extra energy
Eat less, losing weight
Regular
Cost
Remembering to take the pills in the evening
Tough to swallow

Bottom Line: Yes, I would recommend this to a friend

---

Weight loss, regularity, who could ask for anything more?

By Mary P.

,

Toutle, WA

,

Jul 12, 2020
Verified Reviewer

Length of Use: 6–12 months

Overall Experience:

Bio Complete has significantly increased my regularity, decreased food cravings and most importantly helped me with weight loss - this is the first time in 30 years I have been able to sustain weight loss over a year and keep it off. Along with the Gundry diet, I have lost 40 pounds and most significantly, gained the desire to live and do more. AND I can do a lot more physically as a result of the weight-loss - win/win. Thank you.

Pros and Cons:

Increased regularity
Weight loss
Feel healthier
A bit of diarreha at the start of the use

Bottom Line: Yes, I would recommend this to a friend

---

Advertisement

---

Can't say it any other way than that it makes for the best poops

By Dean B.

,

Bethesda, MD

,

Jul 10, 2020
Verified Reviewer

Length of Use: 3–6 months

Overall Experience:

It is sometimes hard to quantify these things, but Bio Complete 3 caused a transformation of my digestions. Got my buddy to try by telling how well it makes me poop. We have the utmost respect for Dr. Gundry, but have taken the crude liberty to say that when you take Bio Complete 3 you drop a serious Gundry. Hope that the fine Dr. can appreciate our humor and downright blasphemy.

Pros and Cons:

Better digestion
Firm stools
Flatter stomach
Have to take 4 per pay

Bottom Line: Yes, I would recommend this to a friend

---

After 2 days my whole gut bloated out and sent me to the ER

By Jacqua M.

,

Cheney, WA

,

Jun 25, 2020
Verified Reviewer

Length of Use: Less than 3 months

Overall Experience:

First, I'm not quitting.

After that horrifying experience, I seriously thought I was going to explode.

However, I made up my mind, paid the money, and truly believe this is cutting edge.

I'd just never introduced pri/pro/post biotics to my system ever and the directions were to take for a day... I swelled like a hot air balloon.

I figured out what must have taken place.

Stopped for three days and took 2...I'm bloating again but I realize my body simply needs to clean out readjust and repair!

Thank you Dr. Gundry.

Pros and Cons:

Gives hope
Still in the beginning
Gas
Bloating
Difficulty breathing from the pressure

Bottom Line: Yes, I would recommend this to a friend

---

Advertisement

---

Six bottles

By George P.

,

Albuquerque, NM

,

Jun 13, 2020
Verified Reviewer

Length of Use: Less than 3 months

Overall Experience:

I was so looking forward to this product working for me. Sadly, after finishing a bottle and half of Bio Complete 3 over the last month and a half, the product has not had any effect on me. I know there is a money-back guarantee, and I hope I can get my money back. Please advise on how to proceed, thank you.

Pros and Cons:

I received the product promptly
It did not work for me

Bottom Line: No, I would not recommend this to a friend

Jun 15, 2020

Hi George, thank you for giving Bio Complete 3 a try and I'm sorry to hear that our Bio Complete 3 was not the right fit for you. I've gone ahead and escalated your order for a full refund - please keep an eye out for a confirmation email within the next 3-5 business days. If you have any other questions, please don't hesitate to reach out to me at aria@gundrymd.com. Thank you.

---

Week 3 and terrible pain in back

By Kim H.

,

Dallas, TX

,

May 30, 2020
Verified Reviewer

Length of Use: Less than 3 months

Overall Experience:

I am on week 3 of 4 Bio Complete 3 capsules every morning. I have been experiencing bloating all along and now have developed a worsening pain in my back at the waist which, I presume, is from gas. Will this eventually get better? Do I need to take fewer capsules? Advice?

Bottom Line: Yes, I would recommend this to a friend

Jun 1, 2020

Hello Kim, I'm so sorry to hear that this was your experience. It sounds like you might be experiencing "Die Off" symptoms. This often occurs when probiotics are introduced to the gut and begin killing off the bad bacteria. As always, we ask that you consult your primary care physician prior to trying a new product to ensure that you do not experience any interactions while taking them. Because everybody is different, we do understand that our products may work well for some and not others. If you would like to return the product, I can begin the refund process for you right away! Just e-mail me at Aria@gundrymd.com.

---

Gut and muscle pain

By Karry P.

,

Florida

,

May 23, 2020
Verified Reviewer

Overall Experience:

It took a while but I started to feel better. I had severe gut pain that slowly tapered off. Now, I do not have that pain.

In addition, I had very tight muscles that would pull my hips and back out of place. Those are loosening, and I feel much better. Thank you.

Bottom Line: Yes, I would recommend this to a friend

---

Bio Complete 3

By Robin R.

,

Summerton, SC

,

May 23, 2020
Verified Reviewer

Overall Experience:

Still trying at less dosage, it does help, nothing further at this time. Thanks. I will continue using until I get to 30 days then decide if I will continue or cancel my subscription, not there yet.

Bottom Line: Yes, I would recommend this to a friend

---

Parameters to know if product is working

By Krista A.

,

Stouffville, Ontario, Canada

,

May 22, 2020
Verified Reviewer

Overall Experience:

I am taking Bio Complete 3 because I see the importance of a healthy colon. My dad died of colon cancer so it is important to me. I do find it difficult to know if there is an improvement or not. It would be great to have some sort of test to determine this. I like the idea of this product and will continue to take it in hopes that it will heal and prevent illness down the road. I haven't had a supply for over a month due to delivery issues and because I am not perfect on the Gundry diet I am not sure if it is my eating or the lack of this supplement which may be causing the cramping and constipation issues. Unfortunately, it takes a long time for the product to arrive and the cost goes up with the exchange rate and additions fees coming from the US.

Bottom Line: Yes, I would recommend this to a friend

---

I am not hungry anymore!

By June S.

,

Savannah, GA

,

May 22, 2020
Verified Reviewer

Overall Experience:

Before I took Bio Complete 3, my issue was not digestion. It was more about over digestion and constant feeling of hunger. Of course, I gained weight over the last year. Since I took this, the most noticeable change is that I don't feel hungry anymore. I was able to control my unhealthy eating habit a lot more mindfully, and slowly but surely, I've been losing weight. Hope it keeps moving this way!

Bottom Line: Yes, I would recommend this to a friend

---

Review of Bio Complete 3

By Connie C.

,

Tennessee

,

May 21, 2020
Verified Reviewer

Overall Experience:

I'm feeling better each day. I'm going on week 3 of the Bio Complete. But I still feel weak and tired. I have lost 10 pounds so far. I can't wait to see how much I'll improve in a 6 to 8 week time for overall health.

Bottom Line: Yes, I would recommend this to a friend

---