TruBiotics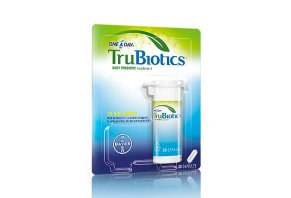 Summary
One A Day claims that you'll support healthy digestive and immune function with the use of their truBiotics daily probiotic supplement. Evidence suggests that it may deliver on the company's claims.
TruBiotics Review: Does This Probiotic Work?
What Is TruBiotics?
TruBiotics is a daily probiotic supplement from One A Day that aims to support your overall health and wellness.
In contrast to infection-causing bacteria, probiotics are those that populate your digestive tract and offer a vast array of health benefits above and beyond just supporting your digestion.
One A Day claims that you'll reap these benefits with daily use of their probiotic supplement. According to their website, by taking 1 capsule daily with a meal you can expect to:
Replenish the good bacteria found in your gut
Support healthy digestion
Enhance your immune function
Boost your metabolism
While these health benefits may be desirable, it seems like a pretty tall order for one pill to accomplish.
In this article, we'll help you determine if there is any merit to the claims made by One A Day by reviewing the available scientific support for the active ingredients.
The TruBiotics Active Ingredients: Do They Work?
It's no secret that the proposed benefits of this supplement are thought to be related to the blend of probiotic strains included in each serving. We'll dive deeper into these momentarily.
First, let's quickly discuss the ingredients that One A Day has included in a supportive role.
Vitamin A - 2500IU, Vitamin C - 60mg, and Vitamin E - 5mg
While each of these vitamins may offer many health benefits, their inclusion in TruBiotics is intended to bolster the nutritional content of this supplement. The actual probiotic blend does the heavy lifting.
Nonetheless, your overall health requires this vitamin.
Vitamin C is an antioxidant that can fight off free radicals, substances that cause harmful oxidative stress. Vitamin C may also help support immune function.
Vitamin E is also an antioxidant. It may play a role in boosting immune function, promoting blood flow, and preventing blood clots.
Vitamin A is important for healthy vision, normal growth and development, and may also offer anti-inflammatory benefits.
In each capsule, you'll receive 50% of the RDA for vitamin A, 100% of your vitamin C needs, and about 25% of vitamin E recommendations.
Proprietary Blend - 2 Billion Cells
The proprietary blend found in Trubiotics is fairly straight forward. It contains just 2 probiotics: L. acidophilus LA-5 and B. animalis BB-12.
As the effects of probiotics are strain-specific, it is a major pro for One A Day products as they have shared the specific strains offered in their blend (LA-5 and BB-12).
As both strains have been studied, it is much easier to compare these ingredients directly to the available research.
Lactobacillus acidophilus LA-5
L. acidophilus are rod-shaped bacteria that may play a role in improving diarrhea, stomach discomfort, and immune function.
The LA-5 strain has been studied in animal and laboratory models, though there is data from human subjects as well.
Both LA-5 and BB-12 at 10 and 100 billion CFU doses boosted friendly gut bacteria levels in healthy adults throughout 4-weeks.
This same combination demonstrated an ability to affect the inflammatory response in subjects with inflammatory bowel disease.
While more work is needed to characterize the detail of this mechanism, this study highlighted the potential role of these strains in the treatment of this condition.
The combination of these 2 strains was also studied in subjects with type 2 diabetes; 10 billion CFU doses improved regulation of blood sugar levels.
While this probiotic has not been as extensively studied as BB-12, some results demonstrate a benefit of supplementation in individuals with digestive and metabolic issues.
Bifidobacterium animalis BB-12
B. animalis BB-12 is also a rod-shaped bacterium. According to this review, it has been discussed in over 300 scientific studies, nearly half of which included human subjects.
In a randomized trial, those treated with 1 billion CFU of BB-12 over 6-weeks boosted immune function when compared to those who took a placebo or another probiotic strain.
In terms of bowel function, BB-12 doses of 5 and 15 Billion CFU improved stool frequency in constipated subjects.
This particular strain has been investigated for over 30 years. While One A Day offers a larger dose comparable to what was needed to improve immune function, this dose is much smaller than what was found to improve digestions in some studies.
TruBiotics Safety and Side Effects
One A Day only provides the total amount of their blend as well as the details of the specific strains. The exact amounts in their blends allow us to compare this supplement to the available literature, assuming 1 Billion CFU of each strain is in each serving.
The good news is that each strain has been safely studied independently, and in combination with one another, at much larger doses than is offered in TruBiotics. Like most probiotic supplements, this one is also likely safe.
Serious side effects are extremely rare. Mild side effects, however, are common. You may abdominal pain, gas, bloating, and diarrhea.
Also, this product contains skim milk. If you have an allergy, you may want to avoid using this supplement.
Lastly, you should always consult your doctor before using any dietary supplement. If you are having symptoms that you feel are signs that your digestive or immune systems need a boost, take steps to figure out the underlying cause first.
TruBiotics Cost
Though you can't purchase this supplement from the One A Day website, they do make it easy to track their products down.
They provide a link ("Where to Buy") that directs you to a map. Simply plug in your zip code to find the nearest retailer. You'll also find a printable "Save $2" coupon on this page.
You can pick up TruBiotics in-store or online from Walgreens, CVS, and Rite Aid.
Walgreens: 30ct at $18.99 and 45ct is $29.99
CVS: the 30ct is $21.99.
Rite Aide: the 30ct at $14.99.
The Bottom Line
TruBiotics contains 2 extensively studied probiotic strains. There is evidence supporting the claims made by One A Day, though some studies used much higher doses to achieve results.
Nonetheless, having specific strains that are backed by research using human subjects is definitely a plus.
Reviews also seem to be positive. At Walgreens, 85 users rate TruBiotics 4.6 stars. Happy customers mention experiencing more energy and less sick days as the reasons for their good experience with this supplement.
Lastly, TruBiotics seem to be reasonably priced compared to many of the probiotic supplements we have reviewed.
Therefore, TruBiotics may offer a reasonable option for digestive, immune, and overall health, though you should speak with a physician before use.
Customer Reviews
Our Promise to You
In order to safeguard you and ensure helpfulness and relevance, our compliance team manually assess every customer review before it goes live.
We have a zero-tolerance policy for fake reviews, and companies cannot control or alter any reviews at any time.