Peptiva Probiotics Reviews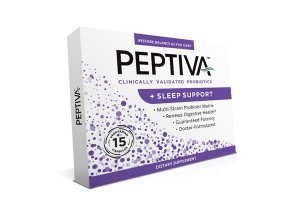 Created with the help of medical expert Dr. David Katz, Peptiva Probiotics don't just help address digestion, but also claim to improve relaxation and sleep quality.
About Peptiva Probiotics
With three different formulations available, Peptiva Probiotics and supplements promise to promote relaxation, restful sleep, healthy gut bacteria balance, and ultimately help you live healthier.
The website advertises you'll just need to take one capsule per day, and the innovative formulas with a "clinically validated multi-strain probiotic matrix" will get to work. And because they're taken before bedtime, we're told the ideal environment exists in your digestive system for the bacteria to thrive and maximize benefits.
None of Peptiva's Probiotics require refrigeration, and the potency of their vegetarian formula is guaranteed through the expiration date.
Does all of this necessarily mean that the company's formulas are ideal for relieving your discomfort, restoring balance, and improving your digestive health, as advertised on the website? Stick with us for a couple of minutes, and this is just one important question we'll help you answer in this article.
Are Probiotic Supplements More Effective While You Sleep?
Probiotic supplements (measured in colony-forming units, or CFU) contain one or more strains of bacteria that are often clinically proven to provide a wide variety of digestion-related benefits, as well as decreased gassiness, bloating, diarrhea, and IBS symptoms. And since much of the immune system is located in the gut, the right balance of beneficial bacteria can help improve its function as well.
Because of these benefits, probiotic supplements have been successfully used for decades to address a variety of conditions. But, are they better when consumed at night while the digestive system is at its slowest, as claimed on the Peptiva website?
Searching sites like WebMD, the Natural Medicines Database, and the National Institutes of Health's PubMed, we didn't encounter clinical evidence that probiotics deliver meaningfully better results when taken at one time of the day versus another.
ConsumerLab indicates that "Some evidence suggests that when you are using a non-enterically coated probiotic, it may be best to take it shortly before or during a meal," although this obviously doesn't reference time of day.
What about the other ingredients found in Peptiva's different formulas? Are they clinically shown to promote relaxation and restful sleep?
Taking a Closer Look at Peptiva's Probiotics and Ingredients
Peptiva manufactures two probiotic formulas and a third enzyme digestion supplement:
Advanced Digestive Relief
In addition to 50 billion CFU of Lab4 Clinical Cultures (Lactobacillus acidophilus (ATCC SD6865), Lactobacillus acidophilus (ATCC SD6866), Bifidobacterium bifidum (ATCC SD6869), Bifidobacterium animalis subsp. lactis (ATCC SD6870)), their Advanced Digestive Relief formula also contains a 375 mg Stress Relief Calming Matrix consisting of:
L-Theanine 200 mg
Gamma-Aminobutyric Acid (GABA) 100 mg
Lemon Balm Extract (leaf and stem) 75 mg
According to sites like the Natural Medicines Database, Examine.com, and WebMD, there's clinical evidence that taking between 240 mg and 600 mg of lemon balm per day can help reduce anxiety symptoms, improve sleep quality and length, and increase calmness. At 75 mg per dose, Advanced Digestive Relief appears to contain meaningfully less than what's reflected in clinical studies.
However, they indicate there's insufficient clinical evidence supporting Peptiva's calming or sleep-related claims for l-theanine and GABA.
Sleep Support
What appears to be Peptiva's flagship supplement, Sleep Support claims to help deliver relaxation, restful sleep, and restored balance while you slumber.
The website indicates you just need to take a dose 30 to 60 minutes before bedtime, with or without food. Within 30 minutes, you should begin feeling calmer and de-stressed as you're lulled into "deeper, more satisfying sleep."
And if you continue using Sleep Support regularly for eight to 12 weeks, Peptiva indicates the formula will continuously balance good bacteria within your intestinal tract. This can lead to improved comfort, function, and regularity.
The probiotic contains a different Lab4 Clinical Cultures blend (26 billion CFU) of Lactobacillus acidophilus (ATCC SD6866), Bifidobacterium bifidum (ATCC SD6869), and Bifidobacterium animalis subsp. lactis (ATCC SD6870). There's also an Active Microbiome Blend of Lactobacillus rhamnosus IMC501 and Lactobacillus paracasei IMC502.
The final set of ingredients includes:
Gamma-Aminobutyric Acid (from PharmaGABA®) 100 mg
Valerian Root Extract 50 mg
Melatonin (immediate release) 0.75 mg
Melatonin (delayed release) 0.75 mg
According to many of the same sites referenced for the Advanced Digestive Relief formula, taking 400-900 mg of valerian up to two hours before bedtime could "reduce the amount of time it takes to fall asleep by about 15 to 20 minutes."
However, they emphasize that it can take continuous use over the course of days to weeks in order to experience these benefits. Based on what we learned from its supplement facts label, at 50 mg per dose, Peptiva's Sleep Support probiotic contains much less than what's reflected in supporting clinical studies.
Similarly, 0.3 mg to 12 mg of melatonin may help reduce the time it takes to fall asleep for those experiencing primary insomnia that's not caused by another condition—but only by about 12 minutes. It also potentially works for those with delayed sleep phase syndrome, although it doesn't appear to improve sleep quality.
Digestive Enzymes + Prodigest
Instead of a probiotic supplement containing beneficial bacteria, this Peptiva formula only includes 320 mg of Artichoke Extract and Ginger Extract (Prodigest), along with the following Vegetarian Digestive Enzyme Blend:
Protease 3.0 50 SAPU, Protease (from bacterial neutral protease) 12,000 HUT, Bacterial Neutral Protease 12,000 PC, Bromelain 250,000 PU, Amylase 3,000 DU, Diastase (from amylase) 4,000 DP, Glucoamylase 12.5 AGU, Lactase 1,000 ALU, Invertase 1,000 SU, Alpha Galactosidase 300 GaIU, Cellulase 3,000 CU, Beta-Glucanase (from cellulase) 75 BGU, Hemicellulase 3,500 HCU, Pectinase 15 endo-PGU, Phytase 15 FTU, Xylanase 2,000 XU, Lipase 750 FIP
Together, the website indicates these ingredients will help "optimize the break down of proteins, fats, fiber, carbohydrates, and milk sugars and provide relief from occasional gas and bloating."
Berkeley Wellness points out that if you have a genetic enzyme-deficiency disease (e.g., pancreatic disease, chronic inflammatory bowel disease, cystic fibrosis), your doctor might prescribe digestive enzymes to help ease some symptoms.
From an over-the-counter perspective, there are enzymes supplements like Lactaid to help with the digestion of lactose, as well as Beano to help digest cruciferous vegetables.
As we can see, there are clearly benefits to enzyme supplementation in some instances. However, Berkeley Wellness emphasizes that "No enzyme supplement can boost immunity, fight inflammation, quell arthritis or improve general health, as some marketers claim." Also, that if you do have an enzyme-deficiency disease, you should be under medical care.
Could the Ingredients in Peptiva Probiotics Cause Side Effects?
The Peptiva website points out that their product contains no animal-derived ingredients and is considered vegetarian, and that it also contains no known allergens and causes no known side effects.
WebMD and the Natural Medicines Database report that l-theanine has been used safely in clinical conditions for up to three weeks, although it's unknown if it's safe for longer.
» See Also: The Side Effects of Probiotics
They also indicate that the long-term safety of lemon balm is unknown and that in some instances (no dosages or other specifics provided), it can lead to digestive upset, dizziness, and wheezing.
To help avoid side effects and potential medication interactions, talk with your doctor about any dietary supplements you're considering before placing an order.
How Much Do Peptiva Probiotics Cost and Where Can You Buy?
If ordered directly from Peptiva, customers will pay:
Advanced Digestive Relief: $64.99
Sleep + Support: $59.99
Digestive Enzymes + Prodigest: $34.99
Shipping starts at $4.99 per delivery and may increase based on final quantity.
We also found Peptiva's products sold on GNC for about the same prices, although Amazon offered Sleep Support for $54.99.
All direct orders come with a 30-day refund policy, while third-party details can vary. To request one, Peptiva's customer support department can be reached at 800-355-6050.
What Can We Learn from Customer Reviews for Peptiva Probiotics?
Between Amazon and GNC.com, we encountered more than 150 combined customer reviews for Peptiva's Sleep Support and Advanced Digestive Relief formulas, with an overall average rating of about four stars.
Common compliments frequently referenced effectiveness (boosted digestion, improved sleep) and ease of use. Complaints often revolved around no results, as well as higher prices than many competitors.
Are There Other Probiotic Formulations Like Peptiva?
During our research, we found many companies advertising that probiotics—in general—can help improve sleep quality as a result of better digestion.
However, we didn't encounter any other sleep-specific probiotic supplements that also combined ingredients like melatonin, valerian, and lemon balm. So, if this is your top must-have, it appears that Peptiva is currently your only option.
On the other hand, based on what we discussed in the previous section, we found dozens of third-party enzyme supplements (although not necessarily the same blend found in Peptiva's Digestive Enzymes + Prodigest formula) during our research, some of which were priced as low as $10.
Are Peptiva's Probiotic and Enzyme Supplement Right for You?
In our Probiotic Supplement Buying Guide, we outline that you'll want to look for formulas containing only beneficial bacteria strains, without a bunch of extra ingredients stuffed into each capsule.
You'll also want to make sure there's a list of the probiotic strains (and their CFU count) on the label, and that you're not paying too much, since Highya readers and third-party consumers typically don't report improved results from higher prices.
To this extent, based on what we learned from sites like the Natural Medicines Database and WebMD, it appears that the extra ingredients found in Peptiva's Sleep Support supplement might help customers fall asleep a bit faster when used regularly. But if you're counting on a massive change in your sleep habits, it might be wise to maintain realistic expectations.
And for many of these ingredients, we should reemphasize that they're found in meaningfully lower concentrations in Peptiva's Probiotics than in supporting clinical studies.
Finally, even though the website indicates that "renowned medical expert Dr. David Katz" helped formulate the supplement, it's important to point out that, at between $60 and $65, Peptiva's Probiotics are priced meaningfully higher than many of the third-party formulations we've written about in the past.
If you feel like giving the supplement a try, though, Peptiva stands behind their probiotic supplements with a 30-day refund policy, although based on their recommendations, this might not be long enough to experience maximum benefits. You'll also lose your initial S&H and have to pay to ship your product back to the company, so it's not a completely risk-free transaction.
» Related: Probiotics for Kids: A Parent's Comprehensive Guide