Peptiva Probiotics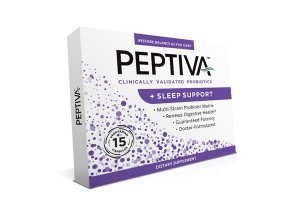 Peptiva is a probiotic dietary supplement that is designed to replenish your friendly gut bacteria and promote better sleep. While it offers ingredients that do have some support, there are more cost-effective ways of consuming a similar blend.
Peptiva Probiotics Review: Is It Safe and Effective?
What is Peptiva?
Peptiva is a multi-strain probiotic supplement that allegedly replenishes the friendly gut bacteria that live in your small and large intestines, which results in better digestive health.
According to the company, their supplement is designed to be taken 30-60 minutes before bedtime, with or without food.
As sleep is widely considered to have an inhibitory effect on digestion, Peptiva has designed a supplement that is proposed to capitalize on a less active gut.
The makers of the supplement claim that by taking one capsule nightly, you can expect the following:
Less stress and better sleep in as little as 30-minutes
A better balance of friendly gut bacteria in 2 to 3-months

Enhanced digestive function and regularity in 2 to 3-months

Reduced stomach discomfort and bloating in 2 to 3-months
Peptiva claims that these benefits are made possible through a blend of ingredients that are rooted in science.
In this article, we'll help you determine if this is the case by reviewing the available research for Peptiva's ket ingredients.
The Science Behind the Peptiva's Active Ingredients
Peptiva contains ingredients that are alleged to promote digestive health, as well as restfulness. Every 1-capsule serving contains the following:
Proprietary Probiotic Matrix - 26 Billion CFU
Lactobacillus acidophilus (ATCC SD6865)

Lactobacillus acidophilus (ATCC SD6866)

Bifidobacterium bifidum (ATCC SD6869)

Bifidobacterium animalis subspecies lactis (ATCC SD6870)
Active Microbiome Blend
Lactobacillus rhamnosus IMC501

Lactobacillus paracasei IMC502
Sleep Blend
Gamma-Aminobutyric Acid (GABA) - 100 mg

Valerian Root Extract - 50 mg

Melatonin (immediate-release) - 0.75 mg

Melatonin (delayed-release) - 0.75 mg
Probiotics
Identifying probiotics requires a few pieces of information.
By reviewing the ingredients label, we see 3 parts for each probiotic ingredient. The first part indicates the genus, the second is the species, and the information in the parentheses is the specific strain.
Unlike many of their competitors, Peptiva actually details each specific strain. This is vital information as probiotics behave in a strain-specific manner. This means that the benefits and side effects can vary even within the same genus and species.
L. acidophilus
L. acidophilus strains are among the most commonly supplemented probiotics. Benefits may include relief for diarrhea, gas, cramping, and bloating, as well as an ability to enhance your immune function.
In a review of 34 trials, L. acidophilus effectively prevented certain types of diarrhea comparably to other probiotic strains. It also reduced bloating when combined with B. lactis at 200 billion CFU total over 2-months.
The specific ATCC SD6865 and ATCC SD6866 strains included in Peptiva have not been well-studied. Other ATCC strains have been investigated, though it seems most research has been done in a laboratory setting or in animal models.
In mice, L. acidophilus ATCC was effective in preventing plaque build-up by limiting cholesterol absorption in the intestines.
B. bifidum
In addition to aiding digestion, B. bifidum strains may offer anti-inflammatory, immune, and allergy support.
In a laboratory model, B. bifidum activated molecules vital for initiating the immune response. Also, taking a 20 billion CFU mixture of probiotics that included B. bifidum twice daily for 8-weeks relieved stomach pain and discomfort with bowel movement in those with irritable bowel syndrome (IBS).
The specific ATCC SD6869 strain found in Peptiva has not been extensively studied, though antioxidant benefits were seen when given orally to mice.
B. animalis
B. animalis is a rod-shaped bacterium that may support immune function and digestion.
In a randomized trial, 1 billion CFU of B. animalis over 6-weeks enhanced immune function when compared to placebo or other probiotic strains. Dosing at 5 and 15 Billion CFU improved stool frequency in those with constipation.
The ATCC SD6870 strain that's included in Peptiva is not well-studied, though B. animalis ATCC strains may be associated with colon inflammation in mice.
L. rhamnosus
L. rhamnosus is reported to relieve symptoms related to the stomach flu and also boost the immune system.
Kids with the flu treated with 10 billion CFU of L. rhamnosus twice daily did not improve their symptoms over 5-days when compared to treatment with a placebo.
L. rhamnosus IMC501 has not been extensively studied, though this specific strain did reduce colon damage in mice.
L. paracasei
L. paracasei strains may provide allergy relief.
In subjects with seasonal allergies treated with L. paracasei, the treatment improved their quality of life and reduced nasal symptoms when compared to placebo.
The specific strain found in Peptiva, L. paracasei IMC502 was effective in limiting the actions of harmful bacteria and yeast in a laboratory setting.
GABA
GABA is a chemical messenger that acts in your brain and has an inhibitory effect on your nervous system. Thus, it is often included in supplements that claim to promote relaxation and restful sleep.
In a randomized trial, 300mg daily over 4-weeks reduced the time to fall asleep and improved the quality of sleep in patients with insomnia.
Valerian Root
Valerian root is an herbal extract used for centuries for its sedative properties.
Though commonly included in sleep supplements, the scientific support for valerian root is mixed. A review of 37 studies found valerian root to be safe for use, though its clinical efficacy for improving sleep is not supported.
Melatonin
Melatonin is also among the most common sleep aid supplement ingredients. In a review of 19 studies, those using melatonin reduced the time needed to fall asleep, increased sleep duration, and improved sleep quality.
The doses used in these studies were often more than 3x larger than the total melatonin dose included in Peptiva, however.
Safety and Side Effects
Peptiva's blend of ingredients is generally safe when used as directed.
The company only provides the total dose of their probiotic blend, though they do detail the specific strains. Most have not been well-studied in human subjects, so a direct comparison to the available research is not possible.
Nonetheless, similar strains have been safely studied at much larger doses than that of the entire Peptiva proprietary blend.
Serious side effects with similar products are extremely rare. Mild side effects are common with regular use, however. Stomach pain, gas, bloating, and diarrhea are most likely. These unwanted effects are typically relieved by reducing your dose or discontinuing the use of the product.
Though the risk for serious harm is unlikely, always consult your doctor before using any dietary supplement.
If you are having symptoms related to digestive or sleep issues, take the appropriate steps to identify the underlying cause first.
The Cost
Peptiva + Sleep Support is available on the website. With this offer, you receive your supplement for just $4.99 - the cost of shipping. Keep in mind that you must cancel within 18-days if you do not wish to continue to receive auto-shipments.
You can also place single orders. Current pricing for this supplement is $59.99 per 1-month supply. Shipping starts at $4.99 and is a=calculated at checkout for orders that include multiple packages.
A 30-day guarantee backs your purchase. To process your refund, contact the customer service department at 1-800-355-6050 or email support@peptivaprobiotics.com. The trial offer is not eligible, however.
Your 30-count is considerably cheaper at Amazon, where it costs $49.97. With this option, you'll save without missing out on the 30-day return policy.
Alternative Options
While probiotics and sleep aids are common supplements separately, products that combine them are rarer.
An option may be purchasing melatonin and taking it along with a standard probiotic.
For example, Life Extension offers 60 3mg melatonin capsules for just $6. This is 2x the Peptiva dosage.
You'd save a considerable amount of money by combining this supplement with a more cost-effective probiotic like Ultimate Flora, which prices their $21.99 and $37.99 for their 30-count and 60-count, respectively.
Pros and Cons
There is some scientific support for the proposed benefits
Serious side effects are unlikely
You have 30-days to determine if you find relief
Most of the specific probiotic strains have been tested mainly in animals and laboratories
More long-term research with human subjects is needed to identify their benefits
Pricey when compared to supplements that provide probiotics and sleep aids
Even buying 2 separate supplements to accomplish the same goals may save you money
The Bottom Line
Peptiva is a probiotic dietary supplement that contains many ingredients that are backed by clinical research.
While valerian root lacks strong support, GABA and melatonin seem to benefit sleep quality and reduce the time it takes to fall asleep. Much of the specific probiotic strains have only been studied in animals or a laboratory setting, though similar strains were effective in humans.
They were often studied at much larger doses, however. This means the chance for serious side effects is much lower with Peptiva, though the doses may not be large enough to deliver the results you want.
Nonetheless, Peptiva garners a 4.1-star rating on 740 reviews at Amazon. Happy customers report experiencing less constipation and better sleep. Those unsatisfied mentioned that the results were disappointing, the product was too expensive, and the auto-shipment policy with the trial was not clear at the time of purchase.
At $60, we tend to agree with those that find the product pricey. While Peptiva's blend is less common, there are more cost-effective options available that provide these ingredients.
Thus, Peptiva may not be worth the premium that you'll pay to use it regularly.
---
Great sleep support

By Basimah R.

,

Alexander City, AL

,

Dec 12, 2019
Verified Reviewer

Overall Experience:

This is a great product, I would recommend this to my family and friends that are having trouble sleeping. When you wake up you never feel tired but rest so good, had no side effect. I will be ordering more for my husband, he likes them too.

Bottom Line: Yes, I would recommend this to a friend

---

I'm afraid to get too excited but this product could turn out to be great for me.

By Mary Lou W.

,

Philadelphia, PA

,

Nov 24, 2019
Verified Reviewer

Overall Experience:

I am a long term sufferer with IBS-D which has significantly interfered with my life...so much pain. I have tried various food regimens, probiotics, anti-depressants, meditation, etc. with great MDs at great hospitals. I know how to just look at one variable at a time when judging the impact of a product.

Six weeks ago I saw your ad and...with zero expectations...ordered Peptiva. I have not had an attack in 5 weeks. This is the first time I could say this in 7 years! Prior to Peptiva I commonly had 3 to 4 bad attacks per week taking up my mornings forcing me to alter my work schedule...I'm a psychologist. Why this particular formulation works I don't know but will continue to keep careful records and see what I learn.

Thank you!

Bottom Line: Yes, I would recommend this to a friend

---

Advertisement

---

Does it help?

By Kathleen V.

,

New York

,

Apr 22, 2019
Verified Reviewer

Overall Experience:

Peptiva did virtually nothing for me. I didn't sleep any better. My digestive system? Well, on me the capsule made me extremely constipated. I never have that problem. I am glad I did not spend the full price. I ordered the sample only. I will stick to yogurt. Natural is better!

Bottom Line: No, I would not recommend this to a friend

---