BIOHM Probiotic Reviews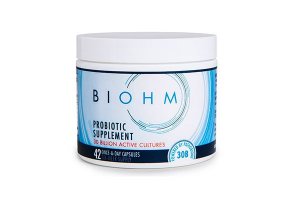 Unlike other supplements that contain only bacteria, BIOHM's Probiotic adds the fungi strain S. boulardii, which they promise will help better promote overall digestive health.
About BIOHM Probiotic
By combining 30 billion active cultures of good bacteria with beneficial fungi and enzymes, the BIOHM Probiotic supplement promises to break down digestive plaque while maintaining, supporting, and promoting the balance of the total microbiome. Together, we're told it will optimize digestive health.
Compared to the competition, the patent-pending supplement is advertised as the "first probiotic engineered to address the critical role of fungi in gut health." In fact, they report that it was developed by Dr. Mahmoud Ghannoum, the scientist who coined the term 'mycobiome,' which is used to describe our body's fungal community.
All you have to do is take one capsule of BIOHM Probiotic once per day with or without food. The website indicates that everyone's body is different, so it could take anywhere between a couple of days and a couple of weeks before experiencing a noticeable difference.
As a company, PathoBiome LLC is based out of Cleveland, OH and has been in business since 2016. According to the company's website, Dr. Ghannoum has been granted $20 million in National Institutes of Health (NIH) funding, published over 400 peer-reviewed scientific papers, and whose work has been cited more than 18,000 times.
Probiotics have also been around for a long time, and come with a long list of clinical studies proving the effectiveness of different bacteria strains for a variety of conditions.
But, what about the fungi in BIOHM? Can you expect it to provide a meaningful difference in your gut balance and overall digestive health? That's the central question we'll help you explore here, starting with the basics.
The Science Behind Bacteria, Fungi, & Gut Balance
While there's no need to go into excessive detail, there are a couple of fundamental concepts we need to unpack so quickly we can adequately address BIOHM's claims for their probiotic supplement.
The Basics Behind Probiotic Supplements
Whether related to BIOHM's formulation or the hundreds of third-party options available, probiotic supplements replace beneficial bacteria in the digestive tract (informally known as the 'gut'). Once there, they've been clinically shown for decades to provide a variety of digestion-related benefits, including:
Reduced diarrhea and constipation
Decreased food allergies in children
Effective management of irritable bowel disease (IBD)
Boosted immune response
For more, be sure to read Probiotics 101: Their Benefits, How They Work, & Foods That Contain Them.
Granted, all of this is related to bacteria. Where do fungi come in?
The Symbiotic Relationship Between Gut Bacteria & Fungi
Writing for Popular Science, Claire Maldarelli explains that while "bacteria still make up the majority of our gastrointestinal microorganisms," fungi constitute about 0.1 percent of the population. Despite their small percentage, though, a 2017 study published in mSphere indicates that they might play a much more prominent role in our overall health than initially thought.
Cheryl Gale, a pediatrician at the University of Minnesota who was interviewed for the article, puts it this way: "Fungi might make up a small percentage of the overall population, but changes in their composition could have a major effect on species of bacteria. One imagines that this domino effect could add up quickly and spell trouble for the host."
In most instances, this 'trouble' consists of digestion-related issues that probiotics are often formulated to address. But does this trouble in any way involve digestive plaque?
The Clinical Evidence for Digestive Plaque
According to the BIOHM Probiotic website, "the understanding of bacteria and fungi's relationship took a giant step forward when Dr. Ghannoum's research unearthed the fact that bacteria and fungi actually work together to protect each other, through forming digestive plaque"—also known as mucoid plaque.
Together, they explain this mucoid plaque "acts like a shield over bad bacteria and bad fungi as they work to [further] upset the microbial balance of the digestive system." Therefore, in order to optimize gut health, "you must be able to break down digestive plaque, allowing good bacteria and fungi to reach bad bacteria and fungi hiding within the plaque."
Healthline reports, though, "Medical doctors deny any proof of the existence of mucoid plaque. There isn't any evidence that the substance exists or that it causes problems."
But is there clinical evidence that BIOHM Probiotic's ingredients—fungi or otherwise—will deliver meaningful health benefits in humans?
Taking a Closer Look at BIOHM Probiotic's Ingredients
BIOHM's label indicates their Probiotic contains the following ingredients (the capsule is vegetarian and does not contain soy or gluten):
PathBiome 30B 30 Billion CFU
B. breve
L. acidophilus
S. boulardii
L. rhamnosus
Note: The website indicates the enzyme amylase is present as well, although it wasn't reflected on the label.
Bifidobacteria breve and Lactobacillus acidophilus and rhamnosus are three extraordinarily common bacteria strains found in probiotic supplements, which have been clinically shown to prevent necrotizing enterocolitis in newborns and reduce cholesterol, as well as decrease instances of diarrhea-associated illness, IBS, urinary tract infections, and vaginal bacterial infections.
Interestingly, L. acidophilus also boasts some antifungal properties.
Along these same lines, Healthline reports that Saccharomyces boulardii, or S. boulardii, is a type of yeast that might behave a lot like bacteria—including providing many digestion-related benefits, but is actually part of the fungi kingdom.
BIOHM Probiotic Potential Side Effects
The good news is in that most instances, individuals don't experience any meaningful side effects when taking probiotic supplements. And for those who do, they typically aren't worse than temporary, mild digestive upset, bloating, and gassiness, which often passes within a few days.
Related: The Side Effects of Probiotics: What to Watch for, When to Talk to Your Doctor, & When You Should Say No
Still, it's always a good idea to speak with your doctor before taking any new probiotic supplement, whether from BIOHM or otherwise.
How Much Does BIOHM Probiotic Cost & Where Can You Buy?
If purchased directly from company, you'll pay:
1-Time Supply (42 capsules for a six week supply): $49.99
Subscription (ships every five weeks): $39.99
Bi-Annual Subscription (ships every six months): $199.65
Annual Subscription (ships every 12 months): $314.94
All direct orders come with free shipping.
We also found 42-capsule bottles available on Amazon for $43.99 for with no autoship requirement.
In addition to their Probiotic, BIOHM also sells a variety of related dietary supplements, including a Prebiotic, Organic Super Greens, Colon Cleanser, a Gut Report Kit, as well as a Candida Report.
All direct orders come with a full refund policy, less S&H charges, and a $5 restocking fee. Keep in mind that returns must have an intact plastic seal on the outside of the container, which cannot be torn or tampered. If opened, your only option is store credit equal to the value of your purchase.
Customer service can be reached at (216) 394-0544 or support@BIOHMHealth.com.
What Can We Learn From Online Customer Reviews for BIOHM Probiotic?
We encountered 40 Amazon customer reviews for BIOHM's Probiotic supplement at the time of our research, who had given it an average rating of about 3.9 stars.
Common compliments referenced effectiveness (reduced bloating, decreased diarrhea, etc.), while the relatively few complaints related to less-than-stellar results, as well as side effects like gassiness and cramping.
BIOHM vs. Other Probiotic Supplements: How to Choose
Whether you're browsing the aisles at local retailers or surfing the screen on search engines like Google Shopping or online marketplaces like Amazon, there's a dizzying array of probiotic supplements available at just about every imaginable price point.
What's more, some of these formulations (such as BIOHM) only include a couple of bacteria species, while others might contain dozens. And from a potency perspective, you'll find some supplements only include a few million colony-forming units (CFU) of bacteria, while others contain many billions.
Since most of these also feature an enteric coating or a similar technology to help their bacteria survive stomach acid, how in the world can you choose the 'best' option?
One of BIOHM's central advertising claims is that other probiotics haven't "been designed to address the role of both bacteria AND fungi. Instead, they concentrate just on bacteria — offering a partial solution to total gut balance." However, we found dozens of third-party formulations also featuring S. boulardii during our research, so this doesn't necessarily seem to be the case.
Outside of formulation differences, in A Guide to Buying Quality Probiotics, we outline that picking the best option could mainly come down to factors like:
Extra ingredients – Typically, probiotics should only come with bacteria (and perhaps prebiotics, which act as food). Avoid those that come with a bunch of extra ingredients crammed into each capsule.
Ingredients list – Make sure the company lists all ingredients included in the probiotic, as well as dosage/potency.
Budget – Based on our experience writing about dozens of probiotics and reading feedback from thousands of online consumers, it doesn't appear that paying more for one of these supplements will necessarily deliver better results.
How does all of this line up for BIOHM's Probiotic?
Should You Place an Order for BIOHM Probiotic?
At $49.99 per bottle (if you don't want to commit to automatic shipments), BIOHM's Probiotic comes in at about $1.19 per dose. Comparatively, we encountered competing S. boulardii supplements during our research that came in at less than 40% of this amount.
And since we've learned from our past research that paying a higher price doesn't necessarily translate into better value when it comes to a probiotic supplement, we think this is something to consider carefully before making a purchase.
Another thing to strongly consider is your doctor's opinion, who you should always consult before beginning any new supplement regimen, whether related to probiotics or otherwise.
In the end, while BIOHM's Probiotic supplement is priced higher than some of the competition, the company stands behind it with a satisfaction guarantee. Just keep in mind that this is less S&H and a $5 restocking fee, so it's not a completely risk-free transaction. Also, remember that if it's open, you'll only receive store credit.
Read next: Probiotics for Kids: A Parent's Comprehensive Guide