Florastor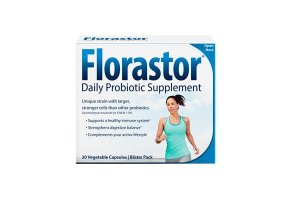 Summary
Florastor is a probiotic supplement that allegedly helps your digestive health and immune function with daily use. Learn whether it can work for you.
Florastor Probiotic Review - Does It Work?
What is Florastor?
Florastor is a daily probiotic supplement that may offer more than just digestive support.
Probiotics are the friendly bacteria and yeasts that live in your gut. In contrast to those that may cause infection, probiotics have many roles related to your overall health. When balance isn't maintained, you may be at greater risk for a number of chronic conditions.
Florastor claims to help you maintain a healthy digestive balance. Additionally, the company claims its probiotic supplement will:
Increase the absorption of nutrients
Breakdown undigested carbs
Support immune function
Continue to work even if you are taking antibiotics
These benefits are made possible by the probiotic strain offered in Florastor.
By taking one capsule with 4oz of water each day, Florastor states that their key ingredient will start to take action in about 30-minutes after ingestion.
In this review, we'll provide an overview of Flarastor's daily probiotic supplement and examine any scientific support to help you determine if it can offer the digestive support you need.
The Active Ingredient: Does It Work?
While Florastor contains Lactose, they believe the benefits of their supplement are related to the strain that they claim is found only in their products: Saccharomyces boulardii lyo CNCM I-745.
This probiotic yeast (fungus) is not found in your gut naturally. In fact, yeasts make up <0.1% of your probiotics.
S. boulardii may be advantageous when compared to other probiotics since it is antibiotic resistant - as a yeast, it won't be killed like some bacterial probiotic strains.
In this section, we'll share the details of our literature review to determine if there is any merit behind Florastor's claims.
Saccharomyces boulardii lyo CNCM I-745 - 250mg
In general, S. boulardii has been extensively studied over the years.
A 2012 review highlights the available support for many of the proposed actions:
Acts as probiotic to create a favorable microbiotic environment
Works as a prebiotic, serving as food for friendly gut bacteria
Eliminates bacteria and toxins
Protects the lining of your digestive tract
Promotes the actions of white blood cells and other immune cells
Reduces inflammation
With respect to CNCM I-745, high doses at 0.5 mg/g body weight, three times daily increased antibody levels in rats.
In human subjects, 250 mg four times per day over 2-weeks increased the amount of enzymes that breakdown complex sugars. These findings were confirmed in a later study in which subjects received 750mg daily.
In children with a genetic sugar malabsorption disease, those treated with 300mg of CNCM I-745 experienced improved sugar absorption, as well as reduced abdominal pain and diarrhea. Similarly, 1000mg daily reduced diarrhea in those with impaired sugar absorption.
In addition to the studies listed here, there are many studies that examined CNCM I-745 in laboratory and animal models. Findings demonstrated a similar ability to boost immune function and improve digestion.
The available studies with human subjects, though limited, seem to point towards some of the potential benefits proposed by Florastor. In particular, CNCM I-745 seems to improve the digestion of carbohydrates.
S. boulardii and CNCM I-745 have been studied over the years, through most of the available data comes from animal and laboratory models. Keep in mind that results can vary strain to strain - favorable effects in one strain may not always be present in another.
Also, laboratory and animal models can highlight a potential relationship that needs to be further studied, but the results are not to be expected when tested in humans. While CNCM I-745 has been studied in humans, most of the research is in the short-term.
We, therefore, can't speak to the effects of this supplement over long durations.
Florastor Safety and Side Effects
Probiotic supplements are typically safe for use. Gas and bloating are common side effects, though abdominal pain and diarrhea can occur with large doses. Reducing your dose or discontinuing use can resolve these symptoms.
Florastor warns against using their probiotics in the hospital setting, particularly in those that require arterial and venous access for medical treatment. They also warn against use in individuals with a poorly functioning immune system.
This recommendation is likely because fungal infections are not uncommon in critically ill patients or those with a compromised immune system.
As Florastor contains lactose and small amounts of soy, you should proceed with caution if you have an allergy.
Check with your doctor before use. Symptoms you're experiencing may be related to an issue that should be medically managed.
Cost & Buying Options
Florastor is not available for purchase on their site, though they do provide links for the various retailers that carry their products for your convenience.
The chart below highlights a few options for in-store and online purchasing:
| | | | | |
| --- | --- | --- | --- | --- |
| Retailer | Price | Shipping | In-store? | Promotions |
| Amazon | $19.25 (30ct) | Free with Prime | No | Save 5% with Subscription |
| Target | $19.89 (20ct) | Free with $35 purchase | Yes | No |
| Walgreens | $28.99 (30ct) | Free with $35 purchase | Yes | But 1, Get 1 50% Off |
| CVS | $30.99(30ct) | Free with $35 purchase | Yes | No |
| Walmart | $19.62 (20ct) | Free with $35 purchase | Yes | No |
Florastor does not provide a phone number, though they do suggest directing any questions not answered in their FAQs via email.
As Florastor's site makes no mention of a return policy or product guarantee, you'll adhere to the specific vendor's return policies from which you make the purchase.
Available Alternatives
While Saccharomyces boulardii lyo CNCM I-745 is available around the world, Florastor states that only their products offer this strain in North America.
Our search seems to confirm this claim.
S. boulardii supplements are available, though most do not specify the strain - their true contents are, therefore, unknown. Those that do detail the specific S. boulardii strain do not offer yo CNCM I-745.
The Vitamin Shoppe offers their S. boulardii supplement at $24.99 for 90 capsules. Walmart offers 60 S. boulardii capsules from Now Supplements for $9.00.
Rite Aid offers another option; They price 30 capsules at $8.99.
Keep in mind that these effects are strain-specific. While these yeasts may offer similar benefits, individual strains can behave differently.
The Bottom Line
The claims made by Florastor come with largely backed with scientific research. Keep in mind, much of the support comes from laboratory and animal studies.
The available human research is promising. However, studies found benefits at doses much higher than the 250mg offered in Florastor. You may not see results at smaller doses.
Probiotic supplements are generally safe, though gas and bloating are possible. As Florastor offers a yeast ingredient, use should be avoided in those with a compromised immune function.
Also, the majority of available research includes short-term studies. Without long-term data, the true safety and efficacy are not known.
Be sure to speak to your physician before use, especially if you are experiencing symptoms. Without knowing the underlying cause, the best plan of care can't be outlined.
Customer Reviews