Florastor Reviews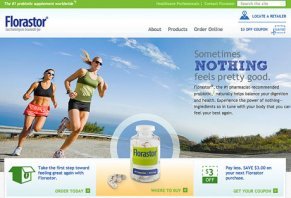 About Florastor
For those of us with chronic digestive system issues, Florastor is a yeast-based daily probiotic that claims to have been helping individuals naturally balance their digestion and health since 1953. In fact, Florastor claims to be "the #1 pharmacist-recommended probiotic."
This certainly sounds like a fantastic supplement, but does it really perform as well as it claims? Let's take a closer look.
Quick Facts About Florastor
Like Whole Body Keybiotics, New Chapter Probiotic All-Flora, and ProbioSlim, Florastor is a daily probiotic that claims to help balance your digestive health, support your immune system, and even to help your body absorb nutrients. Unlike these other brands though, instead of bacteria, Florastor uses Saccharomyces boulardii lyo, a tropical yeast found in the skin of the mangosteen and lychee fruits.
On top of this, Florastor is preserved and dehydrated using lyophilization, which allows it to be stored unrefrigerated. What's more, it can even be used while taking antibiotics, and can withstand the harsh acids in your stomach.
Florastor is manufactured by Biocodex North America, is made with all natural ingredients, and is vegetarian-safe and gluten-free. The company claims that Florastor can be used by anyone 2 months of age and older. In fact, the supplement is available in a kid's formula, which is the same as the adult formula, just with Tutti-Frutti flavoring.
To begin using Florastor, you can take a whole capsule, sprinkle some over your food, or even dissolve it into liquid. According to the company, it can start working in as little as 30 minutes, and is side effect-free, other than occasional mild constipation and/or thirst.
Florastor Pricing & Refund Policy
Florastor is available through Rite Air, CVS, Costco, Walmart, Walgreens, Amazon.com, and more. While prices can vary depending on the retailer, it is generally priced around $50 for 100 capsules.
What's the Bottom Line About Florastor?
Neither Florastor nor Biocodex North America is listed with the Better Business Bureau. However, online customer reviews appear to be overwhelmingly positive, though the most common complaints include gassiness, that it contains lactose, and high price.
It's not often that we say this here at HighYa—especially when it comes to nutritional supplements—but it appears that Florastor not only lives up to many of its claims, but in some instances actually exceeds them.
Based on our research, it seems that Florastor is highly effective in relieving digestive issues such as gas, bloating, diarrhea, clostridium difficile infections, and other gastrointestinal problems. However, its effectiveness for Irritable Bowel Syndrome (IBS) seems to be mixed. As always, consult with your physician before beginning Florastor, or any other probiotic.
Do you suffer from digestive issues, and have you take Florastor to help solve them? If so, what was your experience? Share it with the world by writing a review today!