ProbioSlim
Claimed This company has claimed this profile, is getting alerted on any new customer reviews entering this page, and may engage in dialogue with its customers to address their matters.

Companies cannot pay money or provide goods in order to remove or alter customer reviews.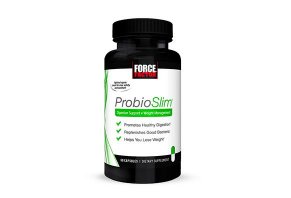 ProbioSlim from Force Factor is a probiotic supplement designed to help you lose weight while supporting healthy digestion.
ProbioSlim Review - Safety, Ingredients, Does It Work?
What Is ProbioSlim?
ProbioSlim from Force Factor is a probiotic containing a blend of ingredients that will allegedly improve digestion and support weight loss.
In fact, according to their site, taking 1 capsule of ProbioSlim twice daily will:
Relieve diarrhea
Reduce Constipation
Alleviate gas
Minimize bloating
Increase the growth of beneficial bacteria
Reduce harmful bacteria
Support weight loss
This is a tall order for any supplement, though these claims are not unusual for those that include probiotics.
These are the friendly bacteria that form your microbiome - the network of microorganisms within your gut. Probiotics differ from harmful bacteria in that they can offer a wide variety of health benefits.
ProbioSlim claims to support the actions of their probiotic with other ingredients to offer the maximum benefits.
In this article, we'll dive into the scientific support for ProbioSlim's ingredients to see if there is any merit to Force Factor's claims.
What Are the Ingredients?
While the probiotic is the star of this supplement, there are many ingredients Force Factor includes in supporting roles. The combination of these ingredients may contribute to ProbioSlim's proposed benefits.
Each capsule of ProbioSlim contains a total of 541mg of their Whole Health Superblend:
LactoSpore Bacillus Coagulans
This probiotic is thought to improve diarrhea, constipation, gas, and bloating. While the company shares the specific strain in their supplement, they do not detail the quantity they include.
We can get a sense of what this strain has to offer from the handful of available studies, though we are unable to determine if ProbioSlim has a large enough dose to be effective.
Force Factor claims that LactoSpore is designed to survive the harsh environment of your stomach to get to the intestines and exert its benefits. This seems to be in line with the scientific support for this strain.
A recent randomized trial demonstrated the ability of LactoSpore to improve symptoms of irritable bowel syndrome (IBS) in subjects with depression.
Those treated with LactoSpore at a daily dose of 2 billion CFU over 3-months improved digestive symptoms and reduced lab values for inflammation.
Though limited, there is available support for the proposed actions of LactoSpore. Keep in mind that although benefits were seen in subjects with Irritable bowel syndrome (IBS), this does not necessarily mean that healthy individuals will benefit from use.
Green Tea Leaf Complex
Used for centuries in natural medicine, it Green Tea Lead Complex may boost energy and spark weight loss.
These effects are likely related to its caffeine and catechin content.
The combination of 200mg of caffeine and green tea at 90, 200, 300, and 400mg doses up to 3x daily all seemed to boost energy expenditure to the same degree. This illustrates that large doses of green tea are not needed to achieve this benefit.
The combination of 500mg of green tea and exercise improved body weight, BMI, waist to hip ratio, and body fat percentage more than exercise alone.
While the weight loss and energy benefits of green tea seem clear, Force factor doesn't share details for how much of this supplements is inside ProbioSlim
Caffeine
One of the most commonly used substances worldwide, the inclusion of caffeine in ProbioSlim may help boost energy, combat fatigue, and support weight loss.
These effects are well-studied.
Caffeine at 3 mg/kg body weight doses given before physical activity resulted in more fat burning in healthy subjects. Doses at 3-6mg/kg body enhanced performance during endurance exercise.
A recent review of 13 studies found that caffeine can promote weight, BMI, and body fat reductions. Lastly, you may also be able to better maintain weight loss success by consuming caffeine.
Caffeine has a proven ability to boost energy and support weight loss; ProbioSlim offers 2 forms of caffeine but does not detail the quantity of either.
Prebiotic Fruit Extract
Kiwi, fig, and papaya extracts are included in ProbioSlim to act as a source of food to fuel LactoSpore.
Prebiotics are non-digestible substances or fiber that can improve health by stimulating the activity of probiotics.
But they may offer more than just support for probiotics.
Prebiotics may play a role in increasing the digestions and absorption of nutrients, decreasing harmful bacteria, reducing allergies, and improving immune function.
Safety and Side Effects
Serious side effects are extremely rare in probiotic supplements. You are most likely to experience mild side effects like abdominal pain, gas, bloating, and diarrhea.
These symptoms are relieved by lowering your dose or discontinuing use.
ProbioSlim is also a stimulant-containing supplement. As it offers 2 forms of caffeine, the risk for unwanted effects may be greater.
The FDA warns against rapidly consuming 1,200mg of caffeine, as this can cause seizures. Additionally, 400mg daily is understood to be the safest use of caffeine.
As Force Factor does not share the total caffeine content, consuming this supplement, along with your normal coffee, soda, and tea regimen, may put you in an unsafe range.
Consuming excess caffeine may result in restlessness, nausea, agitation, rapid heart rate, and elevated blood pressure.
For these reasons, be cautious with ProbioSlim and similar products. Always ask your physician about safety concerns before using probiotics. Consume probiotics only in the ways that are recommended.
What Does ProbioSlim Cost?
You can pick up your ProbioSlim online at Walmart and Amazon - their 60ct (1-month supply) is available for $53.56 or $35.76, respectively.
Naturally, this means that Amazon is the more cost-effective choice. Also, as Probioslim is prime eligible, you can take advantage of the free shipping and returns.
According to their site, your purchases are backed by a 30-day guarantee.
To process your return, simply call 1-800-429-0415 for an RMA number. The RMA number should be attached to the outside of your package and returned to:
Force Factor, 105 Commerce Dr, Aston, PA 19014
Alternatives
A quick internet search will reveal the vast number of combined pre and probiotic supplements similar to ProbioSlim that are currently available.
Complete Prebiotic & Probiotic from Olympian Labs is a great example. A 1-month supply is currently $21.99 at the Vitamin Shoppe.
This blend provides 25 billion CFU in each capsule and is more cost-effective than ProbioSlim.
You may also save money by purchasing your pre and probiotic supplements separately.
Lastly, you can obtain pre and probiotics naturally from consuming a diet rich in fruits, vegetables, and fermented foods like yogurt, sauerkraut, kimchi, and kombucha. However, it would be challenging to be certain of which strains and how much you are getting.
The Bottom Line
While ProbioSlim contains ingredients that are backed by research, the company does not share details of the quantity of each.
This makes it impossible to determine if the amount of each ingredient is too little to be effective or how likely you are to experience side effects.
While the unwanted effects of pre and probiotics are mild, those related to excess caffeine can be dangerous. This seems to be reflected in the 3.7 rating at Amazon on over 700 reviews.
Those least happy cite a number of side effects that include hand tremors and digestive issues.
Pricing is another concern. You can save by purchasing at Amazon, but it is still a fairly pricey supplement.
If you're experiencing symptoms you feel may be relieved by a dietary supplement, your first step should be discussing with your doctor.
---
Too much caffeine

By Suzanne R.

,

Wisconsin

,

Sep 23, 2019
Verified Reviewer

Overall Experience:

I was really excited to try this ProbioSlim, and was going to order it online, got out the magnifying glass to read the very fine print, and saw that after the free trial, they would charge me $69.99 for the one-year membership, and then $14.99 per month for the product, unless I canceled before the end of the 14-day free trial! So I drove to Walmart, and bought a bottle of 30 capsules for $18.99 three days ago, and was extremely impressed at how "happy" I felt. A lot of my pains were gone, but unfortunately for me, there is way too much caffeine in this product for me, and it caused heart palpitations, so I'm done with it. The bottle instructs you to take one with breakfast, and one with lunch, but I only took one with lunch, and was still "zipping" around at 10 pm all three days. Bottom line is that if you want to try this - go to Walmart and buy it so that you don't get taken advantage of on the company's website. I feel that I would've lost some weight because of feeling "happy" and being able to move around more. I would love to try a caffeine-free version of this product.

Bottom Line: Yes, I would recommend this to a friend

---

Do not buy

By Audra B.

,

Rio, IL

,

Aug 19, 2019
Verified Reviewer

Overall Experience:

Constant constipation which is the opposite of losing weight. Would not refund me, insisted I keep using it, that it would get better. And now after $150 or so into it, refuse to reimburse me for at least half, even with sending 2 unopened bottles back. Do not buy this product! Read all the info on it first! Please go to Consumer Affairs about it! Not even 1 star.

Bottom Line: No, I would not recommend this to a friend

---

RIP OFF

By Leeann P.

,

Sacramento, CA

,

Jun 17, 2019
Verified Reviewer

Overall Experience:

I ordered my free (HAHA, FREE) trial of ProbioSlim. Yesterday I got charged $54.95 on my pre-paid card. I found it out not by a receipt or order confirmation, I found out when my car insurance payment failed which I had put the money on the card just for that. Well when I ordered my free trial bottle I unknowingly signed up for a VIP club that mind you I never got an email saying WELCOME TO THE FORCE FACTOR VIP CLUB because they didn't want me to know I joined. Again, I never got a receipt/email for the $54.95 bottle I purchased, no thanks for purchasing this, nothing, SO WATCH OUT, this is dirty and underhanded business!

Bottom Line: No, I would not recommend this to a friend

---

Overall Experience:

I started taking ProbioSlim in May 2016 and with a balanced diet and exercise lost 50 pounds. In November 2016 I had some life stress happen and completely stopped. Fast forward to July 2017, I decided I needed to get back on my weight loss journey, but didn't go directly to ProbioSlim, and I tried other probiotics. None of those worked for me as well as ProbioSlim. It is not a magic diet pill and definitely needs to be taken as recommended and with a balanced diet and exercise.

Bottom Line: Yes, I would recommend this to a friend

---

Advertisement

---

ProbioSlim Scam

By Tracy DeGray

,

Massachusetts

,

Feb 10, 2017
Verified Reviewer

Overall Experience:

It's a scam. All it did is back me up and bloated my stomach. It is supposed to flatten your belly, but there is no belly flatness here, and I look fatter than before. It backed me up for two weeks.

I took a whole trial bottle and then canceled. Then I got charged for another bottle and I canceled that too. It is a bad product and it doesn't work.

Bottom Line: No, I would not recommend this to a friend

---

You have to keep ringing

By Faye

,

Melbourne, Australia

,

Jan 16, 2017
Verified Reviewer

Overall Experience:

I placed a review on here a few weeks ago, saying how I could not contact them either to cancel my order, as I just couldn't afford the charges. You do get a message saying to call back during business hours, and this is what I was doing, from Australia.

However, I was up late one night and realized it would be 9 am in their office in the U.S., so I called. I did get someone immediately and was able to cancel. The woman was ok, but did try to talk me into other deals, and reduce the price. I just kept saying no, I need to cancel this subscription.

I got an email within about 10 minutes saying this had been done. I hope it has. I called at 1 am Australian time, which is a nuisance, but was worth it.

Bottom Line: No, I would not recommend this to a friend

---

Seems like a scam

By Faye

,

Melbourne, Australia

,

Dec 30, 2016
Verified Reviewer

Overall Experience:

Sadly, seems like a scam to me too. I thought I was signing up for a sample, and now they are taking amounts out of my bank account each month. I haven't tried the number much, but it gives American times to call anyway. The tablets don't seem to work, but I just can't afford this much each month anyway. Not sure what to do. I will have to go into my bank and talk to them about somehow stopping these payments.

Bottom Line: No, I would not recommend this to a friend

---

ProbioSlim

By Rose White

,

Echuca Victoria, Australia

,

Nov 5, 2016
Verified Reviewer

Overall Experience:

They have taken money out of my account that I did not ask them to. I bought a sample bottle but not happy about it.

Bottom Line: No, I would not recommend this to a friend

---

Don't go there

By Jan

,

Australia

,

Oct 17, 2016
Verified Reviewer

Overall Experience:

I ordered the free trial and have not received the trial, however, my credit card has been charged $108.33 and I have no product.

I have tried to ring the number and it has a recording stating to phone back in office hours. This is the number for Australia.

I have tried various times of the day to phone this company without success, they have no email address.

I have reported the transaction to my bank as fraud.

Bottom Line: No, I would not recommend this to a friend

---

It has actually helped.

By Jane

,

Atlanta, GA

,

Oct 5, 2016
Verified Reviewer

Overall Experience:

I've not tried many brands but out of the few I have, this one seems to have helped. I'm not taking it to lose weight but more for digestive results. And it has definitely helped with that! I'm quite pleased with the reduction in bloating, etc. Digestive issues are all but gone. I will add, and emphasize, I have also changed my diet. Eating healthier - fresh foods - has made a huge difference. No more cow products and cut out meat (except fresh fish). I'm trying to also avoid the processed junk. It's really not that hard. :) And boy do I feel so much better - in only a few months time! (Huge digestion and respiratory benefits.)

Bottom Line: Yes, I would recommend this to a friend

---

I feel ripped off by this Company

By Dee Shaw

,

Perth, Western Australia

,

Oct 1, 2016
Verified Reviewer

Overall Experience:

This product didn't work for me and I have been unable to contact them to cancel. The result is that they are deducting over $100AUD from my account on a monthly basis and I don't know what to do other than report it as a scam and close my bank account.

The contact number they provide for Australia has a recording saying phone back during office hours, that's despite whatever time you phone, day or night.

I suggest you avoid this con and then you won't get ripped off like I did.

Bottom Line: No, I would not recommend this to a friend

---