ProbioSlim Reviews
Claimed This company has claimed this profile, is getting alerted on any new customer reviews entering this page, and may engage in dialogue with its customers to address their matters.

Companies cannot pay money or provide goods in order to remove or alter customer reviews.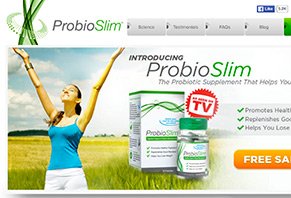 ProbioSlim is a probiotic that claims to increase beneficial bacteria and fat oxidation in your body, which can improve digestion and help you lose weight.
What is ProbioSlim?
Containing a revolutionary probiotic LactoSpore, Probioslim is a supplement that promises to help you with healthy digestion, recharge the good bacteria, and promote weight loss.
According to the website, Probioslim states that by combining "groundbreaking" probiotics and prebiotics with "revolutionary" weight loss ingredients. In fact, the company specifically claims ProbioSlim is "one of the best ways to lose weight," safely and naturally.
On top of this, ProbioSlim promises that each one of their ingredients has been researched and vetted by the company's Harvard- and MIT- trained scientists. As a result, you may notice some benefits within days of starting ProbioSlim, with maximum benefits occurring in about three months' time.
It seems like there's always some new weight loss bandwagon to jump on, but is this probiotic the real deal? Can you expect it to help you lose weight? If so, how much? These are all important questions we'll help you answer in this review.
First, Some Background About Probiotics and Prebiotics
To understand how products like ProbioSlim work, we need to quickly talk a little biology.
Your body is home to about as many bacteria cells as your own, most of which are housed in your digestive tract. There, they help aid in digestion by breaking down food and protecting the body from potentially harmful byproducts or other microorganisms.
The really neat thing is that, like fingerprints, each of us has a unique bacteria makeup in our gut, based on the foods we eat and our exposure to the environment in which we live.
Now, there are two important things to remember here. First, as you might imagine, not all bacteria are good for us. Second, everything we discussed above occurs under ideal circumstances.
Taking these ideas together, there are certain instances where too many non-beneficial bacteria can accumulate, potentially leading to digestion problems (gassiness, bloating, etc.), weight gain, lethargy, and even a decreased immune response.
To combat this situation once it occurs, you can take a supplement containing billions of beneficial bacteria cells, known as a probiotic. These help repopulate your gut with specific bacteria strains that can help reduce bloating and gassiness, relieve constipation, decrease certain allergic reactions, boost immune response, and more.
What Kinds of Results Can You Expect with ProbioSlim?
Although there isn't a label on the ProbioSlim website, we're told it contains LactoSpore probiotics, green tea leaf extract for weight loss, and fig, kiwi, and papaya extracts as prebiotics. Let's break each of these down.
LactoSpore is a proprietary probiotic formulation consisting of the Bacillus coagulans bacteria strain, which is owned by the Sabinsa Corporation. The company claims it has been used in clinical trials for the "treatment of gastrointestinal disorders, vaginal infections, hypercholesterolemia, lactose intolerance, hepatic coma and precoma and as an adjuvant to antibiotic therapy."
Notice anything? Weight loss isn't among any of LactoSpore's clinically proven benefits. In fact, there is very little clinical evidence showing that probiotics in general (not just ProbioSlim specifically) can help you lose weight. What about the other ingredients?
The fig, kiwi, and papaya extracts in ProbioSlim only act as a prebiotic, or a food source, for the billions (numbered in colony-forming units) of bacteria contained in each capsule. As such, these ingredients won't help you lose weight.
Finally, we have green tea leaf extract. Here's how the company markets it:
"An innovative green tea complex helps enhance thermogenesis and fat oxidation so you can burn more calories. Caffeine provides a boost of energy and helps control appetite as part of a reduced-calorie diet."
Green tea is a long-studied drink that contains polyphenols (antioxidants) and epigallocatechin gallate (EGCG), which might help provide some heart-healthy benefits, much-needed hydration, and bodily support.
However, while there is some limited evidence showing these substances can boost metabolism, the increase is so slight that it likely won't have any meaningful effect on your weight.
ProbioSlim Side Effects
While the green tea leaf extract in ProbioSlim probably won't cause you to lose a meaningful amount of weight, the good news is that it probably won't cause any side effects worse than mild digestive upset, either.
However, keep in mind that green tea has some natural caffeine content (often about as much as a cup of coffee), so this might affect you more strongly if you're especially sensitive to stimulants.
As far as probiotics in general (not ProbioSlim specifically), the most common side effects reported are gas, bloating, and digestive upset—which is weird, because aren't these the symptoms probiotics are supposed to address in the first place? In most cases, if you experience anything at all, these side effects will typically subside within a couple of days. If not, you'll definitely want to speak with your doctor.
Is ProbioSlim Advanced More Effective for Weight Loss?
Recently, the company released ProbioSlim Advanced. In addition to the LactoSpore brand of probiotic we discussed above, the supplement also contains Meratrim, PreticX, and a Premium B Vitamin Matrix (B1, B2, B6, B9, and B12), as part of their LS9947 Super Lipolytic Megablend. Are these any more effective for weight loss?
Meratrim is a proprietary ingredient that combines garcinia mangostana and sphaeranthus indicus. Unfortunately, neither Meratrim nor the ingredients it contains have much (or any) clinical evidence showing them to be effective for weight loss. However, these constituents do appear to have some antioxidant, anti-inflammation, anti-cancer, and anti-diabetic effects.
We didn't find a website for PreticX, although we did come across several press releases from early 2015. According to this release:
"PreticX is a GRAS certified and Non-GMO verified prebiotic that has been shown in clinical studies to significantly increase the proliferation of bifidobacterium in both low and high doses."
While PreticX might help "feed" bifidobacterium (a strain of probiotic), keep in mind that there doesn't appear to be any bifidobacterium in ProbioSlim, so it might not have any of these same benefits. And even if there was, as we discussed above, there isn't enough clinical evidence to say that any strain of probiotic bacteria can help you lose weight.
Finally, unless you're deficient, we didn't encounter any clinical evidence that vitamins B1, B2, B6, B9, or B12 can help individuals lose weight.
ProbioSlim vs. Other Probiotic Supplements
You probably know that there are hundreds of different probiotic supplements available, both online and in-store. Compared to the competition, what sets ProbioSlim apart? Why is it worthy of your attention? According to the company:
"Unlike other probiotics, the ingredient LactoSpore® forms its own spores that protect the release of probiotics until it has safely passed through the harsh environment of the stomach and reached the colon. This prevents stomach acid from killing off the beneficial microorganisms and counteracting ProbioSlim's effects."
Is this necessarily unique, though? In short, yes and no. For example:
PerfectBiotics claims to use a unique fermentation process to help bacteria pass unharmed through your stomach.

Culturelle features a special species of bacteria that are especially resistant to stomach acid.

Probiotic Pearls features True Delivery Technology, a proprietary encapsulation process that decreases the chances of stomach acid destroying any bacteria before making their way to your gut.
We could keep going, but the point is that: 1) Many other supplements also feature LactoSpore, so ProbioSlim isn't necessarily unique in this aspect. 2) Many other supplements also feature different technologies that allow their probiotics to sidestep stomach acid.
How Much Does ProbioSlim Cost?
One bottle (60 capsules) of ProbioSlim will cost you $69.99, plus $4.99 S&H.
You can also order a 14-day trial of ProbioSlim for $4.99 S&H. After 18 days (14 days for the trial, plus another 4 to allow for transit), you'll be enrolled in their VIP program.
This means you'll keep receiving a new bottle of the probiotic once per month and charged $74.98 each time (plus tax if applicable).
All orders come with a 30-day refund policy, less S&H charges. Note: According to the company's Terms: "To receive your refund, your return must be received at our shipping facility within 30 days of purchase." In other words, don't wait until the 29th day to send it back!
In order to request a refund or to cancel your autoship enrollment, the company's customer service department can be reached at 877-452-7826.
Comparatively—although you'll also find ProbioSlim available at dozens of local retailers like Walmart, along with popular websites like Amazon, the Vitamin Shoppe, and more—most other probiotics tend to fall in the $20-$30 range.
What Do Customers Think of ProbioSlim?
Here on HighYa, ProbioSlim has garnered nearly 56 reviews since our original writeup, giving the supplement a 2-star rating. Most compliments seem to reference better digestion, improved regularity, and just a generally "better" feeling.
On the other hand, most complaints appeared to reference failure to work and problems with the trial (usually that they were unaware they'd be enrolled in an autoship program). However, customer service seemed responsive and even replied directly to several complaints.
Elsewhere online, ProbioSlim had a 4-star average rating based on 45 reviews on GNC.com and a 3.5-star rating on Amazon, our of 823 customer reviews.
Is ProbioSlim a Good Probiotic and Weight Loss Supplement?
Based on all the available clinical evidence for the B. coagulans strain in general, and for the proprietary LactoSpore product specifically, it's pretty clear that these probiotics (and many others) might be able to help provide a range of digestion-related benefits. Everyone's different though, so just be sure to speak with your doctor beforehand.
Related to weight loss? According to the available clinical evidence, we think that if ProbioSlim did provide any boost to your metabolism, it would likely be slight.
Might it have a cumulative effect when combined with proper diet and regular exercise? Perhaps. But at twice the price of much of the competition, only you can decide if ProbioSlim provides enough value to make up for this difference.
2 out 2 people found this review helpful

Too much caffeine

By Suzanne R.

,

Wisconsin

,

Sep 23, 2019
Verified Reviewer

I was really excited to try this ProbioSlim, and was going to order it online, got out the magnifying glass to read the very fine print, and saw that after the free trial, they would charge me $69.99 for the one-year membership, and then $14.99 per month for the product, unless I canceled before the end of the 14-day free trial! So I drove to Walmart, and bought a bottle of 30 capsules for $18.99 three days ago, and was extremely impressed at how "happy" I felt. A lot of my pains were gone, but unfortunately for me, there is way too much caffeine in this product for me, and it caused heart palpitations, so I'm done with it. The bottle instructs you to take one with breakfast, and one with lunch, but I only took one with lunch, and was still "zipping" around at 10 pm all three days. Bottom line is that if you want to try this - go to Walmart and buy it so that you don't get taken advantage of on the company's website. I feel that I would've lost some weight because of feeling "happy" and being able to move around more. I would love to try a caffeine-free version of this product.

Bottom Line: Yes, I would recommend this to a friend

---

9 out 9 people found this review helpful

Do not buy

By Audra B.

,

Rio, IL

,

Aug 19, 2019
Verified Reviewer

Constant constipation which is the opposite of losing weight. Would not refund me, insisted I keep using it, that it would get better. And now after $150 or so into it, refuse to reimburse me for at least half, even with sending 2 unopened bottles back. Do not buy this product! Read all the info on it first! Please go to Consumer Affairs about it! Not even 1 star.

Bottom Line: No, I would not recommend this to a friend

---

14 out 14 people found this review helpful

RIP OFF

By Leeann P.

,

Sacramento, CA

,

Jun 17, 2019
Verified Reviewer

I ordered my free (HAHA, FREE) trial of ProbioSlim. Yesterday I got charged $54.95 on my pre-paid card. I found it out not by a receipt or order confirmation, I found out when my car insurance payment failed which I had put the money on the card just for that. Well when I ordered my free trial bottle I unknowingly signed up for a VIP club that mind you I never got an email saying WELCOME TO THE FORCE FACTOR VIP CLUB because they didn't want me to know I joined. Again, I never got a receipt/email for the $54.95 bottle I purchased, no thanks for purchasing this, nothing, SO WATCH OUT, this is dirty and underhanded business!

Bottom Line: No, I would not recommend this to a friend

---

12 out 15 people found this review helpful

Love it!

I started taking ProbioSlim in May 2016 and with a balanced diet and exercise lost 50 pounds. In November 2016 I had some life stress happen and completely stopped. Fast forward to July 2017, I decided I needed to get back on my weight loss journey, but didn't go directly to ProbioSlim, and I tried other probiotics. None of those worked for me as well as ProbioSlim. It is not a magic diet pill and definitely needs to be taken as recommended and with a balanced diet and exercise.

Bottom Line: Yes, I would recommend this to a friend

---

Advertisement

---

21 out 22 people found this review helpful

ProbioSlim Scam

By Tracy DeGray

,

Massachusetts

,

Feb 10, 2017
Verified Reviewer

It's a scam. All it did is back me up and bloated my stomach. It is supposed to flatten your belly, but there is no belly flatness here, and I look fatter than before. It backed me up for two weeks.

I took a whole trial bottle and then canceled. Then I got charged for another bottle and I canceled that too. It is a bad product and it doesn't work.

Bottom Line: No, I would not recommend this to a friend

---

16 out 17 people found this review helpful

You have to keep ringing

By Faye

,

Melbourne, Australia

,

Jan 16, 2017
Verified Reviewer

I placed a review on here a few weeks ago, saying how I could not contact them either to cancel my order, as I just couldn't afford the charges. You do get a message saying to call back during business hours, and this is what I was doing, from Australia.

However, I was up late one night and realized it would be 9 am in their office in the U.S., so I called. I did get someone immediately and was able to cancel. The woman was ok, but did try to talk me into other deals, and reduce the price. I just kept saying no, I need to cancel this subscription.

I got an email within about 10 minutes saying this had been done. I hope it has. I called at 1 am Australian time, which is a nuisance, but was worth it.

Bottom Line: No, I would not recommend this to a friend

---

14 out 16 people found this review helpful

Seems like a scam

By Faye

,

Melbourne, Australia

,

Dec 30, 2016
Verified Reviewer

Sadly, seems like a scam to me too. I thought I was signing up for a sample, and now they are taking amounts out of my bank account each month. I haven't tried the number much, but it gives American times to call anyway. The tablets don't seem to work, but I just can't afford this much each month anyway. Not sure what to do. I will have to go into my bank and talk to them about somehow stopping these payments.

Bottom Line: No, I would not recommend this to a friend

---

21 out 23 people found this review helpful

ProbioSlim

By Rose White

,

Echuca Victoria, Australia

,

Nov 5, 2016
Verified Reviewer

They have taken money out of my account that I did not ask them to. I bought a sample bottle but not happy about it.

Bottom Line: No, I would not recommend this to a friend

---

41 out 42 people found this review helpful

Don't go there

By Jan

,

Australia

,

Oct 17, 2016
Verified Reviewer

I ordered the free trial and have not received the trial, however, my credit card has been charged $108.33 and I have no product.

I have tried to ring the number and it has a recording stating to phone back in office hours. This is the number for Australia.

I have tried various times of the day to phone this company without success, they have no email address.

I have reported the transaction to my bank as fraud.

Bottom Line: No, I would not recommend this to a friend

---

19 out 24 people found this review helpful

It has actually helped.

By Jane

,

Atlanta, GA

,

Oct 5, 2016
Verified Reviewer

I've not tried many brands but out of the few I have, this one seems to have helped. I'm not taking it to lose weight but more for digestive results. And it has definitely helped with that! I'm quite pleased with the reduction in bloating, etc. Digestive issues are all but gone. I will add, and emphasize, I have also changed my diet. Eating healthier - fresh foods - has made a huge difference. No more cow products and cut out meat (except fresh fish). I'm trying to also avoid the processed junk. It's really not that hard. :) And boy do I feel so much better - in only a few months time! (Huge digestion and respiratory benefits.)

Bottom Line: Yes, I would recommend this to a friend

---

35 out 36 people found this review helpful

I feel ripped off by this Company

By Dee Shaw

,

Perth, Western Australia

,

Oct 1, 2016
Verified Reviewer

This product didn't work for me and I have been unable to contact them to cancel. The result is that they are deducting over $100AUD from my account on a monthly basis and I don't know what to do other than report it as a scam and close my bank account.

The contact number they provide for Australia has a recording saying phone back during office hours, that's despite whatever time you phone, day or night.

I suggest you avoid this con and then you won't get ripped off like I did.

Bottom Line: No, I would not recommend this to a friend

---