Unify Health Labs Multi-GI 5
Claimed This company has claimed this profile, is getting alerted on any new customer reviews entering this page, and may engage in dialogue with its customers to address their matters.

Companies cannot pay money or provide goods in order to remove or alter customer reviews.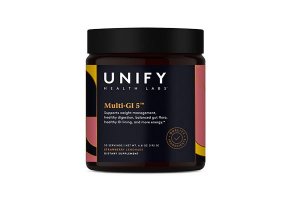 Unify Health Labs Multi-GI 5 uses three types of ingredients to help with your gut health, energy and focus. While marketed to a wide audience, research indicates a select group of people can benefit.
Unify Health Labs Multi-GI 5 Review: Is It Safe and Effective?
Medically Reviewed by Jason Reed, Pharm.D.
Unify Health Labs Multi-GI 5 is a powdered supplement that combines prebiotics, probiotics and gut-health ingredients they claim can give you more energy and cut down on gastrointestinal-related discomfort and food cravings.
The company was started by Randy Jackson, the former American Idol judge. Jackson lost more than 100 pounds after gastric bypass surgery and lifestyle change and is now on a mission to promote good health through a simple solution: one scoop of supplement a day.
If you're struggling with a constant feeling of bloating, gas and constipation, then a supplement like this is a ray of hope. We analyzed its claims to help you decide if it is right for you.
How Multi-GI 5 Works
This supplement comes in a 6.8-ounce jar that contains 30 servings. Use the scoop in the jar to mix one scoop of supplement with 8 ounces of water each morning. You don't have to take the supplement with food.
Each serving has three main groups of ingredients: Prebiotics, Probiotics, and GI Health
"Prebiotics" are typically fiber-based substances that provide food for "probiotics," which are good bacteria and yeast living in your gut that contribute to your digestive and overall health. Your body can't digest prebiotics, so you pass whatever prebiotics your probiotics don't break down.
The GI group's main ingredient, L-glutamine, is an amino acid that acts as a building block for muscle and other tissue.
Unify Health Labs says that these three-ingredient groups can improve your gut health by reducing "gas, bloating and irregularity," and increase your energy, focus, and cravings.
Unify Health Labs doesn't provide any information about the studies or prevailing research that backs up their claims.
Ingredients and Their Scientific Efficacy
We examined the general medical consensus about the supplement's ingredients to see if they support the claims that Unify makes.
For probiotics, we list the dosages you get for each strain in this supplement because even if a certain strain has benefits, you won't experience them if there aren't high enough dosages in each scoop.
Prebiotics
Fructo-oligosaccharides are a type of synthetic fiber that "share many of the characteristics of fiber present in plant foods," the Linus Pauling Institute points out.
While it's widely known that fructooligosaccharides are food for probiotics, how effective it can be in improving your digestive health is undecided. ConsumerLab.com's analysis of multiple studies related to this ingredient reveals a myriad of inconclusive data.
We conclude that this ingredient most likely provides food for the probiotics in Multi-GI 5 but that you can't expect any additional benefits from taking 4 grams of it on a daily basis.
Probiotics
Each one of the probiotics included in this supplement has some form of research that indicates they may be helpful to specific digestive issues.
However, to be effective, probiotics need a certain amount of "colony-forming units" – a measurement for the active number of bacteria colonies in one supplement serving. The general medical consensus is that your probiotic supplement should have at least 1 billion CFU's to be effective.
The concentration level of Multi-GI 5's probiotics are as follows:
Lactobacillus gasseri: 900 million CFUs
Bacillus coagulans: 441 million CFUs
Lactobacillus rhamnosus: 2.45 billion CFUs
Lactobacillus casei: 2.139 billion CFUs
Lactobacillus plantarum: 1.2 billion CFUs
As you can see, the first two probiotics don't have the suggested dosage to be effective but the last three probiotics do, with L. rhamnosus and L. casei doubling the recommended minimum amount.
L. rhamnosus
L. rhamnosus has been used in multiple studies for conditions ranging from chronic constipation in children, and diarrhea to the presence of certain bad bacteria in people with kidney disease.
The bacteria were effective in reducing diarrhea and constipation in children and in chemotherapy patients. However, outside of that, ConsumerLab.com noted the probiotic had marginal or ineffective impacts on various conditions.
The evidence indicates lactobacillus rhamnosus is helpful for kids with diarrhea issues and cancer patients but, beyond that, there's little evidence to suggest it will be consistently effective in treating your gut issues.
L. casei
This probiotic strain has been tested extensively but only in combination with other probiotics.
The research we reviewed showed that the bacteria could be helpful for adults with constipation, diarrhea in infants and children, diarrhea resulting in a C-diff infection (common in hospitals and nursing homes), and abdominal pain, bloating and gas in kids.
The adult-related study of constipation showed promising results. Also, participants in that study took the probiotic in liquid form, just like Multi-GI 5.
However, the participants in the study were taking 6.5 billion CFU's of L. casei, which is around 2.5 times what you'd get in one serving of Multi-GI 5.
L. Plantarum
According to research from ConsumerLab.com, L. plantarum has shown promise for patients with irritable bowel syndrome (IBS).
However, the evidence for its effectiveness outside of IBS is limited. Our medical advisor Dr. Jason Reed, PharmD, has pointed out, however, that an ingredient's effectiveness with certain disease states doesn't mean it will help people who are healthy.
GI Health
This final group of ingredients is titled "GI health" but has several ingredients that aren't related to your gu. Rather, they are often associated with Unify Health Labs' claims their supplement can increase your energy and focus.
We will focus our analysis on L-glutamine, as it's the highest-dosed ingredient and most relevant to your gut. The other ingredients come in dosages that aren't effective based on guidelines for daily dosage.
L-glutamine
L-glutamine has been tested for its effectiveness with a variety of gut issues.
ConsumerLab notes the results of those tests reflect "mixed results." This tells us that the ingredient most likely won't be effective for you simply because tests were done on people in very specific medical situations and the results were not conclusive.
Furthermore, the dosages suggested for treatments range from 3 g to 30 g while Multi-GI 5 has 200 mg per serving, which is about 15 times less than the recommended amount.
Side Effects
You may experience side effects common to probiotic supplements: gas and bloating are common.
Also, L-glutamine may cause:
Dizziness
Heartburn
Stomach pain
Pricing and Returns
This supplement is priced at:
One jar: $69.95
Three jars: $188.85
Six jars: $353.70
Shipping is free.
If you aren't happy with your supplements, you have 90 days from the day the supplements shipped from Unify's fulfillment center to request a return.
The Bottom Line
This supplement has the right base of ingredients to be effective but that low dosages and limited applications make it the right choice for a small segment of the population.
Going by the prevailing research, we believe this supplement may be helpful if you're dealing with gastrointestinal issues related to irritable bowel syndrome and constipation.
The three lactobacillus strains in this supplement are found in high enough concentrations to be effective, per the general medical consensus.
However, if you don't deal with constipation or irritable bowel syndrome, the evidence is clear enough to suggest this product won't be noticeably helpful if you're dealing with minor gut issues.
We see the most promise in this product coming from its Lactobacillus probiotic strains.
---
Two weeks into daily use see NO change in anything

By RK K.

,

Tucson, AZ

,

Jul 7, 2020
Verified Reviewer

Length of Use: Less than 3 months

Overall Experience:

I am a 74-year-old, active, white male, 6 feet tall, 190 lbs.

Have a slightly bloated-looking belly. Listened to the excruciatingly long message while in my car, trying a 3-month regiment. So far, NOTHING. I do not want my money back. I want this stuff to work as advertised.

Surprised, NO directions as when to take (on an empty stomach, before, after, or with meals). Anyone who says the taste is great must work for Unify.

Pros and Cons:

No "pros" were specified in this review
After 2 weeks I feel no difference, none
No directions as to when to take
Not trying for the taste but for some results

Bottom Line: No, I would not recommend this to a friend

Jul 8, 2020

Hi RK, Charlie here from Unify Health Labs. I'm sorry to hear that you have not seen the improvement you were expecting while trying Multi-GI 5. We recommend that our customers take Multi-GI 5 whenever is most convenient for them, many customers like to take it right before a meal. In addition, we do recommend that you take it consistently for at least 3 months. If you find that you are still not seeing the benefits you were expecting, please e-mail me directly and I'll issue you a full refund. My e-mail address is charlie@unifyhealthlabs.com. As with all products, we do understand that they may work well for some and not for others. In addition, we have never and will never create fake reviews for our products. All of the reviews on this page (and our website, etc.) are reviews from actual customers. Please reach out to me directly if I can assist you with a refund!

---

Length of Use: Less than 3 months

Overall Experience:

I was happily surprised that it tasted this good, but don't breathe it as you pour it or it will make you sneeze. I am wondering if you can drink it more than once a day...

I do hope it helps me lose the weight. I would be happy with 50 pounds lost. I just purchased 1 container and I don't mind, if it works, to continue paying the regular price for additional bottles. It only took 7 days to arrive...nice!

Pros and Cons:

Fast delivery
Nice taste
It makes you feel full
No "cons" were specified in this review

Bottom Line: Yes, I would recommend this to a friend

---

Advertisement

---

This is the worst tasting stuff

By Elza C.

,

Bandon, OR

,

Jul 1, 2020
Verified Reviewer

Length of Use: Less than 3 months

Overall Experience:

Awful stuff. Incredible sweet. It's so sweet no matter what you mix it with. Upset my stomach something terrible. Returning after four days of use. Took over two and a half weeks to get the product.

Pros and Cons:

No "pros" were specified in this review
Too sweet
Upset stomach

Bottom Line: No, I would not recommend this to a friend

Jul 2, 2020

Hi Elza! Oh no, I'm so sorry to hear this. While many of our customers love the taste and benefits of Multi-GI 5, we do understand that it may not work the same way for everyone. But this is why we stand by our 90-Day Money-Back Guarantee. Please reach out to me at Charlie@unifyhealthlabs.com so I can begin the refund process for you. I look forward to hearing from you and making this right.

---

Did not work for me

By Pamela B.

,

La Mesa, CA

,

Jun 30, 2020
Verified Reviewer

Length of Use: Less than 3 months

Overall Experience:

Burned my throat for 24 hours after first use. Gave me stomach cramps and a metallic taste in my mouth. I really wanted this to work for weight loss and digestive issues. I'm glad that it worked for so many others but it is not for me.

Pros and Cons:

No "pros" were specified in this review
Taste
Cramps
Burning throat

Bottom Line: No, I would not recommend this to a friend

Jul 2, 2020

Hi Pamela, I'm Charlie from Unify Health Labs. Thank you for taking the time to leave us a review about your experience with Multi-GI 5. I'm really sorry to hear about your frustrating experience and I would like to issue you a full refund right away. We appreciate all feedback so we can improve our ingredients and recipes in the future. Please reach out to me at Charlie@unifyhealthlabs.com so I can begin the refund process right away.

---

Advertisement

---

Dissolve Multi-Gl 5

By Rosemary B.

,

Summerville, SC

,

Jun 23, 2020
Verified Reviewer

Length of Use: Less than 3 months

Overall Experience:

I just started on my Multi-G 5 today and I found that if you use 1 scoop powder of Multi- G 5 to 2 scoop water and mix it until it together until it dissolves, then add the rest of your liquid water or juice and it will not be lumpy but smooth. Just a tip that helps me out. I can't at this time give a true rating because this is my first day. So I'll give it a 2 right now and I would have to say no because I can't recommend it right now because I don't know how it's going to help me since it's my first day. I will give a true update when I have used it for a couple of weeks to a month to see how it helps me.

Pros and Cons:

It has a pretty good taste
Be careful not to inhale the powder, it will make you squeeze

Bottom Line: No, I would not recommend this to a friend

Jun 24, 2020

Hi Rosemary, Charlie here from Unify Health Labs. Thank you for sharing that great tip! Please keep me updated on your experience as time goes on. You can reach me at charlie@unifyhealthlabs.com if you have any questions along the way!

---

Still losing weight

By Cindy C.

,

Warner Robins, GA

,

May 29, 2020
Verified Reviewer

Length of Use: Less than 3 months

Overall Experience:

I'm feeling so much better and energized! I'm still losing weight! This is a wonderful product! Thanks so much! Not so hungry anymore!

Bottom Line: Yes, I would recommend this to a friend

---

Digestive system improvement

By Richard G.

,

San Antonio, TX

,

May 28, 2020
Verified Reviewer

Overall Experience:

Since taking this product the overall condition of my digestive system has improved so much. I no longer feel the pains in my stomach area or feel the constant upset stomach I used to have and my desire for food has returned to normal. This product has excelled the results I expected to get from it. Great product.

Bottom Line: Yes, I would recommend this to a friend

---

So far, so good

By Jody R. M.

,

Bethlehem, PA

,

May 27, 2020
Verified Reviewer

Overall Experience:

I've only been taking the powder for five days, but I am totally satisfied with it. I drink my 8oz every morning and am good to go for the rest of the peppery taste but now I'm used to it. I've also noticed that my appetite is somewhat lessened, i.e. I'm not constantly feeling hungry.

Bottom Line: Yes, I would recommend this to a friend

---

Surprise, surprise, surprise

By Lydia G.

,

Richmond, VA

,

May 27, 2020
Verified Reviewer

Overall Experience:

Day 3 of taking the GI 5 I was surprised. First, it didn't taste bad at all. I noticed I was not having gas issues, my eating habits changed for the good. I regret not getting the special when offered, but it's alright. I will get another bottle one day.

Bottom Line: Yes, I would recommend this to a friend

---

Hoping to lose a few

By Melani O.

,

San Francisco, CA

,

May 26, 2020
Verified Reviewer

Overall Experience:

Today is my first day using this product. I am hoping to lose some weight with this product because I haven't had any success with dieting. In a perfect world I am able to lose weight and keep it off. I have lost weight in the past, only to gain it back plus 10 more pounds. My goal is to lose a total of 50 pounds and keep it off permanently.

Bottom Line: Yes, I would recommend this to a friend

---

Multi-GI 5

By Rebecca P.

,

Morrisville, PA

,

May 26, 2020
Verified Reviewer

Overall Experience:

I started using this product a good 3 weeks going on 4 weeks ago. I can feel the difference. My visceral body fat has gotten less. I have more energy and am sleeping much better at night. I love the taste of it. I mix with eight oz of water and have even put it in a smoothie. Delicious! Highly recommend this product.

Bottom Line: Yes, I would recommend this to a friend

---