Copper Chef Reviews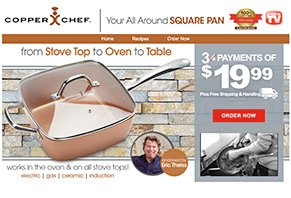 Copper Chef cookware is infused with 100% real copper for the ultimate in heat conductivity and distribution, as well as a Cerami-Tech non-stick coating.
About Copper Chef
Endorsed by Eric Theiss, Copper Chef is a 6-in-1 non-stick, no cleanup pan that works as a roasting pan, rice cooker, steamer, stock pot, wok, and baking dish.
And with its extra deep sides, Cerami-Tech technology, and copper infused coating that's heat resistant up to 850 degrees, you'll be able to take your Copper Chef from stove top, to oven, to table in a breeze. Which is why the company calls it "your all around square pan."
On top of this, the high-quality pan features induction plate channels that heat up quickly and reduce hot spots, and also allow it to work on all stovetops, whether electric, gas, ceramic, or induction.
Moving Copper Chef around will be easy too, thanks to its riveted handles and helper handle, and you won't have to worry about your family's health since the non-stick coating is PTFE and PFOA free and won't chip, peel, or flake into your food.
Then, once you're finished using the pan, it's dishwasher safe so cleanup is a snap.
This is one featured filled pan but will it really help you cook easier and healthier, or is it just priced as high as a meal cooked by a 5-star chef?
There are a lot of points to address about this pan, so let's start by looking at copper as a cooking material.
Is Copper a Good Cooking Material? What Are Some Pros & Cons?
Arguably the biggest benefit of copper cookware is that it comes with "excellent thermal conductivity." If you're not a chef, this just means that copper pans tend to heat evenly, without hot spots, and the level of heat changes almost instantly along with your burner.
Plus, there's no denying that copper cookware looks great.
But copper cookware isn't perfect. It is a highly reactive material (which is why it's so great at conducting heat), especially for "alkaline or acidic foods, which can take on a metallic taste after being cooked." In other words, you'll be ingesting copper.
Copper pots and pans are also some of the most expensive cookware you can purchase. They're labor-intensive, and will eventually corrode if they're not thoroughly cleaned and dried after each use (although Copper Chef's non-stick coating might alleviate some of this, which we'll come back to next).
Finally, remember that all copper cookware is either lined with tin or stainless steel, the latter being the preferred material due to its longevity. Unfortunately, we're not told which material Copper Chef contains.
See Also: Comparing Cookware: Stainless Steel vs. Copper
Now that you know more about the pros and cons of copper cookware, let's take a closer look at the cookware's non-stick coating.
What is Cerami-Tech Non-Stick Technology?
Non-stick cookware has been around for years (pretty much due to the invention of Teflon), although recently, manufacturers have stopped including this specific chemical since it contains Polytetrafluoroethylene (PTFE).
The problem is that, once heated to around 260 degrees, PTFE begins deteriorating and completely decomposes at temperatures above 350 degrees. Once it's airborne and inhaled, it can cause flu-like symptoms.
Similarly, perfluorooctanoic acid (PFOA) is another non-stick coating that is no longer used for the most part, since ingestion can damage hormone levels and liver function, attack the immune system, and can even lead to cancer.
Here's the catch: While it's positive that Copper Chef's non-stick coating doesn't contain these chemicals, there's essentially nothing online about Cerami-Tech, other than this brochure for a "high performance solvent free coating designed for use as a resurfacing and lining system to improve the efficiency in fluid flow environments"—which we don't think has any relation to what's contained in Copper Chef. So ultimately, we know very little about the coating.
The New Copper Chef XL Pan
The company tells us the new Copper Chef XL Pan delivers many of the same features as the original, including a PTFE and PFOA-free Cerami-Tech coating, heat resistance up to 850°, 5-layer construction, and heavy-duty design.
According to the company, the XL version also features a stainless steel induction plate that works in the oven and all stovetops, including electric, gas, ceramic, and induction.
Finally, like the original, we're told that the XL is a 6-in-1 pan that allows you to prep, cook, and serve in one large capacity family-size pan, while replacing your stock pot, rice cooker, frying pan, roasting pan, wok, and baking dish.
Given all of this, what's the main difference between the original and the new XL Pan? Basically, XL's sides are higher than the original, which the company claims provide 25% more room to cook food.
Pro tip: However, keep in mind that, because this is a vertical increase in space (versus horizontal), the XL only increases the volume of the food you're able to cook at one time—not the surface area.
In other words, XL's higher sides might come in handy if you're boiling liquids, frying, or cooking things like rice, pasta, soup/stew, etc. However, the Copper Chef XL Pan won't provide an additional cooking surface to prepare things like meats, pancakes, and so forth.
Our Copper Chef Test
For more product tests: Click here to subscribe to HighYa's YouTube channel
How Much Does The Copper Chef Cost?
Copper Chef is priced at three payments of $24.99 plus free S&H, bringing your total to $74.97. For this price, your 4-piece system includes:
9" square pan
Tempered glass lid
Steam & roast rack
Fry basket
You'll also receive a free recipe book containing over 25 recipes, as well as a lifetime guarantee, less S&H charges.
As far as the Copper Chef XL Pan goes, you'll have a couple of different purchasing options:
5 Piece Set (Includes 9.5" deep square pan, fry basket, steam and roast rack, tempered glass lid, and recipe book): $74.97, or three payments of $24.99
6 Piece Set (Includes everything above, in addition to a standard 9.5" square fry pan): $104.97, or three payments of $34.99
12 Piece Set (Includes everything above, in addition to 10" round pan, tempered glass round lid, 4 piece utensil set, and limited lifetime warranty): $149.97, or three payments of $49.99
In addition to these packages, you'll also get to choose one of three different bonuses when ordering Copper Chef XL, including the Perfect Rice Cooker, Micro Knife, or Perfect Slicer.
In order to make good on this guarantee, you'll need to call Tristar Products customer service at 973-287-5176.
Who Is Eric Theiss?
Eric Theiss has been cooking since he received his first cookbook at age 6 and has spent time working in high-end NYC restaurants, earning his wings under chef Frank Falcinelli.
Over the last several years, however, Eric has been working with QVC performing live, on-air culinary product sales. Eric was even the host of Tristar's Power Pressure Cooker XL 30-minute infomercial!
But here's the thing: Just because Mr. Theiss is endorsing the product, this doesn't necessarily mean that he uses it. In fact, as a professional chef, it's much more likely that he uses some high-end copper cookware from another manufacturer (again, as we noted in the previous section, ASOTV products don't exactly have reputations for high quality).
So, while Eric's endorsed certainly puts some star power behind Copper Chef, we don't think this should weigh heavily on your purchasing decision.
Should You Buy Copper Chef?
Taking everything we've learned here, we don't think there's necessarily anything unique about Copper Chef that you wouldn't find at a local home goods store. In fact, if you do a quick online search for "copper non-stick cookware," you'll find that you can purchase entire copper cookware sets (multiple pots and pans) for not much more than this pan.
See Also: How to Buy the Best Copper Cookware: Comparison of Top Brands
And although Copper Chef's non-stick surface can help you cook with less butter and oil, unless you're also cutting back on unhealthy ingredients in your food itself, this probably won't do much for your health.
And while the XL's higher sides could definitely come in handy, depending on what you're cooking, keep in mind that it certainly isn't unique.
Our Copper Chef Follow-Up Test
For more product tests: Click here to subscribe to HighYa's YouTube channel
---
Copper Chef lied

By Linda L.

,

Alma, AR

,

Mar 13, 2020
Verified Reviewer

Overall Experience:

My 3 Copper Chef skillets have started sticking to everything. I expected them to last longer than one year, at the cost of them! I will have to replace them. It will not be with more Copper Chef!

Bottom Line: No, I would not recommend this to a friend

---

Do not waste your time and money with Copper Chef

By Brittany V.

,

Seattle, WA

,

Oct 14, 2019
Verified Reviewer

Overall Experience:

For starters, this company SUCKS. They roped me in with a deal on 5 items...and then sent me a completely wrong order. When I tried to get in touch to tell them it took 4 emails and a phone call - and the only thing they did was send me a return label for the weird crap they sent, so I could have the privilege of repackaging it like they insist and driving it to FedEx. Only AFTER they got the incorrect stuff back would they send what I ordered. How does their mistake turn into nothing but wasted time for me?

But maybe more importantly - the products are small, too lightweight for any decent heat distribution, scratch easily, and are just generally poorly made and cheap. No serious cook would put these anywhere but the trash.

Bottom Line: No, I would not recommend this to a friend

---

Advertisement

---

Cleans easy but coating does not last and not a non-stick pan

By Tashua H.

,

Allentown, PA

,

Oct 4, 2019
Verified Reviewer

Overall Experience:

Purchased them on April 15th, 2019. We chose the 8" and 10" pack.

I thought these were non-stick but they are not. Everything sticks. HOWEVER, they clean really easy. No need to scrub. BUT the cleaning does scratch. DO NOT use a knife to slice meat in the pan and do not use any metal spoons. There is a scratch from the knife and the metal spoon for stirring is the only explanation I have as to the coating coming off the points inside the pan. I called Copper Chef to take advantage of their "lifetime guarantee" but it is bull crap. To return them and replace them you need to go to TriStar Cares.com, click on products, find pan, go to manual, look up address and how much it costs. Average cost to get a new pan is $9.00. Not much of a warranty.

Bottom Line: No, I would not recommend this to a friend

---

Love it but can't use it now

By Debbie B.

,

Georgia

,

Sep 25, 2019
Verified Reviewer

Overall Experience:

I loved my Copper Chef pan until the handle started getting so hot I couldn't touch it, got burned several times. Then steam started coming out the end of the handle. Don't know what is wrong with it. Please if you can, tell me.

Bottom Line: No, I would not recommend this to a friend

---

Advertisement

---

2 quart air fryer

By Sheri Z.

,

N. Las Vegas, NV

,

Sep 5, 2019
Verified Reviewer

Overall Experience:

I received the Copper Chef 2 quart Air Fryer as a bonus gift when I ordered the Wonder Cooker XL. I left in in the box unopened because it was supposed to be a gift for my son going away to college. Last night I opened it and it doesn't work. Digital display just flashes and beeps. I called customer service and was told I was out of luck because 90 days had passed. It was brand new - never used! They admitted it must have been a defective unit, but refused to do anything about it. My advice, NEVER buy this product for a gift because if not opened and checked out within 30 days, you're out of luck! So disappointed!

Bottom Line: No, I would not recommend this to a friend

---

Disappointed

By Donald H.

,

Iowa

,

Jul 31, 2019
Verified Reviewer

Overall Experience:

We have had our Copper Chefs for about 2 years! Loved them at first, but now I can't even flip an egg without breaking it. The large pan when I fry something with oil and butter I have to let it soak for hours and still have to scrub hard to get it clean! My husband bought these for me as a surprise, and I loved them! As time goes by, they are not holding up, if this is the norm, it's ok, just thought it was lifetime!

Bottom Line: No, I would not recommend this to a friend

---

Customer care

By Valerie H.

,

Florida

,

May 10, 2019
Verified Reviewer

Overall Experience:

I have purchased many things from Copper Chef, they have a site that if you purchase 5 items you get everything for $8 and free shipping. So I have just about all of what they make. I will say they are light weight, and I have had good luck with all but one a small fry pan that everything sticks to it and it is a nightmare. I called customer service thinking that they would stand behind their product this is the answer I got. Send back the pan along with a check or money order for $19.95 when I said why the check and if I was to send one I only paid $8. She came back and said to send a check or money order for $9.95 I asked what for, I had already paid for the reject pan and she said for the shipping. They do not have good customer service, I should not be paying anything for the pan is defective, I have spent more than $300 with them. I was thinking of gifts etc. I do not feel they are a fair company to do business with and will tell many of my experience.

Bottom Line: No, I would not recommend this to a friend

---

I have been trying to contact them

By Cindy Z.

,

Garfield, MN

,

Apr 29, 2019
Verified Reviewer

Overall Experience:

I have been trying to contact them because the order I received was not my order. The muffin pans that I ordered I never received. I also received 5 loaf pans that I didn't order. Please contact me or send me my muffin pans .

I wouldn't recommend this to anyone until I get my order received correctly, thank you so much. Please send me the muffin pans and let me know what I should do with the 5 loaf pans.

Bottom Line: No, I would not recommend this to a friend

---

Sticking and too hot to handle!

By Drema C.

,

West Virginia

,

Mar 27, 2019
Verified Reviewer

Overall Experience:

I first bought Copper Chef and loved it...but after a few uses and washing, I noticed when I put the kettle or skillet on the burner water was on my glass top stove. I needed to remove the kettle that had spaghetti cooking to put it in a drainer, burned my hand the handle was so hot! The skillet is the same way. Water, when washing, is getting around where the handle is bolted on the pan. Of course, the water gets hot in the handle and it burns you! Not counting water getting all over the stove top and all the copper chipping off. I use nothing but wooden or soft rubber utensils! I have the deep kettle, two large, and one small skillet and two lids. Now...where is the WARRANTY?

Bottom Line: No, I would not recommend this to a friend

---

NON-STICK? Unbelievable statement!

By JoanieQ A.

,

California

,

Mar 26, 2019
Verified Reviewer

Overall Experience:

After trying this pan without any oil I gave up and began having to use oil. And today, as my pancake now sits in the oven drenched in a bunch of oil, with the pancake STILL sticking to the pan, put in the oven to maybe be able to brown the top of the pancake and then maybe scrape out of the pan. Sounds really enticing for breakfast. That this is reviewed as nonstick is total horse manure.

Bottom Line: No, I would not recommend this to a friend

---

Poor customer service!

By Nancy K.

,

Moore, OK

,

Mar 13, 2019
Verified Reviewer

Overall Experience:

I initially ordered these pans, then decided against it. They should have canceled the order, but two weeks later shipped it out anyhow. I was not home when it was delivered, so had to call FedEx to pick it back up unopened. Weeks later, I still don't have a refund and they claim they haven't received it back. I don't have $48 to throw away!

Bottom Line: No, I would not recommend this to a friend

---