Cosmedique All In One Anti-Aging Treatment
Claimed This company has claimed this profile, is getting alerted on any new customer reviews entering this page, and may engage in dialogue with its customers to address their matters.

Companies cannot pay money or provide goods in order to remove or alter customer reviews.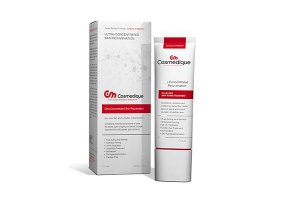 Cosmedique is a nutrient-rich skin cream that promises to promote anti-aging benefits comparable to plastic surgery by allowing ultra-fine particles to penetrate through your skin.
---
Overall Experience:

Was attracted by a trial of Singapore dollars $28, and I applied. And now after one month, there is a charge to my Visa card of $256!

I am going to make a police report! If Cosmedique doesn't pay me back my money!

How unscrupulous to con money using such lowly tricks! I won't hesitate to take this cheat to court and make it known to the public, to prevent more victims like myself!

I will post on Facebook and Instagram of such dirty tricks!

Crooks!

I am totally shocked, beyond words!

Bottom Line: No, I would not recommend this to a friend

Oct 18, 2019

Hello Catherine,

Here at Cosmedique we offer both regular purchases as well as 15 & 30 day trial offers for those that wish to partake in a try before you buy option.

For those that opt to order a trial offer, all of the terms of our promotion are available on our website check out page for the customer's review prior to placing their order. They are also reiterated on the customer's order confirmation email. We encourage and hope that a customer will read the terms of their order prior to placing it.

First orders with our company on the trial offer, come with both the trial time as well as a concurrent 100-day money-back guarantee.

We encourage all potential customers to read what they are ordering from any company. This is why we offer both regular purchases as well as trial offers. And again, a first order with our company comes with a 100-day money-back guarantee whether you opt for the trial offer or purchase the product outright.

I do show we emailed you return instructions today and we're more than happy to issue your refund upon receipt of your return.

---

Skin Repair Cosmedique trial

By Jane L.

,

Singapore

,

Nov 26, 2019
Verified Reviewer

Overall Experience:

A rude shock when I see my bill of $228.35 for USD162.47 charged for a trial offered online on the 23rd of October.

If the company is not going to explain or refund my money, I will not hesitate to bring this matter to our small claim court!

And honestly, I only used a couple of times and see not much effect on my skin. Therefore I am not satisfied being charged for this huge amount. SERIOUSLY, to pay $228.35?

Bottom Line: No, I would not recommend this to a friend

---

Scam! Beware!

By Shmuel S.

,

Israel

,

Jan 12, 2020
Verified Reviewer

Overall Experience:

Simple scam! They will charge you again and again! Anyway, the product is doing you nothing good! Are you ready to pay thousands of dollars with no way to stop them from charging you? Rating zero!

Bottom Line: No, I would not recommend this to a friend

---

Scam

By Jodi W.

,

Hong Kong, China

,

Mar 19, 2020
Verified Reviewer

Overall Experience:

I bought a "trial" of the cream product paying just for postage (as advertised) of $10.99. I was charged USD187.50 a month later. The company was responsive by email but not helpful. They just pointed out that somewhere in the 16 pages of terms and conditions (which were on a separate tab to the offer) that I'd agreed to this.

I'm disputing the charge through my bank and I canceled the card so no further charges could be made. I was offered an option to send the product back for a partial refund. On questioning customer service they admitted to the obvious fact that the partially used tube of cream would be tossed out. Which begs the question why send so much cream for a "trial" and why ask people to send something by expensive track and sign post when it's just going to be tossed. Additionally, the address given brings up two possible destinations when you search on Google Maps. One is not a shop front, just a block of apartments so getting a signee will (predictably) prove difficult. One does not get the partial refund if the partially used tube of cream doesn't arrive safely. A total trap. Ridiculous.

Bottom Line: No, I would not recommend this to a friend

---

Advertisement

---

Wrinkle Cream

By Anne Marie R.

,

Benidorm, Spain

,

Apr 24, 2020
Verified Reviewer

Overall Experience:

I ordered the cream, the free trial, and paid € 14 for the postage. They have just charged me €177.89. I didn t know they were going to charge me anything. It was a free trial.

It is a scam. l have been on to my bank who are seeing into it.

I would never buy anything from them again.

Bottom Line: No, I would not recommend this to a friend

---