Diurex Reviews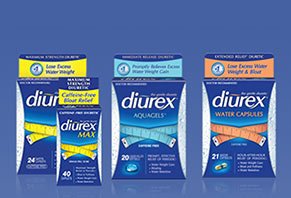 Using FDA recognized ingredients like Pamabrom or caffeine, Diurex's six-formula lineup of diuretics promise to reduce water weight and relieve bloating.
About Diurex
With their tagline "drop the water," Diurex manufactures a line of over-the-counter diuretics that promise to relieve periodic water-weight gain, bloating, and puffiness.
Some of Diurex's formulas also promise to effectively address menstrual discomfort, mild pain, fatigue, and more.
In fact, using only FDA recognized, safe, and effective ingredients, the company claims that Diurex is the #1 best-selling diuretic brand that can help ensure "you're always at your best."
Just what is a diuretic, though? Can they help relieve water-weight gain? Specifically, is Diurex effective and safe for long-term use? Is there any competition?
Let's explore all of these important questions here, starting with how diuretics work.
Your Diuretics Quick Reference
Diuretics work by increasing the amount of salt released by your kidneys, which in turn causes you to pass an increased volume of urine. Diuretics also help relax blood vessels, thereby improving blood flow and lowering blood pressure.
From a medical perspective, diuretics are prescribed for a variety of conditions, including high blood pressure, low potassium, pulmonary edema, renal failure, kidney stones, excess pressure inside the skull, kidney and liver disease, and more.
From a non-medical perspective, over-the-counter diuretics like Diurex are often used to reduce bloating and water-related swelling. They're also often implemented by bodybuilders to quickly drop water weight and improve muscle visibility before competitions.
Now, it's important to note that there isn't just one type of diuretic. For example, loop diuretics (where Diurex's formulas are classified) increase the amount of water excreted in urine, while osmotic diuretics inhibit the reabsorption of sodium and water.
Related: How to Buy the Right Sports Drinks and Avoid Side Effects
Potassium-sparing diuretics work their magic without causing the body to lose any potassium, while thiazides cause water to be retained in the urine. In fact, even caffeine is considered a diuretic, which we'll talk more about shortly.
With this foundation in place, let's talk about Diurex's different diuretic formulations.
How Many Different Products Does Diurex Offer? How Do They Work?
Overall, there are six different formulations in Diurex's lineup.
Diurex Max
Using 50mg of Pamabrom (the trade name for 8-bromotheophylline), Diurex's Max's water caplets are "specially coated" to make swallowing easier and promise to dissolve quickly and go to work immediately.
As the name implies, this is Diurex's maximum strength formula (no caffeine) to relieve bloating and puffiness, water retention, swelling, and related discomfort.
Diurex recommends taking one caplet of Max after breakfast with a full glass of water, not to exceed four caplets in 24 hours. For more pronounced relief, you can also begin taking Diurex 5-6 days before the onset of your period.
Diurex Aquagels
Similar to Max, Diurex's maximum strength Aquagels contain no caffeine, although its 50mg of solubilized Pamabrom promises to immediate release into the body and "provide prompt and gentle bloat relief."
Diurex Water Capsules
Again, Diurex's Water Capsules feature the same Pamabrom active ingredient (50mg) as the other two formulations above.
This time, however, the ingredient is contained inside hundreds of "tiny, quick dissolving, medicated beads" that deliver extended release relief for up to six hours. There is no caffeine content.
Diurex Water Pills
Instead of using Pamabrom as a diuretic, Diurex's Water Pills feature 50mg of caffeine, along with 162.5mg of magnesium salicylate, a pain reliever intended to address minor menstrual pain and discomfort, including "cramps, spasms, backache, headache, muscular aches, and breast tenderness."
Diurex Ultra
The maximum strength Ultra Water Pill formula is a caffeine pill. Each two-pill dose contains 100mg of caffeine anhydrous intended to relieve water-weight gain, swelling, fatigue, and more.
Diurex Ultimate
Taking a look at Diurex's Ultimate label, it almost appears identical to Ultra, with the same 100mg of caffeine anhydrous.
However, we're told it also contains BioBoost, although no additional information is provided. Searching online for this term, we encountered a cannabidiol-based ingredient, a biofuel substance, fertilizer, and more.
Unfortunately, it isn't made clear exactly what's contained in Ultimate.
Will any of these ingredients cause unwanted side effects?
Will Diurex's Ingredients Cause Any Side Effects?
According to Drugs.com, when taken as directed, Pamabrom should be safe for use for most individuals. In some instances, it may cause gold-colored urine, although they note this isn't a medical concern.
50mg of caffeine is about the same amount contained in a cup of coffee, although if you're especially sensitive to stimulants, this may cause side effects like nervousness, jitteriness, upset stomach, and insomnia.
The company notes that you shouldn't use any Diurex formulation for more than 10 consecutive days without consulting with your physician and that you should drink six to eight glasses of water each day.
You'll also want to speak with your physician before taking a diuretic if you've been diagnosed with kidney disease, heart disease, or high blood pressure.
How Much Does Diurex Cost?
Diurex's formulations are available through many national retailers like Walmart, Walgreens, CVS, Target, and Rite Aid, and are priced as follows (depending on the retailer and the quantity):
Diurex Max: $7 - $10
Diurex Aquagels: $5.50 - $9.75
Diurex Water Capsules: $4.60 - $7.50
Diurex Water Pills: $4.50 - $6
Diurex Ultra: $8 - $12
Diurex Ultimate: $5.50 - $9.75
At the time of our research, Diurex offered a $1 off coupon that could be printed directly from your computer.
Refund details depend on where you purchase Diurex.
If you have questions, an Alva-Amco representative can be reached at 855-467-7837.
What Are Customers Saying About Diurex In Their Reviews?
Considering the length of time Diurex has been on the market and its popularity, we found hundreds of online reviews for their different formulations (with the exception of Ultimate, which doesn't appear to be currently available).
Between Amazon, Walmart, and Walgreens, Diurex's Water Pills had an average rating of about 4 stars, with most compliments referencing effective results (e.g. reduced water weight, bloating, and swelling).
However, several customers claimed Water Pills didn't work as advertised, while a couple of others complained that the caffeine made them jittery.
Diurex's Water Capsules, Max, Aquagels, and Ultra formulations also had similar ratings and feedback (with the exception of jitteriness in caffeine-free versions).
From a company perspective, Diurex is manufactured by Alva-Amco, based out of Niles, IL, who specializes in a variety of OTC treatments for everything from acne to cold sores.
Which Diurex Formula Is Right for You?
Based on the length of time the Diurex brand has been around, the number of different formulations they offer, and the high marks given by most customers, it seems probable that their OTC products can realistically help relieve water-weight gain and associated side effects like bloating and swelling.
On top of this, all of Diurex's formulas seems reasonably priced (and available locally!), so you won't spend a lot of money, wait for your order to be delivered, or pay S&H charges (including return shipping if you're dissatisfied).
However, it's important to note that caffeine generally isn't considered as effective a diuretic as Pamabrom, so if you're looking for maximum relief (or are especially sensitive to stimulants), you might want to look for a caffeine-free formulation.
And it goes without saying that, just like any nutritional supplement or other OTC treatment, you'll certainly want to speak with your doctor before purchasing a box of Diurex.