FootMedix by Dermal Medix
Claimed This company has claimed this profile, is getting alerted on any new customer reviews entering this page, and may engage in dialogue with its customers to address their matters.

Companies cannot pay money or provide goods in order to remove or alter customer reviews.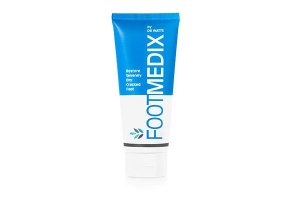 FootMedix is a medically formulated cream from Dermal Medix that is designed to restore and protect your dry, cracked, and painful feet.
---
This company is actively collecting reviews from its customers. All reviews submitted are subject to moderation and approval to ensure they meet our

Review Guidelines

.

FootMedix does as advertised

By Lois M.

,

Anthem, AZ

,

Oct 18, 2018
Verified Reviewer

Overall Experience:

I have VERY dry flaky feet. Regular super moisturizing hand lotion hasn't helped treat my feet. I saw an ad for FootMedix and decided to try it. Immediately I could feel the skin on my feet "relax." In a couple of days, I could see flakiness start peeling off. I could start scraping off the peeling skin and getting to see the REAL skin underneath. After using it for a month, there is very little peeling taking place. No more grey awful looking skin but nice pink skin. I use it every day and look forward to seeing normal skin from now on.

Thank you for creating this product. It does what the ads say about it. By the way, I'm 81 years old and have had foot skin problems for many years, so this product is a Godsend for me!

Bottom Line: Yes, I would recommend this to a friend

---

Good results in one month

By Kathleen W.

,

Waco, TX

,

Oct 16, 2018
Verified Reviewer

Overall Experience:

I thought about ordering this for a few days before ordering because the price was a little high for my budget. I have tried a lot of things including pedicures, Vaseline, even vinegar soaks and filing my feet. Also, the two places that I had broken dry skin is no longer broken and is also no longer as dry as it was. The cracks are hardly visible and definitely not cracks anymore.

I have been applying DMX Foot Medix each night for a little over one month. My feet are considerably softer and smoother without any other action by me. I feel that I will need another month, maybe two, before all dry hard skin is totally gone with only soft skin remaining. I have been telling my friends and family about this. It truly is different than any other product that I have used on my feet. So far, none of the dry skin that has disappeared has returned, and I am so very thankful for that.

My only complaint is that it comes out of the tube very slowly and requires you to squeeze and push it really hard to get enough on your hand to apply. Once it is out of the tube, it applies easily and is absorbed quickly. It used to hurt to walk because of the cracks, and now I do not have to apply bandages. For the first time in many years, my feet are not dry and hard. It is hard to believe this, but FootMedix by DermalMedix really does work and is worth every penny.

Bottom Line: Yes, I would recommend this to a friend

---

New feet.

By Roger S.

,

Oregon, IL

,

Oct 16, 2018
Verified Reviewer

Overall Experience:

The FootMedix has turned my old, cracked and dry 71-year-old feet into nice, soft, young looking and feeling feet.

No more cracks to super glue.

I will be recommending FootMedix is everyone I know. Thanks to Dr. Watts.

Bottom Line: Yes, I would recommend this to a friend

---

Works so fast

By Yvonne P.

,

Hemet, CA

,

Oct 16, 2018
Verified Reviewer

Overall Experience:

I must confess that I have mistreated my feet over my almost 75 years. My feet were terribly calloused, and no matter what I did, I could never get them smooth and pink.

A month ago, when I received my order, I began to use the cream several times a day. I was so surprised when I cleaned my feet the dead skin just sloughed off. Now once a day is all I need to keep them good as new.

Before two tubes of FootMedix were gone, my feet looked like they belonged to someone else. Now the skin on the soles of my feet is smooth and supple, and my heels are no longer cracked and rough. I'm very pleased with the results. Thank you, Dr. Watts.

Bottom Line: Yes, I would recommend this to a friend

---

Advertisement

---

Awesome

By Cindy K.

,

South Bend, IN

,

Oct 16, 2018
Verified Reviewer

Overall Experience:

I have eczema and I have tried everything! This product is fantastic! My heels were so dry and cracked all the time, and it is totally gone. I have told several others about this product. I am beyond pleased with my results. I have dealt with this since I was 2 years old and it still amazes me how well this has worked. I am so glad I took a chance and ordered it. Thank you.

Bottom Line: Yes, I would recommend this to a friend

---

Overall Experience:

Makes the feet feel softer and smoother with the cuticles turning soft keeping them from hanging in your soaks. A very subtle smell of essential oils blend. Non-greasy feel worked wonders on my wife's desert cracked feet.

Bottom Line: Yes, I would recommend this to a friend

---

FootMedix

By Elinor A.

,

Panania, Australia

,

Oct 13, 2018
Verified Reviewer

Overall Experience:

I am very pleased with the product. I have tried for years to get rid of the cracked heels and other rough spots on my feet that FootMedix has done in only a few weeks. I wear open shoes a lot and now will not be embarrassed to do so.

I will tell my friends and family about trying it.

Bottom Line: Yes, I would recommend this to a friend

---

Good so far

By Don D.

,

Longview, TX

,

Oct 9, 2018
Verified Reviewer

Overall Experience:

I have seen an improvement in the cracks on the bottom of my feet, and I have also seen the rough place on the hills start to smooth out and disappear. I ordered a six-month supply and have almost used one tube of the product.

Bottom Line: Yes, I would recommend this to a friend

---

Excellent cream

By Masamizu K.

,

Honolulu, HI

,

Oct 5, 2018
Verified Reviewer

Overall Experience:

My name is Masamizu Kitajima, and I purchased this FootMedix cream for my partner Dorothy Ito, who has been having blood circulation and peeling skin problems on both feet since she had an open heart surgical procedure performed in August 2017. The skin on her feet was very dry, cracked, dark gray, and peeling. FootMedix has been very effective in restoring the skin and circulation on my partner's feet. After using FootMedix for only a week, the color of both feet has returned to its normal flesh color from a dull gray color. During the second week, the skin has stopped peeling, and they are now very smooth and soft. There are a few spots that appear to have hard spots, but they are getting smaller and disappearing. I apply the cream to her foot every day, and I'm amazed at how well this cream works. We have tried using several other skin softening creams but have not had the results we have with FootMedix. Thanks to FootMedix she is happy to wear her open sandal which she can show her feet to everyone.

Bottom Line: Yes, I would recommend this to a friend

---

Feet improved

By Julia R.

,

Miamisburg, OH

,

Oct 1, 2018
Verified Reviewer

Overall Experience:

I have been using it on both my mother's and my feet. Our feet are much improved over what they used to be. The cracks on both of our feet are gone, and the dry skin is gone as well. For myself, my feet actually feel warmer than they used to; they used to feel cold, but now they actually feel warmer than the rest of my body.

Bottom Line: Yes, I would recommend this to a friend

---

Experience for a Family Physician

By Royal G.

,

St. Pete Beach, FL

,

Sep 28, 2018
Verified Reviewer

Overall Experience:

As a family physician for the last 50 years (yes my 50th-year medical school class reunion is next month), I have tried many things over the years since the onset my Xerosis in Vietnam in 1970.

I retired from the USAF in 2005 after a 43-year military career.

I worked as both a flight surgeon and family medicine physician and ended as Chief of Medical Staff for the last 5 years at Holloman AFB, New Mexico (talk about dry climate!).

I had used Keralac Ointment for the last 10 years, which worked fairly well with weekly sanding with a palm sander until the price got out of sight.

Now with FootMedix, I can forget the palm sander and as well as the heel cracking. I just have to remember to use it.

Bottom Line: Yes, I would recommend this to a friend

---