Groove Life Silicone Ring Reviews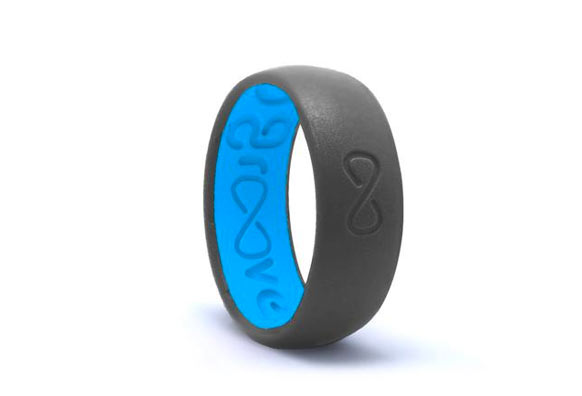 Groove Life is an Alaska-based company who sells $29.95 silicone rings that come with a lifetime warranty and a smooth surface the company says provides excellent comfort and breathability.
What Is Groove Life Silicone Ring?
In Sept. 2016, ESPN.com wrote a story about how NFL players were jumping on the latest jewelry trend: silicone rings.
"There's the convenience factor of never having to remove the (silicone) ring to play in games or lift weights," reporter Michael Rothstein wrote. "There's also safety – a broken ring finger could become a big issue if the metal ring has to be cut off."
So, when a PR person pitched us Groove Life, the silicone ring of choice for Los Angeles Chargers quarterback Philip Rivers, we happily accepted a test ring as part of our research for this review.
Groove Life, based in Soldotna, Alaska, was launched in 2015 after founder Peter Goodwin was pretty much fed up with the options he had for silicone rings. You see, Peter ran a lodge in Alsworth, Alaska. His weekly schedule included guiding, fishing trips, working on boats and constantly putting his hands in water.
"With him being married, he wore a silicone wedding band to work," Groove Life Sales Manager Dillon Jones told us during a phone interview. "He wore the silicone ring and, after a short time, he realized his finger was sore and there was a lot of moisture under the ring. He ordered a bigger size and found that the ring fit sloppy or it would just fall off."
Dissatisfied with what was on the market, Goodwin decided to start his own company.
"He found a problem and saw that he could make it better, so he began the process of creating the Groove Life silicone ring," Jones said. "He worked for eight months to perfect the molds, make sure the ring was breathable and all the right details were fine tuned."
Groove Life rings are $29.95 and cost $1.99 to ship.
While the story behind Groove Life silicone rings is a good one, we're most concerned about how the ring is made, how it worked when we used it and the pros and cons of silicone rings.
We're going to cover each of those three areas in this review.
How the Groove Life Silicone Ring Is Manufactured
One of the first things we read on the informational insert in our Groove Life delivery was that the rings have a lifetime guarantee. This made it sound like the rings were high-quality, but we weren't convinced, so we asked Jones exactly what type of silicone the company used for their rings.
"We use a high-grade, medical-grade silicone. Why do we use that material? It can be molded into whatever you want to," he said. "This type of silicone not only keeps its structure and can stretch out, but it also keeps the ring soft."
The high-grade silicone is actually injected into two molds that are merged together to create the Groove Ring's design.
Many manufacturers in the silicone ring industry use a method called compression, in which they press the liquified silicone into a shape.
The drawback to this method, Jones said, is that the rings tend to get mold lines, irregularities and rougher surface.
Groove Life's two-part liquid injection method creates a smooth surface, low profile and flawless contours that feel good on the finger, he said.
We couldn't verify how compressed silicone rings felt but, based on our experience with Groove Life's product, the ring was smooth and there didn't appear to be any surface flaws or hard edges.
The Groove Life Warranty
According to Jones, making a warranty claim is as simple as sending a photo of your torn ring. He told us Groove Life will track down your order, process the claim and then send you your new ring.
How the Groove Life Silicone Ring Worked When We Used It
For our testing period, Groove Life sent us a 4"x 6" silver tin known as a "Try-On Package", which we thought was an interesting concept. Groove Life sends these 5-ring sets out to customers who want to try several different sizes of rings to find the right fit.
Once you choose the rings you want – you can pick all, some or none of them – you keep (and pay for) the ones you liked and pay to ship the rest back to Groove Life.
If you're already confident in the ring size you want, you can buy a single ring from their site and it's shipped to you in a small black tin that doubles as a storage case for your metal wedding band.
Groove Life sells Original and Thin models of their rings. There are several different color combinations.
You also have the option of customizing a ring for $10 more, which gives you the chance to add a monogram, name or image to the ring as well as choose the text color and one of three different font styles.
Our rings were Originals in light grey/orange, dark grey/turquoise, turquoise/yellow, black/red and dark green/orange. The first color represents the outer band and the second color is the inner band.
Each ring has a cutout design on the inner band intended to wick away moisture and make the ring breathable.
I wore my ring for five days and noticed that my finger was considerably less sweaty than it was when I wore my thick titanium wedding band.
The ring was soft to the touch, lightweight and, most of the time, I forgot I was even wearing it. However, this isn't out of the ordinary. Even when I wear my titanium wedding band, I hardly know it's there.
Overall, my experience with the Groove Life ring was positive. However, I'd like to reiterate that I haven't tried silicone rings from other companies.
Which Groove Life Customers Are Most Vocal About Their Support of Silicone Rings?
We asked Jones who the company's most vocal customers are because we wanted to get a good idea of who might like switching out their metal band for a silicone ring.
He told us that athletes are some of the most vocal proponents of the rings. Football players, in particular, like wearing them because they provide a simple alternative to either not wearing a ring at all or wrapping athletic tape over a metal ring to prevent snags.
Another group of consumers who tend to like the rings is those who've had traumatic experiences with metal rings.
I know it sounds a bit dramatic, but those who spend a lot of time working with their hands put themselves at risk of ring avulsion.
Ring avulsion is a medical way of describing the way skin is ripped off a finger when a metal ring catches on something and the body pulls the finger away leaving the ring and the skin detached from the finger.
The most famous example of this may be Jimmy Fallon, who tripped on a rug and caught himself on a countertop with his metal ring. The force of the fall, however, caused the ring to shear off the skin above it and leave the top of his finger without any skin.
According to medical website Ortho Bullets, there are about 150,000 cases of ring avulsion per year.
So, as you can see, those who've suffered through ring avulsion are quite happy to wear a silicone ring.
Pros of a Silicone Ring
There are several advantages to wearing silicone rings:
Avoiding Injury: Perhaps the biggest benefit of a silicone ring is that you avoid ring avulsion. Jones said that, should the silicone ring get caught during a fall, the force of the fall will tear the ring and eliminate any possibility of avulsion.

Can Stretch Over Knuckles: Another benefit of silicone rings is their flexibility. For example, if you have big knuckles, you have to buy a bigger ring to get it over your knuckle. Once you get it past the knuckle, your finger slims down and you end up with a loose fit. Silicone rings can stretch over the knuckle and provide a tight fit once it gets down to the base of the finger.

Cost-Effective: At $29.95, Groove Life rings aren't the cheapest in the silicone-ring market (a popular competitor has rings for $24.95), but their lifetime warranty is an excellent perk that means you can get some good mileage out of the ring.

Preserves Your Wedding Band: Depending on the type of wedding band you bought, using a silicone ring when you work can save your metal band from scratches and dents.
Cons of Silicone Rings
There are, in our opinion, several clear downsides to silicone rings:
Losing the Investment on Your Wedding Band: A 2013 Forbes article noted that surveys indicated men spent an average of $572 on their wedding ring. If you switch to a silicone ring, then that $572 becomes an idle investment you only use on special occasions.

Very Informal: Silicone rings can serve many different purposes, but style isn't one of them. Gold, tungsten, titanium and carbon fiber rings add an element of formality to your appearance.

They Don't Last Forever: Warranty or not, your silicone ring isn't going to last you a lifetime, whereas a gold band will, barring drastic changes to your ring size, will stay with you for the rest of your life.

The Wedding Ceremony: Another drawback to the silicone ring is a lack of sentimentality. Your silicone band most likely wasn't the one your husband or wife gave you on your wedding day.
Who Is the Groove Ring Good For?
Based on the pros and cons listed above, we believe Groove Life silicone rings are good for someone whose career and hobbies put their ring or fingers at risk of permanent damage and for those who've dealt with ring avulsion or ring-induced callouses.
The Final Word: A Good Alternative for the Right Person
My experience with Groove Life's silicone rings was a positive one. I enjoyed the breathability and texture of their rings, two things Jones said set their product apart from the competition.
However, I can't say for sure the Groove Life performs any better or worse than the competition since I haven't tried competing silicone rings.
If you're unsure about whether or not you'll enjoy Groove Life's silicone rings, ask for the Try-On Package. If they don't work out, the cost to you is the $1.99 you paid to ship them to you and the $3-4 it will cost to send them back.
Very quick and helpful with everything

By Joshua M.

,

Augusta, GA

,

Apr 9, 2020
Verified Reviewer

The rings I've ordered from y'all always ship and come in on time, which isn't the norm for a lot of companies! The return process was very easy and quick! Great help and assistance!

Bottom Line: Yes, I would recommend this to a friend

---

Great product

By Jaye C.

,

Mountain View, AR

,

Apr 9, 2020
Verified Reviewer

My Groove Life ring broke while I was stacking wood and contacted GL and they readily exchanged it for me per lifetime warranty! Awesome customer service as well as an awesome product!

Bottom Line: Yes, I would recommend this to a friend

---

Advertisement

---

Love their products!

By Justin G.

,

Elma, WA

,

Apr 8, 2020
Verified Reviewer

I have had a great experience with this company. I have bought 4 different rings from them and each one has been a quality product, my wife and I both love our rings because they let us show our commitment to each other while not getting in the way of our active lifestyle. Customer service has always been prompt and helpful!

Bottom Line: Yes, I would recommend this to a friend

---

Above and beyond

By Lance H.

,

Raleigh, NC

,

Apr 8, 2020
Verified Reviewer

I am getting married in two months. My fiancé and I both bought "fancy" wedding bands, but I decided to buy a silicone ring for work (I am a QC Representative for a concrete company). I decided on and purchased a Groove ring after watching their entertaining YouTube ads. The lifetime warranty was also a plus. Not only did my custom band and engraved box come WELL WITHIN the "5 business days" period, but imagine my surprise when I received TWO bands and engraved boxes. I immediately reached out to Groove rings to ask about returning one I did not order. Their response? Keep it on us. Are you SERIOUS? Not many companies would allow you to KEEP extra product, much less with a joyful response. You WILL continue to get my business, and I WILL go out of my way to share your company with others.

Bottom Line: Yes, I would recommend this to a friend

---

Advertisement

---

WOW

By Kaylee K.

,

Texarkana, AR

,

Apr 6, 2020
Verified Reviewer

Always quick to respond to emails and will even email back late at night and on the weekend. We have received two replacement rings with no hassle. My husband is a big fan of his ring, and we recommend Groove Life to anyone looking for tough silicone rings that won't dry out your finger!

Bottom Line: Yes, I would recommend this to a friend

---

My husband can FINALLY wear a ring

By Rhonda M.

,

Texas

,

Apr 6, 2020
Verified Reviewer

My husband and I have been married for over 48 years.

The first 47 were without a wedding ring. Mike was a paratrooper in the Army. After getting out, he was a diesel mechanic and worked on our ranch. Finally, a ring that he can wear and not worry about getting a finger cut off. Our five children are happy that we are married! Rings are awesome! Warranty even better!

Bottom Line: Yes, I would recommend this to a friend

---

Great ring. Safe to wear at work.

By Angela C.

,

West Virginia

,

Apr 4, 2020
Verified Reviewer

Very great ring. Thank you Groove for your great customer service with my issue.

I am very pleased with the ring, it is very well made and great for work wear. Would definitely reccomend!

Bottom Line: Yes, I would recommend this to a friend

---

Great customer service

By Corey M.

,

Gainesville, GA

,

Apr 2, 2020
Verified Reviewer

I've ordered both rings and watch bands. First ring order, I got the wrong size, and second watch and order, I was not happy with the band I'd selected. With both, customer service was extremely nice and responsive, addressing my concerns without question. I believe Christy was involved in both. Great job Christy!

Bottom Line: Yes, I would recommend this to a friend

---

Up-selling?

By Brendan M.

,

Richmond, VA

,

Apr 1, 2020
Verified Reviewer

Purchased the Zeus ring, which lasted a few months before the outer black silicone layer began to rub away and expose the inner layer.

Item cost me almost $70 out of pocket.

Advertise lifetime warranty and will replace at no additional costs, however, first try to upsell you?

Bottom Line: No, I would not recommend this to a friend

---

Warranty claim

By Todd F.

,

Wisconsin Rapids, WI

,

Apr 1, 2020
Verified Reviewer

So I ordered a ring from you guys last July'ish. I got married to the love of my life in August of 2019. A couple of weeks ago I chatted with you guys on the website because my ring is starting to discolor. I sent some photos via the website and a claim was made. I was told to pick out any ring so my wife and I decided on one. The ring came in the mail and it didn't fit. Too big. I have to be honest, I was angry! So I got back on the website and chatted with someone again. They apologized, showed me how to find the stamped size on the ring. It was an 11 vs. a 10. Like a good company you guys are taking care of the mistake like you should. But what you don't understand is how important it is to me that this should've been done right the first time. The important thing is it's being a dressed. We'll find out when the ring comes next week.

For these reasons, I can only rate you a 4/5.

Bottom Line: Yes, I would recommend this to a friend

---

Replacement ring

By Mary P.

,

Crowley, TX

,

Mar 31, 2020
Verified Reviewer

I can't say that enough about how impressed I am with your level of customer service. My initial order, due to an error on my part, was the wrong size. You made the return process incredibly easy. I reordered the correct size and it arrived today. You answer the very email promptly, and I always felt like you genuinely wanted to resolve my issues. You guys are the best! Other companies can definitely take a page or two from your customer service book. Thank you.

Bottom Line: Yes, I would recommend this to a friend

---