Gundry MD Dark Spot Diminisher
Claimed This company has claimed this profile, is getting alerted on any new customer reviews entering this page, and may engage in dialogue with its customers to address their matters.

Companies cannot pay money or provide goods in order to remove or alter customer reviews.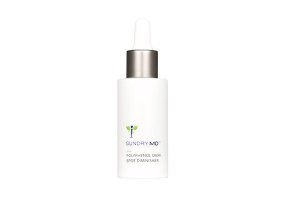 The Dark Spot Diminisher is a skin serum that claims to use polyphenols and other beneficial ingredients to even out your skin tone and fade dark spots. Customer reviews indicate it works as described, and the ingredients are mild enough for most skin types.
---
This company is actively collecting reviews from its customers. All reviews submitted are subject to moderation and approval to ensure they meet our

Review Guidelines

.

Overall Experience:

I have tried a lot of products. I'm 43 years old and have very dark spots on my face. Working in the HR profession, it was embarrassing when I would meet with colleagues. I have been using the Dark Spot Diminisher for about a month now and have noticed a big change in my face. My face looks lighter, and I have started getting comments from my friends asking if I have changed my makeup. I tell them what I'm using and they tell me to keep it up. I will be using this product as long as they keep producing.

Bottom Line: Yes, I would recommend this to a friend

---

I'm excited to see more results

By Eve Riley

,

Snohomish, WA

,

Oct 13, 2017
Verified Reviewer

Overall Experience:

I have been using the Dark Spot Diminisher for just about a month and have already noticed a reduction of my melasma spots. I am taking weekly photos in order to document the progress. I didn't have high hopes at first because I have tried everything else! If you have suffered from melasma, you will understand how demoralizing it is to look in the mirror and see those brown pattern across your face. The Dark Spot Diminisher is the first product that has actually helped fade them, and I am excited to see how far it can go!

The best part is that it doesn't cause any dryness or peeling, so you know it is changing the spots from within, not just taking away external layers.

Bottom Line: Yes, I would recommend this to a friend

---

Haven't had my bottles very long. Working great.

Overall Experience:

I haven't had the product very long. I use it every day. I am already seeing results. I have people noticing how nice my skin is looking. I am 74 and have a tendency to freckle. I have some patches that are darker than the rest. They are FADING! I gave some of the product to my Mom. She is 95 years old and blonde. She had a large dark patch on one cheek. It is fading also. She is thrilled.

I am very happy I found this product. Thank you.

Bottom Line: Yes, I would recommend this to a friend

---

The Spot Diminisher is an age diminisher! Nice surprise!

By Kaarin Soma

,

Houston, TX

,

Oct 17, 2017
Verified Reviewer

Overall Experience:

At age 73, my skin has always been pretty fair, but after two weeks or so of the Dark Spot Diminisher, I noticed a much more evenness of skin tone on my face, and the dark spots on the left side of my face (probably from sun through the car window when driving) seem to have disappeared. I was surprised that the evenness of skin tone would result in such a change in my appearance. I actually bought the product to diminish the dark spots on the top of my hands so that when I meet up with my high school classmates next summer (yes, many of us are still alive), and I won't have that telltale "old lady" look. Of course, I'm also following Gundry's Plant Paradox's diet, so I'm going to look (and be) healthy.

Bottom Line: Yes, I would recommend this to a friend

---

Advertisement

---

3 weeks using the dark spot removing cream

Mountain View, CA

,

Oct 17, 2017
Verified Reviewer

Overall Experience:

My age is 74 years old. In the past, I tried other products. At one point, my dermatologist removed the "age spots" by freezing them off, but they did return! Since using this cream, I can see a great difference in the skin. I noticed in the beginning how there got lighter deeper down in my skin. At this point, I am committed to sticking to this cream. My skin, in general, looks fresher and somewhat younger due to the almost diminished spots.

Bottom Line: Yes, I would recommend this to a friend

---

Overall Experience:

My dark spots are still there, and I can't see any fading so far. I am continuing to use the Dark Spot Diminisher and haven't given up. I bought a three-month supply for myself and my daughter. Her sun blemishes are going away. Both of us have noticed a big change in the quality of our skin. My daughter is 54 and has noticed a diminishing of fine wrinkles on her face. I'm 74, so it probably will take longer for me.

I have confidence in these products. You are getting a review form two people in one, enjoy!

Bottom Line: Yes, I would recommend this to a friend

---

Overall Experience:

I am extremely pleased with the Dark Spot Diminisher. I am so glad I took the opportunity to try this product. I have tried many other products, and they failed to do even a quarter of what the Dark Spot Diminsher has done.

I am a 57-year-old, fair-skinned individual and work in retail sales. My dark spots are not only on my face but also on my hands. I was embarrassed by these spots and I seemed to be getting more and more of them. My face I could cover somewhat with makeup, but not my hands. These spots were making me feel really old, and I feel unhealthy looking.

To be quite honest I had given up on diminishers - a lot of money with very little results until I saw your ad. Your Dark Spot Diminisher has given me back my confidence. I have shown and shared my experience with my family and friends, and I highly recommended this product to them.

Bottom Line: Yes, I would recommend this to a friend

---

Gundry age spot fade lotion

Overall Experience:

I hesitated to order the Gundry MD Dark Spot Diminisher. I have tried so many fade creams. I can not begin to count them, spending the $4.95 (shipping) offer, feeling like a fool, when no one helped my dark spots.

Then I listened to Dr. Gundry MD explain his theory on why these fade creams did not work. Why his Gundry Dark Spot Diminisher would. Being convinced enough to try his dark spot diminisher was worth the try, I ordered his product.

Boy, I'm so happy that I tried his product.

Now I do not have to hide my face behind makeup, trying to cover my dark spots. My dark spots are FADING, and I am still stunned that the spots are fading. My face feels soft, I have been told (by hubby and daughter) that my skin is radiant, does not look rough, it's smooth and glowing.

I know that Dr. Gundry said my skin would look and feel better, but my skin has gone beyond that. My prayers have been answered, and I no longer look like I just turned 64.

Thank you Dr. Gundry!

Bottom Line: Yes, I would recommend this to a friend

---

I don't see spots before my eyes

Overall Experience:

I'm a 70-year-old lady with a fair complexion, blue eyes, and sensitive skin, especially to the sun. I've always had a very nice complexion. I love fishing with my husband and outdoor sports. Many years of NOT wearing SPF creams to protect my skin, I started seeing light brown spots on my skin about 10 years ago. They started to darken as I got older. Not one to wear makeup, I wanted to try and remove (or at the very least) lighten the spots. I'm on a fixed income so I could not go to a cosmetician.

I received, via email, information about Gundry MD Polyphenol Dark Spot Diminisher. It was in my price range, so I ordered and received it the first of October 2017. I use it day and night (along with the other facial products), and I do see a big difference in the coloration of the spots. Have they completely gone away? No. But I've only been using it since 9/28/2017.

It HAS done what Gundry MD product claims, it has DIMINISHED the dark spots. I couldn't be happier, and the product has exceeded my expectation. I will continue to use the Gundry MD Dark Spot Diminisher. Kindest regards.

Bottom Line: Yes, I would recommend this to a friend

---

Impressed

By Cathy Lester

,

Carlsbad, CA

,

Nov 4, 2017
Verified Reviewer

Overall Experience:

I have been using the spot remover for less than a month. My brown spots are noticeably lighter. I'm excited to wake up each day to see the latest results. I already submitted a suggestion to have a full body lotion with the spot mover included.

Bottom Line: Yes, I would recommend this to a friend

---

Overall Experience:

I wasn't sure what to expect, but I wanted to try it. I took "before" pictures of my hands so I can compare the "after" pictures. It's only been a few weeks, but I can see a difference already. I told my daughter about it, and she wants to try it on her face. Thank you for this product. I'm impressed!

Bottom Line: Yes, I would recommend this to a friend

---