Gut Restore Ultimate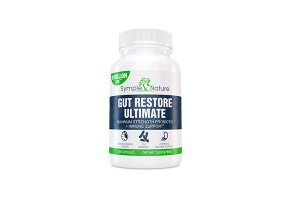 Brought to you by Symple Nature, Gut Restore Ultimate is a probiotic supplement that allegedly provides you with relief for bloating, constipation, diarrhea and stomach pain.
Gut Restore Ultimate Review - Does It Work? Safety, Ingredients
Gut Restore Ultimate by Symple Nature is a dietary probiotic supplement that claims to offer relief for diarrhea, constipation, stomach pain and more. This is allegedly accomplished by taking 2 capsules daily.
But why would anybody want to willingly ingest bacteria?
All bacteria are not created equal – while some are responsible for life threatening infections, others are necessary for the proper functioning of your body. Your gut bacteria plays an important role in processes like digestion, the immune system, and even the production of vitamins.
Much more than digestion can be affected when the balance is not maintained. Reduced numbers of gut bacteria may be associated with chronic conditions like inflammatory bowel disease, obesity, diabetes, cardiovascular disease.
With so many implications, it seems logical that supplementing gut bacteria is a hot topic. Read on to learn if Gut Restore Ultimate is a safe and effective option for reducing digestive symptoms.
Gut Restore Ultimate Ingredients: Do They Work?
Gut Restore's effects are thought to be made possible by the included ingredients – probiotic strains sourced from an FDA-inspected facility. A combination of the following make up a total of 109 Colony Forming Units (CFUs)
L. Acidophilus
This strain is said to relieve diarrhea, gas, cramping, bloating, while also supporting immune function.
A meta analysis of 34 randomized studies examining probiotics found probiotic use to be effective in reducing the risk for antibiotic-associated and travelers diarrhea. L. Acidophilus was as effective as other strains when used alone or in conjunction with other probiotics.
L. Acidophilus LB, a specific strain, was similarly found to be effective in reducing the duration and severity of acute diarrhea. This was confirmed when strains were analyzed separately in a meta analysis; it was found that different strains had different efficacy.
Bloating was improved in patients receiving a combination of Lactobacillus acidophilus NCFM and Bifidobacterium lactis Bi-07 ( 2 doses of 1011 CFU/day) over 8-weeks.
In a review of 20 randomized trials, Lactobacillus and Bifidobacterium strains were found to be associated with fewer days off illness and shorter duration of illness with regards to acute respiratory infections. It's important to note that this review included different strains, different doses, as well as the use of these strains alone or in combination with other probiotics.
Though there is some support for L. Acidophilus' ability to positively affect diarrhea, bloating, and respiratory illness, it is likely that different strains have different effects. As we do not know the type of strain used in Gut Restore, it is challenging to conclude that it will be effective in relieving your symptoms.
B. Infantis
This strain is said to offer relief for stomach pain.
B. Infantis 35624 at a daily dose of 1010 live bacterial cells reduced stomach pain in patients with irritable bowel syndrome (IBS) over the course of 8-weeks. This same strain at a dose of 108 cfu was found to relieve symptoms in women with IBS.
B. Infantis, particularly the 35624 strain, seems to be effective in relieving stomach pain, though these studies were done in subjects with IBS. This does not guarantee relatability to other populations. Additionally, we do not know which strain is in Gut Restore.
B. Longum
Thought to support immune function and allergy relief, B. Longum CCUG 52486 was demonstrated to have an age-related anti-inflammatory effects in a laboratory model examining white blood cells from young and older volunteers. This was corroborated in a randomized trial with human subjects the following year, when the BB536 strain was investigated.
B. Longum BB536 may also play a role in allergy relief. Studied in relation to a specific Japanese allergen, 40 subjects randomized to treatment at two 100 g doses per day or placebo. Eye itching improved with BB536, though no other significant symptom relief occurred.
A mixture of B longum BB536, B infantis M-63, B breve M-16V was also shown to significantly improve symptoms of allergic rhinitis in children over 4-weeks.
Multiple strains of B. Longum have demonstrated anti-inflammatory capabilities in laboratory and human studies, particularly in the elderly. This may be important as there is an age related decline in the amount and diversity of gut bacteria. Certain strains also seem to offer allergy relief, though it is hard to relate this data to Gut Restore Ultimate as studies often mix multiple strains of probiotics.
L. Paracasei
Also thought to provide allergy relief, the KW3110 strain was examined with regards to pollen from Japanese cedars. In a study randomizing 126 patients to KW3110 or placebo, treatment significantly improved quality of life scores and reduced nasal symptoms.
Another randomized trial examined the LP-33 strain and found significant improvements in quality of life compared to placebo regarding allergic rhinitis.
L. Paracasei strains seem to offer symptom reduction and quality of life improvement with regards to allergic rhinitis in both children and adults. We don't know which strain is present in Gut Restore, but scientific support for more than one strain is more promising.
B. Lactis
B. lactis HN019, like B. Longum, may reduce age related decline in immune function.
Thirteen elderly patients received B. Lactis HN019 1.5x1011 CFUs twice daily over 6-week span; significant increases in labs indicative of natural immunity were seen. HN019 boosted white blood cells in 30 elderly subjects over 9-weeks, whether they received five doses at 109 or at 1010 organisms/day.
In Celiac Disease, ingesting wheat gluten results in an immune response that can damage your digestive tract and result in a number of symptoms: diarrhea, stomach pain, gas, weight loss, etc. B. Lactis dose of 107 CFUs inhibited gluten-induced damage in a laboratory study of human intestinal cells.
B. Lactis HN019 demonstrated favorable effects regarding age-related decline in immunity, specifically in elderly subjects.
L. Plantarum
An extensively studied probiotic, the effects of L. Plantarum are thought to be wide ranging.
Lactobacillus plantarum DSM 15313 significantly lowered blood pressure when compared to control in a rat study.
In a laboratory model, L. Plantarum N14 reduced inflammation in intestinal cells. L. plantarum K8 similarly had an anti-inflammatory effect in mice, decreasing the expression of enzymes and receptors involved in heart disease.
L. Plantarum has been associated with anti-inflammatory properties in the intestine, as well as the cardiovascular system, though the majority of these studies have been in laboratory and animal studies.
L. Gasseri
Another probiotic with seemingly wide ranging effects, L. Gasseri TMC0356 reduced the level of antibodies associated with allergies in 15 subjects over 4-weeks.
In a randomized trial, 116 subjects received L. gasseri OLL2716 at 109 CFU doses or placebo. The treatment group improved symptoms related to indigestion, though these findings were not significant.
L. Gasseri may benefit protection from allergens in human subjects, though its role in indigestion is unclear.
S. Boulardii
This probiotic is implicated in an anti-inflammatory role regarding multiple diarrheal illnesses caused by bacteria like E. coli, C. difficile, and Shigella. S. Boulardii's mechanism of action seems to be related to an ability to regulate inflammatory proteins.
S. Boulardii seems to have anti-inflammatory effects that can combat diarrhea caused by bacterial infection, though these findings have been mainly in laboratory and animal studies.
L. Reuteri
In 40 adults with constipation randomized to treatment or placebo, L. reuteri (DSM 17938) dosed twice per day at 108 CFU was associated with a significant increase in bowel movements per week when compared to placebo.
The same strain was not effective in preventing diarrhea in 250 children randomized to twice daily treatment at 108 CFU or placebo.
There are promising studies examining the effects of specific strains of L. reuteri in battling constipation and diarrhea.
L. Corniformis
This is another probiotic said to have immune boosting capabilities, though unlike the previous ingredients with this effect, you may not have to wait for age-related declines.
L. coryniformis CECT 5711 at 108 CFU doses elevated white blood cells and antibodies when compared to controls. This randomized trial investigated this effect in 30 healthy individuals age 25-43.
A specific strain of L. Corniformis may offer immune-boosting effects even in young subjects.
*Important to note: this strain is challenging to source and Gut Relief says it may or may not be included in your supplement.
The Takeaway:
When choosing probiotic supplements, the type of disease (or symptoms) you would like to prevent or treat, as well as the strain, are the most important considerations.
There has been a great deal of research regarding the many effects of probiotics. This has encompassed laboratory, animal, and human studies.
While only select studies have investigated effects in healthy subjects, it is challenging to generalize results from specific population (IBS, laboratory, rodents, etc.).
The main issue is that while the vast majority of these studies offer details regarding the effects of specific strains and dosages, Gut Relief does not provide this information.
Is Gut Restore Ultimate Safe?
Reported side effects were rare in the many studies cited in the ingredients section, and none were associated with a severity level that warranted stopping the investigation. Again, nutraceuticals typically offer this benefit.
Oddly enough, the most commonly reported side effects include gas, bloating, and constipation - some of the symptoms you're trying to relieve.
Also, drug interactions are not documented. Gut Restore Ultimate states that their product is designed to be safe regardless of any medical conditions, though they emphasize the importance of seeking medical opinion before use.
Fortunately, these symptoms are often mild and self-limited, often resolving in days to weeks.
The Takeaway:
Gut Restore Ultimate is generally safe. They claim there are no known side effects related to their product, though the most commonly reported in other products are gas, bloating, and constipation.
How Much Does Gut Restore Ultimate Ultimate Cost?
Gut Restore Ultimate is currently running a limited-time offer on their website.
One time orders:
6 bottles for $373.80 (30% savings)
3 bottles for $226.95 (15% savings)
1 bottle (a 1-month supply) for $89.00 (no discount)
Additional savings are available with their AutoShip Plan
1 bottle monthly for $47/month + free shipping
2 bottles monthly for $87/month + free shipping
3 bottles monthly for $107/month + free shipping
AutoShip locks in these prices. This is not an auto-enrollment; you can cancel or suspend this plan at any time.
Gut Restore Ultimate backs their products with a 60-day guarantee. If you're not satisfied, you are offered a full refund, less shipping and handling.
Are There Any Alternatives?
While many of the strains included in Gut Restore Ultimate are offered individually, the time it would take to locate all 10 is extremely inconvenient, and also unlikely to result in savings.
More comprehensive products similar to Gut Restore Ultimate are available. Complete Probiotics Platinum is one example - it contains 11 strains including most of those available in Gut Restore. At $49.99 per bottle, their products are backed with a 90-day guarantee.
If you're looking to skip the supplements altogether, probiotics can be obtained in fermented foods like yogurt, sauerkraut, kimchi, and kombucha.
Keep in mind that many of the randomized trials previously discussed placed probiotic fortified yogurt vs. regular yogurt, and the effects are typically greater when probiotics were supplemented.
The Bottom Line: Does Gut Result Ultimate Provide Health Benefits?
Gut Restore Ultimate packs in 10 extensively studied probiotics to support gut health. Many of these studies were done in animals or in a laboratory setting, however. While offering potential benefits and highlighting the need for further research, positive results in these settings do not mean they are relatable to human trials.
The most promising ingredients are associated with effects related to reducing stomach pain, preventing diarrhea, and boosting the immune system - all backed by randomized control trials with human subjects.
Nonetheless, there are a number of concerns regarding Gut Restore's ability to offer these same benefits.
For one, positive results in one study population do not guarantee that these findings will be relatable to another specific group, much less the general population. Reducing stomach pain in patients with IBS, does not mean healthy subjects will experience this same benefit, for example.
Additionally, there are many different strains per probiotic ingredient included in Gut Restore Ultimate - L. Acidophilus has more than 20. Each individual strain possesses different behaviors and offers varying effects. The best research available has compared specific strains to placebo in human subjects.
As Gut Restore Ultimate does not offer information describing the specific strains, we can't assume its ingredients will offer similar benefits to those included in randomized control studies.
Lastly, in studying individual strains, specific doses were also considered. Again, Gut Restore Ultimate does not provide this information. Rather, they provide the total CFU for the combination of all ingredients.
If we assume the breakdown for each probiotic is equal, doses would be less than what is often included in studies, where the dose for a single probiotic approaches the total CFU for all probiotics in Gut Restore.
Despite these factors, Gut Restore Ultimate is generally safe. You should still speak with a physician before using, though it is not an unreasonable option to start with in terms of managing chronic diarrhea, constipation, and stomach pain relief.
That product does what it says

By Jose R.

,

California

,

Jul 7, 2020
Verified Reviewer

Length of Use: Less than 3 months

Overall Experience:

I've been going to the doctor a lot about this problem with stomach issues. Now taking Gut Restore. It helps fix my problem. This product is for real, take it from me, I'd suffered for 3 years with stomache issues. Now after taking this product no more problems. I recommend this to everyone.

Pros and Cons:

Fast delivery
The pills were easy to take
I recommend two or three a day
No "cons" were specified in this review

Bottom Line: Yes, I would recommend this to a friend

---

Advertisement

---