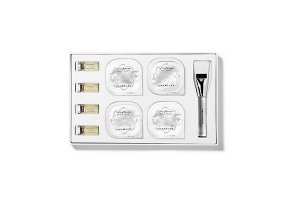 After mixing its Lifting Serum and Gelling Solution, the Hanacure all-in-one face mask claims to provide a variety of benefits, including younger looking skin.
About Hanacure
Designed for all skin types and ages, the patented CO2 OctoLift technology found in Hanacure's multi-action treatment mask promises to help lift and firm skin, correct dark spots and uneven tone, minimize pores, fade lines and wrinkles, and brighten and detoxify, all at once.
Over the course of 30 minutes, this all-in-one facial's dermatologist tested peptides and botanicals claim to deliver a transformative experience that can remove impurities and leave skin with a radiantly youthful glow. And with regular use, the website reports you can expect continued transformation.
In fact, the manufacturer claims that after 31 days of usage, customers experienced up to a 208 percent increase in skin luminescence, an average pore size reduction of nearly 51 percent, up to a 63 percent reduction in wrinkles, and a 68 percent reduction in hyperpigmentation. Based on this, they say that 91 percent would recommend the Mask to family and friends.
Will you be one of the many singing Hanacure's praises, or will you experience less-than-expected results? In this article, we'll lay out everything we learned about this beauty treatment so you can decide whether or not it's worth your hard-earned money.
How Does Hanacure's All-In-One Mask Work?
There are only two main components found in Hanacure's system: the Lifting Serum and the Gelling Solution.
When mixed, the two are said to create a Purifying Compound that "fuses the carbon dioxide in the air with our CO2 OctoLift technology," creating "a strong binding force that produces the lifting and firming effects on your skin." This absorbs the impurities in your skin, which are then discharged when rinsing after 30 minutes. If desired, fanning can intensify this effect.
In total, the website indicates the process works over five steps:
Application – Mix the Lifting Serum and the Gelling Solution.
Fusing – The CO2 OctoLift goes to work and changes the Purifying Compound from a liquid to a solid.
Application – Use the included brush to apply an even layer to the face, neck, and back of your hands. Avoid direct contact with eyes, lids, and lips. Leave on for 30 minutes, while minimizing facial movements.
Multi-Action – During this half-hour, you'll feel an intense lifting and tightening sensation as the botanical extracts absorb impurities and the peptides combat the signs of aging.
Wash – Finally, use warm water to rinse the solution from the skin and moisturize if necessary. The brush can be dried and reused later.
When used one to two times per week for two to three months, Hanacure's FAQ indicates these results can last for several months, depending on the skin concern and severity.
The two-part Hanacure system includes the Lifting Serum and Gelling solution, which are mixed and applied using the included brush. Image credit: Bonnie & Claus Inc.
Which Ingredients Are Found In Hanacure's Gelling Solution & Lifting Serum?
According to the label printed on the back of Hanacure's box, their formulas contain the following ingredients:
Gelling Solution: Water, Carbomer, Nelumbo Nucifera (Lotus) Leaf Extract, Yeast Beta-Glucan, Caffeine, Niacinamide, Ethyl Ascorbyl Ether, Hovenia Dulcis Fruit (Oriental Raisin Tree) Extract, Camellia Sinensis (Green Tea) Leaf Extract, Lonicera Japonica (Honeysuckle) Flower Extract, Rosa Canina Fruit Oil, Paeonia Albiflora (Peony) Root Extract, Sophora Angustifolia Root Extract, Rhus Semialata Gall Extract, Prunus Persica (Peach) Leaf Extract, Ginkgo Biloba Leaf Extract, Caprylyl Glycol, Scutellaria Baicalensis Root Extract, Tocopheryl Acetate, p-Anisic Acid, Nicotinoyl Dipeptide-23, Nicotinoyl Dipeptide-22, Acetyl Hexapeptide-8, Copper Tripeptide-1
Lifting Serum: Water, Portulaca Oleracea Extract, Camellia Sinensis Leaf Extract, Benincasa Cerifera Fruit Extract, Polyepsilon-Lysine
Let's split these up into two categories for easier dissection.
Hanacure's Botanicals
According to sites like the Natural Medicines Database, EWG.org, Truth In Aging, and Paula's Choice, lotus extract and beta-glucan are reported to contain high levels of antioxidants that can potentially fight free radical damage, and may also deliver some skin-soothing properties.
Caffeine contains antioxidants as well, and when applied topically, it can temporarily constrict blood vessels and reduce swelling. It can also work as a diuretic to extract moisture from cells, leading to smoother-looking skin.
Niacinamide (vitamin B3), whether in Hanacure or another formula, has been shown to reduce the appearance of enlarged pores and fine lines, improve uneven, dull skin; strengthen skin's surface, and mitigate environmental damage.
As a more stable form of vitamin C, ethyl ascorbyl ether could help play a big role in skin health by delivering a hefty dose of antioxidants and supporting collagen synthesis.
Green tea also contains antioxidants (as well as natural caffeine content), as does Rosa Canina (rose hip) and peach, which also contains high levels of vitamins C, A, and E, along with potassium and manganese. Other antioxidant-containing ingredients include Ginkgo Biloba (which also works as an anti-inflammatory), Scutellaria Baicalensis root, and tocopheryl acetate (vitamin E).
The remainder are reported to be thickening and conditioning agents (carbomer, Sophora Angustifolia, Rhus Semialata Gall extract, Caprylyl Glycol), fragrances (p-Anisic Acid), and preservatives (poly epsilon-lysine).
Hanacure's Peptides
None of these same sites reported any specific skin-related benefits for the peptides Nicotinoyl Dipeptide-23 or Nicotinoyl Dipeptide-22.
On the other hand, Acetyl Hexapeptide-8 is the formal name for the proprietary ingredient Argireline, which is commonly found in many of the topical anti-aging creams and serums the HighYa team has reviewed over the years. It works by temporarily inhibiting neurotransmitter release and relaxing facial muscles, leading to the reduced appearance of lines and wrinkles.
Truth In Aging indicates that copper peptides (copper tripeptide-1) have been shown in some studies to promote collagen and elastin production, while also acting as an antioxidant.
As a whole, Self's Korin Miller Interviewed several dermatologists when writing about Hanacure's mask, all of which noted that these ingredients looked promising for calming skin, moisturizing, brightening, tightening, and minimizing the appearance of pores.
Specifically, Gary Goldenberg, M.D., who works as medical director of the Dermatology Faculty Practice at the Icahn School of Medicine at Mount Sinai, was quoted as saying, "The mask likely improves pigmentation by improving moisturization of skin," as well as through the use of nicotinyl dipeptide.
Could Hanacure's Ingredients Cause Side Effects?
The Hanacure FAQ emphasizes that these ingredients deliver "intense tightening and lifting effects," so they shouldn't be applied to skin within one to two weeks of receiving laser, peel, or retinoid treatments.
Even then, as well as the fact that their product is classified as hypoallergenic, they report that those with sensitive or fair skin commonly experience redness that should subside within two hours.
Finally, they note that you should consult your physician if you are pregnant or nursing before using the mask.
How Much Do Hanacure Products Cost?
Hanacure's Mask is available in two different quantities:
Starter (one kit): $29
Set (four kits): $110
Each kit contains 1 ml of Lifting Serum, 6 ml of Gelling Solution, and an application brush.
All orders come with a 15-day refund policy, less S&H charges. However, because these are classified as single-use products, only those that are unused and in the same condition you received them are eligible.
To request one, you'll need to reach out to support through the site's contact form.
What Can We Learn From Hanacure Mask Reviews?
The only online consumer feedback we encountered for Hanacure's Mask was on Amazon, where six reviewers had given the Set an average rating of 2.3 stars.
Only one reviewer gave the mask a five-star rating, citing big improvements in skin softness, pore size, and dark spots. Another gave it three stars, stating: "I don't quite understand all the hype about this product. I did not see a big improvement at all."
Remaining customers gave the Mask one-star ratings, frequently referencing no improvements and high price.
However, in addition to being promoted and endorsed by Drew Barrymore (completely on her own), we found that the Hanacure Mask received mostly positive feedback everywhere else we looked during our research.
For example, when answering the question "is it worth the $110 price tag," Town & Country's Maddy Zollo said:
"Absolutely. When I looked at my reflection post-treatment, my complexion had seriously never looked better: My cheeks and jaw firmer, my skin tone more even, my texture softer, and I had a lit-from-within glow that you typically can't get from an at-home treatment. It's safe to say I've joined the Hanacure bandwagon for good—I just wish I had discovered it sooner."
Writing for Revelist, Alle Connell noted that after drying, her Hanacure mask was so tight that she could barely blink one eye. She also couldn't close her mouth. "To be clear — this mask didn't hurt," she noted, "but it was insanely tight, like I'd painted my face with craft glue and let it shrink up and harden."
But in the end, "when the redness went away, I was honestly left with the most beautiful skin of my life." At the end of the article, she even went so far as to write, "I have never, ever seen such significant, almost-immediate results from a non-professional skin care product. It's AMAZING."
Not to put too fine a point on it, New York Magazine's Rio Viera-Newton claimed that Hanacure is "100% worth it. If you can spare the (admittedly hefty) price tag," she says, "it's absolutely worth trying. The overall glow, textural change, and lifting it provides has been truly unmatchable."
From a company perspective, Hanacure's products are manufactured by Bonnie & Claus Inc., who has been in business since 2015 and is based out of Los Angeles, CA.
Are There Other All-In-One Masks Like Hanacure?
Interviewed for a Bustle.com article, NYC dermatologist and creator of BeautyRx, Dr. Neal Schultz, emphasizes that "The most important principle is that a mask is just another 'vehicle,' like a lotion, serum, cream, ointment, that delivers 'actives' to the skin to improve the appearance or quality of the skin."
In short, there's not necessarily anything a mask can accomplish that a rinse-off lotion, serum, cream, or ointment can't. It all comes down to the ingredients present, and whether or not your skin's able to absorb them.
With this in mind, we didn't encounter any other masks on the marketplace that used the exact formulation as Hanacure.
However, with most priced between well under $10 and more than $30, we did encounter many other products that included many of the same ingredients, such as lotus, green tea, essential vitamins and antioxidants, and even some with peptides. Many also could be mixed and brushed on.
To find the right mask for your needs, Dr. Elizabeth Tanzi, an assistant clinical professor of dermatology at the George Washington University Medical Center, recommends starting with your primary skin concerns.
For example, if you have an oily complexion prone to breakouts, you'll want to "look for clay- or charcoal-based products that absorb excess oils, address sebum production and keep pores from getting clogged," she says. If you have dry skin, on the other hand, you'll want moisturizing ingredients that can soothe inflamed skin.
Vitamin C a licorice can work as brightening ingredients, while retinol-based formulas could meaningfully address fine lines or signs of aging. "Most masks will tell you what issues they target if you take a quick look at the packaging, so go from there and experiment a little if you need to in order to find a favorite," she concludes.
Bottom Line: Our Final Thoughts About Hanacure
In How to Find the Perfect Face Mask for Your Skin, Debra Jaliman M.D., board-certified NYC dermatologist and Assistant Professor of Dermatology at Icahn School of Medicine at Mount Sinai, told us that while the right face mask can provide a lot of benefits as outlined above, she emphasized that "there is no real difference between expensive and inexpensive masks."
However, based on the vast majority of feedback we encountered during our research, it seems that most consumers who try Hanacure's mask are satisfied with the results—so much so that they're willing to pony up meaningfully more money than the competition. Even the Self article cited above concluded:
"If you're willing to shell out the $29 to try it, go for it. Experts say the Hanacure masks are beneficial and can be incorporated into your overall long-term anti-aging routine."
But, "If you aren't sure what's best for your skin, visit your dermatologist for a skincare consult. Remember, treating your skin well isn't as simple as using a one-off mask—take good care of it all the time and your selfie will thank you later." Also, be sure to always apply sunscreen.
The bottom line is that any beauty or skincare-related purchase is an intensely personal one, so there's no way to know if Hanacure will work for you without giving it a try—which will also void the refund. But based on what customers report, most seem to think it's more than worth pay more for the results it delivers.
1 out 1 people found this review helpful

Disappointed

By

Rosemary T.

,

Mendon, MA

,

Apr 19, 2019
Verified Reviewer

I was so disappointed in this product. All the things I read I thought maybe I got a bad patch. I honestly can say I see absolutely no difference. I don't know if I need to continue to get results, but I thought with one treatment I would get something. I can honestly say I got nothing. I was hoping to get what everyone was raving about.

Bottom Line: No, I would not recommend this to a friend

---

25 out 29 people found this review helpful

Scam

By

Jane T.

,

California

,

Aug 20, 2018
Verified Reviewer

Does not work, and even worse, you can only return the product if it is unopened, so you can't try it to see if you like it! You are 100% stuck with it if you try it, so never buy the kit as your first purchase. I'm hoping to get gushing reviews. This product sucks!

Bottom Line: No, I would not recommend this to a friend

---

Advertisement

---

44 out 48 people found this review helpful

Wish I could have given it a zero!

By

Gayle M.

,

Colquitt, GA

,

Jun 13, 2018
Verified Reviewer

I bought this product hoping it did what I was led to believe it could do. I prepared skin and product as per instructions. Applied and set the timer for 30 minutes. After that time period, I rinsed face and I rinsed 2 more times. Product did absolutely nothing good but dried out my skin even more. Product is a big ZERO. Glad if it helps some people. Don't see how it could.

Bottom Line: No, I would not recommend this to a friend

---

8 out 9 people found this review helpful

Skin saver

By

Laura D

,

Las Vegas, NV

,

Apr 30, 2018
Verified Reviewer

Suffering adult acne was the worst experience. I covered my face in make-up and was embarrassed if anyone saw me out. Using Hanacure as a treatment to heal it was the best experience. I used it until it my skin had stopped breaking out and the irritation and redness had gone! Now I use it before events to freshen my skin and once/twice a month to keep my skin fresh bright and maintained.

I've recommended this to everyone! It's now my dad's fav and only mask!

Bottom Line: Yes, I would recommend this to a friend

---

Advertisement

---

15 out 19 people found this review helpful

Amazing

By

Amy D

,

Maryland

,

Jan 27, 2018
Verified Reviewer

For the past five years, I've been super stressed out, going to law school and working full time. My skin really shows it; I was breaking out in cystic acne for a good two years before I finally got it under control. Now I still get some acne, though thankfully not like before, but my skin is loose and tired and scarred.

This mask tightened my skin to where, when I took it off, it was like the past five years never happened! It removed the tiny comedones and gave me a smooth complexion. Waking up this morning, some of the scarring had reappeared (when I took off the mask, almost all of it had vanished), but still my skin is much less congested, my pores tight, and my scars lessened. I'm going to use the mask again in a few days. The website says that long-term improvement shows after repeated use, and I'm hoping this along with eating better, drinking lots of water, and taking care of my skin will really turn it around.

This mask made me so happy! I will be using it again and again. We shall see how long the results last.

Bottom Line: Yes, I would recommend this to a friend

---

26 out 31 people found this review helpful

Highly recommend, great product

By

Jessica Kim

,

Studio City, CA

,

Dec 6, 2017
Verified Reviewer

The packaging is absolutely stunning it reminds me of almost like the Apple iPhone box. It is very chic and detailed, yet minimal. The instructions are very easy to understand, guiding you with the loveliest illustrations. The only thing I did not enjoy was that it was a little bit difficult to open the box in the beginning.

I want to first start off by stating I am a huge fan of organic and natural products. At first looking at the photos I immediately thought an egg mask can produce the same effects. Boy was I wrong!

This product is vegan and cruelty-free, formulated without phthalates and sulfates! Yes!

This was the most incredible experience! Honestly, I wasn't really sure what to expect as I thought it would just dry and crack, but as I was walking around, I can feel the mask pulsating getting tighter and tighter. To give you a sense of how tight the mask was, my lips were being lifted and it looked as if I got lip injections. It paints on very nicely, smooth, thick with almost no smell. Once I washed my face, my face looked so refreshed, like I've been revived from all the stress in my life. It also reduced some of my blemishes and redness. I wish HighYa had an option to post before and after photos.

It is a little expensive, but I have never tried a product in my life with instant results and undeniable glow. I wish they would lower the price so I can use it more often. But I will use it for special occasions as this product is so special! It may not be for everyone as it gets extremely tight, but everyone should try it once!

It's also a great gift for friends being $29 for a starter and looks very high end.

Bottom Line: Yes, I would recommend this to a friend

---

42 out 61 people found this review helpful

Pricey, no use, not better than egg whites.

By

Cici Cheung

,

Maryland

,

Dec 1, 2017
Verified Reviewer

Hanacure is a scam; it doesn't work at all, and it's nothing better than egg white. It's pricey, no use. I bought one single kit for $29 and another box for $110 plus shipping. All wasted.

Bottom Line: No, I would not recommend this to a friend

---