Hanacure
This company has claimed this profile, is getting alerted on any new customer reviews entering this page, and may engage in dialogue with its customers to address their matters.

Companies cannot pay money or provide goods in order to remove or alter customer reviews.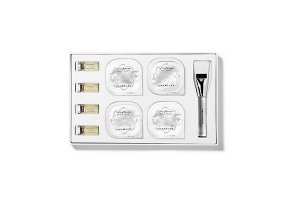 Summary
Hanacure is a single use facemask and lifting serum that promises to target the primary signs of aging to give you healthier, younger looking skin.
Hanacure Review: Does It Really Work?
What Is Hanacure?
Hanacure is an all-in-one facial that works as a lifting serum and face mask designed to target the most common signs of aging to give you a noticeably improved appearance after each use.
According to the company website, mixing the included serum and gelling solution together creates a "Purifying Compound" that absorbs the impurities within your pores and removes them from your face. You are meant to wear the facemask for at least 30 minutes so that its CO2 OctoLift™ technology has time to bind to your skin and create a lifted, firming effect.
Hanacure was developed in South Korea, a country which the company claims has been a major innovator within the skincare industry. It was the company's goal to redevelop traditionally complicated skincare processes to create a multi-action treatment that would address numerous beauty concerns at once.
Celebrity endorsements and glowing online reviews seem to show that Hanacure is something special, but is this a skincare product worth investing in? We've looked through the research to help you decide.
How Do You Use Hanacure?
According to the company website, the Hanacure facemask blends a mix of botanical extracts meant to soothe your skin with peptides designed to give you a smoother, age-defying complexion.
When you purchase the facial mask, you will receive separate packets of the Lifting Serum and Gelling Solution. The product is meant to be used by peeling a corner of the Gelling Solution back as indicated on the packaging and pouring the Lifting Serum inside. After shaking it vigorously for 20 seconds, it will create a thick gel called the Purifying Compound.
Once the gel has formed, you will use the included brush to apply the gel evenly across your face, neck, and back of hands. The company states not to apply the gel directly on your eyelids or lips and to use it sparingly under the eyes.
Keep the gel in place for at least thirty minutes, and take care to minimize your facial movements as it sets. The product ingredients react with the CO2 in the air and sink into your pores to both draw out impurities and produce lifting and tightening effects.
If you apply it correctly, the gel then goes through a resolidification process where it tightens on your skin and creates an intense tingling sensation. Once the mask has set for 30 minutes, you can rinse it off with warm water.
Those with sensitive skin might experience temporary redness after using the mask, which the company states is caused by a boost in blood circulation. If you're concerned about your reaction, Hanacure suggests keeping the product on your skin for just 15-20 minutes.
The company states online that they recommend using the mask twice per week until you achieve results you are happy with.
After that point, you can continue the treatment several times a month, or whenever you think your skin needs a boost. If you've recently undergone a laser treatment or peel, they suggest waiting 1-2 weeks before using an Hanacure Facial so your skin has time to recover.
Clinical Studies
Hanacure's unique tightening sensation makes it feel as if the facemask is doing something to your face, but does it actually produce positive results for your skin? The product website references clinical studies that show it does.
According to their results, participants who completed a Hanacure facial once every three days for a month experienced a 50-percent reduction in their pore size, a 68-percent reduction in hyperpigmentation, a 71-percent increase in skin luminescence and a 63-percent reduction in their wrinkles after three weeks.
Overall, the company states that they found that 90% of Hanacure users reported that the face mask improved their skin's appearance.
Analysis of Ingredients
Per the product website, Hanacure contains "dermatologist tested peptides and botanicals" to give your skin a youthful look. In plain language, this means that it includes plant extracts like lotus leaf, oriental raisin tree, green tea, honeysuckle, and more.
According to the Journal of Clinical and Aesthetic Dermatology, botanicals offer many skin care benefits, as they can support its "health, texture, and integrity." These extracts also tend to be high in antioxidants, which helps your cells fight free radical damage to maintain healthier skin tissues.
A significant portion of Hanacure's active ingredients are peptides (icotinoyl dipeptide-23, nicotinoyl dipeptide-22, acetyl hexapeptide-8, copper tripeptide-1).
According to Elina Fedotova, an award-winning cosmetic chemist and CEO of Elina Organics Skincare & Spas, peptides are an essential building block for your skin.
"Our skin is comprised mostly from proteins like collagen and elastin. Each protein is built from amino acids arranged into a long chain…They can penetrate through the skin barrier, deep into the live skin cells and signal your cells to regenerate collagen and other proteins," she said.
Some peptides like acetyl hexappeptide-8 have proven skin rejuvenation benefits, said Soraya Ali-Hope, a cosmetic chemist with 30 years of experience.
"It absorbs to inhibit muscular contraction, thereby imparting a Botox-like effect. The resulting effects are less pronounced corrugator muscle (brow frown) lines, crows feet (squint) lines, and smile (oral labial fold) marionette lines," Ali-Hope said.
Fedotova affirms this view that peptides are an effective way to keep your skin looking and acting youthful.
"Even young people can benefit from peptides if they have unwanted brown spots as a result of over sun exposure, or have problem complexions resulting in acne scars. Peptides will speed up the healing and restoring process of their skin," she said. "For people with mature complexions, peptides should definitely be one of the most important ingredients in their everyday skincare routine because they will help to firm, hydrate, and rejuvenate their skin."
Saying that, applying a peptide cream to your face won't give you comparable results to Botox or fillers.
Topical peptide products can't fully eliminate bags under your eyes, plump up your lips, or light your brows. Instead, consistently using peptides can result in skin that is firmer, smoother, and more elastic than it might be otherwise.
Likewise, we learned from licensed esthetician Evie Reyna that you will need to use peptide-infused products regularly to maintain results.
"While this mask has an ingredient deck brimming with anti-aging botanicals and skin strengthening peptides, one use won't be able to give you the long-lasting youth-boosting results we all strive to see in our skin. For best results plan on using a Hanacure mask as a booster to your already balanced regimen," Reyna said.
The Cost
At the time of writing, Hanacure offered two options for buying their face mask:
Starter kit for $29: The starter kit contains a 1-ml Lifting Serum ampoule, a 6-ml Gelling Pack, and a brush.
Full Set for $100: The full set includes four each of the serum and gelling packs with a single brush.
Hanacure's website states that they won't accept returns for any opened products because they are designed for single use. You can request a refund for any unopened orders within fifteen days of receipt, minus shipping costs (approximately $5-6 per order).
A Look at Customer Reviews of Hanacure
We've analyzed reviews and comments from Revelist, Byrdie, and Town and Country.
Many people who try Hanacure are initially disappointed by the cost to product ratio. You will pay about $30 per treatment, which comes to at least $280 per month if you do one facial twice per week as the company suggests.
Most reviewers reported that they were impressed with how well it worked. They stated each portion of product provided enough gel to cover their face, neck, and even arms (with a little extra leftover to share with a friend) and that the solution started hardening, tingling, and tightening on their skin within minutes to the point that it was hard to smile or even speak.
Once they rinsed the face mask off, each reviewer reported that their face showed improvement almost immediately.
Alle Connell, writing for Revelist, said that the facial initially left her face bright red but that once the color faded, her hormonal blemishes and hyperpigmentation were diminished and that the cream smoothed out her skin and reduced the visibility of her fine lines.
Overall, we found that most people who tried Hanacure seemed to love the results and believed the treatment delivered what it promised. Whether they thought the improvements were worth the price was a personal decision.
The Bottom Line: Should You Try Hanacure?
Our research shows that skincare enthusiasts find a lot to like about Hanacure. This distinctive facemask temporarily firms up your face to the point you can't change your expression, but once you wash it off, you're likely to be left with softer skin, a more even complexion, and fewer wrinkles than before.
But there are some negatives. These results won't last unless you keep up a weekly routine, and you'll pay between $27 and $30 for each treatment. To get comparable results to what the company claims are possible in their clinical studies, you will need to pay upwards of $280 to $300 per month for the face mask.
Some people might object to having to wait 30 minutes before washing off the mask after applying it, but the reviewers we referenced didn't seem to mind.
Many noted that they found intense tingling and skin tightening process to be part of the pampering experience, and they reported that it was easy to let the mask do its thing while they watched TV.
If Hanacure is in your budget and you prefer to opt out of subdermal skincare procedures like fillers or Botox, there's a lot of reasons to consider this facial.
Customer Reviews
Posted on Feb 7, 2020
Amazing
I bought one to try it, just to see what all the hype was about, not expecting anything. I am post-menopause, with combination skin. This mask was amazing! It brightened my skin immediately and balanced the combination skin. I no longer had dry patches around my nose or oil on my forehead. I bought a kit and have been doing the recommended every three days until I see the results I want. A facial is $100 a visit, so I didn't have anything to lose. After the third treatment, I had two different compliments that my skin was glowing. I'm sure it isn't for everyone, but for me the price is right and the results are amazing for an at-home product.
Bottom Line: Yes, I would recommend this to a friend
Posted on Jan 10, 2020
Not what it's cracked up to be
Based on all of the raving reviews, I thought I would give this a try. Honestly, the results are immediate, but don't last. I used for 3 months expecting to see a lasting change and there was none. My face has not seen any difference. I cannot see how this look can be maintained by using only once per month for maintenance. The last 10 minutes is excruciating and painful and you cannot wait to get it off. I spent over $300 for a product that unless you use it twice a week to maintain the results, you can forget about any lasting effects. I cannot spend another $240 per month for a product that is painful and ineffective. Sorry.
Bottom Line: No, I would not recommend this to a friend
Posted on Sep 16, 2019
Extremely unhappy
I purchased the starter kit before I invested $110.00 for the 4. I really felt like it was working as the mask tightened. Wishful thinking on my part. No noticeable difference. Very very disappointed.
Bottom Line: No, I would not recommend this to a friend
Posted on Aug 30, 2019
We loved the Hanacure mask
My husband and I both tried this treatment today and boy, unbelievable tightening! My husband is great for trying our new products. He will tell me exactly how it affects his face. He now wants to use this product to replace other masks I had him testing out for me. Hanacure really lifted UP our faces and our pores have almost disappeared. Nothing we have tried in the past has worked like Hanacure.
Bottom Line: Yes, I would recommend this to a friend
Posted on Apr 19, 2019
Disappointed
I was so disappointed in this product. All the things I read I thought maybe I got a bad patch. I honestly can say I see absolutely no difference. I don't know if I need to continue to get results, but I thought with one treatment I would get something. I can honestly say I got nothing. I was hoping to get what everyone was raving about.
Bottom Line: No, I would not recommend this to a friend
Posted on Aug 20, 2018
Scam
Does not work, and even worse, you can only return the product if it is unopened, so you can't try it to see if you like it! You are 100% stuck with it if you try it, so never buy the kit as your first purchase. I'm hoping to get gushing reviews. This product sucks!
Bottom Line: No, I would not recommend this to a friend
Posted on Jun 13, 2018
Wish I could have given it a zero!
I bought this product hoping it did what I was led to believe it could do. I prepared skin and product as per instructions. Applied and set the timer for 30 minutes. After that time period, I rinsed face and I rinsed 2 more times. Product did absolutely nothing good but dried out my skin even more. Product is a big ZERO. Glad if it helps some people. Don't see how it could.
Bottom Line: No, I would not recommend this to a friend
Posted on Apr 30, 2018
Skin saver
Suffering adult acne was the worst experience. I covered my face in make-up and was embarrassed if anyone saw me out. Using Hanacure as a treatment to heal it was the best experience. I used it until it my skin had stopped breaking out and the irritation and redness had gone! Now I use it before events to freshen my skin and once/twice a month to keep my skin fresh bright and maintained.
I've recommended this to everyone! It's now my dad's fav and only mask!
Bottom Line: Yes, I would recommend this to a friend
Posted on Jan 27, 2018
Amazing
For the past five years, I've been super stressed out, going to law school and working full time. My skin really shows it; I was breaking out in cystic acne for a good two years before I finally got it under control. Now I still get some acne, though thankfully not like before, but my skin is loose and tired and scarred.
This mask tightened my skin to where, when I took it off, it was like the past five years never happened! It removed the tiny comedones and gave me a smooth complexion. Waking up this morning, some of the scarring had reappeared (when I took off the mask, almost all of it had vanished), but still my skin is much less congested, my pores tight, and my scars lessened. I'm going to use the mask again in a few days. The website says that long-term improvement shows after repeated use, and I'm hoping this along with eating better, drinking lots of water, and taking care of my skin will really turn it around.
This mask made me so happy! I will be using it again and again. We shall see how long the results last.
Bottom Line: Yes, I would recommend this to a friend
Posted on Dec 6, 2017
Highly recommend, great product
The packaging is absolutely stunning it reminds me of almost like the Apple iPhone box. It is very chic and detailed, yet minimal. The instructions are very easy to understand, guiding you with the loveliest illustrations. The only thing I did not enjoy was that it was a little bit difficult to open the box in the beginning.
I want to first start off by stating I am a huge fan of organic and natural products. At first looking at the photos I immediately thought an egg mask can produce the same effects. Boy was I wrong!
This product is vegan and cruelty-free, formulated without phthalates and sulfates! Yes!
This was the most incredible experience! Honestly, I wasn't really sure what to expect as I thought it would just dry and crack, but as I was walking around, I can feel the mask pulsating getting tighter and tighter. To give you a sense of how tight the mask was, my lips were being lifted and it looked as if I got lip injections. It paints on very nicely, smooth, thick with almost no smell. Once I washed my face, my face looked so refreshed, like I've been revived from all the stress in my life. It also reduced some of my blemishes and redness. I wish HighYa had an option to post before and after photos.
It is a little expensive, but I have never tried a product in my life with instant results and undeniable glow. I wish they would lower the price so I can use it more often. But I will use it for special occasions as this product is so special! It may not be for everyone as it gets extremely tight, but everyone should try it once!
It's also a great gift for friends being $29 for a starter and looks very high end.
Bottom Line: Yes, I would recommend this to a friend
Posted on Dec 1, 2017
Pricey, no use, not better than egg whites.
Hanacure is a scam; it doesn't work at all, and it's nothing better than egg white. It's pricey, no use. I bought one single kit for $29 and another box for $110 plus shipping. All wasted.
Bottom Line: No, I would not recommend this to a friend
Our Promise to You
In order to safeguard you and ensure helpfulness and relevance, our compliance team manually assess every customer review before it goes live.
We have a zero-tolerance policy for fake reviews, and companies cannot control or alter any reviews at any time.