Kin Euphorics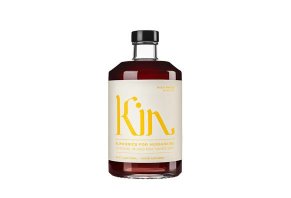 Kin Euphorics is a functional beverage made with botanicals, adaptogens, and nootropics to calm you down and improve your mental abilities – at least for a few hours.
Kin Euphorics Review: Effectiveness, Ingredients, Cost, and More
What Is Kin Euphorics?
Kin Euphorics is a functional beverage that claims to balance adaptogens, nootropics, and botanics to calm your body's stress response and keep you feeling calm and energized.
Kin Euphorics is branded as a (healthier) alternative to alcohol for having a good time, as it's meant to be consumed in social situations.
But can the product's proprietary blend deliver the results it promises? We look closer at the facts to help you decide whether you should give this innovative beverage a shot.
How Does It Claim to Work?
Kin Euphorics states that "euphorics" is a type of beverage designed to use natural and naturally-inspired ingredients to boost your mood and improve your mental abilities.
The brand claims to balance the benefits of adaptogens (herbs that manage stress) with nootropics (compounds that enhance cognition) to both relax and stimulate you while improving your focus.
Per the company website, stress impacts us by causing our brains to release hormones and neurotransmitters like cortisol and dopamine.
After a long day, it states that we've used up much of our supply, so stress leaves us depleted. The ingredients in Kin Euphorics are designed to counter this effect by restoring the brain's ability to regulate your stress response.
This purportedly can feel different for everyone. We learned from reviews that some people report a feeling of calm, while others experience an uplifting buzz that lets them rise above the stressors around them.
Likewise, the beverage's ingredients are meant to soothe the central nervous system by keeping muscles relaxed and slowing down your blood pressure, heart rate, and breathing rate.
The company website states that each 500 ml bottle of Kin Euphorics contains approximately eight 2-ounce servings.
To use, you can drink Kin straight or mix it with your favorite cocktail ingredients to mimic traditional drinks. They recommend refrigerating Kin after opening and finishing a bottle within seven days of opening.
You should start feeling the effects of Kin Euphorics within 10 and 45 minutes of consumption, and they should last for one to two hours.
Though the company considers the beverage safe for most adults, they don't recommend taking more than four servings in 24 hours or drinking it while on medication. It's also not meant for women who a pregnant, breastfeeding, or may become pregnant.
Ingredients
One of the best ways to find out if Kin can deliver on its promises is to look at the ingredients.
We've listed the key benefits of the beverages active ingredients, and where relevant, whether they can deliver on these promises. Unless otherwise specified, our research came from Consumer Lab, a leading provider of independent test results for health and nutrition products:
Niacin (5mg): This form of vitamin B3 is responsible for dozens of enzymic functions and helps your body use energy and produce sex hormones.

Vitamin B6 (2 mg): This vitamin makes proteins, hormones, and neurotransmitters. Adults need just 1.3 mg per day, and there's little evidence that taking more than your nutritional needs offers further health benefits.

Folic Acid (300 mg): As a type of B vitamin, folate controls cell division and can reduce your risk of heart disease.
The beverage contains a 'Proprietary Kin Blend' (959 mg) that consists of the following ingredients.
Hibiscus extract: Long used in herbal teas, this medicinal flower has been used for centuries to treat stomach problems and anxiety, though the research isn't conclusive for its benefits yet.

GABA: known as gamma-aminobutyric acid, this nootropic neurotransmitter inhibits nerve function during times of stress to help you calm down and relax. However, taking GABA orally hasn't shown to be effective for absorption by the central nervous system, so this isn't a viable way to experience these benefits.

Citicoline: WebMD reports that citicoline is a nootropic and naturally occurring brain chemical that can be taken as a supplement to counter the effects of ADHD and memory loss as you age.

Caffeine (50mg): According to MedicalNet, caffeine is a natural stimulant that keeps you awake and improves your focus, mood, and stamina.

5-HTTP: As a precursor to serotonin, 5 HTP is a nootropic and can cross the blood-brain barrier and convert into serotonin within the central nervous system. Studies show that it can decrease the side effects of depression, but it's not clear how much more effective it may be over a placebo.

Rhodiola Extract: This Eastern European herb is sometimes considered the "new ginseng" because of its adaptogen qualities like minimizing stress and improving mental function.

Phenylethylamine: As we learned from WebMD, taking phenylethylamine orally stimulates the body to create chemicals that play roles in improving athletic performance, counteracting depression, and improving your mood.

Tyrosine: This amino acid acts as a nootropic and can improve mental function and minimize the effects of fatigue and depression.
Cost and Where to Buy
At the time of writing, Kin Euphorics are only sold through the company website. The prices at publication included the following: $39 for a 500-milliliter bottle (eight servings), $69 for a two-pack, and $99 for a three-pack. Shipping is free on all orders.
Regarding a return policy, the brand's terms and conditions state that they don't accept returns on bottles on Kin and that they don't honor a money-back guarantee because of how the product affects everyone differently.
If you receive a damaged product, you can request a refund within 14 days of receiving your order by messaging them directly at hello@kineuphorics.com and attaching a photo of the damage.
Customer Feedback
At the time of publishing, the drink has scored three stars after close to 50 reviews on the brand's Facebook page.
When we looked at these comments, we found that a lot of people were excited about the beverage as an alcohol alternative, but that they didn't think it delivered the results it promised.
A few attributed their feelings of jitteriness and improved focus to the caffeine content, and others stated that they found the flavor hard to stomach.
Those who liked Kin Euphorics reported that the beverage gave them a sense of calm and focus that in some cases kept them from turning to alcohol instead.
Also, some reviewers said they didn't enjoy the taste and that they didn't see enough benefits to justify the purchase.
It's worth noting is that we noticed many people who liked the beverage seemingly drank it in a social setting like at a party or a bar.
That collaborates with what co-founder Jen Batchelor reported in an interview for Vogue, as she noted that Kin was designed as a social beverage, rather than something to be drunk home alone.
The Bottom Line
At $39 per bottle, you'll pay approximately $5 per two-ounce serving of this beverage, which is equal to the cost of a happy-hour alcoholic drink. For some reviewers, this was a drawback because they thought the results they experienced were too subtle to justify the cost.
On that note, we noticed a range of opinions about whether Kin Euphorics created worthwhile changes. Some people reported that they struggled to choke down the drink and then didn't feel any different after taking it, while others said they experienced a gentle calming feeling.
Looking at the product's proprietary ingredients list showed us that many of the components show real potential for boosting your energy and calming your anxiety. Saying that, this research isn't conclusive and some ingredients, such as GABA, aren't effective when taken orally.
We couldn't find many drawbacks to experimenting Kin Euphorics, so if you're looking for a social drink that's an alcohol alternative, it's worth giving Kin Euphorics a try. Just keep in mind that if the only effect you feel is a slight caffeinated buzz, you might save money by sticking to coffee.
---
Kin Spritz

By Jennie S.

,

Boston, MA

,

Sep 29, 2020
Verified Reviewer

Length of Use: Less than 3 months

Overall Experience:

I was most excited about trying the "spritz". It is soooo bad, it's definitely got herbs in it because the familiar, strong taste of some terrible herb that I can't choke down is strong!

I mixed it with a full can of ginger beer...just because I spent so much money on it I didn't want to throw it away!

I don't mind the High Rhode with ginger ale and lime juice, but I'm not sure if it is relaxing me, I might be more focused...hard to say.

Pros and Cons:

No "pros" were specified in this review
Taste
Cost

Bottom Line: No, I would not recommend this to a friend

---

Kin products

By Julie R.

,

South Dakota

,

Jan 2, 2020
Verified Reviewer

Overall Experience:

Save your money...God awful stuff! I am a bartender of 30 years had a hard time finding anything to mix with it so I could choke it down. I found no bliss or anything euphoric about Kin High Rhode...at all.

Bottom Line: No, I would not recommend this to a friend

---

Advertisement

---