Kitu Super Coffee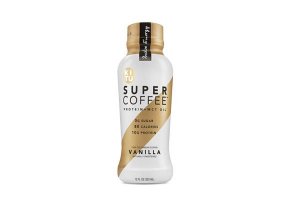 Kitu Super Coffee is a brand of ketogenic-friendly coffee drinks that give you a boost of caffeine, fat, and protein without added sugars or excess calories.
Kitu Super Coffee Review: A Detailed Look
Previously known as Sunniva, Kitu Life Super Coffee is a brand of pre-made coffee beverage that claims to keep you full and give you sustained energy without added sugars.
The original coffee is a ketogenic diet-friendly beverage that contains ten grams of protein, is naturally sweetened with monk fruit and stevia, and has 80 calories per 12-ounce serving.
This family-owned and operated company is run by three brothers (Jordan, Jake, and Jimmy DeCicco), all of whom were collegiate athletes. According to the brand's origin story, youngest brother Jordan grew sick of feeling fatigued in college but didn't want to commit to traditional energy drinks because of the unhealthy ingredients.
He experimented in his dorm room with organic coffee and natural additives like whey protein and coconut-derived medium-chain triglycerides (MCT) until he developed a winning combination, and soon began sharing the beverage to a broader audience.
The brand gained recognition after an appearance on Shark Tank in 2018. While the brothers didn't land a deal, Kitu Life got the attention of the national audience and is sold today by retailers across the United States.
Product Line
Kitu Life offers collections of three forms of coffee drinks: a creamer, coffee, and espresso.
Super Creamer: These dairy-based creamers are packaged in 25.4-ounce containers and come in an Original, Hazelnut and Vanilla flavor. They retail for $19.99 for a three-pack and $35.95 for a six-pack.
Super Coffee: These premade coffee drinks are sugar-free, lactose-free, soy-free, and gluten-free. You can choose from Creamy Black, Vanilla Bean, Smooth Mocha, and Maple Hazelnut. You'll pay $39.99 for a twelve-pack and $14.99 for a four-pack.
Super Espresso: Each 6-ounce Super Espresso drink gives you a concentrated dose of caffeine paired with filling fats and protein. Flavors include Original, Caramel, and Vanilla. Twelve-packs retail for $29.99.
Kitu Life also offers subscription options where you can purchase their larger packs that let you save 15% on each delivery and adjust the frequency to weekly, every other week, or monthly. There is no obligation to continue this subscription once you sign up, and you can cancel your account at any time.
Regarding shipping, the company states that they offer standard five- to eight-day shipping for $6.25, expedited two- to three-day shipping for $9.35, and next day shipping for $25 across the contiguous United States.
It's also possible to purchase Kitu Life beverages in select retail locations across the country, including Whole Foods, ACME, and more.
Ingredients
While Kitu Life puts lots of focus on what's not in their coffee drinks, we wanted to look closer at what they contained to see what the health implications might be.
Across the product line, the ingredients that caught our attention included the following: organic Colombian coffee, whey protein concentrate, coconut MCT oil, potassium phosphate, gellan gum, stevia, and monk fruit extract.
Let's look at their health facts:
Organic Colombian coffee: Kitu Life claims to use coffee that's grown free from pesticides, herbicides, and synthetic fertilizers for the benefit of your body and the environment. Each 12-ounce serving provides 200 milligrams of caffeine, which is slightly more than what's found in conventional brews.
Whey protein concentrate: The company relies on this lactose-free form of protein to create a creamy texture that's shelf-stable for nine months and doesn't add milk sugars or fats to the drink.
Coconut MCT oil: MCT oil is a natural fat found in coconuts (among other sources) that can promote weight loss by preventing fat storage and creating a feeling of fullness.
Potassium phosphate: A food additive that works to stabilize and thicken liquids. When taken in large amounts, it can act as a laxative. People with kidney disease should take care not to consume too much at a time.
Gellan gum: A vegan-friendly food additive used to thicken and stabilize liquids to give them a creamier texture.
Stevia: This plant-derived sweetener comes from a bushy shrub. It has an intensely sweet taste (200-300 times stronger than table sugar), despite being calorie-free.
Monk fruit extract: This melon-like guard grows in southeast Asia, and the fruit can be dried to produce a sweetening agent that's more than 150 times sweeter than sugar but doesn't impact blood sugar levels.
Nothing stands out to us as being potentially problematic within this ingredients list, with the exception that some people have an aversion to zero-calorie sweeteners like Stevia because they find they create an unpleasant aftertaste.
Analysis of Customer Reviews
Kitu Super Coffee has a lot of online reviews on sites like Amazon and Netrition. It averages 3.4 stars on Amazon and 4.5 stars on Netrition.
Some of the most consistent feedback we read was that customers thought the drinks tasted super sweet, despite the lack of sugar. Many also noted that they appreciated the 12-ounce serving sizes and their creamy texture, especially when they were chilled.
Those following the ketogenic diet noted that the Super Coffee was a simple way to get a caffeine fix in the morning and that the drink contained enough protein to keep them feeling full.
On the negative end, it seems the sweeteners (monk fruit and Stevia) tend to be polarizing, as some people had strong adverse reactions to them, reporting that they tasted fake and had a strong aftertaste. Others stated that the drinks were too expensive for them to use regularly.
Alternatives to Kitu Super Coffee
| | Kitu Super Coffee | Super Espresso | Black Coffee | Starbucks Bottled Coffee Frappuccino | Red Bull |
| --- | --- | --- | --- | --- | --- |
| Serving Size | 12 ounces | 6 oz | 12 ounces | 9.5 ounce | 12 ounces |
| Calories | 80 (45 from fat) | 40 (25 from fat) | 0 | 200 (30 from fat) | 168 |
| Caffeine | 200 mg | 180 mg | 136 mg | 90 mg | 111 mg |
| Protein | 10 grams | 5 grams | 0 | 6 grams | .9 grams |
| Fat | 5 grams | 3 grams | 0 | 3 grams | .3 grams |
| Sugars | 0 grams | 0 grams | 0 | 32 grams | 37 grams |
As this chart makes clear, Super Coffee and Super Espresso offer significantly more caffeine, protein, and fat per serving than the drinks from Starbucks and Red Bull.
You won't take in any calories if you drink black coffee instead, but the beverage also offers less caffeine than Kitu Life beverages.
The Bottom Line
There's a lot that's positive about Kitu Super Coffee. This brand packs a caffeine punch and contains far fewer calories and sweeteners than other bottled energy drinks.
Two potential negatives about this brand are the relatively high price point and your personal feelings about Stevia and monk fruit as sweeteners. Some people found the taste too strong, and you'll pay between $3.30 and $3.75 per 12-oz serving when you purchase through the company website. That's comparable to buying a specialty coffee at a café.
If you want the benefits of Kitu Super Coffee without the price tag, we suggest looking into making Bulletproof Coffee at home. This keto-friendly brew adds fats like butter or coconut oil to coffee to keep you full and burning fat. There are plenty of recipes online, and you can customize them to fit your preferences.
Creamer short dated

By Mary T.

,

Greenville, SC

,

Sep 8, 2020
Verified Reviewer

Length of Use: Less than 3 months

Overall Experience:

Have sent 2 emails about my order. Bought 3 cartons of creamer. All expire in 3 weeks, can't use that fast. Have heard nothing from company. Want to ship back.

Pros and Cons:

Flavors
Short dated creamer

Bottom Line: No, I would not recommend this to a friend

---

Advertisement

---