Lectin Shield
Claimed This company has claimed this profile, is getting alerted on any new customer reviews entering this page, and may engage in dialogue with its customers to address their matters.

Companies cannot pay money or provide goods in order to remove or alter customer reviews.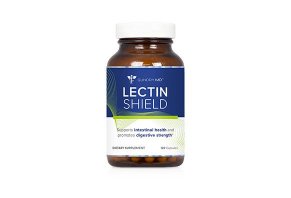 Gundry MD claims that Lectin Shield will support intestinal health and support digestive strength by reducing the effects of lectins. Can It work as promised?
---
This company is actively collecting reviews from its customers. All reviews submitted are subject to moderation and approval to ensure they meet our

Review Guidelines

.

Benefits

Cottage Grove, Oregon

,

Jul 6, 2017
Verified Reviewer

Overall Experience:

I really enjoy the benefits of both products I ordered. The taste of the Vital Reds is really good, especially since I do drink any juices! The benefits of the Lectin Shield is great!

Bottom Line: Yes, I would recommend this to a friend

---

Lectins shielded successfully

Overall Experience:

I take Lectin Shield when I am going to eat a meal, which I think may cause indigestion, bloating, etc. It gives me my own gut shield from those problems, and I am happy with the product. My goal is to have better health and feel good, and this product helps me do that.

Bottom Line: Yes, I would recommend this to a friend

---

Advertisement

---

Provides the good bugs

By Nancy Hunter

,

Fort Worth, Texas

,

Jul 6, 2017
Verified Reviewer

Overall Experience:

With summer here, I cannot always eat as I should, and I feel that Lectin Shield provides the good bugs that I destroy from not eating as I should all the time. My goal is to be on Dr. Gundry's approved food list by the end of the summer.

Bottom Line: Yes, I would recommend this to a friend

---

Lectin Shield

By Char

,

Sydney, Australia

,

Jul 6, 2017
Verified Reviewer

Overall Experience:

I wasn't sure what to expect, but this product totally over-delivered. It made me feel more energetic. I already take Vital Reds and love them, but this took my overall well being, sleep, energy, and feeling of general fitness and health to the next level. I really love this product and will not be without it.

Bottom Line: Yes, I would recommend this to a friend

---

Advertisement

---

Really helps with digesting

By Patricia C.

,

Sarasota, FL

,

Jul 6, 2017
Verified Reviewer

Overall Experience:

I have been following their dietary recommendations and feel terrific. However, when eating out I am not sure of all the ingredients, so I make sure I take the Lectin Shield.

I am experiencing wonderful results.

Bottom Line: Yes, I would recommend this to a friend

---

Lectin Shield

By Julie Drew

,

Indiana

,

Jul 6, 2017
Verified Reviewer

Overall Experience:

I have an under active thyroid, and through Dr. Gundry I have discovered that lectins in certain foods can contribute to thyroid dysfunction. Since I am already taking thyroid medication, I want to make sure that it's able to work.

Since I grow my own organic tomatoes and peppers, I want to continue to cook with them and enjoy them. It's good to know that Lectin Shield will allow me to keep enjoying them and keep my thyroid at a higher functioning level.

Bottom Line: Yes, I would recommend this to a friend

---

Lectin Shield works great.

By Chris F.

,

Iowa

,

Jul 6, 2017
Verified Reviewer

Overall Experience:

I have been taking the Lectin Shield for about a month now and have noticed that when I eat certain foods I used to get really bloated and feel miserable for hours and my energy level would plummet. Now I take the Lectin Shield, and I have none of that. The other thing I notice is I have more frequent and easier bowel movements. I highly recommend giving it a try. I have noticed no adverse side effects, only good things.

Bottom Line: Yes, I would recommend this to a friend

---

Overall Experience:

I have been taking Lectin Shield for about three and a half weeks. I had severe digestive issues before I started taking Lectin Shield. I had to have a colonoscopy every 3-6 months. The doctor said I had lesions on my upper intestine, and he marked it with a tattoo. I was taking Miralax every day, otherwise, I would go one, two, even three weeks without a bowel movement!

I have noticed an unbelievable change, and I am having almost regular daily bowel movements.

I also take Dr. Gundry's Vital Reds, which is another miracle, but I'm not sure if that combination is helping. I think so, but I'm not a doctor. I also seem to have less late night food cravings.

If you're on the fence about these products or just unsure, don't cheat yourself out of feeling better. I feel better then I have in 15 years. I would recommend this and any of Dr. Gundry's products.

Thank you, Dr. Gundry, for a new me, and I feel great!

P.S. At first, I was skeptical, but after getting to know what kind of person Dr. Gundry is, I would trust and take his advice on any topic. He is sincere, and he is genuinely concerned about his patients. Just watch any of his videos on YouTube. You will see what I mean.

Bottom Line: Yes, I would recommend this to a friend

---

Excellent product

Rancho Cordova, CA

,

Jul 7, 2017
Verified Reviewer

Overall Experience:

As an individual who has always eaten a lot of natural foods, especially loads of vegetables daily, I never really understood why I didn't feel great after some of my so called "healthy" meals. Then I discovered the product, Lectin Shield. What a difference it makes with how I feel after every meal! One of the best supplements I've ever taken! Thanks for all of your groundbreaking work with nutritional supplements Gundry MD!

Bottom Line: Yes, I would recommend this to a friend

---

Overall Experience:

I only take Lectin Shield when I can't avoid foods containing lectins. In fairness to their survey, it's difficult to feel a difference compared to if I took it regularly. I would take it every day and probably should since it's so difficult to find lectin-free foods. Instead, my strategy in keeping within my budget, I take their Vital Reds regularly and soon will be buying their probiotics and PrebioThrive supplements and will take it regularly.

Bottom Line: Yes, I would recommend this to a friend

---

Red vitals and lectin blocker

By Carol Ducsay

,

Abbotsford, British Columbia, Canada

,

Jul 10, 2017
Verified Reviewer

Overall Experience:

Thank you for the work you have done to help me and other to help us lose weight. Yes, I am feeling better health wise, and I have only been using lectin blocker about one week now. Keep up the good work, thank you.

Bottom Line: Yes, I would recommend this to a friend

---