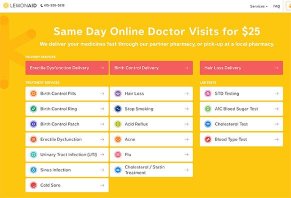 Lemonaid Health is a telemedicine company that provides quick and easy online access to board-certified doctors who can diagnose and write prescriptions for common medications.
About Lemonaid Health
Whether you need help on a one-time or ongoing basis, Lemonaid Health is an online doctor's office that helps busy people get the convenient, affordable care they need, regardless of insurance.
Unlike a traditional doctor's office, though, their telemedicine business model offers patients a guaranteed two-hour response time (M-F, 8a to 5p PT), same-day online doctor visits, pharmacy delivery, and even Android or iOS app access.
There's a lot to be said about receiving great medical care at a price you can afford, especially given the fact that more than 17 percent of American children and adults remain uninsured.
And when you add that Lemonaid can help you avoid booking an appointment with a local doctor, driving to their office, and sitting in a waiting room, it might seem like a no-brainer. Especially when it comes to regular medications for things like birth control, hair loss, cholesterol, and acne, to name just a few.
Here, we'll help you weigh all the facts so you can make a more empowered decision before scheduling an online visit.
How Does Lemonaid Health Work?
Lemonaid Health currently offers online visits, treatment services, prescription delivery, and lab tests in 18 states (AZ, CA, CT, FL, GA, IL, MD, MI, MO, NJ, NY, OH, OR, PA, RI, SC, VA, and WA), with additional states coming soon.
Supporting these states is a team of six San Francisco, CA-based doctors: Dr. Davis Liu, Dr. Matt Walvick, Dr. Vijay Bhat, Dr. Ruijun Chen, Dr. Gerri Davis, and Dr. Vladimir Dzhashi.
The company emphasizes that it's important to keep your primary care provider (PCP) informed. You can do this using their summary of care, which is available through the app or your account via their desktop site. Alternately, Lemonaid can send the summary directly to your doctor, if needed.
To begin, you'll click the Start Visit button on the Lemonaid Health home page, and then select the service you need.
Depending on what you choose, you'll then need to answer a few health questions (e.g., medical history, symptoms, current medicines, allergies, etc.), take a picture (whether to verify age or gender, or to make a visual diagnosis), choose your prescription delivery method, and the wait for a confirmation that your prescription is ready for pickup. Make sure you answer these accurately and truthfully.
Note: Depending on the prescription you're requesting, in combination with your health history and symptoms, Lemonaid follows strict guidelines and will let you know if it's in your best interests to see a doctor in person.
After submitting your Visit request, Lemonaid will review it within two hours during normal business hours (M-F, 8a to 5p PT), depending on the state. Outside of this, their FAQ notes they "try to review all requests for treatment as quickly as we can."
In most instances, the company doesn't require a video visit, although it's mandatory in some states, while in other instances it might be medically necessary to provide an accurate diagnosis.
If prescribed, Lemonaid Health can send your medication to any pharmacy in many of the states where their services are offered. They also provide free, fast shipping to your door for erectile dysfunction, hair loss, and birth control medications.
Which Treatment Services Does Lemonaid Health Offer?
Birth Control – Lemonaid can treat women ages 18-49, and provide 12-month prescriptions for more than 100 different brands of birth control pills, in addition to the NuvaRing birth control ring and Xulane patch (the generic version of Ortho Evra).
Hair Loss – Generic finasteride, 1 mg
Stop Smoking – Chantix, Zyban
Acid Reflux – Zantac, Prilosec
Erectile Dysfunction – Lemonaid can treat men ages 30-66 and prescribe generic sildenafil, 20 mg
Acne – A variety of prescription medications, including skin creams and oral antibiotics. Depending on your symptoms and medical history, they may prescribe a three-month supply of a single medicine, or a combination.
Urinary Tract Infection – A seven-day course of the antibiotic Macrobid
Flu – After an online assessment with a doctor, Lemonaid might prescribe antiviral medicines like Oseltamivir (Tamiflu) and zanamivir (Relenza), which can reduce the time you're sick by up to a day. Note: They can only prescribe treatment if you developed flu symptoms in the last 48 hours.
Sinus Infection – A 10-day course of the antibiotic amoxicillin. If you're allergic, they'll typically prescribe doxycycline as an alternative.
Cholesterol – Doctors can prescribe one-time or ongoing statin prescriptions, including for generic (Pravastatin, Lovastatin, Simvastatin) or branded (Pravachol, Altoprev/Mevacor, Zocor) medications.
Cold Sore – As long as this isn't your first cold sore, Lemonaid can prescribe anti-viral medications like Acyclovir 400 mg (generic of Zovirax), Valacyclovir 1g (generic of Valtrex), and Famciclovir 500 mg (generic of Famvir), for immediate outbreaks and daily prevention.
Which Lab Tests Can You Order Through Lemonaid Health?
To keep costs low, Lemonaid orders all of their labs through Quest Diagnostics—the largest laboratory company in the US—which involves testing your cholesterol, liver, and thyroid. In most instances, an appointment isn't required (although helpful), and you can find a location near you on Quest's website.
After receiving your test results, Lemonaid will send you a confidential message through your account, at which point you can ask any questions. You can also download a PDF of the document from the MyQuest website.
Sexually Transmitted Diseases
This urine test will let you know if you have common bacterial STDs like Chlamydia and gonorrhea. It will take about three to five days to receive your results, which are completely confidential.
If the test comes back positive for chlamydia, Lemonaid can provide a prescription treatment option (antibiotic shot).
A1C Testing
Provides hemoglobin A1C blood sugar measurements (average blood sugar over the last three months) that could help you identify if you have diabetes or prediabetes.
Blood Type
The same blood type test ordered by all doctors offices, which will let you know if you're in blood group A, B, AB, or O, and if you're Rh negative or positive, within three to five days. You don't need to fast (stop eating) beforehand.
Does Lemonaid App Provide Additional Functionality?
Based on what we learned from Lemonaid's listings on Google Play and iTunes, their app isn't just an extension of their website; it's a standalone ecosystem where you can accomplish all of the same things, including selecting a medication, requesting a Visit, video conferencing with doctors, and choosing a local pharmacy to deliver to.
Although Lemonaid Health's iOS and Android app doesn't provide any additional functionality, it provides access to all of the same features and functionality as their desktop site, only optimized for mobile devices. Credit: LMND Medical Group, Inc.
How Much Does Lemonaid Health Cost?
Lemonaid Health charges a $25 Visit fee for the doctor's evaluation, which you can pay online or within the app using a credit or debit card.
The cost of medications and lab tests are additional, and priced as follows:
Birth Control: $9/pack without insurance at Walmart; $15-$190 per ring; $125-$150 for 3 patches
Finasteride (90-day supply): $90
Chantix/Zyban (90-day supply): No prices listed. Lemonaid suggests that you choose a pharmacy that accepts coupon codes from GoodRx if you don't have insurance.
Zantac/Prilosec (90-day supply): No prices listed
Sildenafil – Starts at $2 per treatment (20 mg) using mail order
Macrobid (7-day supply): As little as $25, without insurance
Oseltamivir (Tamiflu) and zanamivir (Relenza): No prices listed
Sinus Infection: $4 at Walmart
Statins: According to Lemonaid's FAQ, "Some statins cost $10-15 for a three-month supply, or $40-60 for a whole year.
Cold Sore – $10 - $15 for immediate outbreak; $40 - $70 for suppression
Lab fees will cost:
STD: $28.16
A1C: $9.16
Cholesterol: $17.81
Blood Type: $36.11
While health insurance won't cover the fee for the doctor's evaluation, it's typically less than the cost of a copay, although insurance should still pick up the cost of the medication (depending on your plan and provider, of course).
If Lemonaid doesn't think it's appropriate to give you a prescription, they'll refund you the $25 fee.
What Can We Learn From Lemonaid Health Patient Reviews?
Between Google Play and iTunes, we encountered more than 1,000 customer reviews for the Lemonaid Health app, who had cumulatively given it an average rating of about 4.5 stars. Common compliments related to service speed, ease of use, and affordability, while the relatively few complaints frequently indicated that the service wasn't able to meet their needs.
As a company, LMND Medical Group, Inc. (dba Lemonaid Health) is based out of San Francisco, CA and was co-founded in 2013 by President Ian Van Every, Chief Medical Officer Jason Hwang, and CEO Paul Johnson.
| | | | |
| --- | --- | --- | --- |
| Company | Visit Cost | States Served | Notes |
| Lemonaid | $25 | AZ, CA, CT, FL, GA, IL, MD, MI, MO, NJ, NY, OH, OR, PA, RI, SC, VA, WA | Medications delivered to your choice of pharmacy—some can be delivered to your door. Doctor's notes easily available. |
| Amwell | $69 - $199 (covered by many insurance providers) | Nationwide | Shows doctors available, their experience level, and ratings before visit. No lab tests. |
| HeyDoctor | Typically less than $20 | AK, AZ, CA, CT, FL, GA, IL, IN, KY, MO, MT, NE, NY, NC, OH, OR, PA, RI, SC, TN, TX, VT, VA, WA, WY | Extensive labs available. Additional services like tuberculosis testing, vitamin D screening, eyelash growth extension, and metabolic performance. |
| Virtuwell | $49 max | AZ, CA, CO, CT, IA, MI. MN, NY, ND, PA, VA, WI | 24/7 accessibility to certified nurse practitioners. Provides some children's health treatments. Satisfaction guarantee. |
Previously, Ian acted as the co-founder and Commercial Director for DrThom, Jason as President of Jason Hwang, LLC, and Paul as Chief Digital Officer for Dr. Max Pharmacy Chain, as well as for Lloyds Pharmacy.
Are There Other Telehealth Apps Like Lemonaid?
Telemedicine—also referred to as telehealth—simply involves using telecommunications technology (e.g., video, online chat, email, phone calls, etc.) to help remotely diagnose and treat patients. And it's growing rapidly.
According to Statista, only about 350,000 patients used the technology in 2013, although this number is projected to exceed seven million by the end of 2018. That's a 2,000 percent increase in just five years.
Because of this rapid growth, several companies have entered the market to meet the demand. Some, such as Teladoc, provide an expansive range of services, including mental and sexual health, pediatrician services, and dermatology, while others provide niche-oriented medical support, such as Hims and Roman ED Meds (basic men's health prescriptions) and Nurx (birth control medications).
Here were some of the most popular app-based options at the time of our research, which (mostly) combined quick, affordable online visits for common conditions, prescription services, lab tests, and app functionality:
How can you choose which of these telehealth options are right for you? Let's take everything we've learned and come to a conclusion about Lemonaid Health.
Our Final Thoughts About Lemonaid Health
While the telemedicine/telehealth industry is in its infancy, the American Hospital Association reports that it's proven to be a cost-effective method of providing essential healthcare services to a broader group of consumers—including the huge percentage of the American population without health insurance.
In this way, telemedicine companies like Lemonaid are helping to 'consumerize' many aspects of healthcare, which means that you can approach choosing the best one as you would many other products and services. Specifically, through the lens of these four criteria:
Availability in your state
Treatment/services offered
Price
Online customer feedback
For example, of the options above, Express Virtual Care offered their services in the fewest number of states, while Amwell was the only nationwide provider. However, Amwell had the highest visit cost, while HeyDoctor was the lowest at (usually) less than $20.
At $25 per visit, Lemonaid's fees came in a close second, while they were also the only one who offered delivery to your door for certain medications. Many of their lab prices were also well under $10.
Given these criteria, along with their almost wholly positive online customer reputation and their refund guarantee (if they can't provide you with a prescription), you might not have much more to lose than a few minutes of time by giving Lemonaid Health a try.
5-star service

By

Yoshi B.

,

Vero Beach, FL

,

May 20, 2019
Verified Reviewer

I had 2 visits so far. The Lemonaid team is extremely professional and straight forward. The appointment is easy to make and the visit is just a couple minutes after the appointment is made.

I am a Healthcare professional myself and have learned first hand what first class service means. I recommend Lemonaid to anyone!

Thank you Kimberly and team!

Bottom Line: Yes, I would recommend this to a friend

---

1 out 1 people found this review helpful

Lemonaid Health

By

Alana T.

,

Tallahassee, FL

,

May 18, 2019
Verified Reviewer

Fast and reliable! The process was so easy and asked very straight forward questions. I would suggest this to anyone who needs prescriptions. I was able to get my prescription in under an hour!

Bottom Line: Yes, I would recommend this to a friend

---

Advertisement

---

0 out 3 people found this review helpful

No effect

By

Thomas G.

,

Fond du Lac, WI

,

May 17, 2019
Verified Reviewer

Took 80mg, have taken 50mg of Viagra. Had side effects - stuffy nose and headache. Zero side effects after 80mg and zero effect...won't fulfill the rest of the treatments. Buyer beware. No order number given. Many red flags...

Bottom Line: No, I would not recommend this to a friend

May 18, 2019

Hi Thomas. Sorry to hear your meds aren't working. Our doctors messaged you on 5/12/19 asking you some follow up questions about how you're taking your sildenafil. If it's easier for you to respond if our doctors telephone you, then just let us know. Our pharmacy is based in St Louis, Missouri and ships genuine medicines. If you speak with our doctors they can maybe recommend different medicines such as Cialis, or Cialis Daily. Would you like our doctors to call you?

---

2 out 2 people found this review helpful

The easiest was for me to get my medication!

By

Miq W.

,

Michigan

,

May 17, 2019
Verified Reviewer

I found Lemonaid about a year ago and I have been a patient with them ever since. It's super easy and the practitioners and patient support people are great. Quick responses and reliable help.

Also, now they offer mail order! I'm super happy about that. It makes an easy great experience even easier.

Thank you Lemonaid!

Bottom Line: Yes, I would recommend this to a friend

---

Advertisement

---

1 out 1 people found this review helpful

Excellent service

By

Joseph O.

,

Massachusetts

,

May 14, 2019
Verified Reviewer

The process was easy and convenient. Also, the staff and online doctor were very professional. I used it for ED medications but there are other categories. Highly recommended. I already have a tracking number one day after placing the order. Excellent.

Bottom Line: Yes, I would recommend this to a friend

---

1 out 1 people found this review helpful

Great service!

By

Jose D.

,

Morgan Hill, CA

,

May 14, 2019
Verified Reviewer

I had a great experience with my ED order. The process was fast and quick. The Doctors are quick on what you need and fast on Medications that you need to get shipped to you or for you to pick up at a local pharmacy.

I will definitely recommend Lemonaid Health for anyone's medication services.

Thank you.

Bottom Line: Yes, I would recommend this to a friend

---

2 out 2 people found this review helpful

Quick, easy, affordable

By

Joseph T.

,

Columbus, OH

,

May 14, 2019
Verified Reviewer

The order process took less than 24 hours, including a video consultancy with an RN that's required by law. They were friendly, fast, and affordable. I've used both Hims and Romans and while I recommend them all, Lemonaid is actually the quickest and easiest. They all have similar pricing. Lemonaid's discount for a first order is appreciated.

Bottom Line: Yes, I would recommend this to a friend

---

2 out 2 people found this review helpful

Excellent services!

By

Jas T.

,

New Castle, DE

,

May 10, 2019
Verified Reviewer

Completely satisfied with the services and offerings provided by Lemonaid. The physician I consulted with for my medical condition was professional and knowledgeable. I used their partner pharmacy to fill my prescription. Again, professional, courteous and reasonably priced. My prescription and subsequent refills were delivered to my door in a timely and discreet manner. Definitely recommend.

Bottom Line: Yes, I would recommend this to a friend

---

1 out 1 people found this review helpful

Great solution

By

David S.

,

Haymarket, VA

,

May 10, 2019
Verified Reviewer

Very professional, convenient, and discrete. Doctor review was complete - otherwise in excellent health but covered relevant topics. Provided an excellent solution that met my needs. Refill process very easy as well...

Bottom Line: Yes, I would recommend this to a friend

---

0 out 3 people found this review helpful

Take the money and run

By

Harry K.

,

Cleveland, OH

,

Apr 9, 2019
Verified Reviewer

The nurse practitioner called in the wrong prescription (I had been here before and she changed it without even speaking with me). When I tried to get it remedied, I was told by the supervising doctor that they were going to do it their way and really had no interest in what I had to say.

I would never recommend this place.

Bottom Line: No, I would not recommend this to a friend

Apr 10, 2019

Hi Harry, please give us a call at (415) 926-5818 when you have a moment because we can definitely resolve this for you and help you get your medicine at an affordable price.

It looks like one of our providers misunderstood your request, so we apologize that you felt we had no interest in what you had to say.

Please give us a call - we'd love to make things right!

---

2 out 2 people found this review helpful

Simple and convenient mail order prescription

By

Jane R.

,

California

,

Apr 4, 2019
Verified Reviewer

This service was great! The team was friendly and knowledgeable.

The app was simple to use, and my visit was completed quickly. My medication was affordable and shipped to me fast.

I'm a very happy customer.

Bottom Line: Yes, I would recommend this to a friend

---