Lemonaid Health
Claimed This company has claimed this profile, is getting alerted on any new customer reviews entering this page, and may engage in dialogue with its customers to address their matters.

Companies cannot pay money or provide goods in order to remove or alter customer reviews.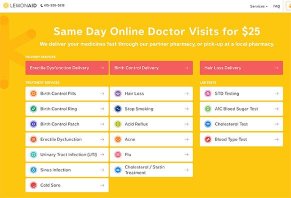 Lemonaid Health is a telemedicine company that provides quick and easy online access to board-certified doctors who can diagnose and write prescriptions for common medications.
Lemonaid Health Reviews - Is It Right For You?
Lemonaid Health is an online doctor's office and pharmacy that claims to offer convenient, affordable care instantly, anywhere in the United States.
Unlike a traditional doctor's office, Lemonaid Health offers patients same-day consultations with a U.S.-based doctor or nurse practitioner either over live video or convenient messaging.
The company behind Lemonaid Health is LMND Medical Group, Inc. They are based out of San Francisco, CA, and were co-founded in 2013 by President Ian Van Every, Chief Medical Officer Jason Hwang, and CEO Paul Johnson.
There's a lot to be said about receiving great medical care at a price you can afford, especially given the fact that more than 17 percent of American children and adults remain uninsured.
And when you add that Lemonaid can help you save time spent sitting in a waiting room or standing in a pharmacy line, it might seem like a no-brainer, especially when it comes to regular medications for things like birth control, hair loss, cholesterol, and acne, to name just a few.
In this review, we'll help you weigh all the facts so you can make a more empowered decision before scheduling an online visit with Lemonaid Health.
How Does Lemonaid Health Work?
Lemonaid's services can be split into three categories: online consultations with a doctor or nurse practitioner, prescription delivery and same-day lab tests.
To use Lemonaid, you'll click the service you need from the home page, and then click Start Visit when you're ready to begin.
You'll then need to answer a few health questions (e.g., medical history, symptoms, current medications, allergies, etc.), provide a selfie and photo ID (whether to verify identity or to make a visual diagnosis), and allow Lemonaid to authorize a $25 charge for the consultation on a credit card to submit your visit.
In some instances, state laws may require you to complete a live video consultation instead of providing a picture and photo ID in order to provide an accurate diagnosis.
After submitting your online visit request, Lemonaid will review it and respond within two hours during business hours, which consists of the following hours:
Monday to Friday: 8 a.m. to 5 p.m. PST
Saturday to Sunday: 8 a.m. to 12 p.m. PST
If you submit your request outside of business hours, the company says they'll respond within 24 hours.
If a live video consultation is required, you'll be directed to complete your video consultation with one of their providers immediately after you submit your visit.
If your consultation results in you being a candidate for a prescription, Lemonaid provides free shipping for prescriptions pertaining to the conditions we'll list in the next section. If you prefer to pick up your medication at a pharmacy, Lemonaid allows you to use your insurance and send the prescription to any U.S.-based pharmacy.
What Conditions and Prescriptions Can Lemonaid Health Diagnose and Provide?
The easiest way to understand the kind of consultations and prescriptions the company offers is to list a few examples of conditions they provide consultation for and the medications that coincide with those conditions:
Depression and Anxiety
Lemonaid can help individuals aged 25-60 get treatment. This service requires a video consultation with a doctor or nurse practitioner and their treatment plan is a $95-per-month subscription that includes unlimited messaging with a doctor and the necessary medication.
Erectile Dysfunction
Lemonaid can help men ages 25 to 72. Prescriptions include varying doses of sildenafil, Viagra, Cialis, and Levitra.
Genital Herpes and Cold Sores
As long as this isn't your first outbreak, Lemonaid can prescribe anti-viral medications like Acyclovir, Valacyclovir and Famciclovir for immediate outbreaks or daily prevention of genital herpes or oral cold sore outbreaks.
Birth Control
Lemonaid gives women ages 18-49 access to the birth control pill, patch or ring. They can deliver the birth control pill for $15 per month.
Hair Loss
Lemonaid can help men ages 18-74. They can prescribe generic finasteride 1mg for the treatment of male pattern baldness.
Other conditions for which Lemonaid can provide consultations and prescriptions include premature ejaculation, acne, smoking cessation, UTIs, sinus infections, the flu, acid reflux and high cholesterol.
Which Lab Tests Can You Order Through Lemonaid Health?
Earlier we mentioned that your video consultation, while not needed in every case, can lead to a prescription. The doctor or nurse practitioner with whom you speak can also order labs for you. Lemonaid has negotiated same-day lab testing through Quest Diagnostics, the largest laboratory company in the US! In most instances, an appointment isn't required (although helpful), and you can find a location near you on Quest's website.
After you complete testing, Lemonaid will receive your results and confidentially share them with you via message in your Lemonaid account, at which point you can ask any questions. You can also download a PDF of your results from the MyQuest website.
STD Testing
This urine test will let you know if you have common bacterial STDs like chlamydia and gonorrhea. If the test comes back positive for chlamydia, Lemonaid can provide an antibiotic prescription treatment option. Lemonaid cannot provide online gonorrhea treatment, as that requires treatment that can only be provided in-person.
A1C Testing
Provides hemoglobin A1C blood sugar measurements (average blood sugar over the last three months) that could help you identify if you have diabetes or prediabetes. You don't need to fast (stop eating) before this lab test.
Blood Type Testing
Provides a convenient, simple way of finding out what blood type you have. Lemonaid orders the same blood type test ordered by all doctor offices, which will let you know if you're in blood group A, B, AB, or O, and if you're Rh negative or positive. You don't need to fast (stop eating) beforehand.
Cholesterol Testing
Provides cholesterol measurements that could help identify your risk of having a heart attack over the next 10 years. Lemonaid can prescribe a 90-day supply of statins following a lab test if appropriate. You need to fast (stop eating) before this lab test.
Hypothyroidism Testing
Lemonaid is unable to diagnose hypothyroidism online. To get thyroid medication from Lemonaid, you need to have been diagnosed with low thyroid already. Lemonaid can prescribe levothyroxine and their pharmacy can ship thyroid treatment directly to your door.
How Much Does Lemonaid Health Cost?
As we mentioned earlier, the service charges a $25 visit fee for a doctor or nurse practitioner's evaluation, which you can pay on their website or within the app using a credit or debit card.
The cost of medications is additional and will vary depending on the pharmacy that dispenses the medication. We recommend calling the pharmacy you wish to use to obtain a price quote if you'd like to pick up your medication.
Also, Lemonaid Pharmacy provides two-day shipping of your medications to your home for free. Lemonaid offers discounts on medication pricing if you sign up for monthly refills. Refill frequency is customizable and you can cancel anytime.
The company's pharmacy pricing is straightforward. Here are a couple of examples of how much they charge for common medications:
Sildenafil 20 mg: $2 per pill
Sildenafil 50 mg: $34 per pill
Sildenafil 100 mg: $34 per pill
Viagra 50 mg: $85 per pill
Viagra 100 mg: $85 per pill
Cialis Daily (5 mg): $8 per pill
Cialis 5 mg: $11 per pill
Cialis 10 mg: $22 per pill
Cialis 20 mg: $44 per pill
Finasteride: $1 per pill
Birth Control Pill: $45 for a three-month supply
Zyban: $45 for a three-month supply
Cold sore: $50 for a 90-day supply
Genital herpes: $50 for a 90-day supply
Hypothyroidism: $27 for a one-month supply
Depression & Anxiety: $95 subscription fee for ongoing care and medication
While Lemonaid's $25 consultation fee is on par with many health care plans, their prescriptions are, in many cases far more expensive than what you'd pay using an online prescription service like Blink Health.
Here is a quick comparison table showing the cost to purchase and ship to your home several popular medications listed above:
| | | |
| --- | --- | --- |
| | Lemonaid Health | Blink Health |
| Sildenafil 20mg | $2 per pill | $0.69 per pill |
| Sildenafil 100 mg | $34 per pill | $1.99 per pill |
| Cialis 10 mg | $22 per pill | $55.19 per pill |
| Zyban (three-month supply) | $45 | $54 |
As you can see, Blink Health is a far cheaper option for prescriptions when it comes to Sildenafil but Lemonaid Health provides better prices for Cialis and Zyban. Because there seems to be some variation in pricing depending on which drug you buy, we suggest checking online pharmacy alternatives before committing to the prices Lemonaid gives you.
Keep in mind, though, that these alternative sites don't provide doctor's consultations but rather function as a pharmacy discount card for a prescription that's already been sent out by your doctor.
As for lab fees, here is what the five labs will cost you through Lemonaid:
STD: $28.16
A1C: $34.16
Cholesterol: $42.81
Blood Type: $36.11
Hypothyroidism: $30.50
If Lemonaid doesn't think online care is appropriate, they'll provide a full refund.
What Can We Learn From Lemonaid Health Patient Reviews?
Between Google Play and iTunes, we encountered more than 2,800 customer reviews for the Lemonaid Health app at the time of publishing, who had cumulatively given it an average rating of about 4.8 stars.
Common compliments related to service speed, ease of use, and affordability, while the relatively few complaints frequently indicated that the service wasn't able to meet their needs.
Are There Other Telehealth Apps Like Lemonaid?
Telemedicine—also referred to as telehealth—simply involves using telecommunications technology (e.g., video, online chat, email, phone calls, etc.) to help remotely diagnose and treat patients. And it's growing rapidly.
According to Statista, only about 350,000 patients used the technology in 2013, although this number is projected to exceed seven million by the end of 2018. That's a 2,000 percent increase in just five years.
Because of this rapid growth, several companies have entered the market to meet the demand. Some, such as Teladoc, provide an expansive range of services, including mental and sexual health, pediatrician services, and dermatology, while others provide niche-oriented medical support, such as Hims and Roman ED Meds (basic men's health prescriptions) and Nurx (birth control medications).
Here were some of the most popular app-based options at the time of our research, which (mostly) combined quick, affordable online visits for common conditions, prescription services, lab tests, and app functionality:
| | | | |
| --- | --- | --- | --- |
| Company | Visit Cost | States Served | Features |
| Lemonaid | $25 | Nationwide | Medications are shipped to your door with two-day shipping at no charge. Same-day labs are also available. |
| Amwell | $69 | Nationwide | Shows doctors available, their experience level, and ratings before visit. No lab tests. |
| HeyDoctor | $15 to $45 | AK, AZ, CA, CT, FL, GA, IL, IN, KY, MO, MT, NE, NY, NC, OH, OR, PA, RI, SC, TN, TX, VT, VA, WA, WY | Extensive labs available. Additional services like tuberculosis testing, vitamin D screening, eyelash growth extension, and metabolic performance. |
| Virtuwell | $49 max | AZ, CA, CO, CT, IA, MI. MN, NY, ND, PA, S.D. VA, WI | 24/7 accessibility to certified nurse practitioners. Provides some children's health treatments. Satisfaction guarantee. |
As you're trying to choose the right online health site for you, we want to point out that your decision will most likely take place via the following criteria:
Availability in your state
Treatment/services offered
Price
Online customer feedback
For example, of the options above, Express Virtual Care offered their services in the fewest number of states, while Amwell was the only nationwide provider. However, Amwell had the highest visit cost, while HeyDoctor was the lowest at (usually) less than $20.
At $25 per visit, Lemonaid's fees came in a close second, while they were also the only one who offered delivery to your door for certain medications. Many of their lab prices were also well under $10.
Our Final Thoughts About Lemonaid Health
While the telemedicine/telehealth industry is in its infancy, the American Hospital Association reports that it's proven to be a cost-effective method of providing essential healthcare services to a broader group of consumers—including the huge percentage of the American population without health insurance.
In this way, telemedicine companies like Lemonaid are helping to make many aspects of healthcare more affordable and accessible, which means that you can approach choosing the best one as you would many other products and services.
Given these criteria, along with their almost wholly positive online customer reputation and their refund guarantee (if they can't provide you with a prescription), you might not have much more to lose than a few minutes of time by giving Lemonaid Health a try.
As for who we think this site is good for, we believe it's an excellent fit for several different types of people. First, if you don't have insurance, Lemonaid is a fantastic fit. The cash price you'll pay for a primary care doctor visit will most likely be at least three times as expensive as the $25 you'd pay for a Lemonaid consultation.
Also, the lab prices you'll pay will most likely be cheaper than what you'd pay out of pocket without insurance.
On that note, we also think the site is a good fit for someone who deals with issues Lemonaid's consultations address that would normally require a visit to a specialist. Specialist co-pays are usually higher than $25.
This is especially true for their monthly depression and anxiety consultations, as you'd be hard-pressed to find a month of therapy sessions that would cost less than $95 per month.
Friendly and easy

By Hannah H.

,

Muskogee, OK

,

Apr 4, 2020
Verified Reviewer

I have been using Lemonaid for birth control for a while now, I just had to get a new prescription and I will use Lemonaid for a very long time. I got to talk to Sara NP on the phone yesterday and she was so nice and I just love how she actually cared and wanted to have a conversation with me, not just all business, but was still very professional.

Bottom Line: Yes, I would recommend this to a friend

---

NP Danielle was fantastic

By Heath T.

,

Overland, MO

,

Apr 3, 2020
Verified Reviewer

NP Danielle was amazing! Very intelligent, thorough, compassionate. Lemonade gained a lifelong customer! She asked great probing questions to isolate the issue. She most definitely listens to her patients! Awesome!

Bottom Line: Yes, I would recommend this to a friend

---

Always happy to help

By Michelle H.

,

Kissimmee, FL

,

Apr 3, 2020
Verified Reviewer

I have used Lemonaid twice for different reasons and I have been very happy with their care. The staff is always so kind and informative, providing extra tips on how to care for my ailments. They are understanding and take as much time as you need.

Bottom Line: Yes, I would recommend this to a friend

---

Quick and easy!

By Kathryn R.

,

Washington, DC

,

Apr 1, 2020
Verified Reviewer

I felt a UTI coming on midday Friday. I've had them in the past and know how my body feels as it develops. I requested a consult Saturday morning and had a call from a Lemonaid provider within 20 minutes - far less than the up to 24 hours I was told it could take. Very quick and easy and the provider was kind and friendly. Would definitely use again!

Bottom Line: Yes, I would recommend this to a friend

Apr 1, 2020

We love it when we're able to give you the care you need sooner than we said we would, Kathryn, so thank you for your kind review about Lemonaid Health and our UTI treatment service. Our patients need our help every day of the week, including weekends, so it's our honor to be able to help y'all out when you need our help. We aim to provide our patients with care that's quick and easy, and we want our team to be kind and friendly and professional. Please tell your friends about who we are and how we can help. We operate across America. You stay well in these difficult times, ma'am.

---

Advertisement

---

Great online service

By David S.

,

Fleming Island, FL

,

Mar 31, 2020
Verified Reviewer

Danielle asked all the right questions to determine a proper treatment plan. I would highly recommend using them. Using this remote service made me feel much safer during our current COVID-19 outbreak.

Bottom Line: Yes, I would recommend this to a friend

Apr 1, 2020

Thanks for sharing your recommendation, David. We're here to help Americans across the country during COVID-19 and we'll he here after for anyone who needs convenient, affordable care online. Our medical team of doctors and NPs take the time to make sure we give you the online prescription or advice that's right for you, just as NP Danielle Jansen did. Danielle is based in Missouri. Stay well, sir. Thank you for giving Lemonaid Health the opportunity to help you.

---

Excellent customer service

Within minutes of filling out the online form on Lemonaid, I was paired with a nurse practitioner who reviewed my request and called me to get my questions answered and order expedited. The best customer service, thank you Dina!

Bottom Line: Yes, I would recommend this to a friend

Mar 28, 2020

Catherine, thank you! I'm forwarding your kind review to NP Dina in Georgia - it will make her day. We know you have lots of choices for who to go to when you need an online prescription, so we try to differentiate ourselves with friendly helpful customer service and fair transparent pricing. May you and your family stay safe.

---

New birth control prescription

By Kalie K.

,

Kingman, AZ

,

Mar 27, 2020
Verified Reviewer

I signed up for Lemonaid to get back on birth control. I had a very cool experience! Had a video chat with Danielle Jansen, NP, and she was super nice and helpful. Got my prescription and going about my day. Definitely going to be using this amazing service again!

Bottom Line: Yes, I would recommend this to a friend

Mar 28, 2020

NP Danielle Jansen - based in Missouri - is the most recent person to join our medical team, so thanks for giving her a shout-out! "Super nice and helpful' is who we try to be for all our patients, whether you need an online prescription for birth control, UTI treatment, treatment for depression and anxiety, or many other things too. We can also ship your medicines direct to your door from our wonderful pharmacy team in St Louis. Thanks, Kalle.

---

Outbreak

By Toni P.

,

Hopewell, VA

,

Mar 26, 2020
Verified Reviewer

Questions were reasonable, time was not long for questioning, diagnosis doctor called me within 3-4 hours and went thoroughly through my questioning and was listening to what I was saying and ordered me exactly what I needed. Did better than my actual doctor really.

Bottom Line: Yes, I would recommend this to a friend

Mar 26, 2020

Hello, sir. Thank you for your review. On the one hand, it's great that our medical team did better than your actual doctor, on the other hand, I wish you had a local doctor who served you better! Our wonderful team of doctors and NPs always try to listen carefully to our patients so that we understand your situation and help you as best we can. We always try to provide a 5* service, so any feedback you could give us about how we could have delivered a 5* service rather than 4* service, would be hugely appreciated. Please send your feedback through your secure Lemonaid account and we'll work on doing a better job next time.

---

Very thorough and helpful

By Jennifer R.

,

Illinois

,

Mar 24, 2020
Verified Reviewer

I do not have health insurance at this time so despite general good health, small health issues pop up, like a recent UTI. I live in a very small town so a trip to a doctor (about a 20-minute drive) would have been incredibly uncomfortable. Plus I would have had to wait about six hours since the symptoms cropped up at two in the morning. I received a treatment plan quickly that was more thorough than most face-to-face doctor visits I've had in the past. The treatment plan also included helpful advice to prevent future infections. I am very impressed with this service and definitely recommend it to anyone in need of quick, but in-depth medical assistance. Thank you, Lemonaid Health, for your services!

Bottom Line: Yes, I would recommend this to a friend

Mar 24, 2020

Jennifer, that's great news that we could help you out and save you the drive and wait involved in getting to a doctor. We know UTIs are no fun, so we're honored that our medical team were able to help you out with an online prescription for UTI treatment. I hope you're feeling better now, but if you're not, you know where to reach us for more help and follow-up advice!

---

Thank you!

By Cinda N.

,

Idaho Falls, ID

,

Mar 24, 2020
Verified Reviewer

Thank you for being here to help me start my quitting journey. I didn't mind waiting only maybe 20 minutes to visit with a nurse practitioner. I'm committed to quitting cigarettes. It even caused arguments between my spouse and I. I have been motivated for a while but no other methods were enough for me. I'm glad you are here to help me do something about it to FINALLY beat smoking. I look forward to trying the medication when it comes and finally being successful. Thank you so much for the ease of service and not putting me down for not being successful with other ways. I really appreciate the comfort you give just by being there and able to help. Thank you!

Bottom Line: Yes, I would recommend this to a friend

Mar 24, 2020

Cinda, congratulations on making the decision to stop smoking. That's a HUGE step. It's our privilege to help you quit smoking. If you have any follow-up questions about how to take the medicines that we're shipping you from our pharmacy in St Louis, don't hesitate to reach out. Stay well, please.

---

Quick, easy, and secure

By Karis M.

,

Phoenix, AZ

,

Mar 24, 2020
Verified Reviewer

I had a wonderful experience using Lemonaid. They got to me quickly, really understood any questions or concerns I had, and made sure I was healthy in other ways rather than the one reason for my appointment. It may take a few minutes in the online waiting room, but it was worth it. Especially for moms who might have kids running around, she now doesn't have to load them all in the car and keep them entertained while she has her appointment. I would definitely recommend using a Telehealth service.

Bottom Line: Yes, I would recommend this to a friend

Mar 28, 2020

Karis, our whole team appreciates you taking the time to leave this review about Lemonaid Health. "Quick, easy, and secure" pretty much sums it up. Our medical team of doctors and NP make sure they think about what we can do to help you with your wider health, not just for the one reason why you might come to us. Whether it's recommending a blood pressure check, recommending a lab test, or many other things, we'll give you the advice we think will be helpful. Please spread the word to the moms you know!

---