LifeCell Reviews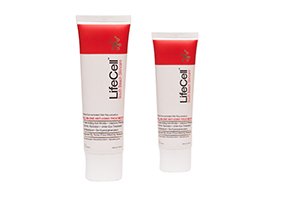 LifeCell anti-aging cream contains a blend of ingredients, along with light-reflecting micro-technology, that can reduce the appearance of lines and wrinkles.
About LifeCell
What if you could make your skin look younger in the next 17 seconds? And over time, you could take 10 to 15 years off your appearance?
LifeCell Cream, a topical skincare treatment from South Beach Skincare, claims to deliver. How? By instantly reducing the look of wrinkles, tightening sagging skin, reducing discoloration, defending against UV damage, and providing 24-hour hydration.
LifeCell Cream also contains something called light-reflecting micro-technology, which gets rid of the contrast that makes fine lines and wrinkles visible. The result? A revived, youthful appearance that's "better than a facelift."
There are so many big claims made by LifeCell's manufacturer that it's difficult to know where to begin. But we want to make sure all your questions are answered, so let's start with the anti-aging cream's ingredients.
Will LifeCell's Ingredients Help You Look Younger?
According to the LifeCell Cream website, the cream contains:
A "high concentration" of Dithiolane-3-Pentanoic Acid, also known as alpha-lipoic acid.
Plant stem cells from the Uttwiler Spätlauber apple
Ubiquinone, also known as CoQ10
Acetyl Hexapeptide -3, also known as Argireline
DMAE (Deanol)
Retinol (Vitamin A)
Ascorbyl Palmitate (Vitamin C)
Are any of these effective for reducing the signs of aging?
Plant stem cells (whether derived from apples or another plant) are "innately undifferentiated cells located in the meristems of plant. Plant stem cells serve as the origin of plant vitality, as they maintain themselves while providing a steady supply of precursor cells to form differentiated tissues and organs in plants."
In other words, like human stem cells, plant stem cells have the potential to become any type of cell. While these types of cells are valuable for the plants who hold them, there isn't enough clinical evidence showing that they can provide any benefits for human skin when applied topically.
Argireline is a proprietary ingredient from Lipotec, which is claimed to "mimic one of the proteins in the SNARE complex." As a result, muscles can't move and no wrinkles can occur. Many customers claim to have experienced at least some wrinkle reduction with Argireline, although third-party clinical evidence is essentially non-existent.
Matrixyl 3000 is another proprietary ingredient, but this time manufactured by Sederma. This product contains the peptides palmitoyl-tripeptide and palmitoyl-oligopeptide, which are thought to boost collagen and elastin production. The clinical evidence supporting this claim, however, is limited.
Hyaluronic acid has been shown to decrease the appearance of wrinkles, but only when injected into the skin, not when applied topically.
Outside of these, there's insufficient clinical evidence showing the topical application of any of LifeCell's ingredients will provide any of the anti-aging results claimed by the manufacturer.
What about their shadow-reducing technology?
What's the Deal with LifeCell's Light-Reflecting Micro-Technology?
Light-reflecting makeup has been around for years, as have the light-reflecting particles they contain, including crushed pearls, titanium dioxide, and mica. In fact, many of these products are available at stores near you, probably priced much lower than LifeCell (more about this in a moment).
As such, it's probably the case that LifeCell is much less of a breakthrough than the company claims.
Now that we know more about LifeCell's ingredients and some of the promotional claims made by the company, are there any negatives associated with LifeCell?
LifeCell Cream Side Effects
Overall, most of LifeCell Cream's ingredient should be well-tolerated by most users, with the most commonly cited side effect as redness at the application area.
However, keep in mind that there are some concerns about the long-term use of Argireline, which has been associated with permanently sagging skin.
Sure, that's a scary potential side effect. But what might be even more shocking is LifeCell's price.
The High Price of LifeCell
LifeCell anti-aging cream is only available through a 30-day trial, which begins from the date your order is placed. Just pay $4.25 S&H and you'll be sent a 60-day supply (2.54oz).
What happens if you don't cancel your trial? You'll be charged $189!
You'll also be enrolled in the "LifeCell VIP Discount Club," which means you'll be sent a 2-month supply of the cream once every 60 days, and your credit card will be charged $149 each time.
Want to cancel your trial? You'll need to contact customer service at 866-977-1412. Want a refund? You'll have 15 days from shipment date to request one, less S&H charges, of course.
Admittedly, LifeCell is one of the highest priced anti-aging products we've reviewed to date. But are customers claiming that the price is worth it?
Customer Feedback for LifeCell Anti-Aging Cream
Since writing our original review, several HighYa readers have talked about their experience with LifeCell. Overall, the product had a 1.7-star rating, with common complaints citing failure to work (one customer even claimed to have experienced red spots) and difficulty with the "free" trial.
Based on 631 Amazon reader reviews (as of 10/5/15), LifeCell Cream had an average rating of 3.3 stars. Common compliments were positive results; everything from firmer skin to decreased appearance of dark spots.
Note: Many of these reviews came from accounts where this was the only review, or where all reviews were posted within a very short period of time. This can be a strong indication that some of these reviews are fake.
On the other hand, numerous customers claimed that LifeCell didn't work (and certainly didn't live up to its 17-second promise), that the experienced hard selling tactics when speaking to representatives over the phone, its high price, and difficulty cancelling trials and processing refunds.
There were also 33 complaints on Pissed Consumer (difficulty cancelling trials and processing returns), along with many more citing the same concerns on ComplaintsBoard.com.
Finally, South Beach Skincare had an F rating with the Better Business Bureau, based on 258 closed complaints. Nearly all of these referenced problems with the free trial.
The BBB even issued an alert for South Beach Skincare back in 2013, claiming that the company made numerous unsupported marketing claims.
Whew! Now, let's wrap everything up.
Will LifeCell Give Your Skin New Life?
… or will it just spell death for your bank account?
Despite its immense popularity, it appears that the majority of customers who tried LifeCell anti-aging cream have been disappointed with the results (or at least felt that the results didn't live up to the high price).
And if customers attempted to cancel their trials or request a refund, they were often met with purposely-poor customer service and found it basically impossible to make any progress. This is a disturbing trend among online-only anti-aging creams, and we think that should you decide to roll the dice of LifeCell, you'll likely experience much of the same.
Instead, your money would almost certainly be better spent by making an appointment with your dermatologist, who can recommend more effective methods of reducing the signs of aging.
Before this occurs, you can start addressing the signs of aging by reducing UV exposure, quitting smoking/reducing alcohol consumption, getting plenty of exercise, sleeping well, and more.
Great product!

By Kieran L.

,

Hong Kong Island, Hong Kong, China

,

Apr 1, 2020
Verified Reviewer

I ordered a 30-day trial and I paid $14 for a courier. It arrived today and I applied it on my skin. It works amazing. I can really see the difference so I instantly bought another one for my friend but I didn't know there are accruing 2 months after enrollment. So now I have both the 30-day trial and the 50% offer coming, so I am checking with LifeCell to see If I can keep one enrollment to avoid duplication. I hope they can see my review and return back to my email.

Bottom Line: Yes, I would recommend this to a friend

---

Review fright!

After ordering the full size for shipping cost only, I am returning my product unopened the following day. Unfortunately the other reviews are horrible and frightening that I will get this each month and get charged the full amount if it's not returned in 30 days. Do not charge my credit card beyond the shipping fee originally allowed. It's asking for the order number and this is also scary because there was no order number included on anything. I took pictures of everything. Enclosed was a thank you card and pamphlet about the product. I don't want it!

Bottom Line: No, I would not recommend this to a friend

---

Advertisement

---

Worst product, I can't believe I fell for it!

By Zain K.

,

Albany, NY

,

Oct 15, 2019
Verified Reviewer

Used the product to get rid of wrinkles that were never there to begin with, now I have wrinkles that look so bad I wish I never used the product. I certainly believe that the product was the reason my wrinkles grew on my face more. If I could sue these guys I would.

Bottom Line: No, I would not recommend this to a friend

---

SCAM!

By Michele R.

,

Virginia

,

Jun 7, 2019
Verified Reviewer

First, I never received the product. Second, they charged me $189, when I signed up I thought it was a free trial and then I could decide if I wanna buy it - DO NOT BUY IT! They don't send the product and "in the fine print" they say whether or not you want to continue to use the product they are going to charge you $189. I tried to explain I never received the product and they would not refund my money. $189 for nothing.

Bottom Line: No, I would not recommend this to a friend

---

Advertisement

---

Stay away from this product/company

By Raphael G.

,

Los Angeles, CA

,

Sep 25, 2018
Verified Reviewer

LifeCellSkin has the worst reputation: Google it! It's a total scam...

Even after returning the trial product and calling the rep several times, I was threatened that my account would be charged for a product I have returned. The employees are so brainwashed that they can't even realize how awful they react to people simply trying to disassociate from their product.

Stay away from this product. Think, pretty much anything promoted by Doctor Oz is most likely over-promised and scientifically insane claims.

LifeCell will deny even a UPS receipt I have proofing I have returned the product.

Yes, there is a strong placebo effect when schmearing anything onto your face and wanting to believe this actually works. That in itself is okay to promote a product...but the interaction of this company with the worst reputation on the internet is truly astonishing.

Be WARNED, you will come across reps that are trained to bullying you to an extend that is actually illegal. Document all interactions and make sure you block your bank account from their access!

Bottom Line: No, I would not recommend this to a friend

---

LifeCell works

By Nick R.

,

Tucson, AZ

,

Aug 17, 2018
Verified Reviewer

I've read some of the reviews here about LifeCell, and it's mostly because LifeCell is expensive. Expensive products are expensive because they have good ingredients. I've been using LifeCell for three years, and I'm a 64-year-old man. The product has worked fantastically in my opinion and was worth every penny.

Bottom Line: Yes, I would recommend this to a friend

---

I actually like this product.

By Dia

,

Sacramento, CA

,

Oct 1, 2015
Verified Reviewer

I have been using Lifecell over a year now and I really feel like my face does look a bit younger then when I started.

Bottom Line: Yes, I would recommend this to a friend

---

Fake company

By Wendy Chen

,

Buckley

,

Aug 12, 2015

It fake don't to buy last two month I had free sample I paid £8.34 postage fee they save my information in my next bank statement I know they take £115 for my bank. I was very sorrow I phone to this company try to money back but I phone all the telephone not one work.

Bottom Line: No, I would not recommend this to a friend

---

Lifecell deceptive free sample, not free.

By Alice Hesselrode

,

Michigan

,

Jul 4, 2015

Lifecell offers a "free sample" of their product. Customer pays in theory only for shipping, $4.95. However they put a pending charge of $189.00 on my credit card. If the "free sample" was not returned in 30 days I would be charged $189. My bank notified me of suspicious behavior. I called Lifecell and told them I did not want their free sample or anything to do with their company and it's deceptive practices. If the product really worked I would think people would order it without them running this scam.

Bottom Line: No, I would not recommend this to a friend

---

Lifecell Face Cream

By Hong Nguyen

,

Orange County, CA

,

Jun 24, 2015

LifeCell didn't work for me. It gave me so much red spots on my face after using it for 2-3 days. When I stopped using LifeCell for one day, the red spots stopped. Then, I started to use it again and the red spots reappeared. It also gave me a little freckles.

Bottom Line: No, I would not recommend this to a friend

---

Lifecell Skin Cream

By Kathy Campbell

,

Denver, CO

,

Jun 24, 2015

LifeCell is a scam and a waste of money. The only difference that I noticed was in my bank balance. What women will do in the quest for beauty. There is nothing special about this cream. I didn't even finish the tube, but went back to my inexpensive, natural moisturizer from Natural Grocers. Don't believe this company's claims and don't waste your money.

Bottom Line: No, I would not recommend this to a friend

---