MicroTouch Solo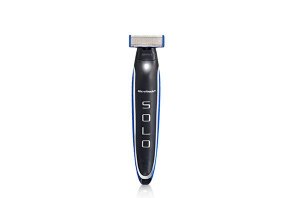 The MicroTouch Solo is a grooming product that claims to be able to provide precision facial and body hair grooming across a wide variety of styles.
MicroTouch Solo Review: Is It Legit or Just Hype?
The MicroTouch Solo is a combination trimmer, shaver, and edger that claims to be able to groom with micro precision providing an all-in-one grooming solution in the process.
Billing itself as a "Smart Razor", the product claims to be able to provide truly effective styling power in a variety of different modes, each designed to sculpt or manage a particular style of facial hair.
The makers of the product claim that it's effective for more than just beards, though, stating that it can also be used to manage body hair.
The dual German stainless steel blade design is said to be completely safe to the touch while also allowing you to shave both up and down, and the ultra-flex pivoting head is supposed to allow for superior maneuverability as you use the blade on the various contours of your face.
For many, daily upkeep of facial hair and body hair can be a real nuisance. What's worse, many individuals are forced to rely on a multitude of different products to shape, trim, shave and maintain their facial hair, adding complication to our already hectic everyday lives.
A product that could truly provide all of your facial and body hair grooming needs could potentially be of great value to those who are constantly on the go, as it could potentially make the daily ritual of shaping up the hairs a much more condensed affair.
In order to determine if the MicroTouch Solo is truly effective, however, we'll first need to take a closer look at how the product is supposed to work to deliver this three-in-one functionality. In the next section, let's do just that.
How the MicroTouch Solo Works
The MicroTouch Solo claims to work on any body surface, delivering a close shave while also allowing for a variety of upkeep methods such as edging beard lines and moustaches, and trimming lengthy beards and stubble.
The product also comes with three different plastic guides which can be used to alter the length you'd like to trim, allowing you to maintain a certain look if you so desire.
In addition, the MicroTouch Solo features a built-in high-intensity spotlight just below the pivoting head that the manufacturer claims will allow you to clearly see what you are doing as you use the product.
This could potentially be quite useful, as many who shave daily know that it can be difficult to see in certain areas, no matter how well-lit the room is. We aren't told just how bright this light is, but the explainer video depicts it as being bright enough to illuminate your entire face with ease.
To use the MicroTouch Solo, you simply need to decide which mode of operation you want to use. If all you're looking for is a simple shave, you can use the product without any guides, running it up and down along your hair until you've got the area clear and free.
The company states that you do not need to use water, shaving cream or soap and that the product doesn't cause razor burns or bumps of any kind. They also claim that it won't give you any nicks or ingrown hairs from regular usage.
If you're looking to trim your beard to a certain length, you can utilize one of the three included guides, depending on your preference. The company states that the MicroTouch Solo can tackle even the burliest, toughest beards in just one pass thanks in part to its military-grade stainless steel blade design.
As for recharging the device, we aren't told if comes with a rechargeable battery system, or if it uses traditional batteries instead. When we reached out to customer service to clarify, they informed us that they did not have this information, instead suggesting that we "Google it." Upon doing so, we discovered that there was no information about the type of battery the device uses anywhere that we were able to find.
MicroTouch Solo Pricing
Currently, the product is available for $19.99 + $5.99 for shipping & handling on the company website.
if purchased directly from the company's website, the MicroTouch Solo comes with a 30-day return period minus shipping charges.
The product is also available on Amazon and Walmart for $14.99. You'll adhere to their return policy.
The product itself comes with the three additional guides, as well as one additional replacement cutting head. We aren't told on the main site how much additional cutting heads are, but we inquired to customer service and found out that they are available as a two-pack directly from the main phone line for $9.99. They also stated that most orders are shipped out within 30 days of the original date they are placed.
The Bottom Line: Is MicroTouch Solo Truly a Game Changer?
There are hundreds of different personal groomers on the market today, all of them vying for a spot on your bathroom counter. With so many options to choose from, what might be best to look for? Ideally, you'll likely want something that provides all-in-one functionality, much like the MicroTouch Solo does, so that you can be able to streamline your daily grooming regimen as much as possible.
There are many different combination products available that offer similar functionality to the MicroTouch Solo, some of which have large followings and generous amounts of customers reviews to back them up. Ideally, you'll want to tune into what these voices are saying, looking out for products that truly stand out as being well-liked and reliable.
For instance, a quick Google search for "personal groomers" brings a number of products, including one with over 2,000 reviews on Amazon from Philips. This particular product seems to provide very similar features and benefits to the MicroTouch Solo.
To that end, the MicroTouch Solo seems, on the surface anyway, to be a potentially convenient and cohesive way to maintain and groom your facial and body hair, regardless of how you personally style and shape it.
The pivoting head and double-sided blade design seem as though they might indeed be able to deliver on the manufacturer's claim that the groomer works without water or cream to deliver a close shave, but according to authority sites such as WebMD, the only real defense against razor burns and bumps is using adequate lubrication.
The razor has mixed reviews on Amazon. It holds a 3.6 rating based on over 4,200 customer reviews. Some customers complained that it caused irritation to their skin as well as cuts. Other reports that they were not satisfied with product when comparing to other brands.
On the flip side, some customers did express satisfaction with their overall experience with the brush.
That alone isn't necessarily a reason not to give the device a chance, but before you do, we'd simply recommend looking around at alternatives like those mentioned above, as well as keeping the 30-day return policy in mind going into the purchase.
---
Battery didn't stay charged

By Andrew C.

,

Cherry Valley, CA

,

Jun 3, 2020
Verified Reviewer

Length of Use: 3–6 months

Overall Experience:

I was extremely happy when I first received it. Performed as advertised.

The battery didn't stay charged after owning it for only 6 months.

Pros and Cons:

No "pros" were specified in this review
Customer Service PHONE NUMBER not publicized well

Bottom Line: No, I would not recommend this to a friend

---

MicroTouch Solo is using the Covid epidemic as an excuse to scam and deny any level of customers at all.

By Peter R.

,

San Jose, CA

,

May 22, 2020
Verified Reviewer

Overall Experience:

The MicroTouch® Solo™ electric shaver is a defective piece of crap. The grooming attachments, which are the most important parts of the device, are fragile worthless pieces of plastic that will easily break, and customer service is unapologetically ZERO, which they could easily correct by just answering the phones and replacing their defective and broken grooming attachments by mail. And on top of it all, they have a surprise virtual NO warranty and want $6 PLUS S&H to send it back to them. What a huge disappointment. What a scam. Unless they support their product and offer to make good, don't even bother with this product MicroTouch® Solo™.

Bottom Line: No, I would not recommend this to a friend

---

Advertisement

---

It is a complete joke, no kidding, it works so badly you might start laughing. Hard to believe they even sell this thing.

By Jerry M.

,

Arizona

,

May 20, 2020
Verified Reviewer

Overall Experience:

Worst product I have ever seen, really a complete joke. Would not even begin to cut my beard. This thing is a toy for Barbi dolls or something, just a true piece of crap. I could not be more disappointed. Returning it on Monday.

Bottom Line: No, I would not recommend this to a friend

---

Solo

By Mark M.

,

Anchorage, AK

,

Apr 6, 2020
Verified Reviewer

Overall Experience:

What a piece of crap this is, and they want $20 for it. It didn't work from the get-go, what a waste of money. Could have gone to Vegas and placed a bet. Worst piece I've ever ordered online. I think all online stuff is crap.

Bottom Line: No, I would not recommend this to a friend

---

Advertisement

---

The worst product

By Ralph S.

,

Belleville, NJ

,

Apr 2, 2020
Verified Reviewer

Overall Experience:

I bought this razor to see if it would help me not use shaving cream and disposable blades. Stick with the blades, this is one of the worst products I have ever bought. It does not cut crap, bringing back to CVS for a refund. Stay away from this piece of crap.

Bottom Line: No, I would not recommend this to a friend

---

Very disappointed

By John S.

,

Chandler, AZ

,

Mar 13, 2020
Verified Reviewer

Overall Experience:

I ordered replacement blades that don't fit the trim heads that came with the razor. If I knew that would happen I wouldn't have bought the replacement heads but on a positive note, the razor itself works great but I wish the trim heads fit the new heads.

Bottom Line: No, I would not recommend this to a friend

---

Product quality after limited 8 months of use

By Michael D.

,

Fort Worth, TX

,

Mar 5, 2020
Verified Reviewer

Overall Experience:

After 8 months of limited use, my razor has no power. I called Solo customer service and they said I only had a 30-day guarantee. I would not recommend this razor to anyone based on my experience. I purchase in June 2019.

Bottom Line: No, I would not recommend this to a friend

---

Not happy!

By Thaddeus C.

,

Langhorne, PA

,

Jan 29, 2020
Verified Reviewer

Overall Experience:

All of the previously stated problems are very accurate. Please, do yourself a favor and read reviews of those of us who have purchased/used this poorly manufactured product. It is cheaply made and does not trim/cut well. Save your good money for a better product. You have been warned.

Bottom Line: No, I would not recommend this to a friend

---

Not what it's advertised to do.

By Dennis V.

,

Plattsburgh, NY.

,

Jan 6, 2020
Verified Reviewer

Overall Experience:

Disappointed and, call the cops! I've been robbed! I want my money back. It doesn't shave close, doesn't trim my mustache to my lip, what micro cut? The only good thing is the light, but it blinds me and I can't see what I'm not shaving. German steel? So what! I hope they go broke, and if they have any investors I hope they all lose their money.

Then I read other reviews after and I also would not recommend this to anyone. If I send it back I also have to pay for shipping so they got you going and coming.

Bottom Line: No, I would not recommend this to a friend

---

Garbage, stopped working after 2 days

By Joe B.

,

Massachusetts

,

Dec 23, 2019
Verified Reviewer

Overall Experience:

Disappointing and maddening. Stopped working after two days, would not hold a charge after it stopped working. Quality control is pitiful. You're better off with a battery-powered trimmer for your dog, it'll give you a much better beard trim and won't fail!

Bottom Line: No, I would not recommend this to a friend

---

Fake!

By Jeff F.

,

Arlington, WA

,

Nov 28, 2019
Verified Reviewer

Overall Experience:

I am happy to write a review! For one it is not what the commercial says it does, fake, and once again a product from China. Does not trim, does not edge, and does not shave. Perhaps if you have peach fuzz it would work. I am a man who has more than my fair share of facial and body hair. This product cannot trim my beard but pulls and hurts. It does not shave without it pulling my hair. Does not trim without pulling my hair. This product is a total fraudulent item, and I don't understand why men are falling for it, I did. It is all fake, fake, fake. I want my money back! I seriously think we all should team up and stop this novelty item from being sold.

Bottom Line: No, I would not recommend this to a friend

---