My Patriot Supply Survival Reviews
Claimed This company has claimed this profile, is getting alerted on any new customer reviews entering this page, and may engage in dialogue with its customers to address their matters.

Companies cannot pay money or provide goods in order to remove or alter customer reviews.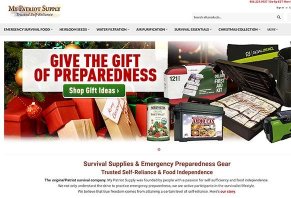 My Patriot Supply is a company that aims to equip individuals with survival gear intended for self-sufficiency and Emergency disaster-Preparedness.
About My Patriot Supply Survival
Founded in 2008 and based out of Salt Lake City, UT, My Patriot Supply provides a wide variety of high quality, affordable products geared toward self-preparedness and self-sufficiency.
The company claims that unlike their competition, they're focused on helping customers achieve their self-sufficiency goals, instead of using scare tactics to sell more products.
My Patriot Supply is rated A+ with the Better Business Bureau. They do have a fairly solid social media presence with more than 94,000 Facebook likes and 2,800 Twitter followers.
Based on our research, the company has a very positive online reputation, both for the quality of their products and for their level of customer service.
My Patriot Supply Products
The My Patriot Supply website is divided into the following main sections:
Emergency Food Storage: According to the company, this section of the My Patriot Supply site is the best-selling category. They offer long- and short-term storage solutions as well as more than a dozen food kits that feature fruits and vegetables, meat and protein and other food categories.
A company representative noted that the food listed on the site is packaged in military-grade Mylar for long-term survival up to 25 years in storage.
Heirloom Seeds: All seeds come with a "Non-GMO Safe Seed Pledge," which means that those purchased from the company are guaranteed to be free of genetically modified material. Seed categories include vegetables, herbs, fruits, flowers, and more.
You can also purchase several different seed vaults, which include 21 different types of seeds, all enclosed in protective packaging that keeps them viable for up to five years.
Water Filtration: This section of the My Patriot Supply website features four different kinds of water filtration systems as well as accessories and replacement filters accessories from filtration manufacturer Alexapure.
Survival Gear: This section of the My Patriot Supply site contains some of the more expensive items, including medical kits, survival gear, emergency lighting & power products, and more.
Features: This section features new arrivals and a link to the My Patriot Supply Survival Blog. If you're looking to save some money, take a look at their Deal of the Day section, which features one product at a reduced price, but is only listed for a period of 24-hours.
The My Patriot Supply site also includes air filtration products as well as survival gear for a variety of situations.
My Patriot Supply Pricing, Shipping, & Return Policy
Because My Patriot Supply offers a wide range of products, prices vary from very low to very high.
With this in mind, the company does claim to provide a low-price guarantee, though details are almost non-existent, and only include, "It is our commitment to provide you with the best value, at the best price. We value your business and strive to keep our prices low, and SAVE you money!"
According to the My Patriot Supply website, all orders are shipped within one business day, and orders over $99 comes with free shipping to all 50 states.
The company provides a 45-day, no-questions-asked return policy on unopened, unused products. According to a company representative, My Patriot Supply will credit your original method of payment minus any delivery charges.
Their website states that you can start a return by calling 866-229-0927 from 10 a.m. to 8 p.m. EST Monday through Friday and from 10 a.m. to 4 p.m. on Saturdays.
My Patriot Supply's Customer Reviews
At the time of publishing, the company had 32 user reviews on HighYa. The company's 11 most recent reviews were a mixed bag.
Six of the reviews were either four or five stars, while the other five were one or two stars. Happy customers noted they enjoyed the flavor of the food and the company's customer service.
The negative reviews focused on shipping mistakes, food products that didn't meet expectations and customer service issues.
The Bottom Line: My Patriot Supply Pros and Cons
Based on our research, we believe My Patriot Supply's greatest strengths are that it has hundreds of survival and self-sufficiency products, a low-price guarantee, a 45-day return period and a reputation for quality products and top-notch customer service.
As for downsides, there are multiple complaints about shipping but, in general, they seem to be resolved fairly quickly. We also noticed that several reviewers on HighYa noted that the food disappointed, not so much in quality but in the ingredients.
To counter this, we suggest that you read through each item's ingredients before you make a purchase to make sure they're agreeable. If, for some reason, you aren't happy with what you get, remember that the company has a 45-day return policy for unopened, unused products.
Great price and service w/ free shipping for Alexapure Water Filter Pitcher

By Martha S.

,

Wisconsin

,

Sep 18, 2019
Verified Reviewer

I ordered an Alexapure Water Filter Pitcher at a great sale price on My Patriot Supply (MPS). The website itself was user-friendly and contained reviews of products. Shipping and packaging were excellent. Great product received in excellent new condition. Very happy with MPS and plan to shop for more helpful water and air purifiers there in the future. They carefully consider all products out there and sell only the best ones with the best reviews and characteristics in the water and air purification line. Excellent company!

Bottom Line: Yes, I would recommend this to a friend

---

Terrible product sent

By Barb C.

,

Bellbrook, OH

,

Jul 15, 2019
Verified Reviewer

For you preppers, back-packers, who are buying freeze-dried products just a heads up on a product that I got from My Patriot Supply last week. I will never buy from them again, this was my first order.

I ordered a case of freeze-dried chicken, freeze-dried beef and freeze-dried hash browns. The chicken was fine when I opened the box, so was the hash browns. However, upon opening the freeze-dried beef, I noticed holes punched in the top of the bags as if they had been in a store for sale. On closer inspection of the bags, I notice the holes are punched below the seal line leaving them open to the air. I also noticed tiny pieces of meat in the bottom of the box.

I called the company immediately upon opening and finding this. The man who answered said, "we don't punch holes in our bags." Well, you sent me bags with holes punched in them. He told me to take pictures and send to a lady at the company with a note explaining what happened. I did that. She said they would send me four new bags to replace the ones that I could obviously tell were opened. I asked her if it was common for their merchandise to have holes punched in it and could I expect this to happen again. She said no, and asked me for the lot number on the bags so she could investigate.

I got four more news bags quickly. I opened the bubble wrapped envelope they shipped them in (Really? An envelope, now I can expect a lot of powder) and found four more bags with holes punched in them.

Obviously this company has no quality control and does not care about their reputation and repeat business.

Eating these packages can be dubious at best. I am out the $77.95 that was paid for these dubious packages of freeze-dried beef.

Bottom Line: No, I would not recommend this to a friend

---

Advertisement

---

Two thumbs up!

By Tif B.

,

California

,

Jun 19, 2019
Verified Reviewer

Great quality and quantity for the cost! Mac n cheese and potatoes au gratin are perfect for a party, just add some fresh shredded cheese. The soup is delicious and the breakfast oatmeal and cream of wheat is a breeze! Highly recommend and will buy again.

Bottom Line: Yes, I would recommend this to a friend

---

Great company, honest and ethical

When it comes to honesty and being transparent, this company does just that. When I researched this filed, I found that other companies charge a bit less upfront, only to find they have smaller packaged food items. It's calories to be aware of and this company is 2000+ where other companies literally don't give you enough to sustain. I know in emergencies I need more calories than normal. You get what you pay for! So Patriot is actually cheaper in the long run, not the other way around!

Bottom Line: Yes, I would recommend this to a friend

---

Advertisement

---

Not what we expected

By Sue H.

,

Parrish, FL

,

Mar 12, 2019
Verified Reviewer

I ordered a 4 week's supply billed at 50% off. I had my daughter test the food. One item made her sick and the other gave her diarrhea. The company offers refunds for unopened items but return postage is up to you. We paid $147 for food minus whatever for opened packages and shipping to return would be $82. Not much left.

Bottom Line: No, I would not recommend this to a friend

---

Out of stock item

By Mike P.

,

Peoria, AZ

,

Mar 12, 2019
Verified Reviewer

I ordered the Potassium tablets and after two weeks I call to see where my product was at and they could not find me in the system at first and tried to pawn it off to another company with a name close to theirs. After I told them the phone number on my bank statement was theirs they looked again in their system and this time they found me and said it hasn't been sent yet and I asked why and they did not know. The person's manager was asked and his answer was they were out of stock and did not know when they would be in stock again. So I ask why did you take my money and not tell me at the time of purchase that you were out of stock. The website now states the product is out of stock and you cannot purchase it or add it to your cart. I ask for a refund and they said it could take up to 5 days to get...

Bottom Line: No, I would not recommend this to a friend

---

This is not a good company

By Toni D.

,

Connecticut

,

Mar 4, 2019
Verified Reviewer

I have been purchasing items from Patriot Supply and just putting them aside. I decided to try a package of their butter and it was so horrible that it took hours to get the horrible taste out of my mouth. So then I opened a #10 of the butter powder and it was horrible. Then I decided to try a packet of the coffee creamer, which I have been buying a lot of and it was horrible. These items were not edible. So I leave a bad review on the butter and they never posted it. So they are lying with all the good reviews because they never post the truth. I am afraid to try all the instant coffee I bought from them, and I will never buy from Patriot Supply again.

Bottom Line: No, I would not recommend this to a friend

---

Great food

By Adam M.

,

Coeur d'Alene, ID

,

Nov 8, 2018
Verified Reviewer

I got a 4-week supply from My Patriot Supply. I pulled a couple of the food items out to try them out. Easy to make and the Creamy Chicken and Rice tastes great. I will be ordering a 3-month kit to build up my preparedness supply today.

Bottom Line: Yes, I would recommend this to a friend

---

This is not true freeze-dried

By Loren H.

,

Alabama

,

Oct 28, 2018
Verified Reviewer

I got my order in today, I only got the 4-week supply to test it all out. I'm extremely disappointed with the food. It's mostly rice and uncooked noodles, and only a couple of things are freeze-dried like carrots and celery, that's pretty much it. Everything else you can buy from the store and package yourself in the Mylar bags for a fraction of the price! The product is packaged and promoted very well, so don't let the pictures fool you. Everything takes up to 25 minutes to cook and with true freeze food, all you need is to pour some hot water in the Mylar bag and in a few minutes you have a ready meal. This is not true freeze-dried food!

Bottom Line: No, I would not recommend this to a friend

Nov 13, 2018

Our 4-week supply has 16 different items contained for breakfast, lunch, and dinners. This particular kit purchased contains mostly low heat dehydrated items. The cooking instructions are listed on our website. If you are looking for freeze-dried items, we do carry them in our case pack section. They will have "freeze-dried" in the title, so they can be easily found.

---

My Patriot Supply - Patriot Pantry review

By James A.

,

Boise, ID

,

Aug 7, 2018
Verified Reviewer

I've purchased the Patriot Pantry emergency food storage for several years now. The thing I love the most about My Patriot Supply is how fast they ship. I will admit I've tried other suppliers, but I found the food at My Patriot Supply to be the best tasting. And how fast they ship will blow your mind. I really LOVE this company and recommend them to all of my friends!

Bottom Line: Yes, I would recommend this to a friend

---

Great customer service.

By Tanner D.

,

Washington

,

Jul 30, 2018
Verified Reviewer

I was a dumb-dumb and gave the wrong address. They promptly called me and worked with both parties to get me my package. Staff is friendly, and they seem like very good people. Thank you to Larry at Patriot Supply. You rock.

Bottom Line: Yes, I would recommend this to a friend

---