Myro Deodorant
Claimed This company has claimed this profile, is getting alerted on any new customer reviews entering this page, and may engage in dialogue with its customers to address their matters.

Companies cannot pay money or provide goods in order to remove or alter customer reviews.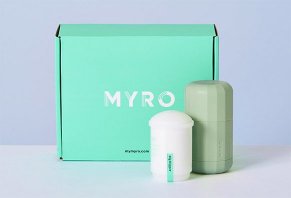 Myro is a subscription deodorant service that offers reusable canisters and quarterly deliveries of all-natural, aluminum-free deodorant to keep you smelling fresh.
Myro Deodorant Review - Perfect for Your Skin or Hype?
Myro is a plant-based deodorant brand known for its subscription service and refillable cases.
They aim to help you stay your freshest without exposing your skin to toxic chemicals or causing you to trash more single-use plastic containers.
The company offered five scents made with 99% natural ingredients, and a range of colorful, gender-neutral reusable cases.
Launched in September 2018, Myro's name comes from the Greek word for "essence."
According to a company's press release on Business Wire, Founder Greg Laptevesky got his start with subscription services by working with the meal kit company Plated.
He learned that consumers are becoming increasingly conscientious about what they put into their bodies, but that the deodorant industry was lagging.
"In looking holistically at the deodorant category, things have been very stagnant," says Laptevesky in the press release. "We thought this was the right time to disrupt the category and give daily routines their due".
Myro is his solution for disrupting the deodorant industry and prioritizing human and environmental health at the same time.
Are these perks appealing enough to consider switching your daily deodorant over to a subscription service? We looked at the details to help you decide.
How Do You Use Myro Deodorant?
According to the company website, the best way to use Myro deodorant is to apply 2-3 swipes to clean, dry skin under your arms. Each "scent pod" consists of 2.3 ounces of deodorant, which they state lasts most people between four and six weeks.
Because Myro deodorant isn't an antiperspirant (more on that later), you might notice that you will sweat more than usual for the first few weeks you wear it.
The company states that it can take up to four weeks for your body to adjust, and you might want to apply the product twice a day in the meantime.
When you run out of a scent pod, the company states that you will feel extra resistance when you turn the dial. At that point, you can turn the dial until the empty pod comes out, and then rinse out the Myro case.
Keeping the dome cap in place on the new deodorant pod, you can load it into the case and press down until it clicks into place. Turn the bottom dial in the direction of an arrow for at least ten full rotations before removing the dome cap.
What Are Myro Deodorant Options?
At the time of writing, Myro offered five varieties of their deodorant for purchase through their online store. Below are their names and the fragrances in them.
Solar Flare: Orange, juniper, sunflower
Big Dipper: Bergamot, lavender, vetiver
Chill Wave: Cucumber, jasmine, spearmint
Pillow Talk: Violet leaf, ylang-ylang, wild amyris
Cabin No. 5: Vetiver, patchouli, geranium
The company offers five colors for their reusable container: flame, moss, royal, slate, and blush.
The standard way to purchase Myro deodorant is through a subscription. At the time of writing, you'll pay $10 for your choice of variety and container color, shipping included.
One month after your initial purchase date, you will be charged $30 and receive a replacement three-pack of deodorant scent pods designed to fit in your original container.
From that point on, you will receive another replacement three-pack every three months in the scent of your choice. The company states that each scent pod should last between four to six weeks of regular use.
The company states that you can switch the scent you receive at any point before the next order ships, and they have a no-questions-asked cancelation policy.
If you prefer not to sign up for a subscription, Myro also offers a "Want-it-All" Bundle that includes each of the five scent pods and two refillable cases in the colors of your choice (choose between the "Populars," "Adventurers," "Sophisticates," "Minimalists" and "Wild Hearts" color combination packs). You'll pay $65 for this one-time order.
Myro offers a satisfaction guarantee that means they will accept returns and provide refunds for any reason. If you want to cancel your subscription or request a refund for an unsatisfactory purchase, you can contact them at help@mymyro.com to start the process.
Which Ingredients Are in Myro Deodorant?
When Myro references the ingredients within its deodorant, they make a point to mention the compounds it doesn't include, namely, "parabens, triclosan, propylene glycol, steareths, phthalates, talc, baking soda, artificial colors, and synthetic fragrances."
Instead, they state that the deodorant is composed of 99% natural ingredients, which include sugar-derived antimicrobials to prevent odor and barley powder to absorb wetness without upsetting your skin's natural moisture barrier.
The company makes it clear that Myro is a deodorant, not an antiperspirant.
According to MedBroadcast, the critical difference between the two is that deodorants reduce odor while antiperspirants prevent sweating.
The two types of products work differently, as the goal of deodorant is to make the armpits less hospitable for bacteria by making them salty or acidic. Many also include fragrances to mask any odors that develop.
Antiperspirants, in contrast, typically contain aluminum compounds as their active ingredient. These compounds are designed to absorb into the skin and temporary plug up your sweat ducts so you don't perspire. This effect is only temporary, which is why you need to reapply.
Many products contain both deodorant and antiperspirant components, so why is Myro strictly a deodorant? According to the company website, its products are proudly aluminum-free.
Does this really make much difference for the safety of Myro? We'll give a quick summary of our view below.
As we've reported in our review of Helmm deodorant, an online search for "aluminum antiperspirant side effects" comes up with thousands of hits for potential links between this compound and increased risk for developing breast cancer, kidney disease and Alzheimer's.
Saying that, WebMD states that the evidence is slim that aluminum plays a direct role in these health conditions. They indicate that most of the studies that point to a correlation were flawed and that consumers can use the aluminum antiperspirant with little concern.
However, Truth In Aging reports that Europe has established restrictions over the use of airborne aluminum compounds due to these findings.
In summary, we think that there's little reason to be overly concerned with the aluminum in your deodorant. Even so, the evidence is still forthcoming and the best way to reduce your risk is to stick with aluminum-free deodorants like Myro.
If you have further questions about its safety, you might want to talk to your doctor if you want a professional opinion.
Moving on from aluminum, let's look at the ingredients that actually are in Myro. We looked at all five scent's ingredients lists to see if anything stood out to us.
We aren't chemists, so we checked them out on the Environmental Working Group (EWG) cosmetic database to check out whether there's anything to be aware of.
According to what we found, the majority of ingredients act as skin conditioning agents, solvents, fragrances, preservatives, and buffering agents, which is standard for topical skin products.
A few ingredients caught our eye:
Isohexadecane
According to the Derm Review, this synthetic skin conditioning agent leaves a light, silky feel on the surface of the skin. However, the EWG database reported that the compound shows some risk for triggering non-reproductive organ system toxicity and potentially triggering cancer. The Derm Review clarifies that this risk is small for purified versions of the compound used in cosmetics.
Cocos Nucifera (coconut oil):
This rich skin conditioning agent is extracted from coconuts, and it's a non-toxic way to moisturize.
Limonene
The EWG database tells us that limonene is a scent ingredient sourced from the rinds of citrus fruit. Something to be aware of this that the compound starts to break down if it's overexposed to sunlight or air, and this makes it a potential irritant for sensitive skin (like the eyes) and the respiratory system.
Stearic Acid
This naturally occurring fatty acid is a common fragrance ingredient. What caught our interest is that the compound is typically derived from animals, which potentially challenges Myro claims to rely only on plant-based ingredients. However, Mountain Rose Herbs told us that manufacturers often source the acid from vegetable origins like palm trees.
What Do Customer Reviews for Myro Deodorant Show?
Myro was a relatively new company at the time of writing, so we weren't able to track down too many in-depth reviews about the product online. Saying that, we found that the reviews left on the company website were overwhelmingly positive.
Many people reported that the deodorant went on their skin gently and smoothly and that they loved the deodorant scents. Some people stated that they didn't need to go through a detox period because their skin responded well to Myro right away.
We also read a lot of comments from people who appreciated the eco-friendly aspects of Myro and found it convenient to switch out their scent pods when they ran out.
Customer service also won high marks for their responsiveness and willingness to work with subscribers on issues that came up.
The only negative comments we saw about the product showed up on YouTube comments left by people filming their product reviews.
A few people reported that the product wasn't strong enough to stop them from sweating during intense exercise. Others thought that the deodorant went on too wet and was messy on their clothes.
Are There Any Myro Deodorant Alternatives?
If you love the idea of a subscription deodorant but aren't sold yet on Myro, there are a few other brands to consider, including Smarty Pits, Helmm, and Native Deodorant. This chart highlights some of the critical differences between them:
| | | | | |
| --- | --- | --- | --- | --- |
| | Myro | Native | Helmm | Smarty Pits |
| Price | $10 initially, $30 for refills (three-pack) | $12 per single purchase, $10 with subscription | $28 initially, $12 for refills | $10.79 per order |
| Number of Options | 5 | 10+ | 4 | 9 |
| Aluminum Free? | Yes | Yes | No | Yes |
| Delivery Frequency | Quarterly | Every 1–4 months | Every 6–8 weeks | Every 1–4 months |
| Reusable Container? | Yes | No, deodorant comes in a bar | Yes | No |
This chart shows that Myro is priced attractively compared to the subscription deodorant competition.
You'll pay just $10 per stick, and the company states that they should last you between four and six weeks. This makes the product a slightly better deal than Native and Smarty Pits, especially if you factor in the reusable container you receive with your first purchase.
Helmm is a deodorant branded towards men, and it's a more upscale version than the other options we looked at. You'll pay more for the fancy reusable container, but the deodorant you need after is only slightly more expensive than the alternatives.
One potential drawback of Myro is that you don't have much flexibility with the frequency of your orders. The only subscription option the company offers is a three-pack delivered quarterly, while the other companies we looked at offered a range of lengths you can choose from.
Another perk of shopping with either Native or Smarty Pits is that these brands let you buy one deodorant at a time without signing up for a subscription. The only way you can give Myro a try is to spring for a "Want-it-All" Bundle or to cancel your subscription soon after you receive your first sample.
Our View: Should You Commit to Myro Deodorant?
Now that we've looked through the facts, do we think it makes sense to subscribe to Myro? This plant-based deodorant has a lot that's appealing.
For one, it offers you a way to put less plastic in the trash each month by using their reusable canisters. The company also provides a variety of scents that are well-reviewed from the information we found online.
Pricewise, you'll pay about $10 for a 4-6 week supply of deodorant. A standard canister costs anywhere from $3 to $18 or more, so you might even save money with this service.
It's also important to note that we didn't notice any negative reviews about Myro's cancelation policy, which is unusual for a subscription company.
This means that we think you can try out the service without worries that canceling your account will be difficult if it's not ideal for you.
Overall, we think there's good reason to consider subscribing to Myro. If you're still on the fence about it, find a friend to split the "Want-it-All" bundle so you can see how it compares to your current deodorant option.
Melting

By Valerie D.

,

Grand Island, FL

,

Jan 27, 2020
Verified Reviewer

I really like the idea of natural deodorant that works in a reusable container. It works well and I am happy with it except it keeps melting in my bathroom cabinet.

I bought the Myro Chill Wave at Target and love the smell, but have to keep a paper towel under it.

Is that normal?

Bottom Line: Yes, I would recommend this to a friend

---

I too wanted to love Myro but am disappointed

By Heidi Y.

,

Highland, CA

,

Dec 17, 2019
Verified Reviewer

I purchased every scent of Myro available when released at Target (loved all the scents and the possibility of changing out the pods day to day). Even purchased one via their website to start a subscription. Started with Chill Wave. Within a couple of weeks, the deodorant started to turn very soft and slimy, it made it impossible to apply from the tube directly. Had to apply with fingertips, and was so wet it took a long time to dry once applied. The deodorant is so wet it leaks from the pod leaving a film on the tube.

I contacted Myro who sent me two Chill Wave replacements (had another for my travel bag, also turned soft). I checked the other deodorants which seemed fine, so while waiting for my replacements I started using Cabin No. 5. The same thing has happened, and I have yet another mushy, wet deodorant. I intend to use what have until it's unusable (so I guess I'll have a couple weeks with each scent) but will move on to another deodorant.

Bottom Line: No, I would not recommend this to a friend

---

Left me with chemical burns

By Lucy N.

,

Seattle, WA

,

Dec 16, 2019
Verified Reviewer

Chemical burns on my underarms after just one use - I tried two scents and both left me raw, red, and peeling off large amounts of skin. Shocked Myro hasn't addressed this as it seems to be a known issue.

Bottom Line: No, I would not recommend this to a friend

---

Smells great, feels terrible

By Sophia C.

,

Hartsville, SC

,

Dec 13, 2019
Verified Reviewer

I love the scents and the refillable pods. It kept me smelling pretty good all day. However, it made my armpits peel, itch, and burn by the third day. I don't have sensitive skin and have never really used deodorant (not particularly sweaty or stinky in the pits). Hormonal changes caused me to start looking for a deodorant to wear regularly. I hear there is a "detox" period you have to let your pits go through before such peeling/rash goes away. How can that be though, if I get the peeling rash when I never used antiperspirants with aluminum in them in the first place?

Also, it melts...in my refrigerator! I literally have it wrapped in a paper towel in my refrigerator and it still melts! It's also slimy when you apply it and foams and takes forever to dry. Save your money y'all.

Bottom Line: No, I would not recommend this to a friend

---

Advertisement

---

Rashes, leaks, and slimy

By Samantha M.

,

New York City, NY

,

Dec 10, 2019
Verified Reviewer

I would have left a review on Myro's site, but unfortunately I purchased from a third party and it doesn't seem like you can leave a review unless it's a direct purchase.

I genuinely wanted to like Myro. I have the Chillwave scent and it smells great, covers odor reasonably well (though if you work up even a mild sweat you will have to reapply), and I like that it reduces plastic.

Unfortunately, I have had a similarly negative experience to many others here.

1) It's really wet.

My first impression was that it was just really...wet. It feels slimy going on, and takes a while to dry. I basically only do a single, super gentle swipe otherwise it feels really disgusting and drippy.

2) The container/formula is messy.

Coupled with the wetness mentioned above, it just seems like the formula is not shelf-stable. When I apply, the formula gets pushed around and off the edge of the applicator, and then not long after getting it I realized that it was dripping out of the twist mechanism on the bottom that pushes more product up. It is winter in New York right now, so I know it's not just melting from heat, and I cannot travel with Myro unless I put it in a plastic baggie. I've gotten greasy-looking patches on my clothes and bags when traveling with it. I literally keep it on a coaster otherwise there's a ring of oily residue left wherever I put it down.

3) Causes a rash.

The worst experience, though, was the rash. The first week or so I used it, it was fine. But I went out of town, and due to the leakage and messiness of the container, I just brought the conventional deodorant I use when I work out, which was also fine. About a week after returning and switching back to Myro, however, my pits developed a burning itch. It was irritating enough that I had to go to a bathroom and wipe the deodorant off with a wet napkin to reduce the discomfort as much as possible. I stopped using deodorant at all for a few days, and cautiously tried it again, to which there was no reaction.

I'm cautiously using it again, because I hate wasting product. I'm really nervous about the rash developing again in case it was related to me switching to the conventional deodorant which I still use if I'm working out, as Myro doesn't do the job well enough when you're sweating hard.

Pretty disappointed all in all. My priority is not the "all-natural" pitch, but the plastic reduction, so I've already placed an order for a different brand to try out.

Bottom Line: No, I would not recommend this to a friend

---

They are certain to be sued one day

By Sarah M.

,

Cleveland

,

Nov 22, 2019
Verified Reviewer

This company had so many problems with causing a rash and your skin peeling off that they shut down their Instagram, removed the reviews section on their Facebook, and Target has stopped selling it and just selling off what they have left. The rash won't start until a couple of weeks into using it. After I left a post on their Facebook, they blocked me. The other known issue is that it turns into a consistently of slightly melted ice cream - even when stored in the refrigerator. Don't be a sucker for their packaging idea because the rash isn't worth it.

Bottom Line: No, I would not recommend this to a friend

---

Same burning rash others have reported

By Phillip E.

,

Texas

,

Nov 21, 2019
Verified Reviewer

I wanted to like this product so badly. I chose Sub Flare sent and loved the way it smelled but that is about all I can say I liked about this product. Firstly it's super wet when you put it on and basically becomes sudsy. It never seems to dry. Secondly, I found that I became smelly quicker and even more than normal, and lastly I got a very bad rash that burns and never goes away. I thought like most that maybe my body just needed time to get used to a new deodorant but like a lot of people, I have never really had sensitive skin. My wife told me repeatedly that I should stop using it but I kept on to see if my body would adjust. It never did. The final straw came when I took my shirt off and both my armpits well swollen and severely red. I've now thrown the product away and will never recommend it to anyone. It really is disappointing as the scent was the best I have ever owned.

Bottom Line: No, I would not recommend this to a friend

Nov 22, 2019

Hi Phillip, we really appreciate your feedback and sorry to hear that you've had a poor experience with your Myro. Obviously, we want everyone to experience the product at its very best and experiencing any irritation or discomfort is far from our desired outcome.

To first address consistency, this definitely doesn't sound right. The deodorant should have a smooth glide, but remain solid, never becoming sudsy post-application. Furthermore, any irritation is certainly not normal and again, I'm so sorry that this was your experience.

But we recognize that everyone's skin is unique and Myro may not work for everyone. With that in mind, the majority of our users don't experience any sensitivity, but again, everyone is different. As an alternative to the scented varieties, you may want to check out our unscented (fragrance-free) option, Open Air. This often proves to be a better option for anyone who may have had a sensitivity to the deodorant options with fragrance.

We would love to learn more about your experience and see if we can make this right, please reach out to our pit squad at help@mymyro.com.

---

2.0 killed it for me

By Tiffany A.

,

New York

,

Nov 20, 2019
Verified Reviewer

I wanted to love my Myro Deodorant. I started with the previous version. I liked the refillable case, the formula, the scent and the look. The only issue I had was that it did not last at all. I had to reapply every few hours. I thought it was worth it if I was using less plastic and no aluminum. When Myro 2.0 came out, I thought it would be better. I was so wrong. The formula is wet and foamy. It does not dry and melts (even in 30-degree weather!). When it does dry, I get a burning sensation and my skin starts to peel. My armpits are all red now and my skin is so dry. This has never happened to me before. I am only halfway through my first pod and I have to finish the other two to get my money's worth. I don't know if I can because of the horrible rash. I am so disappointed! I was really hoping to find a natural and plastic-free deodorant!

Bottom Line: No, I would not recommend this to a friend

---

Burns so bad, can't give review if works

By Tracy C.

,

Port Angeles, WA

,

Nov 18, 2019
Verified Reviewer

Bought this at Target to try out. After using this for a couple of days I got a rash/burn incredibly bad. Stopped using for about a week for it to clear and thought I'd try again, because maybe the rash was from something else.

Bottom Line: No, I would not recommend this to a friend

---

Burning rash, skin peeling

By Brooke M.

,

Fort Worth, TX

,

Nov 9, 2019
Verified Reviewer

I love the idea of this product! However, it has left my armpits red, burning, and skin severely peeling. Odd because my skin is nowhere near sensitive. I googled "Myro armpit rash" and found multiple threads of this pain happening to many women. It also disgustingly melts as you put it on. Melts all down the side of the case and is super messy.

Bottom Line: No, I would not recommend this to a friend

---

Impressive

By Jessica A.

,

Delaware

,

Oct 30, 2019
Verified Reviewer

Natural deodorants never have worked for me. I would try them for a few days then right in the trash they went because they left me funky. After seeing Myro everywhere, I decided to give it try and I love it! Hand to god, I keep touching and smelling my pits for bo and there's nothing; not even on my shirts and I'm a stinky woman without deodorant. I was even puzzled as to why my underarms felt dry, which led me to look if there was some mystery ingredient or if maybe I mistook this to be natural when it really wasn't. Also, the scent dissipates fairly quickly, so there's no wrong choice because smelling the tube at Target doesn't give an accurate representation of the true fragrance.

Bottom Line: Yes, I would recommend this to a friend

---