Nerve Renew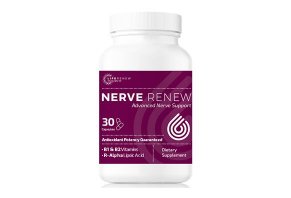 NerveRenew is a nutritional supplement intended to treat symptoms related to neuropathy, using ingredients allegedly backed by more than 20 clinical studies.
Nerve Renew Reviews - Does It Provide Neuropathy Symptoms Relief?
What Is Nerve Renew?
Nerve Renew is a nerve health supplement that aims to improve neuropathic symptoms with a blend of natural ingredients.
Neuropathy is a dysfunction of one or more nerves. You may experience a variety of symptoms, though numbness, tingling, and burning are common symptoms. It is estimated that nearly 16% of the US population suffers from this disorder.
The causes are wide-ranging, but diabetes and traumatic injury top the list. While medications are available to address this issue, there is also a variety of dietary supplements that may offer relief.
Nerve Renew is one option.
According to their website, the benefits you may experience with by taking 2 capsules of their supplement daily include:
Decreased neuropathic pain
Diabetic pain relief
Reduced Numbness and tingling
Less burning
More energy
Nerve Renew claims that their scientifically proven ingredients can offer relief for your neuropathic pain, but do they offer a better option than the available medications?
In this article, we'll review the available scientific support for their active ingredients to help you determine if Nerve Renew can alleviate your symptoms.
Nerve Renew Ingredients: Do They Work?
While other nerve health supplements offer similar formulations, Nerve Renew believes their blend sets them apart from the competition and is responsible for the purported benefits.
In this section, we'll address these minor differences and help you determine if they lead to significant results.
First, we'll take a look at the vitamins and extracts they've included to support the active ingredients.
Vitamin B2 and Vitamin B6 - 8mg each
B vitamins have a variety of essential roles; their ability to support brain and nerve health is well studied.
Vitamin B2 at 30mg 3 times daily may relieve some of the oxidative stress and neuroinflammation associated with neurological disorders like Parkinson's Disease.
The combination of B1, B6, and 5000 mcg of B12 daily over 3-months improved numbness, burning, and pain in subjects with neuropathy.
Vitamin D - 1000IU
Vitamin D may work as an antioxidant to battle free radicals, substances that cause oxidative stress. Adequate intake of vitamin D is vital for the development and function of the nervous system.
Its antioxidant effects may protect nerve tissue and deficiency during pregnancy has been linked to an increased risk for disease of the central nervous system.
Herb Blend - 86mg
Like the vitamins included in Nerve Renew, this unique blend of herbs has been hand-selected by researchers, scientists, and doctors, according to their website.
These herbs may also offer a similar supportive role for the active ingredients.
Feverfew Herb Extract
The medicinal use of this herb dates back to Ancient Greece. Feverfew Herb Extract may offer relief for fevers, arthritis, and stomach aches, in addition to treating neurologic conditions like migraines.
Oat Straw Extract
Also known as Avena sativa, oat straw is a cereal grass that is packed with minerals like iron, zinc, and manganese.
This herb may offer nerve and brain health benefits though 1500mg daily over 3-months did not seem to provide a cognitive benefit in healthy older adults.
Skullcap Root Extract
A relative of mint, Skullcap is a perennial herb found all over North America and is commonly included in herbal remedies.
It works as a nerve relaxant. This mechanism is still unclear, but it may involve Skullcap's ability to bind to receptors used by GABA, a chemical messenger that influences nerve function.
Passion Flower Extract
Another flower used in herbal remedies for centuries, Passion Flower, may also carry out its effects through interacting with GABA.
Those that drank tea containing this extract over 1-week experienced improvements in their sleep.
Up next, we'll take a closer look at the ingredients Nerve Renew believes are responsible for their supplement's benefits.
The Active Ingredients
Nerve Renew selected their active ingredients in an attempt to offer you the most effective means of treating your neuropathy.
Will touch on each of the 3 offered in this supplement and highlight why Nerve Renew believes them to be different from the competition.
Vitamin B12 (Methylcobalamin) - 4000mcg
A wide variety of supplements contain Vitamin B12. According to Nerve Renew, this form of B12 is absorbed and used more efficiently than those commonly included in similar products.
In patients with diabetic neuropathy, injecting 2,500mcg of methylcobalamin into the spinal canal improved symptoms like tingling and burning.
A recent review of 13 randomized studies found that the combination of Fasudil (a drug used to treat brain bleeds) and methylcobalamin was superior to treatment with either option alone.
It's important to note that the dosing of methylcobalamin in these studies ranged from 500-1000mcg, though the administration was either by muscular injection or intravenously, rather than orally.
Nerve Renew seems to offer a larger amount of methylcobalamin than doses found to be successful in studies. However, much of the scientific support appears to be when treatment is injected rather than taken via pill.
Vitamin B1 (Benfotiamine) - 600mg(a new, more effective, form of B1)
Another vitamin commonly included in similar products, Nerve Renew offers a special form of B1 that may be more effective than thiamine, the more common form included in supplements.
This notion was later confirmed in a study with healthy subjects. The absorption rate and amount of benfotiamine available in circulation were higher with oral doses of benfotiamine when compared to oral doses of thiamine.
Both 300 and 600mg of benfotiamine improved symptoms related to diabetic neuropathy when compared to placebo; effects were more significant with the larger dose.
More recently, benefits for neuropathy were not seen when Type 1 diabetics took 300mg of benfotiamine daily for 2-years.
While this form of vitamin B1 seems to be absorbed better than other forms, lowed doses may offer less benefit. The dose provided in Nerve Renew appears to be on par with those found successful in available research.
Stabilized R-Alpha lipoic Acid (ALA) - 300mg
According to Nerve Renew, this form of ALA is their star ingredient and the most effective antioxidant for relieving nerve damage. It may also promote the actions of B vitamins.
There were favorable effects in a study that included subjects with diabetic neuropathy.
Subjects were randomized to ALA treatment at 600mg, 1,200mg, 1,800mg doses, or placebo for 5 weeks. Symptoms of neuropathy were improved, though 600mg seemed to offer the most significant benefit with the lowest risk for side effects.
While ALA improved symptoms related to diabetic neuropathy, higher doses were associated with increased nausea, vomiting, and dizziness. Nerve Renew likely includes a lower dose to avoid these unwanted effects.
Side Effects and Safety
Vitamins are relatively safe to use. B vitamins are water-soluble and easily removed in your urine when taken in excess.
Vitamin D is fat-soluble, thus harder to remove when you consume excess. Nonetheless, the dose offered in Nerve Renew is comparable to doses safe for toddlers.
Adverse effects in herbal extracts are rare. For example, feverfew was safe 50mg/day over 6-months. For this particular herb, however, a withdrawal-like condition with headaches, insomnia, joint pain, nervousness, and poor sleep is possible when abruptly stopped after several years of use.
The active ingredients are similarly safe. Even when methylcobalamin was injected, there were no side effects reported.
Doses comparable or greater to the daily dose of Nerve Renew have been safely studied, though some side effects are possible. ALA at high doses may include nausea, vomiting, or dizziness; these were less likely at doses 2x greater than Nerve Renew's daily dose.
Despite a favorable safety profile in these natural ingredients, it is best to speak with a doctor before use.
Your symptoms can be caused by a number of issues, many of which should be medically managed. If diabetes is the source of your neuropathy, medication may be required in addition to lifestyle changes like diet and exercise.
Cost
There are many vendors that offer Nerve Renew, though only online purchasing seems to be available currently.
You have 3 options at their website:
For a 1-month supply (60 capsules) you'll pay $69 + $6.97 shipping. Your 3-month supply runs $147 + shipping.
Lastly, the 2-week trial offers the most savings. The trial is free; after 2-weeks they'll send a bottle for $49 each month. You can cancel this subscription anytime.
While this supplement is pricey, Nerve Renew attempts to ease your concerns by offering a 1-year guarantee.
To initiate your refund call or email support at 1-888-840-7142 or support@neuropathytreatmentgroup.com, respectively.
Amazon offers another purchase option. You'll pay $59 for 1 bottle or $207 for a 3-pack. Both are prime eligible.
Available Alternatives
Nerve health dietary supplements are available from other vendors, though the list of ingredients can vary considerably.
The Nerve Support Formula from Real Health Products is comparable to Nerve Renew. They offer a similar blend of B vitamins, including methylcobalamin and benfotiamine, as well as vitamin D. For a 1-month supply, you'll pay $44.20.
Nerve Complex from EuroMedica offers methylcobalamin in their B vitamin blend, as well as ALA. Your 1-month supply is currently $22.36.
You can also find the 8 ingredients offered in Nerve Renew individually, though this is less convenient and likely more expensive.
The Bottom Line
Neuropathy affects many people worldwide. Treatment often includes medical management and lifestyle changes, though symptoms can persist.
Nerve Renew offers a blend of ingredients that seem to have scientific support for their efficacy. These ingredients are also generally safe, though digestive side effects are possible with larger doses.
At HighYA, 21 users rated this product with 3.3 out of 5-stars. Unsatisfied customers reported a lack of results and hefty price tag as reasons they would not recommend use.
While natural means of controlling nerve pain can be appealing, remember to always speak to your doctor to identify the source of your symptoms before use.
---
Could work for some

By Steve A.

,

Travelers Rest, SC

,

Jun 13, 2020
Verified Reviewer

Length of Use: 3–6 months

Overall Experience:

Nerve Renew made me feel really bad some people can not take b6, too high of a dosage, b12 does not matter that much, b6 toxiblity is possible. You should warn people about this.

Bottom Line: No, I would not recommend this to a friend

---

Don't waste your money

By Mickey P.

,

Lovelady, TX

,

Sep 26, 2019
Verified Reviewer

Overall Experience:

I have taken NerveRenew and the one other they recommended for a little over 3 months, I call them at the end of one month and told them it was not working. They said give it three months. I said OK because they said it was a warranty for one year. At the end of three, I call to cancel and was told all they would do is refund the last unopened and the last two that I had taken. So much for that year thing.

Bottom Line: No, I would not recommend this to a friend

---

Advertisement

---

Would not recommend

By Linda H.

,

Clinton, MS

,

Apr 30, 2019
Verified Reviewer

Overall Experience:

I first ordered my trial bottle in May 2018. I decided to give it a little more time so they sent me one bottle renewal. To my shock, it was $72+ so I sent the package back return to sender. Within days I received another bottle and opened the package and sent that one back and paid return postage. I was shocked to receive another bottle and called about a refund. The lady said it would take 7 to 10 days and they would send an email whenever the refund was complete. I never received any refund or email. So I am out about $150.00.

Bottom Line: No, I would not recommend this to a friend

---

Great product

By Camille O.

,

Middletown, NJ

,

Apr 18, 2019
Verified Reviewer

Overall Experience:

I tried NerveRenew and Nerve Repair Optimizer a few months ago. There was a noticeable improvement after 3-4 weeks and I ordered more. After the second I stopped taking and my symptoms came back - was in a lot of discomfort. I am now back on products and starting to feel much improved.

Bottom Line: Yes, I would recommend this to a friend

---

Advertisement

---

This product works!

By Delores C.

,

Dallas, TX

,

Oct 16, 2018
Verified Reviewer

Overall Experience:

I've had neuropathy in my feet for about 5 years and thought I'd give this product a try to see if it would help with the "fireworks" that go off in my feet every night, keeping me awake until the wee hours of the night. I saw an ad for NerveRenew and thought I'd try the 2-week offer for the cost of shipping only. I have to admit, I didn't truly believe it would help - nothing else has. But, after taking it for about 3 days, I realized my feet weren't hurting when I went to bed at night. I've tried to determine if it was actually due to a change in the weather, sleeping positions, anything other than NerveRenew. But, the longer I take it, the better my feet are feeling. I've also noticed my feet aren't swelling as much as they were. The neuropathy hasn't gone away completely, but I've only taken it for a very short time, and I think it will improve with time. However, the PAIN has stopped, and that's a huge improvement. I will definitely be placing another order!

Bottom Line: Yes, I would recommend this to a friend

---

Not worth the money!

By Terri S.

,

Milwaukee, WI

,

Aug 26, 2018
Verified Reviewer

Overall Experience:

I took NerveRenew faithfully for three months, I did not miss a day. Absolutely no improvement whatsoever. A real waste of money. I started talking acetylcarnitine, and within two weeks I started noticing a positive difference. Now a month later, I'm feeling better each day!

Bottom Line: No, I would not recommend this to a friend

---

Very disappointed when I took the sample.

By Aldona S.

,

Valparaiso, IN

,

Jul 18, 2018
Verified Reviewer

Overall Experience:

After taking the sample order, I was hospitalized for six days. I don't know if it was from the NerveRenew, but I had not noticed any difference in my pain level. I did not accept the following order and sent it back.

I cannot give a good review because I didn't see any results and cannot dismiss the fact that I had problems that hospitalized me.

Bottom Line: No, I would not recommend this to a friend

---

Great product

By Grace Barse

,

Watertown, SD

,

Sep 29, 2017
Verified Reviewer

Overall Experience:

I do not have neuropathy, but I do have aching in both legs. I started taking this about 2 and a 1/2 to 3 years ago and have really experienced much relief. After some months of taking it, I would come off for several months, and if the problem came back, I would reorder. I have had mine on auto-ship since I began the program and have had no problem stopping it nor re-starting it.

And customer service is great. I would recommend it; as a matter of fact, my son will ask his doctor if he can take this because he does take other meds, and he does have neuropathy. I take several prescription meds and have had no problems taking this.

Bottom Line: Yes, I would recommend this to a friend

---

Overall Experience:

I tried this product for the trial period. If it doesn't start to work in that period of time, why does it take months to act? Spending hundreds of dollars, even with a warranty, makes me wonder how good it is.

At his point, I have mixed feelings to recommend it or not.

Bottom Line: No, I would not recommend this to a friend

---

Everybody is different

By Sari

,

Clearwater, FL

,

May 24, 2017
Verified Reviewer

Overall Experience:

I am always looking for the natural way of healing, and I am so glad I stumbled upon this product. A+. It works for me with daily stretching exercise. Awesome product. I am two months into ordering my third bottle.

Bottom Line: Yes, I would recommend this to a friend

---

Overall Experience:

My neurological doctor suggested I try this for 90 days. I have neuropathy in both hands and feet, and so far, after 30 days there has been no change.

The doctor did say we should give a full 90 days, which I will do (I paid for a 90-day supply), but so far I can't go any better than two stars. That rating will be updated after the next 30 days of use, either up or down depending on results.

Bottom Line: No, I would not recommend this to a friend

---