Nerve Renew Reviews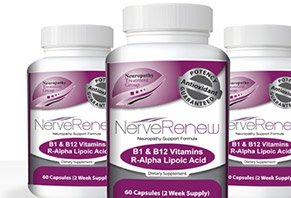 NerveRenew is a nutritional supplement intended to treat symptoms related to neuropathy, using only natural ingredients backed by more than 20 clinical studies.
About Nerve Renew
Nerve Renew is nutritional supplement aimed at improving symptoms related to neuropathy, including numbness and tingling in the legs, hands, and feet, as well as pain and burning sensations. On top of this, NerveRenew is claimed to support and strengthen nerve linings, reduce stress and anxiety, and improve balance and coordination.
In fact, the manufacturer dubs NerveRenew "the most complete nerve supplement on the market" by using the following ingredients:
Vitamin B1 300mg
Vitamin B2 4mg
Vitamin B6 4mg
R-Alpha Lipoic Acid 150mg
Vitamin D 500IU
Proprietary Blend 43mg: Feverfew Extract, Oat Straw Extract, Passionflower Extract, Skullcap Extract.
According to the company, NerveRenew's vitamin B is 3X more bioavailable than the vitamin B contained in other neuropathy supplements, which allows more of it to be delivered to your cells where it's needed. In addition, all of NerveRenew's ingredients are claimed to come from natural sources, to be NIR (near-infrared) tested for potency, purity, and quality, and to be screened for contaminants such as pesticides and heavy metals.
Once you begin taking NerveRenew, the company claims you might experience results in as little as one week, although it's recommended that you take the supplement regularly for 4 months in order to achieve best results.
Despite these benefits, NerveRenew claims to have received no reports of any negative side effects.
Whether your neuropathy affects your feet, legs, or hands, and whether the pain, tingling, and numbness are moderate or severe, you just want some relief. But can you reasonably expect NerveRenew to help? Consider the following:
The Causes of Neuropathy
First and foremost, keep in mind that there are more than 100 causes of neuropathy (as attested to on the NerveRenew website), including diabetes, kidney disorders, hypothyroidism, vitamin deficiencies, injury, alcohol abuse, and more. On top of this, neuropathy can affect three different types of peripheral nerves, including sensory nerves, motor nerves, and autonomic nerves.
Overall, this means that, like any other medical condition, neuropathy is complicated. As such, what works well for you may not work for someone else, and vice-versa.
Because of this, prior to placing your order, you'll definitely want to speak with your physician about whether or not NerveRenew could help based on your specific diagnosis.
Putting Nerve Renew's Clinical Proof into Perspective
The NerveRenew website references more than 20 clinical studies showing that its ingredients work as advertised. And while it's certainly positive that these natural ingredients have been shown to be beneficial, there are a couple of important considerations to keep in mind.
Oral vs. Injection
First, many of the studies were conducted using injectables, and not the oral formulation found in NerveRenew. This is important because oral administration means that the ingredients must first pass through the stomach, where the different components are broken down and then passed into your bloodstream.
Ultimately, this means that these ingredients will take longer to provide any benefits, and much of their potency might be lost during the digestion process, whereas injections can provide almost immediate relief directly to the affected area with minimal potency loss.
Mice vs. Humans
In addition, many of these studies were conducted on mice, not humans. And although it's positive that mice experienced some fairly significant benefits, this doesn't necessarily mean that these will translate into human benefits.
NerveRenew's Proprietary Blend
Finally, keep in mind that although many of NerveRenew's ingredients have been clinically tested, the supplement's specific formulation has not. In addition, almost half of NerveRenew's ingredients are contained in a proprietary blend, so there's no way to know how much of each the supplement contains, or whether or not there is enough to provide any benefits.
NerveRenew Side Effects
According to the company, NerveRenew causes no reported side effects, even though some of their ingredients are more than 13,000% of the recommended daily allowance (RDA). And surprisingly, this seems to be true based on the available medical evidence.
However, it is noted that vitamin B2 has an RDA of 1.2mg to 1.4mg per day for adults, and excessively high doses can lead to "diarrhea, an increase in urine, and other side effects."
Regarding the other ingredients contained in NerveRenew's proprietary blend, the most common side effect includes digestive upset. However, WebMD notes that passionflower can also cause "dizziness, confusion, irregular muscle action and coordination, altered consciousness, and inflamed blood vessels."
Are Customers Finding Relief with NerveRenew?
Because NerveRenew was recently rebranded, all online reviews for the supplement were under its previous name, Neuropathy Support Formula.
Overall, NerveRenew seems to have a mixed online reputation, with some customers experiencing neuropathy relief, while others claim to have experienced no benefits at all (as we noted in the first section above). However, other than failure to work and high price, there didn't appear to be any common complaints associated with NerveRenew.
From a company perspective, NerveRenew is manufactured by Neuropathy Treatment Group based out of Eagle, ID, who holds an A rating with the Better Business Bureau. Based on 16 closed complaints (as of 4/30/15), most appeared to reference difficulty canceling autoship enrollment (more about this next.)
NerveRenew Pricing & Refund Policy
NerveRenew is available through 3 different purchasing options:
1-Month Supply: $63 plus $6.97 S&H
3-Month Supply: $129 plus $9.97 S&H
14-Day Trial*: $6.97 S&H
*After your trial expires, you'll be billed $43 for the 30-day supply you received, and will also be enrolled in the company's Preferred Customer Program (read: autoship program). This means you'll continue receiving a 30-day supply of NerveRenew once per month, and your credit card will be charged $43 plus S&H each time.
Important note: For the most part, we've found that autoship programs are intended to keep billing you for products that you may have only wanted to try in the first place (not receive regular replenishment), and many companies make canceling your enrollment difficult.
While this might not be the case with NerveRenew (although many customers who posted complaints on the BBB website might disagree), we generally recommend avoiding autoship programs due to these concerns.
NerveRenew comes with a 1-year refund policy, less S&H charges. However, if you're enrolled in the company's autoship program, this refund policy only applies to your most recent shipment (30 days).
With all of this in mind, in order to request a refund or cancel your autoship enrollment, you'll need to call NerveRenew's customer service at (888) 840-7142.
Can NerveRenew Help Relieve Your Neuropathy?
Chopping to the point: Overall, it really seems to be a flip of the coin as to whether or not NerveRenew will help relieve your neuropathy symptoms, based primarily on your specific diagnosis (i.e. what's causing your neuropathy, how severe your symptoms are, etc.).
As such, it might be worth giving NerveRenew a try after speaking with your physician. And if it doesn't work, you can always take advantage of NerveRenew's refund policy, although you'll be out some money for S&H charges.
However, if you do decide to give NerveRenew a try, we'd recommend avoiding the autoship program until you know for sure if the supplement will provide any benefits. Then, come back to HighYa a let us know how everything worked out!
36 out 55 people found this review helpful

It's A scam

By Sam

,

Peoria, IL

,

Dec 31, 2015

Every since I started taking NerveRenew my sciatica nerve started to hurt me so bad I couldn't walk. I went to my doctor and a Chiropractor and now I'm doing more exercises to stretch my sciatica in my butt right side muscle and my outer right knee. It burns when touched or when I slide across the sheets in my bed. My nerves are just shot due to the medicine in the pill called NerveRenew.

It's just too much for your nerves. The extra medicine in each pill breaks down your nerves in your body. It's very harmful plus it says it has more medicine in each pill than what an average body needs. So I guess the extra medicine attacks the nerves which as I see it will bring damage and harm to your nerves. It's just to make money as they scam people. They do not worry about the harm they bring to many innocent people with their lies.

Now, I need all my money back that I have spent with your company. If a lawsuit comes up against them, I will be the first to join. If not, I will start the lawsuit myself unless they return all my money for a refund.

Bottom Line: No, I would not recommend this to a friend

---

14 out 16 people found this review helpful

Very disappointed when I took the sample.

By Aldona S.

,

Valparaiso, IN

,

Jul 18, 2018
Verified Reviewer

After taking the sample order, I was hospitalized for six days. I don't know if it was from the NerveRenew, but I had not noticed any difference in my pain level. I did not accept the following order and sent it back.

I cannot give a good review because I didn't see any results and cannot dismiss the fact that I had problems that hospitalized me.

Bottom Line: No, I would not recommend this to a friend

---

Advertisement

---

17 out 18 people found this review helpful

Not worth the money!

By Terri S.

,

Milwaukee, WI

,

Aug 26, 2018
Verified Reviewer

I took NerveRenew faithfully for three months, I did not miss a day. Absolutely no improvement whatsoever. A real waste of money. I started talking acetylcarnitine, and within two weeks I started noticing a positive difference. Now a month later, I'm feeling better each day!

Bottom Line: No, I would not recommend this to a friend

---

23 out 24 people found this review helpful

Would not recommend

By Linda H.

,

Clinton, MS

,

Apr 30, 2019
Verified Reviewer

I first ordered my trial bottle in May 2018. I decided to give it a little more time so they sent me one bottle renewal. To my shock, it was $72+ so I sent the package back return to sender. Within days I received another bottle and opened the package and sent that one back and paid return postage. I was shocked to receive another bottle and called about a refund. The lady said it would take 7 to 10 days and they would send an email whenever the refund was complete. I never received any refund or email. So I am out about $150.00.

Bottom Line: No, I would not recommend this to a friend

---

Advertisement

---

8 out 8 people found this review helpful

Don't waste your money

By Mickey P.

,

Lovelady, TX

,

Sep 26, 2019
Verified Reviewer

I have taken NerveRenew and the one other they recommended for a little over 3 months, I call them at the end of one month and told them it was not working. They said give it three months. I said OK because they said it was a warranty for one year. At the end of three, I call to cancel and was told all they would do is refund the last unopened and the last two that I had taken. So much for that year thing.

Bottom Line: No, I would not recommend this to a friend

---

11 out 16 people found this review helpful

I had no success

By Doncell

,

IL

,

Dec 2, 2016
Verified Reviewer

I've been taking this product for about a month, and I haven't had any success. My neuropathy usually kicks up when I get nervous. Like speaking in front of a crowd. Then sometimes it continues for a few day after. I wish something is invented to knock neuropathy out the park.

Bottom Line: No, I would not recommend this to a friend

---

20 out 21 people found this review helpful

NerveRenew not working

Rockaway, NJ

,

Feb 28, 2017
Verified Reviewer

I have been using NerveRenew now for a month and a half, and I see no change. I will finish the product that I have left and see from there if I will renew my order.

Bottom Line: No, I would not recommend this to a friend

---

28 out 31 people found this review helpful

30 days no change

My neurological doctor suggested I try this for 90 days. I have neuropathy in both hands and feet, and so far, after 30 days there has been no change.

The doctor did say we should give a full 90 days, which I will do (I paid for a 90-day supply), but so far I can't go any better than two stars. That rating will be updated after the next 30 days of use, either up or down depending on results.

Bottom Line: No, I would not recommend this to a friend

---

34 out 39 people found this review helpful

Trial period.

I tried this product for the trial period. If it doesn't start to work in that period of time, why does it take months to act? Spending hundreds of dollars, even with a warranty, makes me wonder how good it is.

At his point, I have mixed feelings to recommend it or not.

Bottom Line: No, I would not recommend this to a friend

---

14 out 16 people found this review helpful

I think it helps. Not getting any worse for over a year.

This product did not cure but kept it from getting worse. I continue to buy it.

Bottom Line: Yes, I would recommend this to a friend

---

30 out 34 people found this review helpful

It took a few bottles but I'm seeing results

By Spencer Lockwood

,

Brevard, NC

,

Dec 22, 2015

My son found this company online and sent over a link so I decided to order a few bottles and give it a try. I've been living with nerve pain for a long time so I felt like there wasn't much to lose.

I didn't really see results right away but I decided to at least use up the bottles I had. After about 2 months I really started noticing that my feet didn't burn as much. I'll keep using the product and hopefully keep seeing results.

I haven't had to deal with their customer service or refunds so I can't comment on that side of things.

Bottom Line: Yes, I would recommend this to a friend

---