Opendoor
This company has claimed this profile, is getting alerted on any new customer reviews entering this page, and may engage in dialogue with its customers to address their matters.

Companies cannot pay money or provide goods in order to remove or alter customer reviews.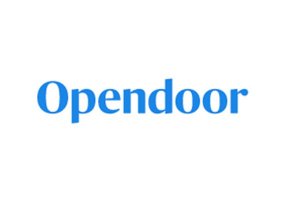 Summary
Opendoor's tech-driven homebuying platform presents an attractive option to sell your home fast. Our review will help you decide if it is the right service for you.
About Opendoor
Opendoor is a tech-based real estate company that can buy your home in as few as 14 days.
The company has streamlined their buying process to cut down on the wait times that you encounter with a traditional sale while charging purportedly low fees and cutting down on the unknowns you'd typically face.
For anyone who has sold a home, a service like Opendoor is an inviting one. A home sale often requires a lot of work and stress on the seller's part.
If your home needs work, you have to call contractors and handymen, negotiate the prices and oversee the repairs. An inspection may reveal serious issues that could hold up your sale. Buyers could back out of a sale because their financing falls through.
You can avoid all of this, Opendoor says, by using their tech-driven process to sell your home in two weeks. Furthermore, Opendoor allows you to back out of the sale up to three days before closing without paying a fee or losing earnest money.
In our review of Opendoor, we'll examine how the company's buying and selling services work, talk about the fees it charges, give you an overview of what customers are saying about their selling experience with Opendoor and compare Opendoor to its main competitor, Offerpad.
Selling with Opendoor
Opendoor's selling services are available in 20 cities, including Atlanta, Austin, Charlotte, Dallas, Denver, Houston, Las Vegas, Los Angeles, and Portland. They typically buy homes that meet the following criteria:
Between $100,000 and $500,000
Built after 1960
Maximum lot size of 0.5 acres (may be bigger in certain markets)
Not in a flood zone
Has solar panels you paid for or, in the case of a lease, will pay off before closing
Not bank- or government-owned
No in double escrow
The Opendoor sale process takes place in several steps that we will detail below:
Application
We filled out an Opendoor application to understand what the process is like. Most of the questions the site asks you relate to the features and condition of your home and the things inside it.
For example, the application will ask you about your appliances and what condition they're. If your appliances have extensive cosmetic flaws, this may reduce the price Opendoor offers you.
The application will ask you about the condition of the walls, carpet and flooring your home, as well as to inquire about any room additions in your home.
Once Opendoor obtains all the necessary information from your application, they will compare your home to other similar homes that sold recently in your neighborhood. This is a universal step all real estate agents and companies take when determining home value.
Opendoor will check other metrics including neighborhood trends to finalize how much they're willing to pay for your home. They will send you a buying price within 24 hours and the offer is good for five days.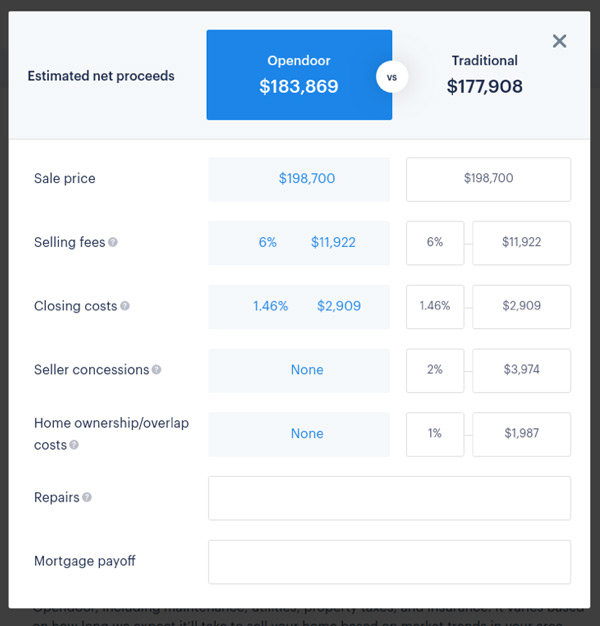 Screenshot of the quote I received for my home.
You'll see that Opendoor gives you their price after fees versus a traditional sale's price. They break down the price difference further by showing you an itemized list of fees. As you can see, they predicted their fees to cost me 7.46% versus 10.46% I'd pay by using a real estate agent.
Finally, Opendoor does not negotiate their pricing unless you can provide compelling evidence that your home is worth more than what they quoted you. This evidence would include information you may have forgotten to include in your application that would boost the home's value.
Assessment
If you accept Opendoor's offer, the company will send an inspector to your home to assess the house's overall safety, cleanliness, and functionality. The difference between this inspection and the on during a traditional sale is what happens afterward.
Traditional inspection results in the buyer coming up with "contingencies," which is a list of things they want to be fixed before they buy the home. As a seller, you can negotiate the contingencies or accept them.
However, when you sell your home to Opendoor, you forfeit the right to bargain over contingencies. Furthermore, all the repairs Opendoor does will happen after you move out. Therefore, it's very difficult to confirm that Opendoor actually made the repairs you paid for.
Also, you give Opendoor the license to charge you for whatever repairs they deem necessary, which may end up costing you more than what you'd have paid if you negotiated contingencies with a buyer in a traditional sale.
Closing Day
"Closing day" refers to the final step of your sale after all repairs are made, financing is secured and Opendoor agrees to buy the home. In many cases, closing day for a traditional sale can take a couple of hours. Opendoor says their closings can take as few as 20 minutes.
This expedited closing process fits with the company's overall emphasis on providing a quick home sale that eliminates the hassle of traditional sales.
Takeaways
Opendoor's process is radically different from the traditional way of selling a home. Normally, you'd have to find a real estate agent, make cosmetic changes to your home, remove all your furniture if you decide to bring in a stager, stress out over the appraisal and inspection and then hope your buyer's financing doesn't fall through.
Furthermore, the most recent data indicates that the entire sale process takes an average of 47 days.
Opendoor offers the distinct advantage of getting a math-based offer, a list of fees and a sale process that focuses on efficiency. While it's a drawback that you give Opendoor the right to make all necessary repairs and thus cut into your sale profit, they do all the work with their own contractors.
The company is removing the headaches of a stressful situation, especially if you have to sell your home quickly.
Buying with Opendoor
While buying a home through this service isn't as big of a part of their business as selling, they offer a distinct advantage if you're prepared to sell to them and buy a home in any of the 20 areas where they operate.
Opendoor has a trade-in option through which you can sell your home to them and then put your sale proceeds toward a home that you buy from them, too. By doing this, you'll save up to 1.25% in fees and you get to deal with one company instead of multiple agents and real estate firms.
Opendoor's Fees
Opendoor makes it clear that their typical home sale charges around 6.4% in fees, whereas going the traditional route will cost you 7% to 10%. These are averages, though, and Opendoor's fine print says their fees can range from 6% to 14%.
Here is a quick list of fees Opendoor would charge me for the offer they provided:
Buyer Commission: 3%
This is a commission that Opendoor will pay to the agent of the person buying your home when Opendoor sells it. This is a drawback, as the point of using Opendoor is to skip a fee like this that you'd pay in a traditional sale.
LIsting Costs: 2%
This is a fee Opendoor charges to get your home ready for sale (prepping, staging, listing). Interestingly, Opendoor estimates you'd spend around 1% getting the home prepped on your own, which means you're paying an additional 1% to have Opendoor do it for you.
Closing Costs: 1.5%
These costs are what you pay to have the home's title researched and transferred to the new buyer or their bank, holding the home in escrow and finalizing all the paperwork needed to sell the home.
Opendoor notes this fee is an estimate and will be finalized 3 to 7 days before closing. They point out you may pay around a 0.3% additional fee if you live in an HOA neighborhood.
Convenience Charge: 1%
This is a fee you pay for using Opendoor. Their website says its what they charge "to deliver a hassle and stress-free experience." Keep in mind that, in my case, I'd already been paying an additional 1% in listing costs so they can take off my hands the hassle of staging a home.
Repair Charge: 1.7% to 3.9% (On Average)
The final charge in Opendoor's list of fees is the repair charges they estimate once they do an assessment of your home.
These charges reflect repairs they think the future buyer will ask for when Opendoor tries to sell the home. In other words, they are making you pay for repairs they should be paying for when they sell the home.
Opendoor didn't give me a quote for repair costs because they did not do an assessment. However, its site says the typical repair request is between $3,400 and $7,800, which would be an additional fee of 1.7% to 3.9%. This would boost my fees from 7.5% after closing costs to 9.2%–11.4%.
Takeaways
Opendoor's fees could be lower than a traditional sale in specific situations:
You're paying the mortgage on your unsold home while living in your new home.
Your home needs just a few, inexpensive repairs.
However, this isn't always going to be the case with a traditional sale. For example, if you live in a hot real estate market, there's a really good chance your home could sell within days of listing it. The buyers will most likely pay at or above market value.
In this scenario, you wouldn't pay overlapping mortgages. Second, hot markets tend to result in backup offers on homes, which means a buyer is less likely to press for a long list of repairs if they know someone else has made a backup offer and will buy the house.
Appraisal
And, the other factor here is their appraisal of your home value. Even if Opendoor's fees are lower than a traditional sale, you may not bring in as much money because they may undervalue your home, said James McGrath, founder of NYC-based listing site Yoreevo.
"You're not going to get as good a price by selling to Opendoor," McGrath told us. "Presumably they are working on improving their algorithms to lower risk and raise their offers but for now, if focusing purely on price, you're going to be better off putting the home on the market and offering it to all buyers."
We heard a similar opinion from Ben Mizes, a Realtor and founder of Clever, a company that pairs home buyers and sellers with real estate agents that offer lower commission rates.
"While Opendoor is known to offer mostly fair prices, they do not negotiate so it's very likely that you will get a better offer on your home by using a traditional real estate agent."
I wanted to know how Opendoor's appraisal compared to other sites, so I found algorithm-based appraisals from Redfin, Zillow and dug up an estimate my realtor did a few months ago (home valuations in my area have gone up since then):
Opendoor: $198,700
Redfin: $217,259
Zillow: $200,707
My realtor: $228,000
These comparisons show that Opendoor offered the lowest price even though comps in the same neighborhood sold for $5,000 to $16,000 more, were older and had smaller living areas.
My analysis of Opendoor's appraisal indicates that even though their fees might be lower than a traditional sale, I'd make considerably more money from my home sale if I chose to sell the home through my Realtor.
What this tells me is that Opendoor probably isn't the right fit for you if you have time to sell your home and want to maximize your profit, either because you have a lot of equity or you recently bought your home and don't have much equity.
When you couple the possibility of a lowball appraisal with selling fees of up to 14%, you could lose out on a lot of equity if you choose to use Opendoor instead of a real estate agent.
Analysis of Customer Reviews
Opendoor has hundreds of reviews on HighYa.com, with readers giving the service an average of 3.8 stars. Around seven out of 10 readers would recommend Opendoor to a friend. We've included a summary of reviewers compliments and complaints below:
Compliments
Fair pricing: Multiple reviewers said that Opendoor's offer price was near, at or above what the fair market value was for their home.

Good customer service: We read several times that Opendoor's customer service reps were helpful and willing to answer questions. Also, we read that Opendoor reps were flexible with the closing process when the seller ran into problems with the home they were hoping to buy after their sale or had to reschedule a walk-through.

Smooth transaction: Several reviewers expressed initial skepticism about Opendoor's service but found that skepticism unwarranted after going through a clean, quick sale with Opendoor.
Complaints
High repair bills: Several customers complained that Opendoor charged them for a litany of repairs big and small, resulting in thousands of dollars in required charges. Others said they felt the repair requests were excessive.

Poor communication: Multiple customers said that communication with Opendoor was difficult, whether it was coordinating repairs of their home or finding out what was happening with a delay in their closing.

Lowball offers: Several negative reviews focused on how Opendoor gave them an offer that was significantly below a Realtor's estimate or the fair market value.
Opendoor vs. Offerpad
If your goal is to either sell your home fast or skip all the hassle of a traditional sale, then Opendoor and Offerpad are the two leading options you have.
Both services take you through the same process: application, assessment, and closing. They both use their in-house algorithms to calculate your home's value, then assess the home and quote you for repairs.
The main differences between the two services are:
Offerpad price offers are good for four days instead of five

Their fees are an average of 7% compared to Opendoor's 6.5%

Offerpad limits cancellations to happening up to the point of the quote for repairs on your home, whereas Opendoor allows you to cancel up to three days before closing

Opendoor will allow you to stay in your home for up to two weeks after closing (for a fee) while Offerpad limits your extended stay to three days after closing (for free)
In our opinion, these key differences make Opendoor the ideal choice if you want flexibility. The company allows you to cancel far later in the process than Offerpad.
Also, Opendoor lets you stay in your home for two weeks after closing, which could be crucial if you're buying a new home and closing is delayed.
The Bottom Line: Is Open Door a Good Fit for You?
Based on our analysis, Opendoor is right for you if you find yourself in the following situations or situations similar to them:
You accepted a job offer in another city or state and start in a couple of weeks
You found the home of your dreams and need to sell your current home
You have to downsize your home suddenly
You want the convenience and speed of Opendoor's process and don't care about the price
In each of these situations, you will benefit greatly from Opendoor's efficient closing process. If you're relocating for a new job, found your dream home or need to downsize, Opendoor can buy your home in as little as two weeks.
This means you'll have a big burden lifted when you move into your new city for work or you await the closing of your home purchase. If you're in this situation or a similar one, Opendoor is a smart choice, says Colby Hager, owner of San Antonio-based Capstone Homebuyers.
"Opendoor's greatest strength, in the mind of the home seller, is their ability to close on a set date for a set price. Especially when new homeowners are moving to another house, this is a major benefit." Hager told us. "It can also be a great tool for homeowners who need to sell on a tight timeline a house that needs minimal repairs."
In general, Opendoor is an excellent option if you're in a jam and need to sell your home quickly. However, if you have time to go the traditional route, there's a very good chance you could earn more money from your sale via a higher appraisal and similar fees (if not lower) than what Opendoor would charge you.
Customer Reviews
Posted on May 28, 2017
Great cross-sale experience
I recently had the opportunity to work with Opendoor on a cross sale. They had the listing, and I represented the buyer. I'd heard mixed reviews in the past, but my client and I had a wonderful experience! They were very timely, responsive, helpful, and their communication was fantastic. All contractual timelines were achieved seamlessly, and we had a smooth and successful closing. My clients are very happy with their new home, and I would gladly work with Opendoor again in the future!
Bottom Line: Yes, I would recommend this to a friend
Posted on Sep 28, 2017
From a homebuyer's perspective
We had a horrible time locating a home within our price range in a suitable neighborhood. My wife, ever-growing frustrated with the search, downloaded their phone app.
We found several homes that fit what we were looking for. The next step was a great experience; no waiting for an agent, hassle-free walking through with information on the kitchen counter!
Simply open the app and, if the home is available, you unlock the door from the app! We did visit a couple of listings that were already under contract by the time we arrived to walk through. No problem, move on to the next.
We finally found our home. Opendoor accepted our offer and, as it turned out, was $5K higher than the appraisal. No problem, they dropped the price to meet the appraised value.
They supplied us with their inspection report (we also did our own) along with work/repair orders. We discovered their contractor did about half of what they said they repaired. Upon bringing it to their attention, all the necessary work was completed before the closing, which was a week later! They repaired everything that required attention!
Here's what really blew us away. It's an 18-year-old house with the original roof. We asked for the damaged shingles and flashing be replaced. They replaced the entire roof! New architectural shingles, felt underlayment, drip edge, flashing, everything, including the back porch roof. While there are some personal touches we plan to make like replacing the laminate flooring with ceramic tile, this is move-in ready!
No hassle walkthrough, the full disclosure of the condition, repairs done before closing and no bickering back and forth about who pays, repairs or attends to anything. What could be easier? Even our agent, who's dealt with Opendoor on several other transactions, was very impressed with how easy they are to work with!
Bottom Line: Yes, I would recommend this to a friend
Company Response from Opendoor
Dec 19, 2017
Hi Rhett,
Thank you for sharing your Opendoor story! We're glad to hear that you enjoyed the Opendoor experience and we wish you the best in this next chapter of your life.
Posted on Dec 1, 2017
They made it right
Opendoor reached out to us, and after several days of them getting numbers together, they are sending us a check for an appropriate amount. They were very apologetic, which makes me believe it was an honest mistake. But I still encourage you to do your research before selling your house so this doesn't happen to you.
Bottom Line: Yes, I would recommend this to a friend
Posted on Jan 7, 2018
Good offer with a ridiculously smooth process
We had just gone under contract on our new house, which we could only get if we didn't rely on selling our current house, when I decided to look at Opendoor and OfferPad on a whim. I had seen their signs popping up all over our neighborhood and had heard they paid cash for a super quick close.
After getting a joke of an offer from the other guys, Opendoor had offered us what I thought at the time was actually higher than the market offer. We decided to move forward, knowing we could cancel the contract at any time (which they explicitly put in the real estate purchase agreement - something I was concerned about). We kept waiting for the moment when they would try and "get us" with something - we'd read stories of Opendoor charging thousands of dollars for repainting, or ridiculous repair requests, etc., so we kind of figured after the inspection that we would walk away.
Well, the inspection team came in, took a look at our house (which had custom paint throughout, to include very custom boy and girl rooms), and they sent us a request for a repair credit of, $650. Completely below what we expected! It was extremely reasonable things that would need to have been repaired anyways. AND, they didn't even ask us to repair things I fully expected to have to repair! So, we moved forward and just closed today.
Looking around now, I believe we MAY have been able to sell our house for more the traditional way, but the looming threat of carrying two mortgages and associated bills, we decided it wasn't worth it. Especially considering our neighbors' homes have been on the market for months, with their prices dropping.
I give Opendoor a 5-star review based on their very fair offer, their RIDICULOUSLY easy process (I seriously didn't even talk to anyone on the phone until the day before we were closing just to confirm our appointment time and their office location, not because they avoided me, it was because of how smooth everything is), and how quickly they can close.
Keep in mind, for the reviews talking about being "low balled," they are effectively flipping your house, and you are paying a bit of a fee for the quick close and easy process. If you come in with that in mind, you will NOT be disappointed!
Bottom Line: Yes, I would recommend this to a friend
Company Response from Opendoor
Jan 8, 2018
Hi K Frauenthal,
We're glad to hear that you enjoyed our fair offer and hassle-free experience! We wish you the best in this next chapter of your life.
Posted on Jan 10, 2018
Exactly what I hoped for.
We had considered selling our house a few times and originally planned on selling the traditional way. After speaking with a few realtors, we decided we weren't open to showing our home any time a possible buyer wanted to stop by.
I contacted Opendoor after receiving a flyer in the mail and requested an offer. Within a day or two, I received an offer that I felt was very fair. I was a little nervous since I didn't have any friends or family members who had used Opendoor before, but as I interacted with the team, my worries subsided. I enjoyed how well Opendoor broke down the offer and the ease of scheduling the inspection, closing, etc. on my own time. Anytime I had a question, and I had quite a few, I'd just shoot an email to a member of the Opendoor team and I'd get a response immediately.
I'm thankful to the Opendoor members for their transparency, customer service, and organization throughout this process.
Bottom Line: Yes, I would recommend this to a friend
Company Response from Opendoor
Jan 10, 2018
Hi Kayleigh,
We're so happy to hear that you enjoyed the Opendoor experience. We wish you the best in this next chapter of your life!
Posted on Jan 19, 2018
Wonderful experience
After investigating many companies, Opendoor provided us with the best offer for our home, with no huge extra fees. Some companies charged an additional $1,300 for the privilege of using their service. All personnel at Opendoor were most professional providing constant communications during the process. The electronic paperwork was efficient and simple. Opendoor is the way to go when selling a house.
Bottom Line: Yes, I would recommend this to a friend
Company Response from Opendoor
Jan 19, 2018
Hi Howard and Alice,
Thank you for sharing your Opendoor experience! We're so happy to hear that you enjoyed our fair offer and the hassle-free experience. We wish you the best in this next chapter of your life.
Posted on Feb 4, 2018
Could not have been happier with the process!
I was skeptical when I pulled up the website. I figured I would get a lowball offer and possibly get jerked around. But I did it out of curiosity. We needed to sell quickly, and I hated the thought of hiring a realtor and having the house possibly sit on the market for months. So I told myself "If they offer me enough to pay off the loan and cover fees, I'll do it." So I filled out the questionnaire.
That evening, I got an email, a text, and a phone call. They had my offer ready. Chris and I went over the offer together. My jaw about hit the floor. The offer was WAY more than I expected! I had checked comps in my neighborhood, and this was up to par with those.
I still waited several days before accepting the offer, simply because we were in the middle of packing and I knew they'd be wanting to schedule an inspection and get things moving. I accepted the offer, and their team of inspectors came out. Everyone was SO professional and courteous. They were on time, got in and out, so we were able to move on with our day. Results came back within the four business days stated, and their repair estimates were extremely fair. (Totaling only $415 for everything that needed repair in the entire house!)
Their team of people was so friendly and helpful every step of the way. I was SO stressed out about having to sell the house, but I felt no stress whatsoever dealing with them! They kept me well informed of exactly what was going on. We set up our closing date, with the final walk-through the day before. We got a text from Robert about an hour before walk-through to confirm. He pulled up to the house right behind us, a few minutes early. He was in and out within about 10 minutes.
We were sitting at our closing, and I looked at the calendar. It was exactly three weeks to the day from the time I requested an offer to when we signed the papers. We could have closed quicker - there were a few times my husband and I dragged our feet a little though. I cannot say enough good things about the process, as well as everyone that I had to come in contact with during. I've been telling EVERYONE about Opendoor!!
Oh yeah, I was skeptical of all the positive reviews too. I said, "They weed out all the bad reviews." But I would give them 10 stars if I could!
Bottom Line: Yes, I would recommend this to a friend
Company Response from Opendoor
Feb 5, 2018
Hi Joandrea,
Thank you for sharing your Opendoor story! It makes our day to hear that we were able to simplify the home-selling process and provide a stress-free experience for you. We wish you the best in this next chapter of your life!
Posted on Feb 4, 2018
Great experience with Opendoor
I just sold my rental property through Opendoor and the experience was wonderful. From the very beginning, in getting a quote from Opendoor, they made the process easy. They clearly explained the process and made the paperwork easy to complete. I couldn't be happier with the entire process. From the quote on the property to the final walkthrough and closing, everything was made easy to understand. I would recommend Opendoor to anyone who wants to sell a property.
Bottom Line: Yes, I would recommend this to a friend
Company Response from Opendoor
Feb 5, 2018
Hi Katherine,
We're so happy to hear that you enjoyed your Opendoor experience! We wish you the best in this next chapter of your life.
Posted on Feb 9, 2018
Great experience
I initially looked into Opendoor after visiting one of their open houses. I had already talked to two separate realtors regarding the sale of my house. Both realtors told me to steer clear of the service. I figured it couldn't hurt to at least get a quote.
Much to my surprise, the initial offer came back at market value. We moved forward with the assessment and was pleased with the responsiveness and guidance provided by staff. They were attentive and explained every step of the process. The credits they asked for regarding repairs were fair and in the end, they were able to close quickly and efficiently.
I was going to rate them 4 stars because I don't give perfect reviews, but then I changed it to 5 stars because I couldn't think of any ways for them to improve my experience. They are professional and fair in their offer, and their customer service is prompt and courteous.
Bottom Line: Yes, I would recommend this to a friend
Company Response from Opendoor
Feb 9, 2018
Hi Jason,
We're so happy to hear that you enjoyed our fair offer and the Opendoor experience! We wish you the best in this next chapter of your life. Thank you for sharing your story with us.
Posted on Feb 11, 2018
Great sale!
The sale of our home to Opendoor went extremely well, and we were delighted with the entire experience! From the minute we received an offer we found the whole process timely, efficient an effortless. The digital documentation was straightforward and easy to prepare. The home inspection was easy to schedule, and we found all of the inspectors to be courteous and efficient. The final closing with OS National was fast and the people extremely friendly and knowledgeable. Overall we would give the whole experience a 5-star rating!
Bottom Line: Yes, I would recommend this to a friend
Company Response from Opendoor
Feb 12, 2018
Hi Conrad,
Thanks for sharing your story! It makes our day to hear that you enjoyed the Opendoor experience. We wish you the best in this next chapter of your life.
Posted on Feb 12, 2018
Best experience EVER!
We just sold out home to Opendoor, and it has been the best experience ever! We originally just wanted to see what our home was worth so filled out an online form to get an "offer." We fully expected a cheap offer like one of those we buy ugly home ads. NOT! We were offered way over what we thought we would. Very pleased, we sat down and decided we should sell and went on to the next step.
Everyone is extremely knowledgeable and helpful. We didn't have to fix anything. We also didn't have to mess with finding some place to take the kids and dogs while an agent showed the house. It was easy, seamless and painless. The BEST experience at selling a home we have ever had. Thank you Opendoor!
Bottom Line: Yes, I would recommend this to a friend
Company Response from Opendoor
Feb 13, 2018
Hi Katherine,
Thank you for sharing your story! It makes our day to hear that you enjoyed our fair offer and the Opendoor experience. We wish you the best in this next chapter of your life!
Our Promise to You
In order to safeguard you and ensure helpfulness and relevance, our compliance team manually assess every customer review before it goes live.
We have a zero-tolerance policy for fake reviews, and companies cannot control or alter any reviews at any time.