PetGentle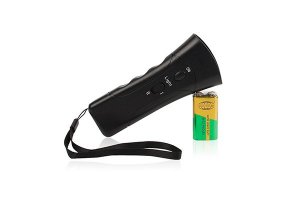 Using an ultrasonic sound that humans can't hear, the PetGentle claims it can help you train your dog how to stop barking using sound, light and positive reinforcement.
PetGentle Review: Will It Train Your Dog?
PetGentle is a battery-powered dog whistle and flashlight marketed as a tool you can use to train your dog not to bark in situations in which he or she shouldn't be barking.
The device leverages your dog's distaste for high-pitched noises to correct his or her behavior.
As a former dog owner of a particularly loud-mouthed terrier, I can tell you from personal experience that there's nothing more frustrating than having your pup unleash a powerful burst of barks during nap time when the mailman arrives.
In theory, PetGentle seems like a pretty effective tool. In this review, we'll analyze how the device actually works, how much it costs and how it compares to other similar dog whistles.
How the PetGentle Works
Dog owners with vocal pups who seem to bark at the wrong time – or anytime – during the day can quickly reach their patience's breaking point. Mailmen, car doors shutting, cats walking through the front yard – they're all triggers for barking.
To think that a device like PetGentle can be the solution to this problem can be a huge relief. After all, their website claims:
"Unwanted behaviors can be frustrating and even embarrassing … PetGentle handheld dog trainer makes it easy. (It) gives you control of the situation so you can train, treat and repeat your way to a better relationship with your four-legged friend."
The PetGentle an ultrasonic noise emitter (inaudible to humans) and a flashlight. Their site says you can use both of these to get your dog's attention amid his or her poor behavior – barking, for example. The flashlight has a continuous beam and a strobe option.
Basically, the site says that when your dog is losing their mind over the mailman knocking at your door, you activate the device's ultrasonic sound.
Since your dog despises the sound, he or she will stop his behavior (in theory) and focus on the very ultrasonic noise it wants to stop.
Should he or she seem undeterred by the sound, you can push the sound button again and activated the light. This two-sense approach should be enough to distract your dog from barking.
The product's website says that the sound is "100% harmless to dogs & safe to humans."
Pro tip: The device ships with a 9-volt battery.
Do Dog Whistle's Help With Barking?
The big question with this device is whether or not it's actually effective in training your dog not to bark in situations in which he or she normally barks.
According to dog walking site Wag!, the key to using these devices is to reward your dog as soon as he or she exhibits the behavior you deem positive. So, when your dog stops barking after you activate the PetGentle ultrasonic sound, provide them with a treat.
If your pup doesn't do what you want when you activate the whistle, do it again and, if need be, use the light in conjunction with sound. Consistency is the key to changing behaviors – go through the same process every time your dog bakers when you don't want him or her to bark.
"Repeat this procedure every time your dog barks in an unwanted fashion. Remember to be consistent. Eventually, your dog will associate excessive barking with the unpleasant sound of the whistle," Wag! notes.
Based on what we've read on Wag! And what we've heard from experts, using a device like PetGentle is a legitimate way to bark train your dog.
PetGentle Pricing and Return Policy
When we wrote this review, PetGentle offered five different prices based on how many devices you wanted to buy:
One device: $39.95
Two devices: $69.95
Three devices: $94.95
Four devices: $114.95
Five devices: $119.95
What was interesting is that, while we were on the checkout page, a pop-up window with a Wheel of Fortune-style wheel spun around and stopped on a $10 discount that the site added to our shopping cart. Because of this, our PetGentle cost $29.95 instead of $39.95.
Shipping is between $2.95 and $6.95 depending on how many devices you buy.
The site also advertised a 90-day, money-back guarantee that said you could send your PetGentle back within 90 days to get a full refund. You'll have to pay the shipping to send it back, though.
We read through the fine print to find more information about the return policy and all we could find was an email address: support@petgentle.com.
We called the customer service line 833-501-3407 and received a message telling us there weren't any agents available to help us.
Based on this experience, it may take some time for you to get your return process, so keep that in mind.
How the PetGentle Compares to Similar Devices
You have two main choices when it comes to dog whistles: battery-powered and breath-powered. You can either push a button or blow into a whistle.
We went to Amazon to find the top-rated battery-powered and breath-powered whistles and found the following two items:
MightyPaw Training Whistle: $7.99; 3.9 stars from 54 reviews
Modus Ultrasonic Dog Trainer: $31.99; 4.4 stars from 79 reviews
Based on our research of dog whistles, we don't see any performance differences between a mouth whistle and battery whistle. Both seem to serve well the purposes of training your dog not to bark.
That being said, the Modus gets better reviews than the MightyPaw. It's hard to say what the difference is between the two in terms of performance. Some people may like the ease of the battery-powered device – just click a button and the tone emits.
Whistles require lung power and cleaning, and these things take a bit more effort than the PetGentle, for example.
To us, choosing between a battery-powered whistle training and a breath-powered whistle trainer is a matter of your needs for value and convenience.
If you are on a tight budget, breath-powered whistles offer the best value. If you have $30 or $40 to spend and want convenience, the PetGentle is probably the best choice.
The Final Word: Pros and Cons of PetGentle
Typically, when you buy products like this, there are two main questions:
Is the price competitive?
Is what it claims to do a legitimate solution for your problem?
We believe that PetGentle offers competitive pricing and is a legitimate solution for the problem of a dog who likes to bark at appropriate and inappropriate times.
There's enough evidence from dog sites and dog experts to back up the idea that consistent use of a dog whistle along with treats can train your dog only to bark in situations you want him or her to bark.
Now, our claim that the device is competitively priced is based on a comparison to other battery-powered ultrasonic trainers. Breath-powered do whistles are significantly cheaper.
In general, we believe our research and various experts point to the fact that the PetGentle can be a helpful way to bark train your dog.
---
Please don't buy this

By Peter S.

,

Adare, Queensland, Australia

,

Nov 16, 2020
Verified Reviewer

Length of Use: Less than 3 months

Overall Experience:

My experience with this product is simple. It DOES NOT WORK. All my 3-month-old pup wants to do is jump up and chew it if I use it.

Worthless piece of crap!

Pros and Cons:

No "pros" were specified in this review
Does not work
Expensive
Company lies

Bottom Line: No, I would not recommend this to a friend

---

Save your money

By Dianne W.

,

Myrtle Beach, SC

,

Oct 27, 2020
Verified Reviewer

Length of Use: Less than 3 months

Overall Experience:

My dog never barked until we moved 2 years ago. Since then she barks at everything...when my husband or I leave the house to go shopping, docs appts. etc., when we take the trash out, you name it. I bought this thinking it might help, but if anything, she barks more when she sees me with it in my hand. I'm afraid it's too long for me to return it (if I would even get a refund). I kept trying it, hoping it would work. What a waste of time and money!

Pros and Cons:

Thought their sales pitch was good
Nothing of what they promised happened

Bottom Line: No, I would not recommend this to a friend

---

Unsatisfied customer service

By Rachel K.

,

Houston, TX

,

Sep 28, 2020
Verified Reviewer

Length of Use: Less than 3 months

Overall Experience:

Poor. I was charged for expedited processing, which I did not request. They would not refund so I requested to return the item and the customer service rep began to argue with me about the expedited processing and me returning the item. I know I did not request this service. It arrived 10 days later after the purchase date and I was charged tax. The representative's tone was very stern and rude and not the type you'd hope for with customer service. I had to tell them I was not going to argue to get them to stop. It's unfortunate, the item may have been a positive experience, but I refuse to support a company that steals my money.

Pros and Cons:

No "pros" were specified in this review
Fraudulent
Customer service

Bottom Line: No, I would not recommend this to a friend

---

Doesn't work

By Elena S.

,

Belmont, ME

,

Sep 10, 2020
Verified Reviewer

Length of Use: Less than 3 months

Overall Experience:

It's a scam. Doesn't work at all. My dog thinks it's a toy. He loves the light, especially the laser. Doesn't affect him at all. Don't get me started on their so-called free items. They charge you more for shipping than the items are worth. Haven't gotten my money back either.

Pros and Cons:

No "pros" were specified in this review
Doesn't work
Not able to get a refund
So much for guarantee

Bottom Line: No, I would not recommend this to a friend

---

Advertisement

---

PetGentle Ultrasonic Anti Dog Barking Pets Trainer LED Light, Gentle PetGentle, Sonic Black

By Sharon V.

,

Fort Worth, TX

,

Aug 7, 2020
Verified Reviewer

Length of Use: 3–6 months

Overall Experience:

I would not even give this product one star except that I could not leave this review without giving at least one star. This product does not work at all. My dog thinks it is a toy. The only thing she reacts to is the red light, which she chases and barks at. My dog does not react to what is supposed to be a high pitched ultrasonic sound, how would we even know if it emits a sound, we can't hear it! Her lack of reaction proves there is no sound.

This is a scam! Do not waste one penny on this product. I checked with the BBB just before writing this review, they gave this company an "F" rating! I wish I had checked the rating before I wasted good money on it.

Pros and Cons:

No "pros" were specified in this review
The product is a scam

Bottom Line: No, I would not recommend this to a friend

---

Length of Use: 3–6 months

Overall Experience:

Paid $80.00 for it to work for a few months. Now my dogs could care less. Contacted customer service and was told it doesn't work on all breeds of dogs. I have a German Shepard and a Pitbull. Asked to return for a partial refund. They told me no and to give it more time?

Pros and Cons:

Worked for a few months
Told doesn't work on all breeds

Bottom Line: No, I would not recommend this to a friend

---

Dog BARKS louder and longer and sounds like in pain!

By Laurie W.

,

Kelowna, British Columbia, Canada

,

Jul 24, 2020
Verified Reviewer

Length of Use: Less than 3 months

Overall Experience:

I bought this for my Shorkie who loves to bark, especially at times when he should not. I have tried other bark collars and was sold by the HIPE to help my pup and I. I got it, put the batteries in, and as soon as Lance my pup barked, I pointed it at him in the lower level and he barked louder! I tried the high level and he barked even louder and sounded like he was in pain! A useless piece of crap for $56 US at half price unless I need my pup to bark louder. A TOTAL WASTE OF MONEY.

Pros and Cons:

No "pros" were specified in this review
It is a money grab for a piece of crap that does not work as they say it will
Useless for any pet unless you want to hurt them
They lie in their advertising

Bottom Line: No, I would not recommend this to a friend

---

Product not working as described, you may use as a torch or light

By Bohdan B.

,

New South Wales, Australia

,

Jul 16, 2020
Verified Reviewer

Length of Use: 3–6 months

Overall Experience:

I bought two PetGentle devices, takes a long time to deliver, and when finally arrives, I was enthusiastic to put them to work.

After more than a month, I find that not one dog (try on 5 different dogs) will act as advertising.

The product is useless and not worth any money.

Pros and Cons:

Advertising is very good and successful
Product is not working

Bottom Line: No, I would not recommend this to a friend

---

Worked for one day a little

By Linda L.

,

Arizona

,

Jul 15, 2020
Verified Reviewer

Length of Use: 3–6 months

Overall Experience:

I have been using this for two months now and it's not working. She hears it but keeps barking. No way to return items, so much for money back.

Pros and Cons:

No "pros" were specified in this review
Returning item

Bottom Line: No, I would not recommend this to a friend

---

Don't buy this

By Diane L.

,

Boston, MA

,

Jun 19, 2020
Verified Reviewer

Length of Use: Less than 3 months

Overall Experience:

I was looking forward to this being a good training tool but it had absolutely no effect on my dog at all. Tested her several times and called support 3 times. Only got a 65 percent refund. Don't buy this!

Pros and Cons:

No "pros" were specified in this review
Product is worthless

Bottom Line: No, I would not recommend this to a friend

---

Best product I found to stop bad behaviors

By Shelly D.

,

Erie, PA

,

Jun 4, 2020
Verified Reviewer

Length of Use: 3–6 months

Overall Experience:

I have a 2-year-old GSD who just wouldn't stop barking when he was outside. He also was a jumper and nobody wanted to come to our house. He is a BIG boy.

I got a static collar and it did nothing to curb his bad behavior. I thought what could I lose if this product didn't work? It was cheaper than a professional trainer and the static collar.

I only had to use the PetGentle a couple of times and my dog quit barking! He no longer jumps on people too! I don't even have to activate it anymore, I just hold it up and show it to my dog and he straightens right up. I now have a happy, content dog that EVERYONE loves to be around.

I never had a GSD that barked or jumped like he did. Now I don't with him either.

Pros and Cons:

Price
Fast shipping
Success with training
No "cons" were specified in this review

Bottom Line: Yes, I would recommend this to a friend

---