PrettyLitter Reviews
Claimed This company has claimed this profile, is getting alerted on any new customer reviews entering this page, and may engage in dialogue with its customers to address their matters.

Companies cannot pay money or provide goods in order to remove or alter customer reviews.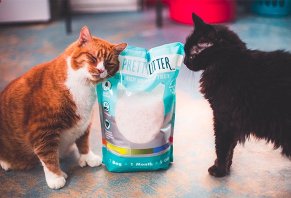 PrettyLitter changes color to reflect your cat's health, helping owners detect feline issues such as urinary tract infections and kidney issues early.
---
This company is actively collecting reviews from its customers. All reviews submitted are subject to moderation and approval to ensure they meet our

Review Guidelines

.

Awesome in theory, poor in execution.

By Nichole M

,

Fairfield, CT

,

Jul 10, 2017
Verified Reviewer

Overall Experience:

I wanted this to be as great as it sounded. I wanted it to be one less thing I worried about in my month. I wanted it to last the prescribed length of time.

Instead what we got was a subscription product that arrived so slowly we had to supplement with other litter. Even after moving the date of arrival up by two weeks earlier, the shipment was delayed again.

The litter doesn't last anywhere near one month. We're lucky if we are getting two weeks out of it. The cats have taken to peeing on the floor in front of the box when they've had enough.

Sad we had to give up and go back to the old school method of buying things in store.

Bottom Line: No, I would not recommend this to a friend

---

Overall Experience:

The litter showed a deep blue and with the fact she wasn't eating, we took her to the vet where she was dehydrated and had a blockage. Three days at the vet she came home, passed the hairball, and all is well. Thank you PrettyLitter!

Bottom Line: Yes, I would recommend this to a friend

---

Advertisement

---

I'll never use another litter again

Overall Experience:

I don't tend to exaggerate, but seriously. This litter is LIFE CHANGING. Gone are the days of litter tracking. That's not an exaggeration, it's the truth! Odor issues I've found with other litters are nearly nonexistent with this stuff. If you have a cat that doesn't like to bury its work, no promises for keeps, but it still holds things in a way better than other leading brands. And it lasts for a whole month!

Plus, as a helicopter cat mom, it's a nice bonus to be able to see if there are any health issues going on in the color of the litter.

What's more, subscription-based orders are a necessity these days. I don't have to worry about when I need to change it out because the next bag is in the mail to remind me! It looks like a high number at first glance, but you are saving every penny in longevity, clean-ability, and peace of mind.

I seriously can't preach this stuff enough. If you haven't tried this out but don't want to commit, you can always end your subscription after the first bag, but my money's on you getting majorly hooked. It's what happened to me, anyway!

Bottom Line: Yes, I would recommend this to a friend

---

Overall Experience:

I have loved my PrettyLitter so much! My cat has had some health issues, so when my friend told me about PrettyLitter, I knew I had to order! Not only are the materials high quality, but it lasts an entire month without having to change. Knowing if my cat is sick or not is such a reassuring thing and I love not having to carry a giant bag home from the grocery store each month!

Bottom Line: Yes, I would recommend this to a friend

---

Advertisement

---

Overall Experience:

I never thought I'd be so satisfied with a brand of litter before. I can't say enough good things about this litter. It does everything it says it does. Zero odor. No dust. Super light weight. I've had cats for 15+ years. I've never used a litter that compares to PrettyLitter. Loyal customer here for as long as I own cats!

Bottom Line: Yes, I would recommend this to a friend

---

Overall Experience:

I am such a huge fan of this product! It has not only saved me from litter tracking all over my room, but it's also a huge relief to have some way to monitor my cat's health. I used to use clay clumping litter and always hated having to scoop all the time and use so much litter. I love the convenience of it being delivered every month too!

Bottom Line: Yes, I would recommend this to a friend

---

Hand down the best cat litter

Overall Experience:

After using PrettyLitter for a couple of months now, I can honestly say this is the best cat litter I used so far. PrettyLittler is true to its words, one bag of litter lasts a whole month, and the convenience of having it delivered to one's doors for such a low cost is externally cost effective. A great lightweight and orderless product that me and my cat both love.

Bottom Line: Yes, I would recommend this to a friend

---

Completely opposite to what I expected

By Mel

,

Santa Ana, CA

,

Jul 2, 2017
Verified Reviewer

Overall Experience:

I had previously heard about PrettyLitter from a friend, and after scouring the reviews on the website, what actually convinced me to buy it was the claim that this litter is "dust-free," as I have asthma and had reactions to typical clumping litter.

The first thing I noticed when I opened the box (well, besides the fact that one of the bags of litter was slightly open and a bunch of litter had spilled out) and poured out the bags into the litter box was, "Wow, that's a lot of dust." Literally, plumes of dust smoking up into the air. But I disregarded it and thought maybe it was just settling after being poured.

That night, when I went to shovel out the poop, the first contact with the litter brought huge clouds of dust billowing up. With each shovel, the cloud became thicker and thicker, and within a minute I was wheezing and having a cough attack.

The next day, I threw the litter out and stuck with my usual crystal litter.

I don't know how this litter has gotten solely 4-5 star reviews or how cat owners have found a way to even get past the sheer amount of sandy dust that gets inhaled and envelops your entire face. Granted, my kittens did immediately take to it. But that might not be such a good thing considering they're inhaling just as much dust as I am, if not more, whenever they use it.

I'm disappointed and slightly repulsed by how they could make the "dust-free" claim, which is completely untrue.

Bottom Line: No, I would not recommend this to a friend

Jul 5, 2017

Hi Mel,

Thanks for providing us with your experience. Virtually no dust is a top compliment of PrettyLitter users but we believe you. Your experience is very rare however I'd like to send you a complimentary bag of PrettyLitter so that you can open it, pour it out and see that PrettyLitter truly is virtually dust free. Regarding one of your bags being torn when arriving that is also rare and it sounds like there may have been a concern with your order only. I'm happy to resolve this for you as virtually no dust is a claim we stand behind and your order appears to have been damaged during transit. The jostling of the bags could have created dust particles that are not normally present when shipping doesn't tear open orders. Please email me at meow@prettylitter.co and I will take care of you asap.

---

Overall Experience:

This is the worst litter I have ever used. I have two cats, and the box gets completely saturated in three days. I emailed PrettyLitter who said to add another half a bag per month. I did, and it only extended it for one day. This litter is also the consistency of sand. It's so light, it tracks through the entire house. It looks and sounds like I live at the beach (I don't). Huge waste of money.

Bottom Line: No, I would not recommend this to a friend

Jun 30, 2017

Alicia, I appreciate you sharing your honest experience with PrettyLitter. Based on everything you are saying, I can tell you that your experience is extremely rare. I've never heard of anyone having to go through what you are describing in your feedback. Long lasting odor control, low tracking, no mess and easy clean up are our top compliments sampled from the thousands of happy customers currently using the product. Because your concern goes directly against what our customers who are using PrettyLitter report I'd like to ask you a few questions to get to the bottom of why you are experiencing this concern.

#1. How many litter boxes do you have?

#2. How many bags of PrettyLitter are you putting in each box?

#3. What is the depth reading in your litter box after putting in PrettyLitter?

#4. Are you allowing PrettyLitter to absorb urine, eliminate odor and evaporate moisture or are you removing the "urine clumps?"

#5. Where is your litter box located in the house? Is that area dry or damp?

#6. Do your cats urinate more than normal?

Based on what you are saying, it sounds like you are either not using PrettyLitter one bag per cat per month, removing the "urine clumps" and depleting the litter in the box or your litter box is extremely large. In either case, we have a solution and recommendation for you and yes, PrettyLitter works. It works phenomenally well (when used as directed). Please send me an email at meow@prettylitter.co and if I can't resolve your concern for you, I'll make sure you get a full refund.

Best,

Arsalon

---

Great kitty litter that is truly hassle free

Overall Experience:

I've been using PrettyLitter for three months now, and it is hands down the best kitty litter on the market. Not only does it get the job done but it's delivered to my door once a month right when it's needed. No need to worry about having to make an extra trip to the pet store and my cat has not shown any signs of health problems yet. Thank you PrettyLitter for making my life a little easier when it comes to taking care of my cat.

Bottom Line: Yes, I would recommend this to a friend

---

Almost one month late and still haven't received

By Ann Dover

,

Little Elm, TX

,

Jun 24, 2017
Verified Reviewer

Overall Experience:

I placed an order for two cats and automatic monthly delivery on June 1st. Due to PrettyLitter's error, my lot number wasn't included in the entire address, and the delivery was returned to them (but not until 6/20/17). During this time, I was tracking the delivery through FedEx and my local post office.

I contact PrettyLitter through email (since they couldn't be reached by phone) and luckily I received an email back. I was declined a refund but told they would reissue the delivery with the correct address. I said that was ok, thinking that they would be sure to get it here quicker. Again, PrettyLitter just received the order back on June 20th.

Gee, wonder when I'll get my order. Not what I expected. I am canceling the monthly renewal.

Bottom Line: No, I would not recommend this to a friend

Jun 27, 2017

Ann,

Thanks for reaching out. We all know how frustrating an address error can be when waiting for our product to arrive in the mail. I'm sorry you went through that experience. PrettyLitter's system doesn't create errors in your address by including the batch number. The forms that are filled out on the checkout page, we pull your address directly when signing up. I can understand how working on a mobile phone can cause an error to be inputted into your shipping address field.

We deal with this a few times per month and completely resolve these concerns quickly. I'm not sure why you experienced a difficulty getting a replacement order. However, we never refuse a refund to a valued customer like yourself, but we do offer to send a quick replacement to ensure your little one's health is in tip-top shape by using the best litter possible. Please email us at meow@prettylitter.com for a follow-up.

---