ProbioSlim
Claimed This company has claimed this profile, is getting alerted on any new customer reviews entering this page, and may engage in dialogue with its customers to address their matters.

Companies cannot pay money or provide goods in order to remove or alter customer reviews.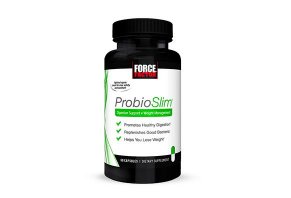 ProbioSlim from Force Factor is a probiotic supplement designed to help you lose weight while supporting healthy digestion.
---
Saw Results with Probioslim

By Leticia

,

Miami, FL

,

Mar 29, 2016
Verified Reviewer

I can't believe I saw results with Probioslim. All of my girl friends were saying that adding probiotics would do nothing. I can now say that they do. Definitely takes some getting used to, but I've been pleased with my results so far.

Bottom Line: Yes, I would recommend this to a friend

---

Rip Off

I was taken in by the advertising and ordered a sample where I only paid shipping. Two weeks later I have a charge on by bank account for $74.98 for something I did not approve or order.

I called their number and requested to have the charge removed. "Customer Service" offered to immediately refund 60% and let me keep the product. I said that I did not want the product. I was then told to repackage it upon receipt and take it to the post office to re-ship. Once they receive the product then and only then would they refund the charge.

Your product must be pretty weak if you have to run a scam to sell it.

Bottom Line: No, I would not recommend this to a friend

---

Customer service was fine

By Brian Mc Donald

,

Halifax, Nova Scotia, Canada

,

Feb 25, 2016
Verified Reviewer

I was wary of the auto shipping, but interested in the product, so I placed an order. After seven days, I called customer service to cancel, and was given another offer, which was the free bottle still in transit, the next month's shipment for free, an extension of the trial period to six weeks from that day, and a reduced monthly cost if I continued with ProbioSlim. The customer service agent said that they were having problems with Canadian shipments. I canceled not long after the second free bottle arrived, with no problem and no extra charges.

I've had less gas and lost weight, but I've also been eating less. I do find that the green tea extract gives me more energy.

Bottom Line: Yes, I would recommend this to a friend

---

Need Answers

Asked for the 14 day trial bottle and paid shipping charges. However, I received two charges on 02/06/2016 and 02/08/2016 for $74.98 without my consent. And on top of it, I don't want the product. Credit card now has a balance of $150.00 Have NO WAY to contact the company. What does this tell you? May not be a legit business. No contact information on the bottle as well.

Bottom Line: No, I would not recommend this to a friend

---

Advertisement

---

The Product Worked

By LeAnne

,

New Orleans, LA

,

Feb 10, 2016
Verified Reviewer

Probiotics were not something I was aware of before starting to take ProbiSlim. I had no idea what they were or how they helped my body. All I knew was that I needed some help managing my weight.

I did some research on a few different probiotic formulas that aim to help with digestion and weight management. I decided to go with ProbioSlim. The following week I ordered my trial of ProbioSlim and was happy with the product. I was feeling better and the results were starting to trickle in. I take one pill in the morning with breakfast and one in the afternoon with my lunch. I have lost a few pounds already, but more importantly I just feel better inside. I don't really know how to explain the feeling, other than to say I plan on continuing to take it. Definitely impressed with my results thus far.

Bottom Line: Yes, I would recommend this to a friend

Mar 15, 2016

Hi LeAnne, this is awesome to hear! Thank you for reaching out and sharing your success of using ProbioSlim with us. We are pumped that ProbioSlim is the right solution for you. We would love to hear more. Do you have an account with us?

---

Probioslim

By Sue

,

Australia

,

Feb 10, 2016
Verified Reviewer

I cannot get a hold of anyone at ProbioSlim. I want to cancel, but there is no contact email, and cannot get through by phone to their Australia or USA offices. Can someone please help me?

Bottom Line: No, I would not recommend this to a friend

---

Doesn't Work And Good Luck Getting Off Their Merry Go Round

Centennial, CO

,

Feb 10, 2016
Verified Reviewer

I gave this product an honest try, followed their protocol, changed my diet and exercised. It didn't work. Nathan told me to keep trying it and if I was not happy and wanted a refund to contact him on a certain date. I contacted him on the date he suggested for a refund. I was greeted on the phone by Michelle and Gray (her supervisor) who offered to give me a 50% refund over the phone, or I could return the remaining pills by registered mail (which I did) and they would refund the money minus the shipping and handling that I had paid. One week later I get an email notice letting me know my ProbioSlim supplement had shipped. They are continuing to ship this product to me and I'm sure my credit card will take another $79 hit for a month's worth of this product.

Bottom Line: No, I would not recommend this to a friend

---

Two Thumbs Up

By Lonnie

,

Louisville, KY

,

Feb 10, 2016
Verified Reviewer

I have been using ProbioSlim for a few months now and have been happy with the results. I heard of the product from a friend and decided to give it a try. After some research online, I purchased my first bottle. I take it twice a day and it really does help. Definitely would recommend.

Bottom Line: Yes, I would recommend this to a friend

Mar 15, 2016

Hi Lonnie, We are happy to hear that our product has been working for you. It means a great amount to us, that you took the time out of your schedule to let us know. Do you have an account with us? We would love to hear more.

---

Two Thumbs Up

By Lonnie

,

Louisville, KY

,

Feb 8, 2016
Verified Reviewer

I have been using ProbioSlim for a few months now and have been happy with the results. I heard of the product from a friend and decided to give it a try. After some research online, I purchased my first bottle. I take it twice a day and it really does help. Definitely would recommend!

Bottom Line: Yes, I would recommend this to a friend

---

Not for me

By Griselda

,

South Carolina

,

Jan 29, 2016
Verified Reviewer

I've been using this product with no good results in my life First, my poop turned black. Second, I feel constipated and started vomiting. I also have fluids in my throat. Finally, I eat more than normally. I can't even sleep at night because I feel I cant breath. I want my $2.99 refund back ASAP.

Bottom Line: No, I would not recommend this to a friend

---

Never got the product

By Maria

,

Texas

,

Jan 12, 2016
Verified Reviewer

I was charged $74.00 and change to my credit card. When I called to let them know that I did not ordered this product, the young man began to yell at me saying that they had all my information and that if I didn't want the product to return it and I would get my money back once they got the shipment back. I never received the product in the first place, but he was too busy yelling at me to hear what I was saying. When I asked to speak to a supervisor I was put on hold and then disconnected.

Bottom Line: No, I would not recommend this to a friend

---