Quip Toothbrush Reviews
Claimed This company has claimed this profile, is getting alerted on any new customer reviews entering this page, and may engage in dialogue with its customers to address their matters.

Companies cannot pay money or provide goods in order to remove or alter customer reviews.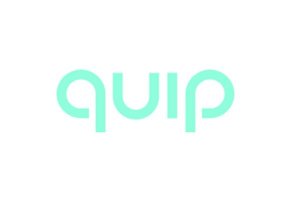 Quip Toothbrush's simple design and monthly refill program promise to help simplify your teeth care, save you money, and provide you with proper dental advice.
---
This company is actively collecting reviews from its customers. All reviews submitted are subject to moderation and approval to ensure they meet our

Review Guidelines

.

Awesome toothbrush!

By Sloan S.

,

Springfield, MO

,

Apr 24, 2020
Verified Reviewer

Overall Experience:

Love this toothbrush! Bought one for my boyfriend too. Then brush feels cleaner and it's a lot more gentle. I'm a Quip user for life! I have recommended it to all my friends. I was hesitant on the refill plan at first but I ended up loving it! I still buy my preferred toothpaste, so I just use the $5 every 3 months and I get my brush head without even having to think about it. Super satisfied customer here.

Bottom Line: Yes, I would recommend this to a friend

---

An excellent toothbrush for me

By Christie C.

,

Massachusetts

,

Apr 15, 2020
Verified Reviewer

Overall Experience:

I am very very pleased with my Quip Toothbrush. My dental hygienist recommended it. I have had other electric or battery operated toothbrushes, all of which were far too harsh on my mouth. I have a tendency to brush "too hard" myself, and the Wuip has just the right amount of pressure for me if I just let it do the work on its own. I also like the narrow shape of the brush and its ability to move easily around all my teeth.

Bottom Line: Yes, I would recommend this to a friend

---

Simple, effective, modern and sleek

By Latasha T.

,

Mount Laurel, NJ

,

Apr 15, 2020
Verified Reviewer

Overall Experience:

Simple to replace heads and easy to use.

Effective vibrations that aren't too aggressive yet enough to help with brushing.

Great sized brush head that massages as well as cleans deep and in between.

The black stainless steel is sleek, modern, and not an eyesore in the bathroom.

Well worth the money, convenience of auto refills and accessory options are pleasing and simple, yet necessary.

Bottom Line: Yes, I would recommend this to a friend

---

Amazing product, cannot recommend more

By Melissa M.

,

State College, PA

,

Apr 10, 2020
Verified Reviewer

Overall Experience:

Having tried dozens of other toothbrushes, I can happily say that I will never use another! My Quip has been a Godsend! The timed vibrations, the gentle yet strong bristles, and the comfortably shaped handle makes this THE best toothbrush I've ever used! Weirdly enough, during this pandemic quarantine, I've started looking forward to brushing my teeth and taking more "me time" to start a better dental hygiene routine, all because of my Quip toothbrush!

Bottom Line: Yes, I would recommend this to a friend

---

Overall Experience:

I have been a long time electric toothbrush user - like 10+ years...But Quip is different! It's not aggressive but gets my teeth feeling SO much cleaner. It's so lightweight and I LOVE the way it has a holder so no more toothbrushes taking up counter space!

Bottom Line: Yes, I would recommend this to a friend

---

Best brush on the market. No more, no less.

Overall Experience:

Quip is a toothbrush. Simple as that, but also not so simple. Quip uses vibrating pulses to let you know when to switch quadrants. It doesn't have a dozen different settings like other toothbrushes - just one button. Press the button, get your mouth clean in 2 min, and call it a night.

Bottom Line: Yes, I would recommend this to a friend

---

Don't wait any longer!

By Cara S.

,

Alexandria, VA

,

Apr 8, 2020
Verified Reviewer

Overall Experience:

I purchased the basic model on a recommendation, after visiting the dentist for the first time in 5 years. The toothbrush came quickly and was packaged with clear instructions, but more importantly, it's helped me maintain that same clean feeling I had when I left the dentist's office. I love this toothbrush.

Bottom Line: Yes, I would recommend this to a friend

---

Polished and clean, but readjust your grip! (See note.)

Overall Experience:

I had been looking at quip for a while but never bought one because I was confident with my manual toothbrush and floss routine. Luckily, a relative gifted me a quip - it's been a month and I still love it!

Very simple design, no bells and whistles that are ineffective or worse, damaging to your gums. Also, I love the materials Quip sent over (in the box or online) and had available on their site. Who'd have thought I'd still have more to learn about dental hygiene?

Two notes:

- If you're used to using a manual toothbrush, keep in mind you'll have to readjust your grip and the strength at which you brush your teeth. You don't have to scrub as hard anymore, so hold your toothbrush more gently. Also, use toothbrush angled away from gums (not perpendicular) to best clean your teeth without potentially damaging your gums.

- I'm an adult with a pretty normal-sized mouth (I think), but my relative bought me a child's size toothbrush. It's been great! With the smaller brush head, I can more easily clean behind my teeth and molars. Just a thought.

Bottom Line: Yes, I would recommend this to a friend

---

Must have!

By Carson C.

,

Mobile, AL

,

Apr 6, 2020
Verified Reviewer

Overall Experience:

I love my Quip! This toothbrush performs much better than a traditional toothbrush as far as cleanliness goes. The auto-refill setup of the brush head and battery is super convenient. I also love the built-in timer and reminders to change the brushing position throughout the brush cycle. It made me realize I haven't been brushing my teeth long enough!

Bottom Line: Yes, I would recommend this to a friend

---

Amazing changes

By Luis P.

,

East Brunswick, NJ

,

Apr 3, 2020
Verified Reviewer

Overall Experience:

So ever since I started using this toothbrush my teeth are sooo much whiter and cleaner. I don't know what it is but everyone is complimenting my smile. The design is great and you can tell it was really well thought out. I got my husband and mother-in-law into it as well and they LOVE IT!

Bottom Line: Yes, I would recommend this to a friend

---

Great product

By Joseph S.

,

Washington, D.C.

,

Apr 3, 2020
Verified Reviewer

Overall Experience:

Quip not only does a great job ensuring I brush well, but also makes me WANT to brush my teeth. Truly an excellent product, and I've already recommended it to several friends who have purchased the product.

Bottom Line: Yes, I would recommend this to a friend

---