Revitive
Claimed This company has claimed this profile, is getting alerted on any new customer reviews entering this page, and may engage in dialogue with its customers to address their matters.

Companies cannot pay money or provide goods in order to remove or alter customer reviews.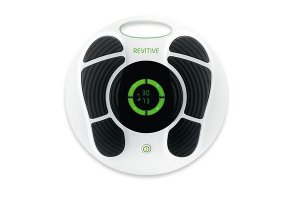 Revitive is an electrical muscle stimulator that can allegedly relieve leg pain from poor blood flow with daily use. Read this review to learn whether it can work for you.
---
Overall Experience:

Because of a medical condition, I was advised not to use the machine. I have called them three times to get an RA# and label, which they say must be done to return it. Each time I am told that someone will return my call, but they never do.

I would recommend that you not deal with Revitive. I think I will get stuck paying their charge of $369.94, which I have already paid on my credit card.

Bottom Line: No, I would not recommend this to a friend

Dec 15, 2017

Hi Bettye Leidigh,

We are truly sorry to hear about your experience. We were transitioning to a new call system and this may have caused a delay in response time. This is no excuse and we do apologize.

However, we do see that your problem has been resolved. If this is not the case, please feel free to give us a call or email. We hope you have a fantastic rest of your day.

Sincerely,

REVITIVE Team

1-877- 260-3116

us.info@actegy.com

---

Overall Experience:

My husband bought this for himself (knee problems) and asked me to try it. My biggest problems are my ankles, especially my left one. I set it on 20 to start and had to back it down to 15. Besides the "tingling," I felt something happening to my left ankle! Not pain, but just a different feeling. I liked it.

After 15 minutes, I stopped, and my husband tried it. We set it the same, and he couldn't feel a thing. He bumped it up to 30 and still didn't feel anything. It is now at 55, and he feels the tingling. Then shockingly, he felt an odd feeling in his BAD KNEE. Not unpleasant, just a different feeling. We both like it so far and have high hopes. I'll be back in a few weeks to give another report.

Bottom Line: Yes, I would recommend this to a friend

---

Advertisement

---

My life has been "rebooted!"

Overall Experience:

After more than two years trying unsuccessfully to recover from ankle replacement surgery, I ordered the Revitive Pro. Within two days of using the device for short low power periods, I felt better, could move my ankles and walk comfortably for the first time since my surgery. One strange result was that I could tolerate lower room temperatures than I could in many years. Over the last two or three months, numbness in certain areas of my legs has disappeared. My back pain disappeared, along with the pain in one knee. I've been able to resume driving and am now in the process of decluttering my condo, which I was unable to do before using the Revitive.

I believe that one thing that contributed to my self-described excellent results with Revitive is that I have had experience with TENS units previously. I have had the Rebuilder, which requires immersion of the feet in the water, and I had found it clumsy and difficult to use because water is heavy and it is harder to persuade one's body to set up the process. Actually, the results were not comparable to Revitive. Having used other TENS units previously, I had no over-expectations about the results I might expect.

I have found that I must use the device daily to maintain results, but that is not a problem. I am a happy Revitive user. In fact, I purchased a unit for a relative.

Bottom Line: Yes, I would recommend this to a friend

---

Overall Experience:

The Revitive Circulation Booster has made a significant improvement to my aching legs and feet. I'm in my sixties and still working on my feet, so this amazing device has been a God send!

After using it for 30 minutes every night while watching television, it has improved the circulation in my legs and stopped the cramps I would experience nearly every night, even though I used vitamin supplements. I tell everyone about this product as I believe it will make a difference in their life too!

Bottom Line: Yes, I would recommend this to a friend

---

Advertisement

---

Would highly recommend

By James Shaw

,

United Kingdom

,

Jan 23, 2017
Verified Reviewer

Overall Experience:

I purchased the Revitive medic in December of 2016. I was unsure because of the price, as I didn't want to spend that amount. Well, I'm so glad I invested in this item.

I couldn't walk any length before, both feet were in constant pain, but now, after four weeks using Revitive medic twice daily in 20-minute sessions at the setting 55, I am pain-free and I can walk any distance. I am now capable of running up to 3 miles on the treadmill at the gym.

I would highly recommend this Revitive medic to anyone with poor circulation, as I was attending the doctor and a physio and there seemed to be no cure in sight. Thank you Revitive medic for giving me my life back.

Bottom Line: Yes, I would recommend this to a friend

---

Overall Experience:

I used this product and now my first two toes are numb, even more than four weeks later. I have it boxed up to return but after reading these reviews, I am afraid that I will not get my money back.

Bottom Line: No, I would not recommend this to a friend

Dec 15, 2017

Hi Phillip Sollock,

We are very sorry to hear about your experience with the Revitive Circulation Booster. Understandably, this is an older review but with a new dedicated customer care team, we want to ensure everyone has an outlet for questions or concerns.

We also want to acknowledge your comment and apologize for your negative experience with the Revivitive Circulation Device.

Sincerely,

REVITIVE Team

us.info@actegy.com

1-877-260-3116

---

Poor Customer Service

By Carl

,

Atlanta, GA

,

Jun 24, 2016
Verified Reviewer

Overall Experience:

I ordered the item in April, and canceled in May after no delivery. They charged my credit card anyway. I'm still trying to get my money back.

Bottom Line: No, I would not recommend this to a friend

Dec 15, 2017

Hi Carl,

We apologize for your negative experience with Revitive. We understand this is an older comment but with a new dedicated customer care team, we want to ensure customers have an outlet for any questions or concerns.

Again, we apologize for your poor customer service experience last year. We hope you have a great rest of your day.

Sincerely,

Revitive Team

us.info@actegy.com

1-877-260-3116

---

horrid customer service

By Leslie

,

Jun 16, 2016
Verified Reviewer

Overall Experience:

I ordered one of these online and checked the box for 6 easy payments. The next day my card was charged the full $299. I called immediately. The customer service person can only take your name and give your message to someone else who will, but never did, get back to you. Also the person I spoke to had to have the words spelled for her. I called again and received the same runaround. Five, yes 5 days, later someone called me. I told them I thought it best I cancel, they agreed to a refund (don't have the product). A month later and I still have NO REFUND. I'm letting my bank work with this one. Total shady company and should be reported. Dispute Number: 13105867

Date Posted: 5/11/2016

Merchant Name: WWW.REVITIVE.COM

Bottom Line: No, I would not recommend this to a friend

Dec 15, 2017

Hi Leslie,

We truly apologize for your negative customer service experience. We were in the transition of growing the customer care team and certain refunds seemed to be delayed, and past an acceptable time-frame. Obviously, this is no excuse and we are sorry you had to experience this frustration.

We now have a full time dedicated customer care team. We do appreciate your honest and candid review. This helps us grow as a company and focus our efforts where it needs work.

We hope you have a great day.Thank you again for helping us grow in the right direction.

Sincerely,

Revitive Team

us.info@actegy.com

1-877-260-3116

---