Rodan and Fields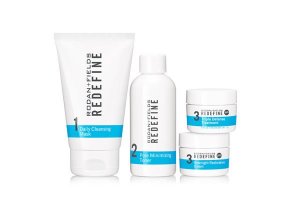 Rodan and Fields is a skincare brand started by world-famous dermatologists that primarily sells its products through a network of independent contractor consultants.
Rodan and Fields Reviews - Does It Really Work?
Rodan + Fields is a line of beauty products designed to banish your biggest skin care woes; whether they be acne, wrinkles, discoloration due to sun damage, or overly sensitive skin.
The company sells its products both online and through thousands of independent contractor consultants that are given training and tools to help you decide which products are best for your situation.
According to the company website, world-renowned dermatologists Dr. Katie Rodan and Dr. Kathy Fields founded Rodan and Fields in 2002 and sold their products primarily through department stores. After selling their successful company, the women repurchased it in 2007 and pivoted to the multi-level marketing model it relies on today.
It's the skincare company's stated goal to provide women with access to the closest cosmetic alternative for professional skincare outside of a dermatologist office, and each line of products is designed to target a specific skin condition.
Will a Rodan + Fields regimen help you realize the skin of your dreams, and should you consider selling their products yourself? We'll walk you through the details below. To start, let's look closer at the company's multiple product lines.
What Are Popular Rodan and Fields Regimens?
At the time of writing, Rodan + Fields offers a range of skincare products designed to address specific issues. These regimens are named the following: Redefine, Reverse, Unblemish, Spotless, and Soothe. We've gone through a basic overview of each type below.
Redefine
This product line purportedly counteracts the development of fine lines, large pores and a loss of firmness that naturally occurs on your skin as you get older. Based on the company's Multi-Med® Therapy, this skincare regimen layers cosmetic ingredients and peptide technology to both prevent and eradicate visible signs of aging on the face.
According to the company website, you'll likely experience smoother, softer skin after just one use. Rodan and Fields suggests using their full Redefine product line to cleanse, tone, and moisturize your skin, as skipping steps can minimize your results.
Products: Multi-Function Eye Cream ($64), AMP MD System ($227), Intensive Renewing System ($102), Daily Cleansing Mask ($44), Pore Minimizing Toner ($50), Triple Defense Treatment Broad Spectrum SPF ($87), Overnight Restorative Cream ($80), Lip Renewing Serum ($58), Brightening Hand Treatment (35), Age Shield Hand Balm Broad Spectrum SPF 30 ($46)
Package pricing ranges from $72–$386.
Reverse
If you're dealing with an uneven skin tone and patches of dark pigmentation, the Reverse skin care line is designed to exfoliate, lighten, brighten, and protect your skin from sun damage. Rodan + Fields claims that these products have the potential to permanently fade your dark marks, so long as you stay diligent about wearing sunscreen when outdoors.
The company states that you can use the Reverse line for as long as you notice positive results, though they suggest switching to Redefine products once your dullness and discoloration skin problems are under control and you want to target the appearance of lines, pores, and loose skin.
At the time of writing, the Reverse beauty line included skincare products meant to either brighten dull skin or lighten dark spots. You'll need to choose your products carefully based on what your priority is.
Products: Deep Exfoliating Wash ($44), Intensive Brightening Toner ($50), Skin Lightening Toner ($50), Dual Active Brightening Complex ($102), Skin Lightening Treatment ($102), Broad Spectrum SPF 50+ Sunscreen ($43).
Package pricing ranges from $318–$376.
Unblemish
If you struggle with adult acne and want to restore your skin's youthful glow, Unblemish is formulated to clear up blemishes and prevent new ones from forming. Best when used in a four-step regimen, Unblemish products are meant to clear up existing acne, reduce visible redness, clean out and shrink your pores, smooth and firm up your skin, and reduce a "shiny" appearance from too much oil production.
For best results, Rodan + Fields recommend using each Unblemish product daily, as continuous use will help you maintain skin clarity and lead to a visible reduction of the signs of aging.
Products: Gentle Exfoliating Acne Wash ($44), Clarifying Toner ($43), Dual Intensive Acne Treatment ($104), Shine-free Lotion Broad Spectrum SPF 20 ($31).
Package pricing ranges from $186–$320.
Spotless
This two-step treatment system is designed to clear up acne for teens and young adults. The products work to deliver oxygen and benzoyl peroxide to the pores to kill acne within the first treatment. Over time, these products claim to eliminate acne bacteria from your face, deep clean pores to shrink their size, clear up blackheads, whiteheads, and pimples, and prevent new ones from forming, and reduce oil production to eliminate unwanted shine.
You'll get the best results from following the Spotless Regimen twice a day for several weeks after your skin clears to break the acne cycle for good.
Products: Daily Acne Wash ($34), Acne Clearing Treatment ($78)
You can buy them together for $89.
Soothe
Soothe products are specially formulated for those with sensitive skin to calm down inflammation and reduce the visible signs of redness. The products are designed to alleviate the minor cuts and peeling that trigger redness, and they contain hydrating botanicals to nourish dry, irritated skin.
The line's SPF 30 sunscreen relies only on physical sunscreens like Zinc Oxide and Titanium Dioxide to deflect damaging rays and keep your skin looking its best. Over time, the products will purportedly build up your natural skin barrier so that your skin becomes smoother, softer, and more resilient.
Products: Gentle Cream Wash ($44), Sensitive Skin Treatment ($87), Moisture Replenishing Cream ($58), Mineral Sunscreen Broad Spectrum SPF 30 ($43).
Package pricing ranges from $179–$311.
What Other Products Does Rodan + Fields Offer?
Beyond their skincare regimens, Rodan + Fields also offers a range of other beauty products that includes makeup removers, daily moisturizers, gauze makeup application pads, daily supplements and more. The collection changes often, so we suggest checking out their website for the most updated information.
One of their most popular products is the Enhancements Lash Boost, a nightly conditioning serum designed to give you the appearance of longer eyelashes and fuller brows. The serum retails for $155, and we noticed that it's often included in package bundles for the Rodan + Fields skincare regimens.
About Rodan + Fields Ingredients
Rodan + Field's full ingredients list for every product is available online, and from our view, most contain ingredients that are pretty standard in the skincare industry. This includes alcohols, fragrance agents, emulsion stabilizers, surfactants, skin conditioning agents, solvents, sunscreen agents, and a skin bleaching agent (hydroquinone).
Nothing stood out to us as more problematic than what you'll find in comparable products, and skincare expert Adina Mahalli from Maple Holistics agrees with this view. "Due to the fact that Rodan + Fields uses a lot of naturally-based ingredients, there's reason to believe that their products will deliver on their promises. That being said, most of the products also contain ingredients that should be considered red flags… [For instance,] 'fragrance' is not an ingredient in its own right and is often used as a loophole for companies to slip in unknown substances. Nevertheless, based on ingredients alone, Rodan + Fields seems to have more redeeming ingredients than harmful ones."
Saying that, it's best to carefully read all instructions for Rodan and Fields products before using them. As an example, the Enhancements Lash Boost contains isopropyl cloprostenate, a compound used to treat glaucoma that CosmeticsandToileteries.com told us can cause eye problems if you are overexposed to it. For that reason, the company suggested only applying it to your upper eyelashes, so you lower the risk of getting any in your eye.
Likewise, many of the lightening products contain hydroquinone because it works to lighten dark sports. However, Healthline tells us that the compound can cause a condition called ochronosis that leads to blueish discoloration on the skin if you use too much. For that reason, they suggest not using products with hydroquinone for more than five months at a time.
How Can You Buy Rodan + Fields Products?
As we've highlighted above, what you'll pay for Rodan + Fields skincare products depends on a lot of factors, including whether you buy them individually off the company website, purchase a package deal, or buy them through being a brand consultant.
There are several advantages to buying from a consultant beyond the fact that you might be supporting a friend's business venture. For example, they have exclusive access to a "Solution Tool" designed to pinpoint what product line will solve your problems.
Buying from a consultant also makes your experience more personal. Says the Rodan + Fields team, "We provided customers with a high-touch experience via our Independent Consultants that is unlike the traditional retail experience. If you've ever stood in a drugstore looking for a beauty product, you know how daunting the choices can be… Our Independent Consultants interact with customers in a personalized and authentic manner."
If you don't already know a Rodan + Field's consultant, you can find one in your area through the company website.
It's also possible to save money on every order by joining PC (Preferred Customer) Perks—a subscription program that lets you save 10% on all orders, qualify for free shipping for orders over $80, and receive a new product shipment every 60 days. This program has a one-time $19.99 enrollment fee.
Speaking of shipping, the rate you'll pay depends on a lot of factors. The company's standard price is $11.95 per order, though you'll pay $9.95 as a PC Perks member for non-subscription orders under $80. The shipping rates for consultants depend on order sizes as well.
Regarding returns, the Rodan + Fields terms and conditions state that it's possible to return any product you don't love within 60 days for a full refund, excluding return shipping costs. You can contact the company for more details at orderinquiries@rodanandfields.com or (415) 273-8000.
What Is It Like to Be a Rodan + Fields Consultant?
While it's possible to buy Rodan + Fields products from the company website, the brand's primary selling strategy is through a network of consultants acting as independent contractors who are organized in a multi-level marketing system. To enroll as a consultant, you will need to choose a sponsor—or have Rodan + Fields assign one to you—and pay $45 for a business profile.
According to the company's promotional materials, becoming a Rodan and Fields consultant lets you earn compensation in five key ways:
Profits from selling products to customers
Commissions from making sales to the consultants you sponsor
Sales made by your personal team or the consultants you sponsor
Generation Commissions from sales made by your extended personal team
Performance bonuses for reaching milestones
Consultants also gain access to perks like exclusive discounts and member pricing for all products.
Is it possible to get rich from selling Rodan + Fields products on the side? While your personal success depends on numerous factors we can't predict here, the odds aren't in your favor. According to the company's released Income Disclosure Statement from 2017, almost 60% of consultants who made any money at all (just over half) earned less than $1,000 in sales that year, and most were closer to $250.
Saying that, the top 1% of consultants who made money at least one month in 2017 averaged more than $30,185 annually.
If you're interested in joining Rodan + Fields' Consultant force, we recommend carefully reading through their Policies and Procedures before dropping cash on a nonrefundable business profile.
What Can We Learn from Rodan + Fields Reviews?
One of the best ways to get a sense of whether skin care products are actually worth it is to gauge the response from previous customer reviews. Based on our earlier version of this article, readers awarded the company just under four stars.
Some people reported that they experienced noticeable results from the products (especially the Enhancement Lash Boost) and that they had good experiences working with the company consultants.
Others thought that the products made minor changes in their skin—like reducing pore size—but that their results were nothing like what was promised from brand's before and after pictures. This matches what we learned from Heather Downes, a board-certified dermatologist in Illinois.
"Most dermatologists are very skeptical of Rodan & Fields," she told us, "It's multi-level marketing (MLM) with a sales force of amateurs who often photoshop their before and after photos… Dermatologists get quite a chuckle out of seeing 'after photos' of clients whose results are clearly the result of Botox and laser treatments, NOT Rodan +Fields."
Dr. Downes went on to share some examples of Rodan + Fields before and after photos with us that she believed were photoshopped or showed surgical improvements like brow lifts and Botox rather than results from creams and lotions.
She also highlighted one example of a plastic surgeon she knew who performed Botox on a Rodan + Fields consultant. After the procedure, the consultant didn't disclose her treatment to her customers and presented the illusion that her wrinkle reduction was the sole result of the skincare products she was selling. "While some [Rodan + Fields] products 'might' be helpful," Dr. Downes elaborated, "I tell patients to stay away due to their deceptive marketing."
We also talked with longtime Rodan + Fields customers who loved their results. Caroline Kasay, a professional singer and performer, told us she has used Rodan + Fields products daily for three years with great success. "In my experience, [they are] very reliable products and I notice differences in my skin when I am not using them. They help to prevent breakouts and even [my] skin tone, and the eyelash booster has people complimenting me all the time. Sometimes I don't have to wear mascara and my eyelashes still look long, and I've even had people ask if I'm wearing fake eyelashes."
Our Bottom Line: Should You Commit to Rodan + Fields?
There's a lot to unpack about Rodan + Fields, and this article only offers a summary review of some of the products this company sells and its system of consultants. We believe that Rodan + Fields skincare products make the most sense for the following person:
Someone who wants to buy products from other people who use them
Someone who benefits from following a targeted routine designed to treat specific skin conditions
Someone willing to pay high-end department-store prices for their skincare products
Someone who wants to stick with one brand for the long haul (Rodan + Fields offers reduced rates for their PC Perks members)
In contrast, if you aren't interested in buying products from a multi-level marketing company, are looking for cheaper skincare options, are skeptical of companies that oversell their results in before and after pictures, or prefer to invest in products you can purchase from a store, you might be better off going in a different direction than Rodan + Fields.
There are hundreds of skincare brands available, and we've reviewed a large number of them. If you're looking to continue your search, we suggest determining what skin condition you most want to address and then searching our site for relevant articles and products related to that topic.
---
In reality return policy does not exist

By Peg Berry

,

Fenton, Michigan

,

May 6, 2017
Verified Reviewer

Overall Experience:

After using the Rodan and Fields 4 product Redefine System and not seeing results, I asked to have my order canceled in the future. I received another order and returned it on February 27th with everything unopened. I never received a refund for that return, and I was sent another order. Confused and concerned, I tried to call Rodan and Fields and received a taped message saying I needed to use their email to contact them and that they were prioritizing returns. I think within two months I should be a priority and I certainly should not have received another shipment.

Having to jump through this many hoops makes me question the return policy and validity of Rodan and Fields as a company.

Bottom Line: No, I would not recommend this to a friend

---

Reduced pores

By Judy N

,

Grandy, NC

,

May 10, 2017
Verified Reviewer

Overall Experience:

I used the Redefine system. I used it for about three months. There was a noticeable change in pore size but not a reduction in wrinkles at all. In fact, from reviewing my before and after pictures, the circles and lines under my eyes were more prominent. I also didn't like that you had to order at least $88 every two months. I canceled my "PC perks" account.

Bottom Line: No, I would not recommend this to a friend

---

Advertisement

---

A huge difference.

By Robert

,

Dallas, TX

,

Oct 10, 2015

Overall Experience:

I'm 72 years old and absolutely nobody believes me. I have been using these products for over a year and they work great. They have hundreds of un-retouched before and after photos on their site and I have seen the same results that I have received in some of my friends who have tired it. I can believe that some folks can get a negative reaction from it just as I would believe someone getting a negative reaction from baby powder. Everyone is chemically different but for me it works great. My only affiliation with the company is that I am a preferred customer, in order to enjoy free shipping and 10% on order discounts.

Bottom Line: Yes, I would recommend this to a friend

---

Rodan + Fields unblemish and reverse regimen

By Alexa

,

Florida

,

Apr 14, 2018
Verified Reviewer

Overall Experience:

I was skeptical for years. It seems like an eternity that friends have flooded my social media accounts with reasons why Rodan + Fields works. After my daily regimen had stopped taking effect (I'd been on it almost a decade), I caved and called one of the 100 contacts who sold these products, and I've got to say that my skin hasn't looked this great in a long time. Both products work in about 15 to 30 days, and people actually tell me my skin looks great.

As a bonus, I got the eyelash booster, and I can't tell you how many people ask if I got extensions! The tube lasts forever; I got it in late October and am still using it a few times a week in April.

Like the post before mine, I have no affiliation other than being a preferred customer...I am not into selling anything other than houses! I never really review products but thought this would be helpful to anyone on the fence. And as for the auto payments, if you get a good rep, that won't happen so pick your rep carefully. Also, you are ultimately in control as you're given a web address for orders and monitoring.

Bottom Line: Yes, I would recommend this to a friend

---

1

Advertisement

---