Seed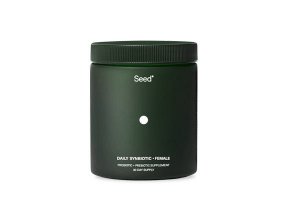 Seed is a brand of subscription probiotic supplements targeted towards males and females that are designed to improve your gut microflora to promote better health.
Seed Probiotic Review: Is It Worth It?
What Is Seed?
Seed is an eco-friendly probiotic subscription brand that aims to "raise the bar in bacteria" by giving you access to probiotics that will really make a difference for your gut.
The company was founded by Ara Katz and Raja Dhir. Ara's journey through pregnancy and breastfeeding and the unique health needs during that time provided the collaborative vision for a company dedicated to delivering top-quality probiotics that really work as promised.
Today, Seed sells both male and female-optimized probiotics it states filled with clinically-verified, naturally occurring bacterial strains that aren't regularly found in other probiotic products.
Should you commit to a subscription? Here's what you need to know to make a decision.
How Does Seed Work?
According to the Seed website, the company has fostered partnerships and academic collaborations with scientists, researchers, doctors, and study authors across multiple fields to develop probiotic products designed to improve human gut health.
The company states that their probiotic strains are banked in countries across Europe and the United States.
They claim that everything from their collection process to the methods of use and finished formulations is unique to the company and offers probiotics and benefits not found in traditional foods or supplements.
Seed claims that its probiotic strains have been studied in more than 20 human clinical studies that show statistically significant improvements for gastrointestinal, cardiovascular, and dermatological health.
» Learn more about the benefits of probiotics here.
What Probiotics Does Seed Offer?
At the time of writing, Seed sells two types of probiotic supplements; one for each gender.
Both contain clinically-verified, naturally-occurring probiotic strains as well as plant-based, non-fermenting prebiotics from pine bark, Indian pomegranate, and Scandinavian chaga mushroom.
Below, we've highlighted some of the critical points for each type.
Female Daily Symbiotic
This female optimized probiotic contains 24 strains of lactobacterium and Bifidobacterium probiotics contained within five proprietary blends. It's designed to improve digestive, metabolic, heart, cellular, and skin health, as well as boost the integrity of the gut barrier.
One primary difference from the male probiotic is that the female version is designed to increase the body's folate levels. This essential vitamin supports cellular health, but it's also crucial for female fertility and healthy pregnancies.
These supplements are vegan, gluten-free, non-GMO, preservative-free, and allergen-free. They contain five proprietary blends of probiotics that total 53.6 billion colony forming units (CFU).
Male Daily Symbiotic
Similar to the female daily probiotic, the male-optimized version from Seed contains 20 bacterial strains within four proprietary blends for a total count of 58.1 billion CFU.
It's designed for the male biome and to specifically improve digestive, heart, cellular, and metabolic health while boosting the gut barrier integrity and reducing damage caused by antioxidant stress.
How to Take Seed Probiotics
Regardless of sex, Seed recommends their supplements for anyone over 18. Adults can take two a day—at the same time—preferably on an empty stomach. If you're new to probiotics, it might be better to start with one at a time until your system adjusts.
The company states that many people start feeling benefits like improved digestion within 48 hours of their first dose. Longer-term benefits like better cardiovascular health, regular bowel movements, and more energy may take several weeks to become noticeable.
These probiotics don't need to be refrigerated, though it's best to keep them out of the extreme heat and bright lights. Storing them in the included glass jars should protect the supplements, though you might consider keeping them in a dark cupboard.
One thing that sets these supplements apart is their 2-in-1 capsule technology, which the company claims protects the capsule's probiotics until they reach your intestines.
Seed's double capsule purportedly combats this problem through a delayed-release mechanism by protecting the probiotic strains within the inner capsule. This prevents them from getting harmed by stomach acid so that they can better populate your intestines after digestion.
This capsule also purported protects the probiotics before you take the supplement by reducing light and heat exposure.
This is a key feature, as most probiotics don't actually make it to your colon, said Joy Wang, a certified nutrition and wellness consultant with more than 20 years of experience in healthcare industries.
"In truth, the probiotics claiming to be 'live'… may not be able to survive the harsh stomach and bile acids," she told us. "They might be destroyed due to varied transportation and storage conditions."
Seed Side Effects
Seed states that you should expect some mild side effects when starting probiotics for the first time.
The first five days of your supplementation might cause you mild nausea, gastrointestinal discomfort, and changes in your stools. These side effects usually go away within two weeks.
What Do Seed Probiotic Supplements Cost?
At the time of writing, a 30-day supply of Seed supplements (60 capsules) costs $49.99 and includes domestic shipping. The company only offers them on a monthly subscription basis.
Your first month comes with a risk-free guarantee, meaning that you can request a full refund within that time frame. It's also the only order that comes with a reusable glass jar.
All subsequent orders include only the capsules, and you are meant to put each month's supply in the same jar.
It's possible to pause or cancel your account at any time through your online account or by messaging the company at care@seed.com.
Customer Reviews of Seed Probiotic Supplements
We found many customer reviews for Seed probiotics online.
Liz Cadman, in a review for My Subscription Addiction, reported that she loved the space-themed packaging and eco-friendliness of this supplement.
Regarding health benefits, though, she wasn't sure whether she noticed much difference beyond less stomach bloat after several weeks of taking them.
Business Insider gave a more positive perspective on this supplement. Their review praised Seed's delivery mechanism for improving the chance of probiotics making it to your gut alive and the wide variety of probiotics and prebiotics contained within each supplement.
This means that each supplement provides your body with beneficial bacteria and enough food to keep them alive long enough to colonize your digestive system and take space away from less pleasant varieties.
The Bottom Line: Should You Try Seed Probiotic Supplements?
Now let's summarize. Do we think Seed Probiotics are worth buying? The first part of answering that question is determining whether probiotics, in general, are worth it.
Cindy Klinger, a California-based integrative dietician, believes that the answer is a definite yes.
"A healthy digestive system is super important because a healthy mind and body starts with a healthy gut," she told us.
"[Probiotics] can help replenish more beneficial bacteria in our guts, promoting healthy digestion and regular bowel movements. They can help with most health conditions, from allergies and skin conditions to mental health, cardiovascular disease, and autoimmune conditions."
While the research is still forthcoming to prove these benefits, there's little downside to adding a probiotic supplement to your routine beyond the cost. But how can you determine which type to buy?
As we reported in our probiotic buying guide, there are several key factors to consider when buying probiotics: the CFU counts, whether the capsule contains unnecessary filler material and whether specific probiotic strains are listed.
By these perimeters, Seed passes every test. Both varieties contain dozens of probiotic strains and few other ingredients beyond the prebiotics and what's needed to them alive in the capsule.
They also provide more than 50 Billion CFUs, which goes far beyond the 20-30 billion CFUs recommended by SHAPE magazine contributor Dr. Mike Rousell.
Saying that, there's no denying that Seed probiotics are pricey compared to the competition.
We believe you can find any brands available for half the price, though many contain half the probiotics as well. There's also a chance that they don't have a delivery mechanism like Seed supplements that ensure most of the probiotics survive your stomach acid.
In short, we think it's worth trying out Seed probiotics for the company's risk-free 30-day trial. Keep your expectations realistic for the difference it can make for your health, and you might find that it's a good fit for improving your digestive system.